Key events
GOAL! Manchester City 3-1 Leicester City (Iheanacho, 75)
A tap in for the substitute after Souttar's header is saved by Edersen but rebounded to the Nigerian. Let's not call it a comeback just yet, but that's something for the Foxes to cling to.
73 min: No goal for Grealish as he applauds the fans and makes his way off the field for Sergio Gomez. Well played Jack.
71 min: Should be 3-1. Praet has a free shot inside the City box and simply taps it rather than hammer what looked like a gimme,. Brilliant break down the right that ended in a cut back inside the box. What a waste of their best chance.
70 min: 20 minutes left in what is becoming an increasingly boring spectacle. I don't blame the players. City have no obligation to hurl themselves and risk injury for another goal and Leicester just aren't good enough to do anything about this. Credit to the crowd who are doing the Poznan.
Hello Daniel,
A short comment from sunny Brussels: here, and in amateur football, a volley like the one you describe is called a Martin Luther King.
As in "I had a dream …."
No notes, Juan Arcas. From here on, I'll describe shots from balls that have already bounced but are most definitely not half-volleys in this manner.
Though before I do, I have to ask how you stumbled on that name?
68 min: Walker wins a corner. He's been sharp but that lack of penetration might hurt his chances of starting important games for the rest of the season. Grealish has a shot blocked from Souttar.
66 min: More of the same but to their credit City are still pressing hard and fast without the ball. They steal the ball back inside Leicester's half and build again. Palmer taking up a central position in midfield. He looks confident on the ball. To be fair, I could probably play in midfield for City today.
(I said probably)
"You keep saying city are in an exhibition match, but is that easier than a pre season against non leaguers? What about an end of season dead rubber? I mean you'd think a testimonial would be easiest but I've seen some obscene efforts in them.
We need a ratings system. Lead the charge."
I love this from Mark Lepine. I don't quite know. Surely a dead rubber is more competitive? Any help?
63 min: They're all lining up to shoot now. Grealish can't quite work the space inside the D so recycles it instead. What's more pedestrian than an exhibition match?
61 min: That's the end of Du Bruyne's afternoon. Youngster Cole Palmer enters the scene.
Leicester also make a change with both Tielemans and Dewsbury-Hall making way for Nampalys Mendy and Dennis Praet.
60 min: A short corner to Grealish is swiflty shifted to Mahrez who runs onto the ball and shoots first time with his left from outside the area. It's curling into the top corner but Iversen does well to tip it over the bar.
"Agreed about volleys, but isn't a half-volley when the ball's struck just as it bounces (similar to a drop out or drop goal in rugby)?"
100% Geoff Wignall. Which is why it needs another name.
"Hello Daniel,"
Hi Geoff Wignall
"Sounds like the archetypal City performance today: including having 75% possession yet still managing to commit 75% of the fouls. It's always been a real characteristic of a Guardiola team."
Great shout. And you're right. It's that tenacity off the ball that deserves just as much credit for the magic they produce with it.
57 min: Grealish is having a great game. Here he weaves through four defenders covering 20m before he's fouled. He might have released the ball sooner though as there was an overlap forming down the right. Still. It's a City free kick. Too far out to shoot. Too straight to dink into the box. Decisions for De Bruyne.
56 min: Now that was a volley. The corner is floated to Grealish outside the box and he coils his body and unfurls a volley (met on the full) but is skews off his shin and goes out for a goal kick.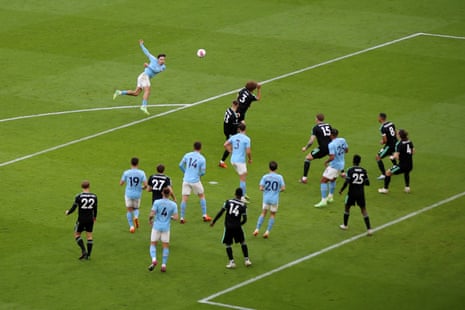 55 min: Ederson is the best goalkeeper with his feet. Surely I won't get dragged for that? Just watch this pass he's played to Mahrez. Sublime. Walker down the right wins a corner as he attacks the byline.
I'm copping a lot of stick for my volley views. Most of you are pointing out that anything that bounces can't be a volley and immediately becomes a half-volley.
I'll post them all but just to say, fair play, you've convinced me.
52 min: Rodri off to a standing ovation. Kalvin Phillips on. Crucial game time for him.
50 min: What happens now. Is it just a training session? Maybe. But if Leicester can stay level this half or even win the 45 minutes they'll take great confidence from that. They'll need the ball first. Which is proving hard to get as City continue to hog it.
48 min: Iheanacho is through on goal. except he's offside. And tackled before he can shoot. Still, a moment of rare excitement for the visiting fans.
"Completely agree with you about the advertising boards – with the additional point that they look really stupid with the little heads of the stewards poking up between the boards. The first time I saw that, I was laughing at the malfunction, until I realised that those were people, not messed-up lights."
I hadn't noticed that before, Richard Broaddus, but now that I have, I won't be able to unsee it!
47 min: Despite the changes a familiar patter to the start of this second half. City on the attack. leicester defending. Du Bruyne almost wriggles through two players in the box. Almost.
45 min: A few changes at half time including both of City's goal scorers. Julian Alavarez and Manuel Akanji will get 45 minutes each.
For Leicester, Kirstiansen and Vardy have got the hook for Kelechi Iheanacho and Luke Thomas.
"If you've not seen a more one-sided game then you didn't catch Chelsea-Brighton this afternoon. A new low for Frank Lampard's Blues – and I say that as a lifelong Chelsea fan. Absolutely dire."
I've only just seen the result, Jon Rogers. What on earth is happening with your club?
"Dear Daniel
(Adjusts NHS glasses and pulls hood up on Lord Anthony parka).
Great MBM – one point to raise however – technically Stone's goal wasn't a volley since it bounced before he hit it. A wonderful airborne strike nonetheless."
Ah, Neil McKenna, now you've done it. I'll stand by this, even though I'm well aware I'm in the minority (or entirely on my own). Surely anything that isn't on the ground or bobbling is deemed a volley? I'm thinking Jamie Vardy's stunner against Liverpool.
However, if enough people tell me I'm wrong I'd be happy to reconsider. But, if you do think I'm wrong, please can we come up with a better name for this sort of strike than 'first time'? Because it deserves a more grandiose and distinguished moniker.
"Jack is having a great game!"
No doubt, Nora Mulcahy. When he's allowed space to run with the ball and dart about between the lines he's as good as anyone in this league.
Half-Time: Manchester City 3-0 Leicester
At the risk of repeating myself, I'm struggling to recall a more one sided Premier League game. Maybe I'm being daft and this is simply just the way things go when City play a team languishing near the foot of the table, but it's been a glamorised training session for the champions. Two goals for Haaland, one assist for De Bruyne. More than two thirds possession. Welcome back Dean Smith!
Back in a few.
YELLOW! Manchester City (Bernardo Silva, 45+1)
Not getting away with that. Silva clips Maddison from behind and is the first name in England's naughty book.
45 min: Haaland shows he's no one trick pony and plays a beautiful lay-off for his midfield.
43 min: Walker is having a decent game on the right. Looking positive on the front foot. Glad for him. Always thought he was slightly underrated.
41 min: Du Bruyne shoots towards a different area code. That would have been outrageous. It's not exactly like Essien's screamer against Arsenal, but would have been similar as he ran onto a bouncing ball and tried to pelt it with the outside of his right boot in order to bring it back from left to right.
40 min: Every time Rodri has the ball the crowd urges him to shoot. After his stunner against Bayern in the week I'm surprised he hasn't had another pop at goal.
39 min: A chance for Faes who couldn't keep his volley down. Nice routine that. Maddison from the free kick swings it to the back post. It's knocked back where it came from and Faes is on hand to shoot.
38 min: Some respite now for Leicester as Walker cynically shoves Dewsbury-Hall in the back. Lucky to escape punishment I feel. A chance for Moddison to swing in a ball.
37 min: Jiggery pokery from Grealish who is evidently having a great time. He's combining well with De Bruyne. Again, the cross is blocked. But again it's starting to feel like another goal is incoming.
36 min: Grealish gets to the byline but can't cut it back beyond Iversen who gets both gloves on the ball.
35 min: Maddison has a bit of space on the edge of the City box. He shifts the ball to his right foot and fires a shot that's blocked. Good on Leicester. I don't mean that to sound patronising. I know they're professionals, but it must require some mental strength to keep fighting here.
34 min: Stones puffs his chest out and sprays a lovely diagonal to Grealish. Tyler on comms says this is starting to feel like an exhibition match. More like a training ground exercise.
31 min: Silva's pass to Grealish is a good one and the England star with gigantic calves takes a good first touch on the edge of the box with his right foot as he looks to wrong foot Soyuncu. But the Fox at the back stands strong and makes a good tackle.
31 min: Kirstiansen and Drewsbury-Hall combine down Leicester's left. That was coherent at least. it didn't go anywhere but it ends with a Leicester throw and they get a rare chance to move the ball about. But Laporte steals it back and now De Bruyne is tying Leicester's defenders in knots at the other end.
29 min: A slick move finds the space for Graelish who swiftly moves it on to Mahrez. He shapes to shoot on his left foot, at least that's what I thought he'd do, but instead keeps it moving down the line to Walker. The right back tries to find Haaland in the middle but it's cleared. So slick. So precise. What can Leicester do from here?
28 min: I can't think of a more one sided half hour of football all season. Leicester have barely had a kick of the ball. They've been blown away. And not just when City have had the ball. They're just as committed and ruthless without it.
GOAL! Manchester City 3-0 Leicester (Haaland, 25)
Just as I said, it's another for who know who. City nip it from Leicester with De Bruyne picking Ndidi's pocket. He then drives forwards and slips in a perfectly timed ball for Haaland who doesn't have to break stride before lifting it into the net over a scrambling Iversen. That's 47 goals for the season for Haaland and 100 City assists for the best midfielder in the world.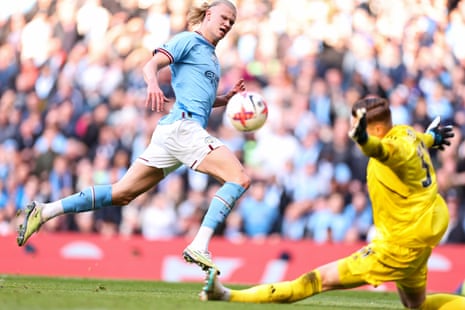 24 min: City ping it about with at such a rate it's hard to even keep track sitting on my couch. Left to right, forwards and then back. A speculative looping cross into the box tries to find Haaland but it doesn't meet him. Still, they're stretching Leicester with such ease that a third is surely coming.