Key events
Abbas lasts four balls before being pinned by Worrall, who finishes with five for forty. Advantage Surrey, I think.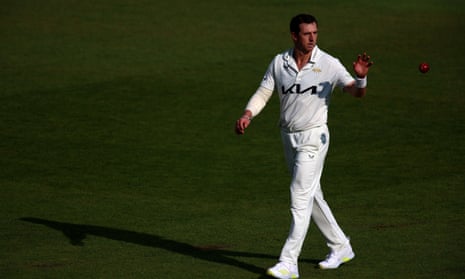 Broad wins early Australian test
Cameron Bancroft's stumps a-go-go as Broad opens his account. Somerset 40-2. For optimists, 255 to win.
Barker, whose hands are in a terrible state, jigs and jags through his innings until Barker hooks a short one up into the stratsosphere and Jamie Smith collects. Mohammad Abbas enters, and the Hampshire innings's end is nigh.
A few T-shirts, lots of fleeces, watching in the Micky Stewart pavilion as Kemar Roach paws the ground and runs in.
Indeed!
Are Durham aiming to declare at lunch? Borthwick and Bedingham certainly charging along, both in sight of their centuries. Durham 227-2, a lead of 286. But looking at the totals in this game, it does seem a long shot that they can take 10 Worcestershire wickets by stumps…
Poor Wiaan Mulder, waits four days for a bat – out for five. Leicestershire and Derbyshire going through the motions at Grace Road. Captain Lewis Hill, three short of his hundred.
And in the time it takes me to pop downstairs, Kyle Abbott has been bowled with Roach's second over with the new ball. Up and through and off he goes. Hants 248 for 8 – can they inch that lead up to 250?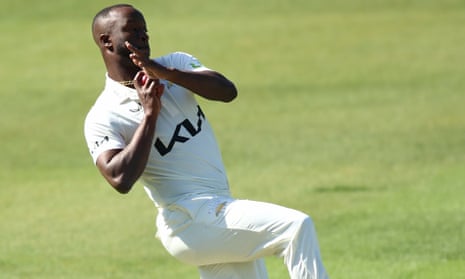 Jennings falls – a disconsolate figures, out four short of his hundred. A second for Harmer, the lead 208, four wickets in hand. Time for some big hits by the big man.
Kent, alas. Have just lost three for six.
And at The Oval the new ball does it again! A hasty drive straight to cover by Fuller. No Keith Barker yet, the commentators think he might be protecting those fingers – which took a battering in the first innings.
The new ball is now in the hands of Kemar Roach. Hampshire 239 for six, the lead building: now 223. But Hampshire won't forget how brilliantly Ollie Pope batted, or how quickly Abbott accumulated once he'd got going.
What a start to the summer he's having – out now, Harmered, for 56, but so far has proved essential ballast to the late middle-order.
This was Glenn Chapple singing his praises yesterday.
"George is doing brilliantly. His quality last year was great. He went away this winter to play cricket in Australia and when he came back, first time we saw him we knew that he was ready to play. He's kept well and so far he has made vital runs for us.
"We just see a quality player who's determined and driven to do well. It's really good when a young player comes in and goes some way to establishing himself so quickly."
Oooh a third wicket for Middlesex. I'm not saying a word, but TRJ does have that ability to run through teams. Northants 52-3, need 67.
Injury updates: Tom Moores left the field at Trent Bridge yesterday after hurting his left hand. Joe Clarke took the gloves for the remainder of the innings.
Kent's Matt Quinn suffering with a groin injury, Sam Cook with a hamstring.
An agricultural scythe by Stuart Broad, swiftly followed by Hutton – giving Gregory 11 in the match! Somerset gird their loins to chase 295 and as I type are in the happy state of 0-0 when everything is possible.
A breakthrough! Sibley holds on, despite slipping at first slip, as Gubbins prods forward and gets an outside edge – fabulous ball by Lawes.
An early wicket for TRJ, but Middlesex don't have many runs to play with – just 83, with eight wickets to catch.
We are being serenaded by some heady tunes from The First Love church who hold services at The Oval every Sunday morning. A good scattering of Sunday punters scattered round the ground to see what could/should/will be an umbrella-handle-chewer.
Delayed start at Edgbaston
They're mopping up after a morning shower, but play will/is starting on time elsewhere!
On the Oval's first Saturday of the County Championship summer the sweet murmur of relaxed conversation drifted around the ground. A tight, high-stakes game swung from one clenched dressing-room glove to the other.
It was the new ball, taken just after half past 12 that jolted the crowd awake. Ollie Pope, on his way to what seemed an inevitable hundred, having played with immaculate judgment, leaned back extravagantly and played Mohammad Abbas on to the stumps. Lawes was lbw to the very next ball and, though Kemar Roach played out the hat-trick ball, he fell in Abbas's next over.
With one wicket left, Sean Abbott exploded into life – caterwauling Keith Barker for 16 runs including one huge one-kneed six that took Surrey to a first-innings lead. Abbas had the last word, though, plucking out Dan Worrall's middle stump to finish with six for 64. At 58 for four, Hampshire's second innings threatened to end in ignominy. But Nick Gubbins and Ben Brown pressed on and slowly the shoulders of the pitch relaxed. Gubbins, who survived a tricky chance in the slips, collected his 50 late in the afternoon and Ian Holland stayed with him in an unbeaten partnership of 79. The lead of 182 set the scene for a thrilling last day.
The chance of a result at The Riverside drifted into the far distance, as Worcestershire stacked the cakes carefully on a tray against Durham. The 22-year-old Jack Haynes made 134, his highest first-class score, before the declaration came. There were three wickets for Matthew Potts who chugged his way through 27 overs.
At Edgbaston Zak Crawley was out twice in the day as Kent's first innings limped to 158, Chris Woakes taking his first first-class wickets for more than a year. Following on, Crawley was lbw to an optimistic shout from Chris Rushworth before bad light stopped play. Warwickshire had declared on 453 for four, thanks to run-a-ball mayhem from Dan Mousley and an unbeaten 165 from Sam Hain.
Northamptonshire were on top in a low-scoring nerve-tingler at the County Ground, set 119 to win after Middlesex were dismissed for 167.
Peter Siddle struck with his first ball in Nottinghamshire's second innings as Ben Duckett clipped his first Australian test of the summer to midwicket for 15. Haseeb Hameed and Ben Slater got starts but failed to flourish and the Somerset bowlers did their best to keep things tight as the lead built. Somerset had earlier lost six wickets for 40, blushes saved by 60 from Josh Davey and a stoical tail. Brett Hutton finished with six for 45.
The tightly spooled game at Chelmsford unwound a little, with rain permitting 36 overs of play. Keaton Jennings carefully moved to 80, propped up by George Bell in an unbeaten stand of 56 after Lancashire lost Josh Bohannon, Steven Croft and Dane Vilas in quick succession. They go into the final day with a lead of 155. Sam Cook left the field early with a hamstring twinge after bowling on heavy ground.
There was no action at Grace Road and they called it a day at Bristol – match abandoned at 10am on the third day without a ball being bowled because of a persistently damp outfield. "The water table is incredibly high and it doesn't take much to take us over the line," said Will Brown, the Gloucestershire chief executive. "This was the wettest March for 40 years and it is a sign of things potentially to come. They are talking about significant areas of the county facing drought this summer, but we are still facing extreme wet conditions now.
"We are going to have to think smarter about when and how we play our cricket and how we protect our grounds. We think of seamers in April, spinners at the end of the summer, but it will be interesting to see if that holds true. The rule book of the season has been ripped up because of climate change."
DIVISION ONE
Chelmsford: Essex 219 v Lancashire 207 and 167-4
The County Ground: Northants 198 and 30-1 v Middlesex 149 and 167 Northants need 89 to win
Trent Bridge: Nottinghamshire 256 and 187-6 v Somerset 173
The Oval: Surrey 270 v Hampshire 254 and 198-5
Edgbaston: Warwickshire 453-4dec v Kent 158 and 27-1
DIVISION TWO
Chester-le-Street: Durham 425-9dec and 96-2 v Worcestershire 366-5dec
Bristol: Gloucestershire v Yorkshire MATCH ABANDONED
Grace Road: Leicestershire 243-2 v Derbyshire
Good morning! Sorry about the delay, slight technical hitch. It's a beautiful spring morning in South London and here, at least, we will start on time on the final day of the second round of matches.