Key events
For those of you who haven't yet seen the match-winner, here it is:
And here's the goalscorer, Alessia Russo:
I'm buzzing. These are the games that mean so much. Obviously Arsenal are a top side. Every game til the end of the season will be massive.

We've not backed ourselves against the top teams and now we know how good we are.

[On her goal] I just wanted to try get into the box and it was a great ball. I seem to be falling over when I shoot at the moment. I was just happy to see it hit the back of the net.

Tonight we were really proud. Credit to all the players and staff. Now we've got to get ready. There's always a buzz in our changing room. The team dynamic is really special.
Here's the player of the match, Aoife Mannion:
There are absolutely no words. My voice is gone a little. Every part of my body is cramping.

It was a game of two halves. We felt like we couldn't get into a rhythm but we felt we deserved it. The last five minutes, I can't tell you what that was like. I was looking in everyone's eyes and saying, 'Come on, we can do it."'

I'm so pleased. My body was hanging on at the end.
FULL-TIME: Manchester United 1-0 Arsenal
United move four points clear at the top of the WSL. It wasn't pretty. It wasn't always cohesive. But when it mattered they did enough and scored the decisive goal on the stroke of half-time through the ruthless Russo.
They become just the third team after Chelsea and Manchester City to do the double over Arsenal and they fully deserve the win.
Arsenal just not good enough and must now lick their wounds as they prepare for a Champions League semi-final against Wolfsburg. Will they have Williamson?
More reaction to come.
90+7 min: Earps punches clear and it falls for Zinsberger who steadies and volleys! She connects it really well and narrowly misses the top right corner!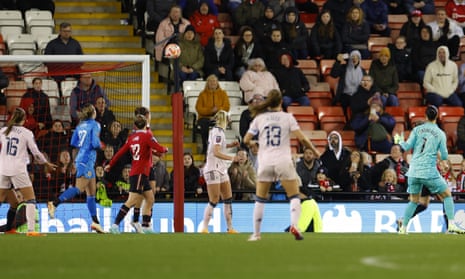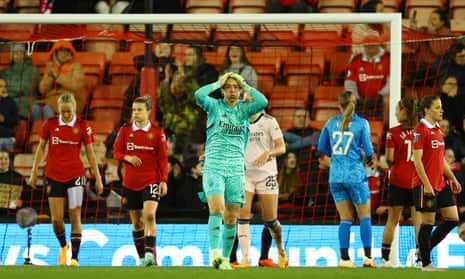 90+7 min: Last chance for Arsenal now. Pelova has the chance to cross and she whips it to the near post. Mannion clears for a corner. Zinzsberger comes up for it.
YELLOW! Manchester United (Blundell, 90+6)
A tactical foul has Blundell in the book. More importantly she kills a quick Arsenal break.
90+5 min: Despite missing a sitter in the first half, Mannion has been recognised as the player of the match.
90+4 min: Arsenal go short before whipping it in with a better angle. So many white shirts in the mixer. Maanum takes a swing at it but can't connect. Beattie nods on to keep it alive and it's recycled out to the right but the attack fizzles out as the ball dribbles for a goal kick.
90+3 min: Corner for Arsenal.
90+2 min: What were United playing at there? Zelem tries to shield the ball out for a goal kick but gets herself in a tangle and Maanum almost steals it right on the goal line! United manage to clear and can breathe again.
90+1 min: Thomas has it and she has one thing on her mind: get it to the corner. She doesn't reach her destination but she steals another minute. Williams wins it in the corner and does keep it there. United's fans start brining out the 'Oles'.
90 min: Seven added minutes. United so close to moving four points clear at the top.
90 min: Zelim showing her nous. Once again latching onto a loose ball and then hoofing it into the corner, like a rugby union fly-half.
89 min: Very good from Zelem who controls a loose ball and chips into an awkward area down the left flank. Galton can't recover it but that keeps Arsenal right where United want them.
88 min: A double change for United. Parris, who was outstanding tonight, makes way for the Scotland forward, Thomas. Toone, who wasn't as influential, is subbed for the more defensive Turner.
86 min: Disappointing from Maanum. She goes for placement over power but lacks either, lifting that free kick high and wide.
YELLOW! Manchester United (Batlle, 85)
Unlucky, but that's a clear handball. It's around 25 yards from goal just left of centre. Arsenal have to test Earps from here.
83 min: Smart work from Williams has her nutmegging an Arsenal defender and winning a corner.
It's floated around the penalty area and Arsenal clear.
It's getting heated as Arsenal look to play it fast but United's players get in the way. A bit of argy-bargy.
81 min: CRUNCH! Beattie scampers across to slide and tackle Williams who was freed with a good pass down the left flank. But Beattie has stayed on the floor. Ouch! As she falls her face smashes into the artificial turf. She's moving her shoulder gingerly. This has been a brutal contest.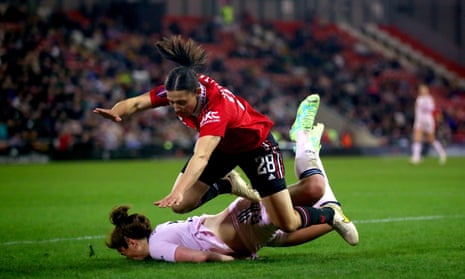 80 min: Arsenals No. 1 is fine.
79 min: What's gone on here? Zinsberger is down. I'm not sure what exactly happened but the Arsenal physio is seeing to her. Knee again?
78 min: Zelim spins out of a challenge and moves it to Parris on the right. She cuts back onto her left foot and doesn't look comfortable. Still, she pings in a cross that is flat and firm. United keep it alive but eventually Zinsberger has both hands on the ball.
77 min: Both teams are now set up to counter. As a consequence they're cancelling each other out. Arsenal with more of the ball this half but they've yet to get in behind the United line.
76 min: Le Tissier slides to clear a through ball that looked promising. She's in for a busy 15 minutes.
75 min: Good from Arsenal. They go from coast to coast. Blackstenius is put through inside the area on the right. She chooses to shoot first time but slips as she does so. There's no power on the shot and Earps falls to her left to smother it.
73 min: Gio comes off. The substitute is substituted. Maybe because she's on a yellow and throwing herself about. On comes Jodie Taylor.
72 min: There's a delay as Earps catches her breath. She copped a knock when she claimed that cross.
71 min: Rachel Williams has her jacket off. She's scored in each of her previous two substitute appearances. She replaces tonight's goalscorer, Russo.
70 min: Pelova has the ball in the box but she looks up and sees three red shirts. She turns back and finds a teammate but the cross the Maanum is loopy and high enough to invite Earps to come out and get it.
69 min: Arsenal are running out time. United know that a win, even a narrow one, would be massive. There's movement on both benches.
68 min: Very smart footwork from Ladd sees her wriggle through the compact space in midfield. She then feeds Batlle down the right. She has plenty of time to pick out one of three teammates in the box but it's over hit.
66 min: It's a decent ball in but no one makes the far post run. That's not the first time I've typed that tonight.
66 min: The assistant referee is waving her flag after Galton's slide tackle on Martitz. Good chance for Arsenal to swing one in from the right.
65 min: Brilliant from Arsenal. They've found an extra gear and press high. So high that Earps has to rush her clearing kick and, having lost the ball a little earlier, Arsenal have it back.
64 min: A cute ball over the top gives Russo something to chase but a big boot of Wubben-Moy clears it up field.
62 mins: Arsenal win a corner now. What a team talk at half-time that must have been. It's a good delivery to the back post but Earps claws it away. In fact that was a firm punch as she was peddling backwards.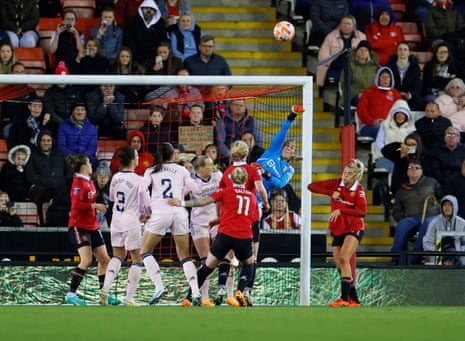 61 min: A sloppy pass from Earps off a goal kick gifts the ball to Arsenal. That was really poor. Pelova shoots from inside the area but its blocked. Arsenal pressing.
59 min: Arsenal's press is now gaining the ascendency in midfield. They're keeping the ball fixed in United's half and Pelova has the chance to swing her boot at a bouncing ball inside the area. It's a wild hack and the ball spirals out for a goal kick. Still, they're certainly getting closer.
58 min: Catley's ball from the left flank infield to Pelova is a good one. So is the turn that allows Pelova to scamper away from her marker. The ball moves right but an offside call brings that attack to a halt.
57 min: Arsenal stitch together a neat move in the right corner but the cross takes an age to come and when it does there is no one there to meet it.
56 min: A slight lull in the game. Looks like the wind has died down as well. The calm before the storm perhaps?
54 min: United are so cool with possession. They move it around with confidence and its worked all the way to Parris who has Toone making a run on the overlap down the right. But she's miles offside.
52 min: Arsenal are definitely bustling about with greater zip. They'll need to if they're to nick an equaliser. United slow things down though with Earps delaying before launching a long ball to Parris.