Key events
Full-time! Nottingham Forest 3-1 Brighton
Big win. Big, big, big win for Forest.
A suggestion of handball against Thiago at West Ham, and a possible penalty. But the penalty doesn't come, there is no VAR check, and Moyes is furious!
The goal is indeed disallowed. Forest still lead 3-1.
Disallowed goal for Brighton! Undav nods in at the far post … and there's a VAR check ongoing. The match clock is on 102mins now. Forest lead 3-1. Unless this VAR check ends with a goal, of course …
More injuries at the City Ground. Navas hits the turf. The crowd don't mind though, they are singing and urging their team on to this gynormous three points …
Sheffield United lead West Brom 1-0, and are 20 minutes away from the Premier League …
On BBC 5Live, Mark Chapman suggests that Chelsea away is Forest's best chance of picking up some points on the road before the end of the season. (Brentford and Palace are the other away ties.) Ouch.
Now Gibbs-White is down injured for Forest. They still lead 3-1.
"Have two caretaker managers ever been sacked in the same week?" asks Gerry McManus on email. "Asking for a Friend."
Chelsea v Brentford and West Ham v Liverpool kicked off later than Forest v Brighton and are both into the final 10 minutes. The mathematicians among you will know this means those two matches will also finish later than Forest v Brighton.
Latest scores:
Forest 3-1 Brighton
West Ham 1-2 Liverpool
Chelsea 0-2 Brentford
Man City 3-0 Arsenal
Championship
Sheff Utd 1-0 West Brom
Goal! Nottingham Forest 3-1 Brighton (Gibbs-White pen)
HUGE for Forest! Gibbs-White confidently steps up and passes the ball into the bottom corner of the net, the goalie guessing wrong, and diving to the same side that Johnson hit his penalty in the first half. Forest appear to be home and hosed for a massive, large, sizeable three points.
But there will be TEN minutes of added time!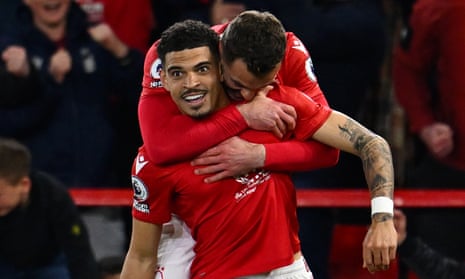 Goal! Chelsea 0-2 Brentford (Mbeumo)
Brentford double their lead! Mbeumo embarks on a mazy run from the right wing and his deflected shot flies into the net. Chelsea's misery deepens.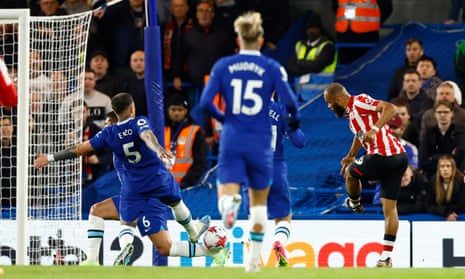 Handball by Dunk! Forest can win the game here and now … !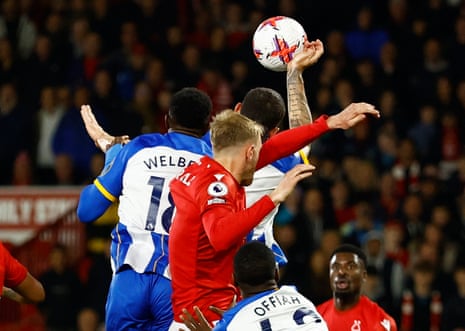 Goal! Sheffield United 1-0 West Brom (Berge)
The Blades are going up! (As it stands)
At Stamford Bridge, Chelsea have been better in the second half, but they continue to trail Brentford by a goal to nil. Lampard looks deflated on the bench, which is a bit of a worry for them.
Harry Toffolo on for Forest, Brennan Johnson, who missed a penalty in the first half, goes off.
Manchester City 3-0 Arsenal, another for De Bruyne:
Brighton have a corner. Navas does well to punch it out of the danger zone.
Into the final 10 minutes at the City Ground, where Forest lead Brighton 2-1, but there will be a ton of stoppage time following that injury to Neco Williams.
Goal! 67 min: West Ham 1-2 Liverpool (Matip)
Good corner. Good header. Good goal. A bullet header flies into the West Ham net … It looked like Benrahma was meant to be marking him at the corner, but he gave up/ran in the other direction. Matip hammers a header high into the net. Liverpool would move sixth if they take three here.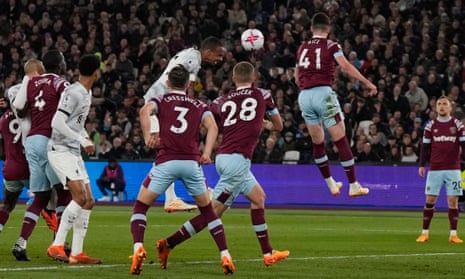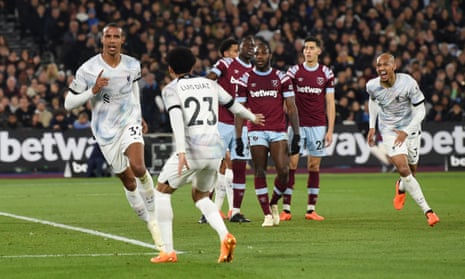 Joe Worrall pulls off a brilliant clearance for the home side in Nottingham… then Navas beats out a shot from March. Pressure on Forest.
For Brighton, in Nottingham, Enciso off for Undav, and Welbeck on for Estupinan.
Luis Diaz and Thiago are on for Liverpool, for Jota and Henderson. It's 1-1 at London Stadium.
At Chelsea, Aubameyang has had three chances since coming on for the second half. He has converted none of them.
At the City Ground, Forest are now edging towards what would be a sizeable three points. Mac Allister fouls Kouyate and the two players exchange a few pleasantries.
Now Gibbs-White is teed up by Danilo, and blazes over the bar from the edge of the box! Cooper would love a two-goal cushion.
Goal! Nottingham Forest 2-1 Brighton (Danilo)
A fantastic finish by Danilo, who tears down the right channel for Forest and thumps a low right-footed shot into the far corner!
Disallowed goal for West Ham!
The West Ham forward Bowen nips down the right for West Ham … he finds the net with a brilliant finish, albeit some soft defending … but it is ruled out by the VAR, for offiside!
Chelsea were booed off at half-time, but "Chels" are looking brighter. Ben "Chilly" Chilwell helps to fashion a chance for Aubameyang – Thiago Silva clipping a lovely cross to Sterling, who nods it inside for Aubameyang, who nods it over the bar.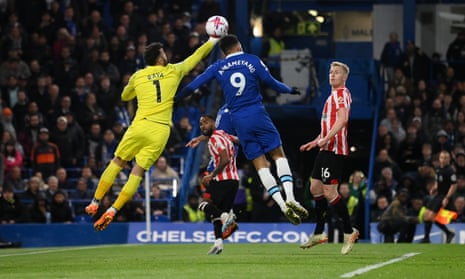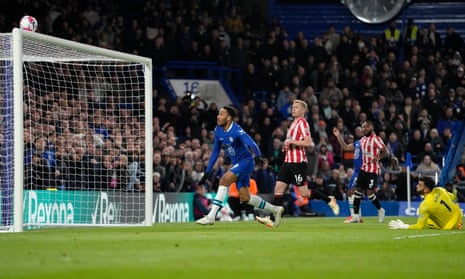 Latest scores:
N Forest 1-1 Brighton
West Ham 1-1 Liverpool
Chelsea 0-1 Brentford
Williams is going off on a stretcher for Forest. That's a nasty looking injury and completely avoidable, too. In fairness to Johnson the noise levels at the City Ground have been high. He genuinely didn't hear the shout. But it's very frustrating for Cooper and Forest to lose another player to injury in such a manner.
"Just in case Brighton are scouting for a player to match Buonanotte," emails Colum Fordham. "… Torino have a player called Alessandro Buongiorno."
Well that is quite stupid from Forest. Gibbs-White gets down the left wing and hangs an excellent cross up to the far post. It's behind Johnson, who spins and tries to bring it down with a high boot … but unbeknownst to him, Williams is charging in at full pelt to try and meet the ball with a powerful header. It results in a very painful looking blow to Williams from the boot of his teammate. Johnson is pictured taking to Gibbs-White and claiming he didn't a hear a shout from Williams …
In Nottingham, Mitoma bends an attempted finish fractionally wide of Navas's far post!
Sounds like VAR is going to un-rule out a John Stones goal at the Etihad …
And there it is. City lead 2-0 against Arsenal.
It sounds like Lamps is going to unleash Aubameyang and Mudryk at Stamford Bridge.
Forest go close at the other end! Neco Williams batters a low shot wide of the post for Steve Cooper's men.
Brighton stroke the ball around confidently at the City ground. They look every inch the kind of team that are going to deepen Forest's relegation fears in this second half. A shot by Caicedo flies just wide after a positive passing move, Enciso involved again. De Zerbi applauds enthusiastically from near the dugout.
Haaland misses sitter for City. It should be 2-0.
That match is live with Scott Murray on Channel 1, of course:
Forest 1-1 Brighton has kicked off for the second half at the City Ground.
Half-times:
Chelsea 0-1 Brentford
West Ham 1-1 Liverpool
"As maybe the only person watching the game at Bramall Lane I can report that sadly the Baggies have been hosed by the referee who failed to award a penalty in the 13th minute," emails J.R. in Illinois. "If they had VAR in the Championship you'd like to think it would have been used to make the correct call but given the state of VAR I would be hesitant to jump to such a conclusion."
Latest score: Sheffield United 0-0 West Brom
Nottingham Forest 1-1 Brighton is a half-time score.
West Ham so nearly have another in London! Bowen releases Benrahma on the left, who squares for Antonio at the far post … But Van Dijk is there with a brilliant bit of defending for Liverpool, nicking the ball off Antonio's toe and out for a corner.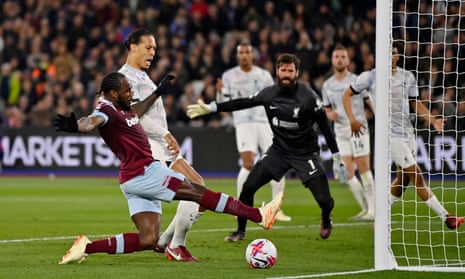 Rice flicks on the corner for Antonio, and West Ham nearly have a goal again! But Liverpool hold firm.
Goal! Chelsea 0-1 Brentford (Azpilicueta OG)
Oh my days! A corner is swung in across the six-yard box by Brentford … two or three players jump at the near post. No one touches it … but the ball then flicks off the Chelsea captain, César Azpilicueta, and into the far corner! Lampard is pictured, ashen-faced, on the bench.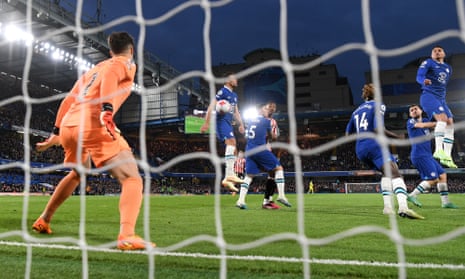 At Stamford Bridge, it appears that Chelsea still aren't very good.
"Perhaps Chelsea should play Sam Kerr upfront and Lamps himself just in behind," emails Trev, with regard to the Blues' chronic lack of goals.
Goal! (45 min +2) Nottingham Forest 1-1 Brighton (Groß OG)
Renan Lodi crosses low from the left. The ball takes a massive deflection and squirts in at the near post off Pascal Groß, despite Steele's valiant attempts to keep it out.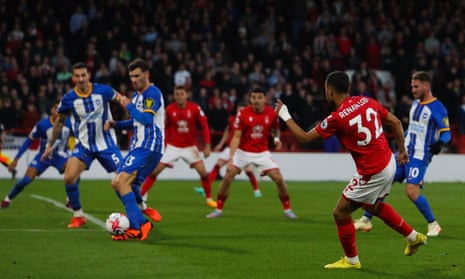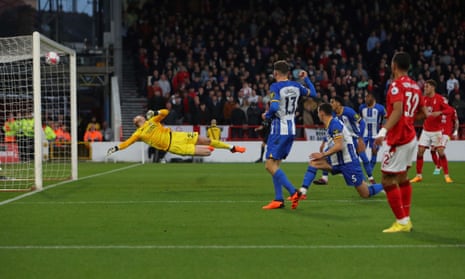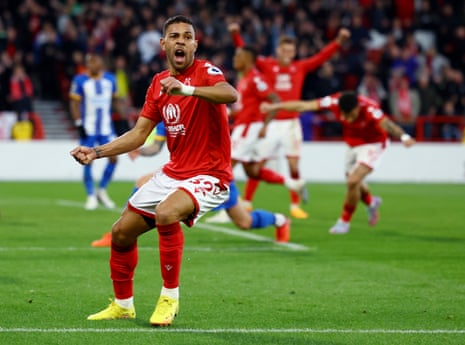 Good to know some of you are paying attention anyway.
Right, what's going on in Nottingham … GOAL!
"It was De Bruyne, not Haaland Luke," chips in Charlie Timms. "Or is that the joke? Is there a joke? Good joke Luke."
Yes, thanks, that was it. It was a joke … because Haaland has actually scored, like, loads of goals this season. Pretty funny you have to admit.
"The surprise might be that it was not Haaland who scored [for City], but rather De Bruyne," emails Alan Steenstrup. Whoops! Thanks.
In the Championship: Sheffield United 0-0 West Brom, as it stands, a stone's throw from the Crucible Theatre.
Have City scored too early?
Goal! 38 min: Nottingham Forest 0-1 Brighton (Buonanotte)
A bit of a calamity for Navas, who gets down to parry a Solly March shot, but can only divert it into the path of the 18-year-old Facundo Buonanotte, who gobbles up the chance by clipping the ball into the unguarded net from close range.
Thank you, and good night?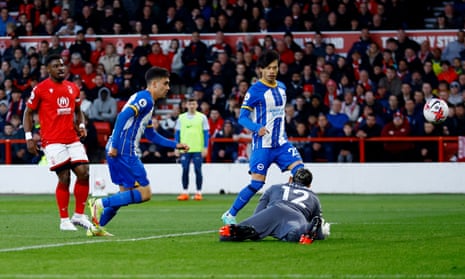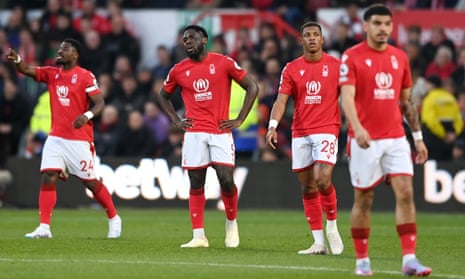 In news that will surprise few of you, Kevin de Bruyne has put City a goal up against The Arsenal: