Princess gown made even better by pockets!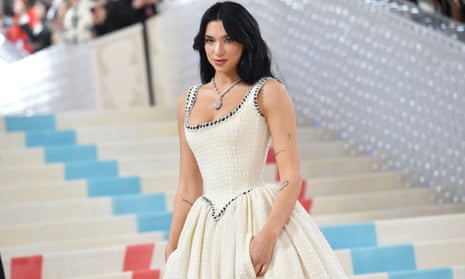 Met Gala co-chair Dua Lipa has arrived, serving Disney Princess minimalism – a phrase we never thought we'd use – dressed in Chanel couture from Fall 1992.
Alyx Gorman
As we await more red carpet arrivals, here's a look back at some memorable looks from Karl Lagerfeld's Chanel Couture archive in years past.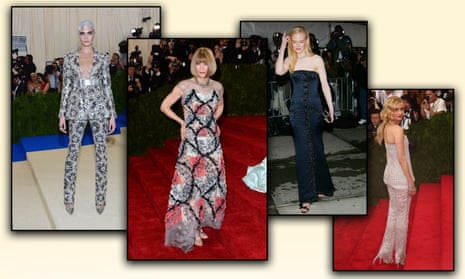 Cara Delevingne in in 2017, when the exhibition was dedicated to Rei Kawakubo of Comme des Garçons; Anna Wintour in 2014, for another solo-designer theme Charles James; Nicole Kidman in 2005, back when the event was still a relatively niche fashion thing; and finally Diane Kruger taking the theme China: Through the Looking Glass literally in a pair of sheer pants.
And Anna Wintor – Met Gala mastermind – has arrived, arm-in-arm with British actor Bill Nighy (not the science guy).
Alyx Gorman
Speaking of Lagerfeld's cat …
Of all the "who's coming" speculation for tonight's event, there's one celebrity we've been following with particularly keen interest. Know for her dazzling blue eyes and tendency to wear luxurious, clotted cream real fur looks, Karl Lagerfeld's Birman Choupette was hotly tipped to turn the red carpet into her very own catwalk.
These rumours intensified when Kim Kardashion posted a selfie with her fellow social media five days ago, captioned: "Had a date with @choupetteofficiel in Paris. We then spent some time at @karllagerfeld's office to get a little inspiration for the Met."
Alas, Choupette has subsequently sent her regrets, also via Instagram. Her human wranglers wrote: "Many people invited me to walk the red carpet of the #METGALA2023 in tribute to Daddy, but we preferred to stay peacefully & cozy at home. We pay tribute to my Daddy every day since his parting and we are very moved to see one more day dedicated to him."
Sure, it would have been easy to criticise the decision to fly a cat from Paris to New York in order to put it in a loud and uncontrolled environment for the sake of a few photographs, but a little part of me cannot help but be disappointed.
Artist Sarula Bao is at the Met sketching the live arrivals of celebrities on the carpet.
First up is Chloe Fineman with her cat bag.
Former Guardian fashion editor Hannah Marriott gives her take on the Karl Lagerfeld theme this year.
Karl Lagerfeld: A Line of Beauty, which opens on Friday, walks a difficult line. Its entire purpose is to venerate the designer, who died in 2019 at the age of 85 after a spectacular 65-year career, whose legacy has recently been reappraised owing to much-documented fatphobic and Islamaphobic comments he made in the early 2000s, Marriot says.
You can read the full review here:
Alyx Gorman
As we await the arrival of the first guests, here's some pre-reading to whet your appetite.
If you actually want to watch the red carpet live, you can do so over at Vogue.com where the livestream will commence at 6.30pm EST (11.30pm for those staying up late in the UK; and 8.30am for all the Australians joining us for breakfast – I'm eating sequins and oat milk!)
For some speculation of what may unfold, fashion-wise, Jess Cartner-Morley has you covered. "I would love to see lots of beautiful vintage pieces," Costume Institute curator Andrew Bolton told her. Same.
For some very granular details on how the event unfolds, fashion writer and Wintour biographer Amy Odell has the hottest tea on her Substack Back Row. Some of it is paywalled off, but you can still read the bit about a long, secret queue to get in that we never see any photographs of. As per Roisin Murphy: " It's not an ordinary queue, it's a queue with Beyoncé and Rihanna."
Want to know who's tipped to go? The Cut has a great wrap of all the rumoured guests. Rihanna, who's already been spotted in vintage Karl Lagerfeld-era Chanel once this week, is very much on their speculative list.
And, if you'd like to do some deeper reading, I highly recommend Odell's biography of Us Vogue's editor in chief: Anna. It outlays the meticulous control Wintour exercises over the Gala in great detail, and chronicles how the event has become the 21st century fashion industry's king (and queen) making night. Or, for drama, feuds, "glorious excess" and the story of Lagerfeld's rise, turn to seminal fashion text the Beautiful Fall by Alicia Drake, which centres around the famous rivalry between Lagerfeld and Yves Saint Laurent in 1970s Paris.
Year after year Blake Lively is a crowd favourite Met Gala guest. But she has posted to her Instagram story this morning in what looks like a not-Met-Gala-bathroom and not-Met-Gala outfit.
Lively and her husband Ryan Reynolds welcomed their fourth child just two months ago. She confirmed she would not be attending the red carpet last week, but said she "will be watching".
Some of the first famous faces are making their way up the carpet, and sunglasses are already becoming a recurring theme: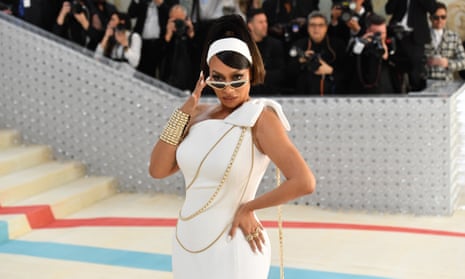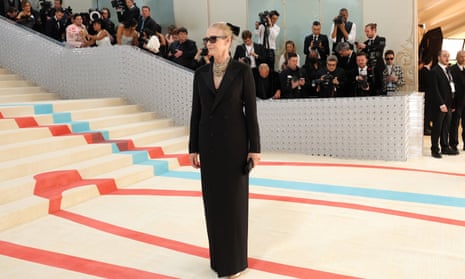 The red carpet this year is not red:
Blue and red circles up endless cream stairs are hypnotising me slightly: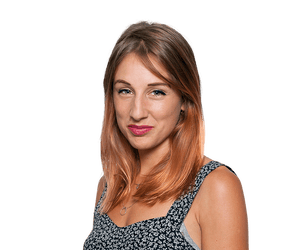 Morwenna Ferrier
Welcome to The Met Gala, the biggest night in red carpet fashion. Sure we have the Oscars, the Grammys and the Emmys, but it's only the Met where the focus is on the gowns, and where the carpet is the event rather than simply the lead up. It's a costume party, a social media phenomenon, a convergence of art and clothes that somehow generates more media fuss than the Super Bowl.
So what do you need to know before we kick off? The gala always takes place on the first Monday in May – today – and marks the opening of the Costume Institute's annual blockbuster exhibition, to which it is closely themed. This year it's "Karl Lagerfeld: A Line of Beauty," an homage to the longtime designer behind Chanel, Chloé, Fendi, his own Karl Lagerfeld label and early work at Balmain and Patou. Lagerfeld died in 2019, leaving a legacy that epitomised the way fashion can permeate wider culture, turning monochrome into a thing, and offending various people along the way.
This is, after all, the most controversial theme to date. It was Lagerfeld who among his many 'Karlisms', called Adele fat in 2012 (he later apologised), decried sweatpants as a sign of having given up and in a 2018 interview with Numéro magazine, claimed he was "fed up" with the #MeToo movement. Still, as a designer who rewrote the narrative of luxury fashion, a man as famous as the people he dressed, and a longtime friend of Wintour, becoming a Met theme was simply a matter of time. We can expect people to boycott and protests to ripple across social media regardless.
All of which makes it easy to forget The Met Gala is actually a fundraiser. Of the 400-odd celebrities and designers you're about to see, every seat is paid for. Tickets start at $50,000 for one, and go up to $300,000 for a table, the highest on record proving even the 1% can't avoid inflation. The money raised, of which there will be a lot, goes to the costume Institute which has to fund itself. It turns out Anna Wintour, US Vogue editor and chief architect of the event since 1999, is just pretty good at spinning a philanthropic event into the see-and-be-seen event of the year. Last year's gala brought in $17.4 million. That's a lot of clothes-preserved-as-art.
Of course the fun bit is seeing who turns up and what they wear. Wintour is notoriously picky with her guest-list. She's thought to value status and buzz as much as income, which explains why there were rumours of a Kardashian ban. Already guaranteed are the Met Gala hosts – Michaela Coel, Penélope Cruz, Roger Federer and Dua Lipa. These hosts rotate each year. Other rumoured guests are Sydney Sweeney, Aubrey Plaza, Ice Spice, Rihanna and – after all that – Kim, Kylie and Kendall.
As for the fashions, designers usually dress celebrities and arrive alongside them, meaning it sits somewhere between a costume party and an advert. We can speculate as to whether Timothée Chalamet will cosplay as Karl in sunglasses and a starch-collared Hilditch & Key shirt, whether Margot Robbie will revisit some of her questionable-yet-contractual classic Chanel ambassador looks, or whether anyone will come as Choupette, Lagerfeld's beloved Birman cat. You'll know momentarily! What we do know is that it's likely Lagerfeld would not have endorsed the theme. Speaking at the announcement last September, US Vogue editor Anna Wintour told the Guardian he would "be rather alarmed at the idea of his clothes appearing in a museum" and that "he loathed the idea of fashion standing still enough to be admired at a backward glance." Which somehow makes it all the more fun. Enjoy!
Happy Met Gala day! I'm Rafqa Touma – I'll be rolling the the blog with live updates on all things gala.
If you see anything whacky/intriguing/awe-inspiring, shoot it my way on Twitter @At_Raf_
And we are off!