Misha Japanwala's casting practice began with a reflection of her own identity as a Pakistani woman, painting silicone unto herself.
"It taught me so much about my relationship to my body," she says. "And what it means to go through this process of developing a better relationship to my sense of self."
In an effort to understand how the world perceives femme bodies, her work has become deeply rooted in the Urdu word "beghairat", which translates to shameless. Japanwala is no stranger to the derogatory term and the urgency to reclaim it was shaped by her upbringing in Karachi.
"I'm constantly dealing with shame," she says. "And as a Pakistani woman, it really comes at you from all angles."
The rising artist is known for her elegant sculptural garments, deconstructing themes of bodily autonomy, gender based violence, morality, sexuality and censorship. "The only way to really do it justice was to go directly to the source of it, which is the body itself unchanged," she says.
Japanwala's work has appeared in a legion of international publications including Vogue, Harper's Bazaar and Vice. She has also created commissions for the likes of Gigi Hadid, Cardi B, Lil Nas X and Joy Crookes, and was a 2021 honoree on the Forbes 30 Under 30 List.
Her debut solo exhibition, entitled Beghairati Ki Nishaani: Traces of Shamelessness, honors and chronicles a community of femme, queer and trans lives in Japanwala's native city. It was crucial for her that every single person should be molded in her hometown. This latest body of work will be unveiled by the Hannah Traore Gallery this week.
She considers the new lineup archival, imagining the pieces as excavated artifacts. A patina chemically ages the gold, bronze and copper coatings, also a subtle nod to the materials and inclusive imagery of Mohenjo-daro and Harappa civilizations of the Indus Valley. Japanwala was driven by the desire to record history in an honest and truthful way, wanting to preserve the legacy of her peers.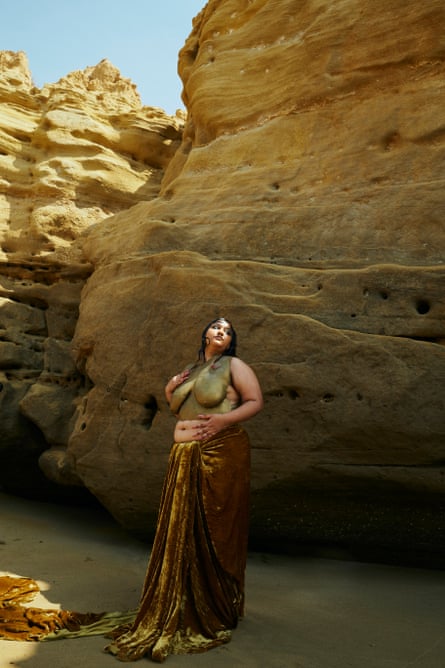 In the core collection of breastplates, a composite resin creates a perfectly hollow shell providing the illusion of a second skin. Seven people were molded, all of whom have directly impacted and inspired Japanwala's definition of shamelessness. "A lot of them are artists who engage in artistic practices with different mediums; music, performance, textile, painting, and I think all of their work addresses shame and beghairiti in a really beautiful way."
Fellow artist Scheherezade Junejo has been the subject of body molding and casting since 2007 for artists such as Amna Ilyas and Nausheen Syed but describes her participation in Japanwala's project as "one of the most special experiences of my life". Junjego says she loved the idea of being immortalized by her, particularly within Pakistan's current conservative socio-political landscape.
"As someone struggling with their self image, self worth and body, it immediately made me feel worthy, and welcome and powerful, as I saw myself in the third person. All the negativity surrounding my body, in my head seemed to evaporate."
For another series, Japanwala reached out to educators, activists, directors, comedians, journalists, writers, photographers, artists and curators who are actively engaged in building liberation in Pakistan. Molding their hands, she celebrates a physical symbol of resistance and resilience. These individuals included public figures such as film-maker Sharmeen Obaid Chinoy, who uses her voice and platform to advocate for the rights of marginalized people in Pakistan.
The idea for her final cast component was born out of spontaneity. In a spur of the moment, with only three weeks left in Karachi, Japanwala posted an open call on Instagram, inviting femmes based in the city to anonymously contribute to her work by having their nipples molded. The response was overwhelming from strangers and friends alike. With 75-plus people coming to her home studio, and only so much space for silicone in her suitcase, she had to think fast, ultimately using dental amalgamate to create the nipple molds.
"That was a deeply moving process," she says. "A lot of conversations were had about people's own personal relationships to their body, why they felt like they wanted to come do this, where they were at in their life."
Japanwala hopes to make these anonymous sessions a consistent staple in her artistic process. Among her muses was a recent divorcee; another was a woman who had undergone mastectomies and allowed the artist to mold her scars. Others, such as a young trans woman, sought to craft a new relationship with her body.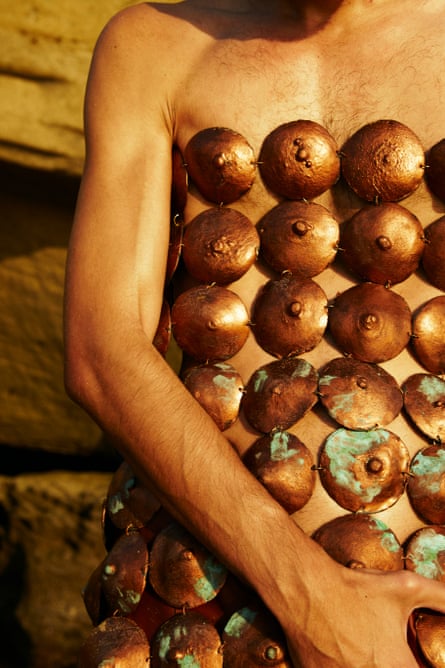 To accompany the physical installations, expect an ethereal four-minute film shot on the shores of Karachi to the tune of an unreleased Ali Sethi song. Pakistani American director and friend of the artist Meetra Javed captures the glistening breastplates and body casts in breathtaking motion.
"The vision for this piece was to poetically highlight subjects who in their own right are resisting the toxic elements of political and cultural atmosphere, through the lens of Misha's work," says Javed. "For me, going back to my home country to make this as a Pakistani American felt empowering. Being with a group of artists who are challenging the status quo is a rarity and I feel privileged to experience the progression of thought in my lifetime."
It was important to Japanwala that there be imagery of the pieces being worn by her subjects, for the journey began with their bodies. In thinking about legacy and death, Japanwala draped each of them with locally sourced fabric, a gesture towards the white shroud used in Islamic burials.
"It's important for our bodies to be perceived as artworks, because they are," she says. "Something else that's been wonderful about this body of work is collaborating with so many incredibly talented Pakistani artists."
HTG founder and curator Hannah Traore encountered Japanwala's art years ago before she opened her Lower East Side gallery. "I was immediately drawn to it because I hadn't really seen anything like it; to have a piece hanging on the wall and you can wear it on your body – I think it's so interesting," she says.
In the making of her own body cast, the 28-year-old gallerist experienced the gravity of Japanwala's work first hand. "As she's making the cast, I'm looking at it and I realized that this is exactly what her work is about," she says.
Traore and Japanwala will be wearing body casts to the opening. "It was a really beautiful moment for me," Traore says.
In the past, the artist has received death threats for her work, and continues to face bigotry and censorship on social media platforms. Nonetheless, support is prevalent. Japanwala says: "That embrace from my Pakistani community has been really beautiful and really wonderful. Because at the end of the day, that's who the work is for. It's work for us, it's work about us, it's work of us, it's literally of our bodies."