A Super League game in France has descended into chaos and near-tragedy when a raging bull broke free of its handler and charged down the Stade Gilbert Brutus field while players were warming up on the ground.
Catalans Dragons players were going through their pre-game drills ahead of their home clash with reigning Super League champions St Helens when the bull broke loose of its handlers as it was being paraded around the field.
The home team were wearing red warm up tops, giving the bull extra motivation.
The bull had been on parade around the field with several mates to highlight the quality of beef in the Pyrénées-Orientales region of France when it channelled Greg Inglis to break free and thunder downfield, sending Dragons players leaping out of the way, vaulting the fence into the crowd to get away from the rampaging bovine.
Spooked by the massive crowd (and perhaps incensed at being paraded as a meat product), the horned behemoth dragged one of its pursuers several metres before galloping its way into the in-goal area and eventually slowing down, allowing its embarrassed handlers to regain control.
Catalans owner, Bernard Guasch, is the owner of a local meat-processing plant, and it was his idea to allow the bulls onto the field before the match but the cross-branding exercise intended as pre-game entertainment almost descended into catastrophe.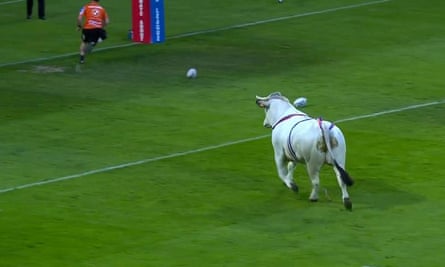 Guasch had arranged for "three prize-winning bulls, as well as two cows from the same Gascon breed" to "perform a lap of honour during the warm-up" according to a club statement before the game. But things quickly got out of control.
Thankfully, the bull was recovered with no damage done and the game began as planned. Catalans eventually won the clash 24-12 over the defending champions.