Key events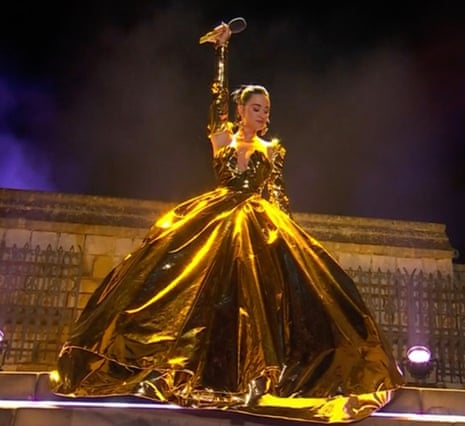 Anyway, here's Katy Perry, tonight's penultimate performer. She's dressed as a Quality Street and singing Roar. Suddenly this whole nonsense actually seems like a concert for the first time.
I think I understand the royal bear hierarchy now. Queen Elizabeth had Paddington. King Charles has Winnie the Pooh. By my calculations, when Prince George becomes king, his coronation will feature an appearance by Cocaine Bear.
Now for the bit with the famous people. Alan Titchmarsh is here to say that the king is a gardener. Amanda Holden is here to say that the king has some dogs. And Winnie the Pooh is here to say that the king likes squirrels, or something.
What we are witnessing now, is a television programme where 20,000 applaud some drones in the shape of a giant owl's face.
The drones have turned into a butterfly now. And a sort of squiggly line. Anyway, the important thing is that the world is effed beyond all belief. Ooh, now the drones are a whale! Lovely!
Ffrench is singing Don't You Forget About Me. From the perspective, I guess, of the planet? I'm honestly so confused.
Hey, guess what? More drones. A flower!
And in celebration of the natural world, here's an Alexis Ffrench performance, with an intro by the king who, again, is explaining how effed everything is. Still, enjoy the Muppets everyone.
Stella is also explaining that the world is absolutely effed and there's absolutely no hope for any of us, but it's OK because the king knew it was going to happen 50 years ago.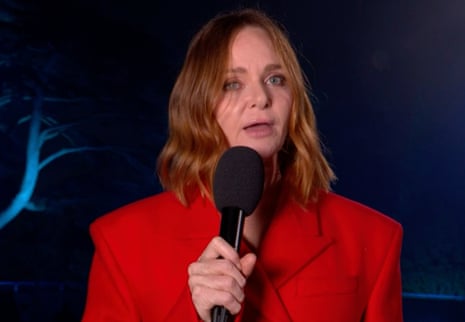 And now here's Stella "Sorry, Dad Was Busy" McCartney, to explain that the world is quite nice.
Oh, here come the lit up drones. In Cornwall, the drones have taken the shape of a watering can. In Cardiff, a dragon.
Dover is lit up. Blackpool is lit up. Newcastle is a bit lit up. Some people in Cambridge are on bikes that can light up a tree. It's hard to describe this bit through the medium of a liveblog, but try to imagine some lights. There, you've got it.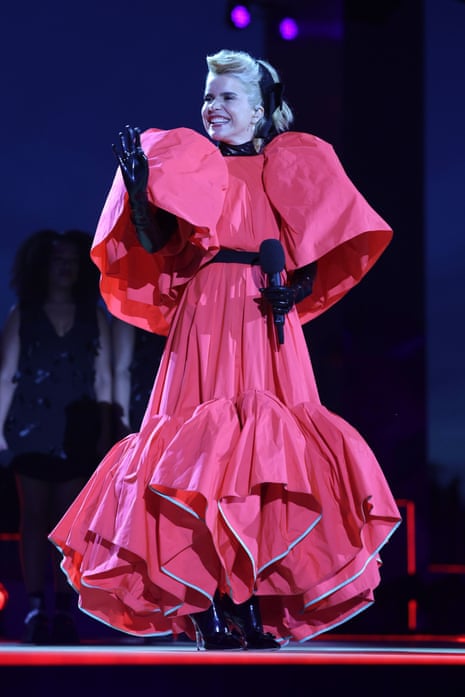 Here's Paloma Faith, dressed as a sort of fuchsia sex toy, who will perform during a segment where the nation gets lit up in a spectacular display in celebration of the king.