Eurovision 2023 – tonight's running order
Here is your running order for tonight, which the European Broadcasting Union (EBU) have handily put on a social media graphic so that I don't have to type it all out. The show starts at 8pm BST.
Ukraine go 19th, the UK goes last. Favourites Sweden and Finland go 10th and 13th. The show opens with Austria's brilliant song about Edgar Allan Poe, and 25th is Croatia's utterly and delightfully bonkers anti-war song Mama ŠČ! from Let 3. Plus we will get the usual skits and grand musical numbers.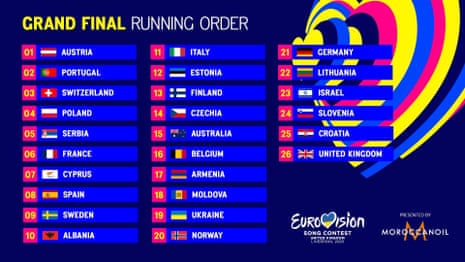 The comments will be open, but experience tells me that I will be unlikely to draw enough of a breath to join in, but have fun and be kind to each other.
And remember our cardinal rule. If you have come on to the Guardian website to leave a comment saying that you don't watch Eurovision, you hate it, it is a silly waste of a time, then fair enough, everyone is entitled to their opinion, you do you. But I can guarantee we are having a better time enjoying it than you are by choosing to actively spend your Saturday evening moaning about it 🙂
You can drop me an email to martin.belam@theguardian.com if you spot mistakes or want to tell me how your party is going or why Austria should win and so on. I can't promise to reply but I will try to read them all.
Key events
26: 🇬🇧 United Kingdom: Mae Muller – I Wrote A Song
The UK got the last slot via a random draw. I really hope for her sakes this does well. It is a great little pop song, but whether it is as good as the other great little pop songs tonight I'm not so sure. She has thrown heart and soul into being the UK's representative this year though, so, while acknowledging this is a blog for everyone, everywhere, I've got my fingers firmly crossed for her.
You will be seeing this on Eurovision clip shows for years. I love it. It is exactly the kind of thing that only Eurovision seems to be able to deliver on this global scale. It isn't so much pop music as performance art. Let 3, I salute you!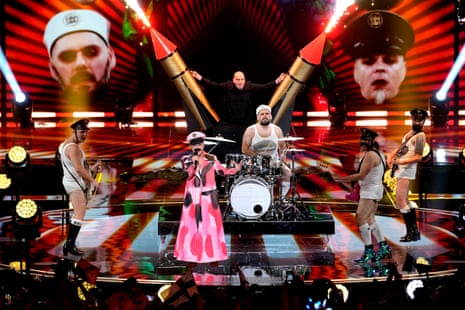 It's the hairy legs for me.
25: 🇭🇷 Croatia: Let 3 – Mama ŠČ!
THIS ON THE OTHER HAND. I was so pleased this got through the semi-final because it is proper WTF performance art Eurovision. They are a punk band who have been knocking around since the late 1980s and this is very clearly about war, with allusions to Vladimir Putin and the Belarus leader Alexander Lukashenko, if in a rather surreal way. Incredible Eurovision stuff.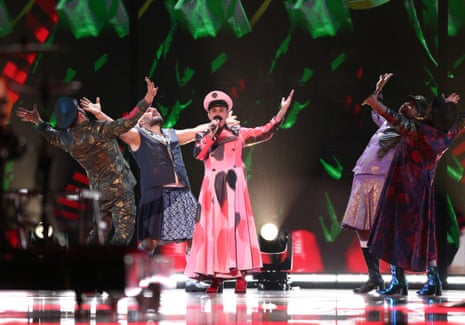 They are massive in Slovenia, but I don't get what the flower power style has to do with the song, which is kind of sub-The Vamps boyband rock, and then some hideous air guitar gurning. Sorry. Really don't like this one. Sometimes you just have to call it how you see it.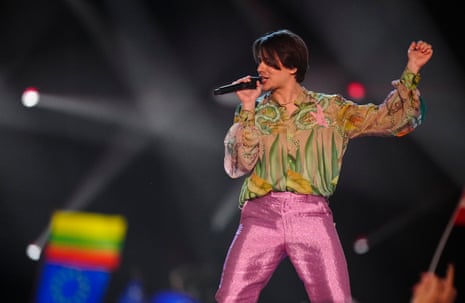 24: 🇸🇮 Slovenia: Joker Out – Carpe Diem
I'm going to be honest, I don't get this one at all ¯\_(ツ)_/¯
✨✨✨ An entirely different song arrives two-thirds of the way through! ✨✨✨
I just think that at some point there was a project meeting about the staging and someone said "We haven't really shown off Noa's breaking skills, shall we just do that for the last 30 seconds instead of singing the chorus again?", and bless them, they went with it.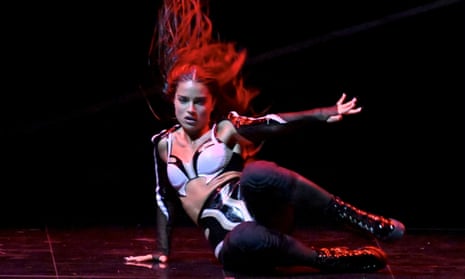 23: 🇮🇱 Israel: Noa Kirel – Unicorn
Noa Kirel is a big star domestically, and this has got a good shot at winning if you ask me. Which you didn't, but you are here on the live blog, so my opinions kind of come with it. It has an uplifting empowerment message, she's been quite charming around the event by all accounts, and the staging is good. But by far the best thing about this is that an entirely different song arrives two-thirds of the way through just so she can do a manic solo dance routine.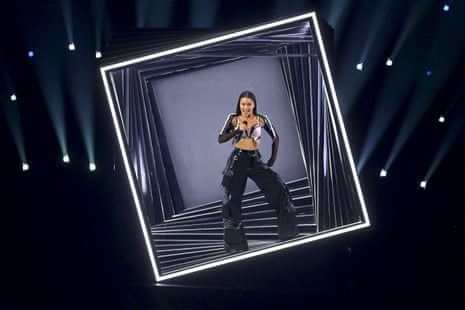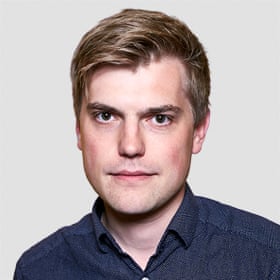 Jim Waterson
You can't hear the crowd that loudly on the TV broadcast – but inside the Liverpool Arena their support can massively boost the acts. That's why the performers do their best to get the crowd cheering for them in the few seconds before the lights go up and they start their television performance.
The crowd response makes it pretty clear who are the favourites among fans in the arena – including Austria, Italy, and Finland.
22: 🇱🇹 Lithuania: Monika Linkytė – Stay
This is a bit of a lull before the storm of the final few tracks. She has a great voice, and it has got something about it, there's a little hint of Running Up That Hill (A Deal With God) in the drum rhythm in the chorus, but I can't see this troubling the higher places at all.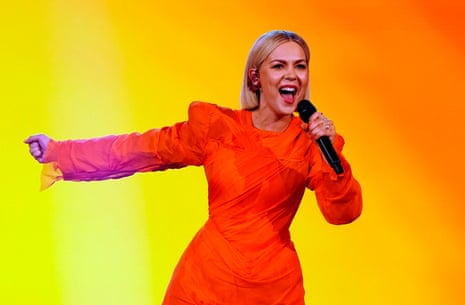 I wonder if Germany are in a similar kind of lull that the UK was in pre-Sam Ryder. With automatic qualification to the final guaranteed, there's little jeopardy in whatever you pick, leading to just being risk-averse and sending song after song that is unlikely to connect with the audience. Since 2013, Michael Schulte's You Let Me Walk Alone hitting fourth place in 2018 is the only time they have finished higher than 18th, and they've had six entries finish 25th or below. But this could change that, couldn't it. Great fun!
21: 🇩🇪 Germany: Lord of the Lost – Blood & Glitter
"Scream for me Liverpooooooooool!"
This is a fun, fun, fun burst of Satanic rock fun. Just look at it!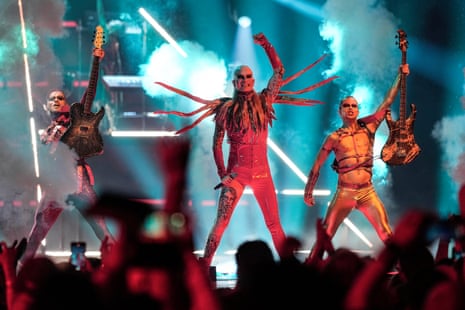 I think this is great and is going to do very well, it is very epic from the opening second and you can't say her delivery lacks "Ooooomph!" can you?
Presumably Alessandra had her costume sorted out before watching Penny Mordaunt at the coronation at the weekend. I'm sorry. I spent ten hours live-blogging the coronation. I've got Penny Mordaunt on the brain.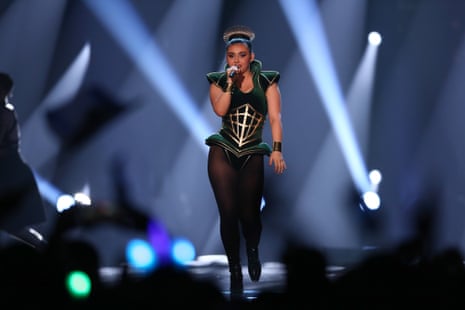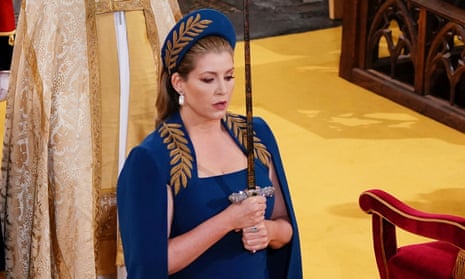 20: 🇳🇴 Norway: Alessandra – Queen of Kings
Alessandra was born in Italy, but has been living in Norway for a couple of years, and this track keeps threatening to break out into a Game of Thrones/dungeons and dragons remix of Depeche Mode's Personal Jesus, just lacking a bit of twangy guitar. I'm not saying she has a high note flourish, but you might need to put earplugs in your dog for the finale of this one.