Key events
Back to Everton, though, I'd back them to get out of it from here because I think they'll win at least one of their last two, and Leicester were dreadful at Fulham on Monday.
Pep Guardiola says Nathan Aké is much better but not quite there yet, and he's not thinking three more wins for the title, he's thinking win today. He was impressed with how Everton played at Brighton – in transition, at set-pieces and with their defensive organisation. He's not too fussed about the crowd because it's always a factor in England, and every team always has something to play for.
After today, Everton have Wolves away then Bournemouth at home, while Leeds, a point behind have West Ham away and Spurs at home, and Leicester, two behind, have Liverpool home, Newcastle away, West Ham home. So it may be that Everton have enough points already, but one more win and they're nearly there.
If I was Everton, so I guess also were Everton a person, which it isn't, I'd be concerned about the trident behind Erling Haaland of Mahrez, Alvarez and Foden. Each poses a different threat, and each knows they're playing tonight because others are likely to be picked ahead of them in midweek. So they're not only playing for the title, they're playing for places, and I'm not certain I know how Gueye and Garner will keep track of them.
Micah Richards just said that as a bloke, Jordan Pickford reminds him of Joe Hart. I wonder how he'd like that.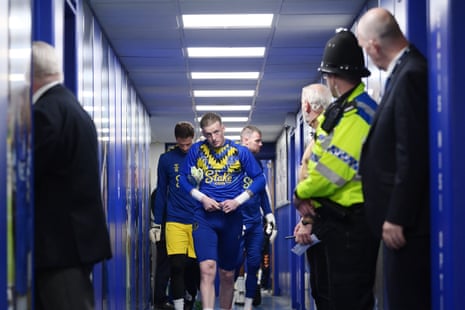 Dyche was happy with the performance against Brighton and confirms Mykolenko is injured – a slight thigh-strain acquired in training yesterday. On the difference between Brighton and City, he explains that the former play a specific style whereas City have the ability to cycle through different ones. His side need to start well then take it from there.
Tangentially, I enjoyed Nick Ames' interview with Kieran McKenna. It's funny how well Ole Gunnar Solskjaer's coaches are doing, given how a lack thereof was deemed a major reason for his ultimate failure as Man United manager.
Also going on:
That City side has obviously been selected with Wednesday in mind, and has some serious firepower on the bench. My guess is that Everton look to get at City in wide areas – whether it's Laporte or Akanji at left-back, neither is a natural in the role – and I daresay Calvert-Lewin fancies himself, in the air especially against Dias and whoever it is alongside him. James Garner delivers an excellent dead ball, and with Tarkowski, Mina and Doucoure there to attack everything, set-pieces might be important.
As for City, I imagine they'd have rested loads had Arsenal not beaten Newcastle last Sunday. But they need to keep winning, so Pep Guardiola makes four alterations to the side that drew 1-1 at the Bernabéu in midweek: out go John Stones, Bernardo Silva, Kevin de Bruyne and Jack Grealish; in come Aymeric Laporte, Riyad Mahrez, Phil Foden and Julián Álvarez.
So what does it all mean? Well, Sean Dyche makes one change to the side that so clattered Brighton, Vitalii Mykolenko replaced by Mason Holgate. Mykolenko isn't in the squad, so could well be injured.
Everton (a deep 4-2-3-1): Pickford; Patterson, Mina, Tarkowski, Holgate; Gueye, Garner; Iwobi, Doucoure, McNeil; Calvert-Lewin. Subs: Begovic, Lonergan, Keane, Onana, Gray, Maupay, Coady, Simms, Welch.
Manchester City (a 4-2-3-1 and various others things besides): Ederson; Walker, Laporte, Dias, Akanji; Gundogan, Rodri; Mahrez, Foden, Alvarez; Haaland. Subs: Ortega, Moreno, Phillips, Gomez, Palmer, Lewis, Stones, Grealish, De Bruyne, Silva.
Referee: Anthony Taylor (Wythenshawe)
The ability of sportsfolk to deliver – from day to day on the training ground, from week to week on the pitch and from season to season overall – is a frankly ridiculous state of affairs. I mean, seriously: imagine going to work and trying hard every day. Not for us, Clive.
So in a sense, we shouldn't be surprised that Manchester City seemed to ease off the gas at the start of this season. Once it became apparent that Liverpool were ailing, they could easily have concluded that there was no serious challenger to their bid for a third consecutive title, backing themselves to get at least one more point than Arsenal – whatever happened, and however many that ended up being.
With good reason. But when they failed to punish Arsenal's defeat at then-bottom Everton, losing the following day to Spurs of all teams, then followed Arsenal's late win at Villa with a draw at Forest, the suspicion was that they'd miscalculated.
Er, or not. Since then, City have won 10 league games in a row and are hitting squeaky-bum time on an Imodium and caffeine speedball, hot favourites for the title with a derby Cup final and the Champions League also theirs to lose.
A week ago, this afternoon's trip looked like an easy three points. But then in midweek, Everton – without a win in two months – went to Brighton – perhaps the side most similar in style to City – and devastated them, such that they hit the weekend in form and out of the bottom three.
Of course, the likelihood is that City turn them over nevertheless, but Everton's support played a massive part in keeping them up last season and we can be sure that the Goodison will be absolutely steaming this afternoon. If Sean Dyche's side can stay in the game, things could quickly get interesting.
Kick-off: 2pm BST