Key events
Suspilne, Ukraine's state broadcaster, reports that a 61-year-old man has been killed when "Russian troops fired artillery at the village of Kozatske in the Kherson region."
It cited the local authority.
Kozatske is on the right bank of the Dnieper River, opposite the portion of the Kherson region which is under Russian occupation.
The foreign ministers of Sweden and Turkey will meet "soon" to discuss Stockholm's delayed bid to join Nato, the Swedish foreign ministry said on Monday.
Swedish foreign minister Tobias Billstrom initially told broadcaster SVT on Monday he would meet his Turkish counterpart Mevlüt Çavuşoğlu on Thursday at a gathering of Nato foreign ministers in Oslo.
"But we have been informed that Turkey's foreign minister is not coming, so there won't be any meeting there," Reuters reports a spokesperson for Billstrom said, adding that the meeting would nevertheless take place "soon".
Discussions between the two countries over Nato ground to a halt during the recent Turkish election, which Recep Tayyip Erdoğan has now won.
"I look forward to being able to shift into a higher gear and speed things up now we know what the result is," Billstrom said.
The process is much delayed. Sweden has in the past accused Turkey over its human rights record, while Ankara is unhappy that Stockholm has, in its eyes, harboured groups that Turkey considers to be terrorists. Finland's application to join Nato has been approved, but Sweden's is still dependent on ratification from both Turkey and Hungary.
Olena Zelenska has posted a video clip from Kyiv this morning of children running towards air raid shelters as the alarm sounded in the capital. Ukraine's first lady tweeted:
Kyiv. The morning after a sleepless night under fire. Anxiety again … Children screaming running for cover to the sounds of explosions is our reality. But it doesn't have to be that way – anywhere, ever. Fear cannot be turned off – but we do not freeze, but act. Ukraine continues to fight.
Eleven missiles ballistic and cruise missiles launched by Russia aimed at Kyiv were shot down today, according to Valerii Zaluzhnyi, the commander-in-chief of Ukraine's armed forces.
Monday's daytime attack on Kyiv marks Russia's 16th airstrike on the Ukrainian capital this month, Reuters reports.
This morning's events follow on from Russian attacks over the weekend, which were the biggest drone attacks yet on the Ukrainian capital. They hit as the city prepared to mark the annual celebration of its founding. The attacks killed one person and injured two.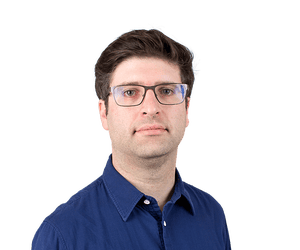 Shaun Walker
Shaun Walker, our central and eastern Europe correspondent, is at the Globsec conference in Bratislava today.
During one of the early sessions where central European foreign ministers discussed how Europe should deal with Russia after the war in Ukraine is over, Austria's foreign minister, Alexander Schallenberg, was challenged over his country's military neutrality and traditional policy of maintaining links with Russia.
He said Austria was not a member of Nato but was "never neutral as far as values are concerned". But he said after even after a Ukrainian victory, Europe would need a policy to engage Russia.
"Whatever we do, history doesn't change and geography won't change. We have to be capable of making the difference between Putin and his henchmen, and the ordinary Russians. It might be difficult, but I believe there is a very important difference, which we manage to make with Iran and with North Korea," said Schallenberg.
The Czech foreign minister, Jan Lipavsky, disagreed, saying the problem was broader than just the Russian leadership: "It's not only about Putin, it's Russian imperialism, it's the idea that Russia is not sure of its borders, that it can come and with sheer force proclaim 'This is my territory'… We need to be ready to protect Europe from this evil idea of Russian imperialism."
The geopolitical conference draws world leaders, foreign ministers and defence ministers from across Europe and will run for the next three days, with the main topic on the agenda being the war in Ukraine for the second year running.
The best known speaker this year is the French president, Emmanuel Macron, who will address the forum on Wednesday. The Ukrainian president, Volodymyr Zelenskiy, was due to address the forum this morning but it's been postponed.
RIA, the Russian state-owned news agency, reports that Russian forces hit Ukrainian airbases overnight and all their targets were destroyed, according to the nation's defence ministry.
Ukrainian officials said earlier that Russia had struck targets across the country, using dozens of missiles and drones, Reuters reports.
The Ukrainian president, Volodymyr Zelenskiy, said on Twitter he had a phone call with the Cambodian prime minister, Hun Sen, in which he "thanked him for [the nation's] principled position in support of Ukraine's sovereignty and territorial integrity" and noted Cambodia's training of Ukrainian de-mining specialists.
Reuters reports that Dmitry Peskov, the Kremlin's press spokesperson, said that a "vacuum" was emerging in the area of arms control due to poor relations between a number of states and said that Russia was not to blame for the situation.
During a news briefing, Peskov was asked about Russian president Vladimir Putin's decision to formally "denounce" an arms control treaty dating back to the end of the cold war.
During his response, Peskov said: "In this area of arms control, of strategic stability, a big vacuum is now developing, of course, which ideally would be filled urgently by new acts of international law to regulate this situation.
"This is in the interests of the whole world. But for this to happen we need working bilateral relations with a whole array of states which at the current time are lacking," he said, adding that this was "not our fault".
Earlier this month, Putin signed a decree symbolically denouncing the 1990 conventional forces in Europe (CFE) treaty, which placed limits on the deployment of military equipment in Europe. The decree was signed after a debate and vote in the Russian parliament.
Olexander Scherba, the ambassador for strategic communications for Ukraine's ministry of foreign affairs and formerly the country's ambassador to Austria, said on Twitter he was in the ministry's offices in Kyiv when the explosions went off.
He said they felt "real close" and there were "16 kabooms", he also said there was no visible destruction in the city.
Summary of the day so far …
At least one person has been hospitalised after a wave of explosions were heard in Kyiv on Monday morning. Mayor Vitali Kitschko said that the person had been in the Podilskyi district in the north of the city. The local authority reported that the roof of a two-story building caught fire in the district as a result of falling debris, but that the fire was contained. "The enemy used missiles of a ballistic trajectory – preliminarily Iskanders. There is a possibility that S-300 and S-400 missiles were also used," air force spokesperson Yuri Ihnat told Ukrainian TV.

Ukraine reported that Russia launched up to 40 cruise missiles and about 35 drones overnight: air defence claimed to have shot down 37 missiles and 29 Shahed drones.

An unspecified military target in the western Khmelnytskyi region was struck, with the regional governor reporting that "five aircraft were disabled" and that a fire had broken out in a fuel warehouse.

In Odesa, fragments of a downed kamikaze drone hit the port infrastructure causing a fire, and rockets and drones were shot down over Lviv, Kirovohrad, Poltava and Mykolaiv regions.

Serhii Popko, the head of Kyiv's military administration, said Russia was trying to exhaust the country's air defences with the increased attacks, adding: "The enemy is trying to keep the civilian population in deep psychological tension." Klitschko added: "Another difficult night for the capital. But, thanks to the professionalism of our defenders, as a result of the air attack of the barbarians in Kyiv, there was no damage or destruction of infrastructural and other objects.

Wagner boss Yevgeny Prigozhin "appears to have again indirectly undermined Russian president Vladimir Putin's authority and regime", the Institute for the Study of War (ISW) has written in its latest analysis of the conflict. The US-based thinktank bases its assertion on the response given by Prigozhin to a journalist asking about Russian state media's ban on any discussion of Wagner. Prigozhin said that officials could have benefited from their historic ability to censor information if Russia had not declared war on Ukraine. He then shifted to addressing a single, unnamed official: "If you are starting a war, please have character, will, and steel balls – and only then you will be able to achieve something."

Foreign investors who left Russia after selling their businesses there between March 2022 and March 2023 withdrew about $36bn from the country, the state RIA news agency reports, citing analysis of data from the Central Bank.

The death toll from a Russian missile attack on a medical facility in Dnipro on Friday has risen from two to four people, according to the region's governor.
That is it from me, Martin Belam, for now. I will be back later on. Sammy Gecsoyler will be with you shortly to continue our live coverage for the next few hours.
Here are some of the images sent over the news wires of the daytime attack on Kyiv on Monday morning.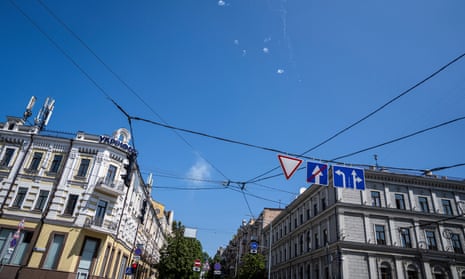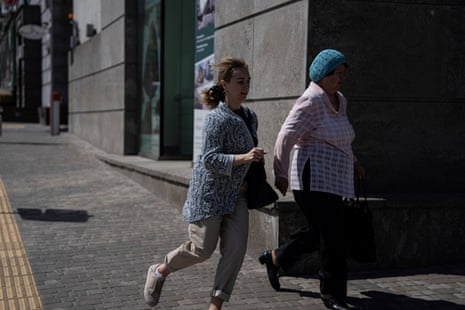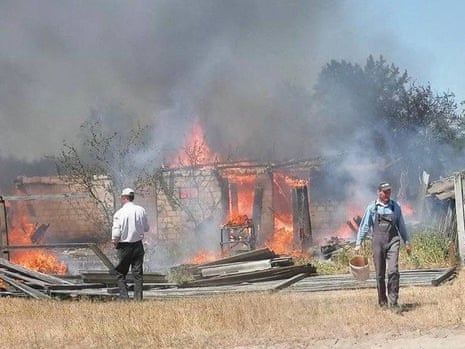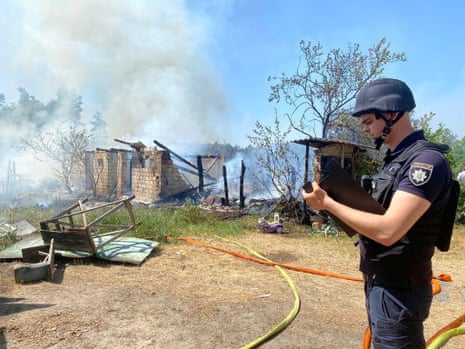 In the last few minutes the all clear has sounded in Kyiv, and people are able to leave shelters.
Reuters has filed a report where witnesses said that panicked Kyiv residents, some of whom initially ignored the air raid siren as they ate breakfast in cafes, rushed to suddenly take cover when the sky above the capital filled with smoke trails and blast clouds.
The underground metro was heaving with people taking shelter, many of them checking their phones, footage from the Suspilne public broadcaster and local journalists showed. With the attack taking place in daytime, many children were among those taking shelter.
Russia attacks Kyiv during daytime with ballistic missiles – at least one person hospitalised
Russia fired ballistic missiles at Kyiv during a daytime attack on the Ukrainian capital on Monday morning, the Ukrainian air force said.
"The enemy used missiles of a ballistic trajectory – preliminarily Iskanders. There is a possibility that S-300 and S-400 missiles were also used," air force spokesperson Yuri Ihnat told Ukrainian TV, Reuters reports.
At least 11 explosions were heard to ring out in the capital in mid-morning, after a night in which Ukraine had already claimed to have shot down 37 missiles and 29 Shahed drones across the country
At least one person was hospitalised in the morning attack in Kyiv, according to the city's mayor, Vitali Kitschko. They were, he said on Telegram, in the Podilskyi district. The city authority said that the roof of a two-story building caught fire in the same district as a result of falling debris, but that the fire was contained. Kitschko also shared an image of what he claimed was rocket debris on the road in Kyiv's northern Obolonskyi district.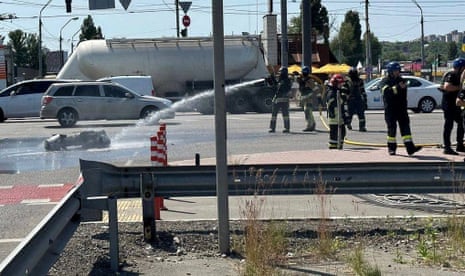 Head of the Kyiv region police, Andrii Nebytov, reported that a farmhouse had caught fire in one district, but that it had been extinguished without casualties.
Suspilne, Ukraine's state broadcaster, reports on Telegram:
In Kyiv region, in one of the districts, as a result of shelling, a farmhouse was damaged and a fire broke out. It has already been extinguished; there are no victims.
It cited the head of the Kyiv region police, Andrii Nebytov.
Francis Scarr, who works at BBC Monitoring, has posted a clip from Russian TV which shows the governor of Belgorod calling for Kharkiv in Ukraine to be annexed into his region.
When asked what could be done "to make the region safe, especially the districts on the border", Vyacheslav Gladkov replied: "Incorporate Kharkiv into Belgorod region."
He was then asked whether that would be possible. Gladkov said: "It's the best way of solving Belgorod's shelling problem."