Key events
Advantage up, Sinner just can't summon the power to put away a pair of overheads, Altmaier hanging in there superbly, and we're back to deuce. This is the best match I've seen in tiiiiime'.
Altmaier saves break point then sends a slice long; Sinner has a proper go at a weak second serve, missing the sideline by fractions, and we're back at deuce.
Tiafoe will shortly serve for the match against Karatsev, leading 5-2 in the fourth.
I AM IN AWE OF DANIEL ALTMAIER! Sinner slams a fantastic backhand down the line, but Altmaier caresses a stop-drop from below the level of the net to set-up another match point! AND HOW HE ATTACKS IT! He sends Sinner to the corner, but then as he tries to clean up, he's left watching at the net as a murderous forehand wails and shrieks past him for another winner. If Sinner had played the match like he's played needing a break to stay in it, he'd have won ages ago, and as I type that he forces advantage! These two, goodness me.
OH JANNIK SINNER! He's from northern Italy, the bit near Austria, and they say people from there tend to have a calmer temperament than is typical; he shows that here, unwinding and unleashing forehands until Altmaier can't take any more!
Not quite yet; Altmaier goes long. Two match points remain … and he double-faults! Nerves! He's talking to himself, breathing, and here he comes again…
A serve sends Sinner out wide, he nets, and after five hours and 15 minutes, might this be it?
Two points, two Altmaier forehand winners! Again, he's two points from victory!
But what on earth is going on on Lenglen? Sinner plays a superb game then finds himself 0-04 down, perhaps relaxing after saving himself. He serves, Altmaier unloads the suitcase at the return … and it drops fractionally long, but it doesn't matter because next point he clouts a forehand over the baseline! Altmaier will serve for the match once more…
Jabeur leads Dodin 5-2; Tiafoe leads Karatsev 2-1 and 3-2 with a break.
YES JANNIK SINNER! He plays a brilliant game – and, to be fair, so does Altmaier – finishing the crucial point with another nauseous overhead. His forehand, when he hits it right, is the bomb!
You what! Sinner bosses the next rally with forehands, Altmaier defending superbly, and when the overhead comes, Sinner clips the net cord and the ball dies! Another break-back point…
…and the second, a terrific serve forcing Sinner to chuck a racket; the ball drops just long. Deuce!
Oooh yeah! Sinner plays a gorgeous drop that gives him 15-all then, as Altmaier comes in, he conjures a wondrous hooked backhand cross-court from in the corner! AND HAVE A LOOK! A brilliant forehand, just inside the sideline, sets up an overhead that gives him two break-back points; Altmaier saves the first…
Imagine how Altmaier is feeling here. The exhaustion! The nerves!
Altmaier spanks a forehand wide, which means he'll have to serve for it; Jabeur leads Dodin 3-1 but faces two break-back points.
Altmaier whacks one so hard he busts Sinner's racket, then at 30-15 Sinner leaps into one of those backhands … that goes wide. He doesn't look happy but a monstrous forehand gives him 40-30 … but they then wind up at deuce. Not that long ago he had two match points, but now Altmaier is two points from victory.
Altmaier, who's looked the fitter, fresher man all the way through this set, holds easily enough, and at 5-3 in the fifth, he's a game away!
Thiago Seyboth Wild beats Guido Pella 6-3 3-6 6-4 6-3!
Medvedev's conqueror, furnished with the no2 seed's path through the draw, advances to round three where he'll meet Yoshihito Nishioka.
YES FRANCIS TIAFOE! He caresses a backhand cross-court from the corner, it glides over the net, dips, and that's enough for a 6-4 set and a 2-1 lead!
YES DANIEL ALTMAIER! He finds himself at 30-40, again hurls all of himself into the pint, and again Sinner's backhand lets him down, dumped into the net! The German leads 4-3 in the fifth, and needs just two holds to move on!
At 5-4, Karatsev forces himself a point for 2-1 on the Tiafoe serve, but after an exchange of weapons-grade forehands, he drops long then finds himself serving at 5-5- 0-30…
Chale! Sent out wide to the backhand on 30-all, Altmaier plays a glorious chop, almost a table tennis shot, that dips over the net for a winner. That's a gloooorious effort, one of the best we've seen today, and after a some deuces, Altmaier smokes a gorgeous backhand winner down the line for 3-3! It's incredible that he's sustained his level because though he's a good player, he's ranked 79 because like many, though his top level is very good, his modal level isn't good enough.
Karatsev and Tiafoe are 4-4 in the third; Dodin and Jabeur have just got going; Seyboth Wild now leads Pella 2-1 and with a break in the fourth.
Closing out his 2-1 hold with an ace Sinner gets himself to 15-30 and this match is now a good barometer for where he is. When Andy Murray was developing, there was a period during which he could beat the best on a good day, but if your Verdascos or your Tsongas played their best against him, he lost. Then, gradually, he started beating almost everyone almost all of the time, whatever they did, and Sinner is someone who should eventually be capable of that too. But he capable of it now, today? Er, maybe: Altmaier quickly holds, so at 2-2 this match could go either way.
Sinner has to go through deuce for his hold, then at 30-all Altmaier gets himself out of bother with an ace and a service winner. Elsewhere, Tiafoe and Karatsev are 1-1 3-4 on serve, Paul leads Jarry 5-2 and Seyboth Wild has just gone 2-1 up on Pella.
Dimirtrov has beaten Ruusuvuori 6, 3 and 4; he plays Sinner or Altmaier next.
Next on Chatrier: Océane Dodin v Ons Jabeur.
Swiatek says it was hard with the wind and she needed to adjust but she's pretty happy with how she played in set two, having learnt from set one. Asked how she might advise kids to cope in those conditions, she says she needs to figure it out first, but otherwise on clay you have to stay patient and "just feel it". Yesterday was her birthday, but she's not a party person so just chilled and enjoyed little gifts from her team.
Iga Swiatek [1] beats Claire Liu 6-4 6-0!
The champ rolls on and she meets Xinyu Wang next.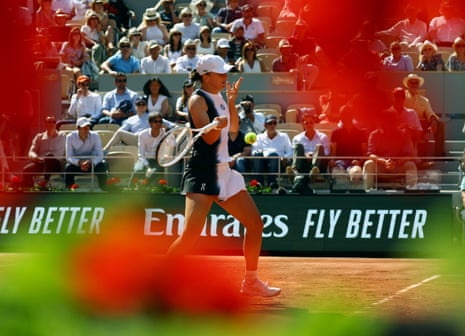 Altmaier only needs one! Sinner serves, he clumps a terrific return close to the sideline, unleashes another brute and that's two sets apiece! What a performance this is from the German, who might easily have retreated after losing a 7-0 breaker or a 601 set but did nothing of the sort! A shoot-out it is, and this has been a fantastic match.
No way! Another blinding backhand from Altmaier, down the line from deep in the court, is too good and Sinner nets! That's 6-4 and two set points!
At 3-3 in the breaker, Altmaier and Sinner grab a drink – I hope it's a stiff one because they've been working, the clock showing four hours seven minutes. And have a look! Another brilliant backhand get from Altmaier sends the ball dipping over the net and Sinner nets! That's the mini-break, but at 5-3 Altmaier misses with the backhand and we're back on serve.
Swiatek breaks against for 6-4 5-0 and this is how good she is: she can devastate opponents playing just about OK.
Nishioka has beaten Purcell in four and meets Pella or Seyboth Wild next; they're level at a a set all and on serve in the third.
Tiafoe indeed serves out to love, so he and Karatsev are 1-1; Swiatek holds for 6-4 4-0, though seems unenamoured with how she's playing, ands Sinner hangs on through deuce for a breaker. Given he's faced match points, Altmaier will be pleased with that.
Altmaier guides a fine backhand return down the line for deuce, right as Tiafoe breaks Karatsev thanks to a 30-40 double; at 5-3, he'll now serve to level the match at one set apiece.
Thanks Tom and hi again – Sinner is 30-all serving for a third breaker out of four.
Yet another Altmaier v Sinner game goes to multiple deuces – just the two this time – as Altmaier holds to lead 6-5, roaring to himself and the crowd once again as he does so. You'd fancy his chances to nick this set now and take the match into a decider.
And with that, I'll hand you back to Daniel.
While I was engrossed in that Sinner service game, Swiatek broke Liu early in the second set and leads 3-0, and Bernarda Pera completed a 3-6, 6-4, 6-3 win over the 22nd seed Donna Vekic.
Altmaier breaks back against Sinner for 5-5, fourth set. Altmaier's fought tirelessly in this match, and he battles his way to a break point. Sinner saves again with a deft drop-volley at the net and then some strong serve-volley game takes him to match point. Altmaier then saves that in an extraordinary rally that he wins when a netcord deflects past an advancing Sinner. But his tenacity earned that luck. Match point No 2 ensues but Sinner squanders this too with an overhit backhand. And now Altmaier has a break point courtesy of a strong crosscourt forehand, which he converts when Sinner crashes a forehand wide. What a game.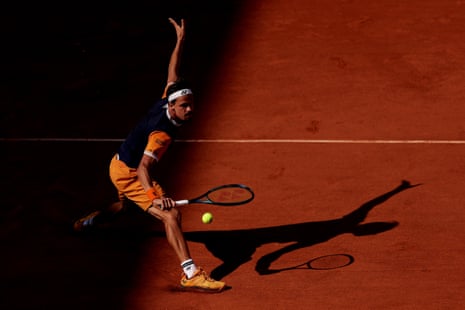 And I seem to have reverse-jinxed Sinner into a winning position, as Altmaier's blistering attempted forehand down the line is just out. He'll now serve for the match at 5-4.
Meanwhile Tiafoe v Karatsev is going with serve in the second set at 3-3, and Donna Vekic is on the brink at 3-5 in the decider against Bernarda Pera.
Swiatek romps to three set points with that bullying forehand of hers, and converts at the first opportunity to win the first set 6-4. It's not been a picnic for the top seed though.
Sinner gets himself two break points on another gruelling Altmaier service game but the German pulls him all over the court to save the first of them, and saves the second too. Sinner earns break point No 3 but Altmaier's powerful serve down the middle saves that one too. We may be here some time …
And he's got a point:
Back on Suzanne-Lenglen, an epic Altmaier service game goes to seven deuces and lasts more than a quarter of an hour, the German pumping himself up and roaring at the crowd on every successful point before finally clinching a hugely important hold. He leads 4-3 with the match on serve in the fourth set.
Zooting around the courts, Dimitrov is now two sets up on Ruusuvuori, and the No 23 seed, Ekaterina Alexandrova, has won the first set against Anna-Lena Friedsam 6-2.
Frances Tiafoe has an early problem to solve. He's lost the first set to Aslan Karatsev 3-6. Another seed in trouble is Donna Vecic, the Croatian No 22 seed, who's a break down in the decider against Bernarda Pera of the US in the decider at 0-2.
Oh, and Swiatek breaks back to lead 4-3. Panic over
Woah! What's going on with Iga Swiatek? Twice she overhits forehands and before you know it, Claire Liu has three more break points. She saveds the first with a withering top-spin forehand to the corner but not the second when a soft return dollops into the net. It's 3-3, first set, two breaks each.
Sinner's mojo is restored – and he's a compelling player to watch even when he's just staying back and belting it from the rear of the court – as he breaks back and holds serve convincingly for 3-3 in the fourth. Meanwhile Vekic v Perra has gone to a decider after the unseeded American wins the second set 6-4.
A break of serve on Court Simonne-Mathieu – the 12th seed, Francis Tiafoe, has been broken by the unseeded Aslan Karatsev and trails 4-2. The unseeded Russian has never got further than the second round here. And Swiatek has a wobble on her serve, Liu grabbing a break point and taking it when the top seed nets a regulation forehand. Swiatek leads 3-1
Thanks Daniel. And you join me as Jannik Sinner's game looks to have become rather ragged, unforced errors popping up at unexpected moments but he is at least on the board in the fourth set after holding to 30. Daniel Altmaier leads 3-1 and Sinner is two sets to one up. Meanwhile on Chatrier, Iga Swiatek as broken Claire Liu again and marched imperiously into a 3-0 lead.
Just as I'm signing off to do the camp run and grab some lunch, Swiatek breaks Liu in the first game; welcome to Chatrier old mate! But otherwise, here's Tom Davies to ease you through the next hour.
Vekic took the first set off Pera, who leads 4-3 with a break in the second; Dimitrov has not only broken Ruusuvuori back in set two, but broken him again for 3-1, after losing the first in a breaker; and Nishioka, 2-1 up on Purcell, leads 3-2 in the fourth, with a break. Oh, and on Lenglen, Altmaier is responding well to the shock of that third-set collapse, earning break point … which he takes for 2-0! This match isn't over yet!
On Chatrier, Swiatek v Liu is away; on Mathieu, Karatsev v Tiafoe are 1-1 having also just started.
Borna Coric [15] beats Pedro Cachín 6-3 4-6 4-6 6-3 6-4!
That's a colossal win for the Croatian – coming from 2-1 down to see off a clay-court specialist is no joke, especially in arm conditions over for hours and 23 minutes. He meets Etcheverry next.
Well who saw that coming? Sinner rushes through set three, taking it 6-1, and Altmaier has to win two straight now. Suddenly, a close match is disappearing.
Ruusuvuori has taken the first set off Dimitrov 7-4 in a breaker, then broken in the first game of the second. Just as Coric looked to be saving it, my acca is in trouble.