Andrew Lloyd Webber's musical Aspects of Love was first performed in 1989 and is based on a second-rate novel by David Garnett, published in 1955. The deficiencies of the novel could fill a column – and that's before you even get started on the musical and its plodding score. I had low expectations as I trudged along Shaftesbury Avenue towards the theatre, but now find myself with the unexpected pleasure of having to report that I should have approached the first night with a more open mind. For this is a spectacular production – everything I assumed it would not, could not be. So much talent has been lobbed at it that it overrides the musical's many and varied faults.
Jonathan Kent directs with sure-footed flair, the cast is top-notch, and the recruiting of opera designer John Macfarlane is a masterstroke. His design is a romance in itself. It's like going on a grand tour of Europe, stopping off at airy Parisian apartments, travelling through painterly French landscapes and overlooking glowing Venetian canals – no one with the slightest trace of wanderlust could possibly resist his gloriously escapist vision. And at the same time, Douglas O'Connell's original use of photographic imagery turns what ought to be hackneyed scenes – such as a black-and white Parisian street in the rain – into elegant panels, contributing to the set's multilayered magic.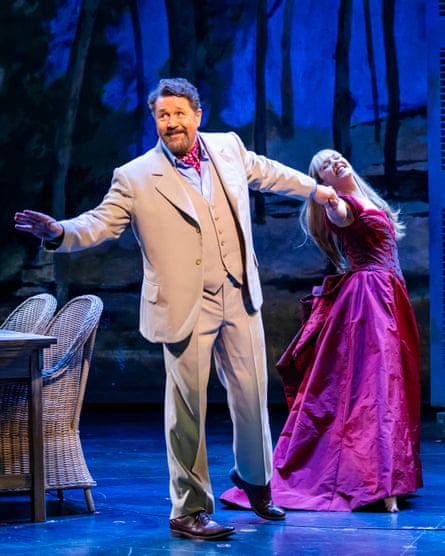 The show has not changed my view of the musical, nor of the staggeringly crass lyrics by Don Black and Charles Hart. To remind you, its greatest hit (it got Michael Ball into the charts years ago) goes: "Love, love changes everything/ Hands and faces, earth and sky/ Love, love changes everything/ How you live and how you die." The flimsy plot involves various unlikely love scenes, has a slapstick death thrown in and a Lolita-esque subplot that is too dodgy to dwell upon. But the singers are tremendous and almost convince you that their lyrics are profound and that the story scarcely signifies.
Ball, who 34 years ago played the younger lover in the musical, is in his element as the older uncle, Sir George Dillingham – relaxedly genuine, twinkly and in great voice. And it's a terrific coup to have coaxed Danielle de Niese away from operatic stardom to play Giulietta Trapani, Dillingham's Venetian love interest: she is perfect as a sultry dynamo. But it is Laura Pitt-Pulford's Rose Vibert, responsible for something more geometrically complicated than a love triangle, who is the show's linchpin. She gives a fantastically nuanced performance, with an infectious gaiety that cannot conceal her needy melancholy. Anna Unwin's Jenny is great too. And the superb Jamie Bogyo as Alex Dillingham is touching and convincing as a young man in love – as if he had been starring in roles of this kind for ever. By the end of the evening, love has changed everything – or, at least, subdued all inclination to be critical.
Martin Sherman's one-woman show, Rose, started at the National in 1999 and went on to Broadway. Its short run at the Ambassadors – a revival of the 2022 Park theatre production, capably directed by Scott Le Crass – is a must-see not only because it is an accomplished play, but because it's an astonishing masterclass in acting by Maureen Lipman – a marathon of a monologue (more than two hours long) that holds us in thrall. Rose is a Jewish woman who survived the Warsaw ghetto and is sitting shiva as a way of remembering her life. She is dressed in slacks, with a mauve gauze scarf and neat shoes. She is 80, and while she says that her time is almost up, she seems to have all the time in the world.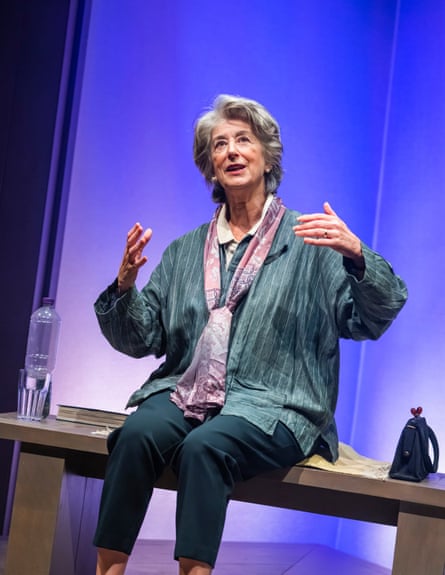 What is wonderful about Lipman's performance is, in part, her pacing. Her exceptional relaxation on stage is never at the expense of dramatic momentum. Having said that, the writing of the second half is overextended. But Sherman teems with ideas: he asks big questions with a lightness of touch before arriving, sympathetically, at a lack of definitive answers. His problem (a nice one to have) is that he wrote with such energetic facility that he offers too many potential endings before the piece finally closes with a gesture from Lipman – which, ironically, in itself suggests her story could have ended differently.
Neil LaBute's The Shape of Things, a hit at the Almeida 22 years ago, has been given a lick and a promise by its author, and this revival is clever, funny and chilling – as good as new. It begins with a young woman crossing a line in a museum, coming up close to a sculpture of a male nude she intends to deface. She is told off by a young man named Adam, the museum attendant. Amber Anderson is delicious as Evelyn. She looks appraisingly at Adam with defiant cool. But this is not the garden of Eden. Adam is unaware she carries spray paint and that she will – always – have the upper hand.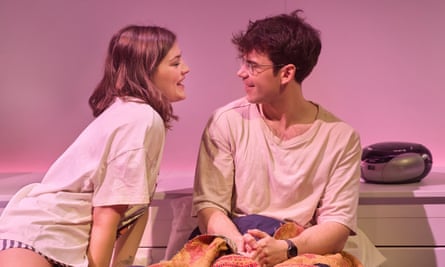 Luke Newton is first-rate as Adam: bespectacled, twitchy, faux mature – his personality seems as ill-fitting as his trad brown jacket. The play explores what it means to cross the line in a human way, yet ostensibly in the name of art (no spoilers). Adam's friends underpin the narrative with transgressions of their own. Phil (Majid Mehdizadeh-Valoujerdy) is convincingly obnoxious and his girlfriend, Jenny (Carla Harrison-Hodge), is engagingly heartfelt, especially in a speech in which she defends her right to exist as someone without arty leanings. Nicky Allpress's hugely enjoyable, intellectually teasing and tightly directed production offers us aspects of love that we will just have to hope never get set to music.
Star ratings (out of five)
Aspects of Love ★★★★
Rose ★★★★
The Shape of Things ★★★★