Key events
65th over: Australia 254-6 (Gardner 12, Sutherland 8) Tell you what, these two are playing confidently, and when Ecclestone pushes one through a bit quicker, Sutherland takes a step down knowing there are four fields close to the bat, which means she can drive confidently to the cover fence for four. A single off the final ball of the over follows, and Australia are slowly rebuilding.
64th over: Australia 249-6 (Gardner 8, Sutherland 1) I guess, given we can go till 7pm, Knight wants Filer for another spell, but still, one more over against two new batters wouldn't have compromised that. Anyroad, Sutherland takes a single to deep backward square, then when Bell drops short, Gardner gets on the front foot and clobbers a pull through midwicket for four. And she thinks about going at one that's well outside off too, before opting to scabbard the willow and watch it go by.
63rd over: Australia 244-6 (Gardner 8, Sutherland 1) Fielders around the bat for Sutherland, two slips, a silly mid off and a short leg; she retreats into her crease and flows through cover for one to get off the mark. It's the only run from the over and Ecclestone looks set fora good, long bowl here, seamers rotating at the other end.
62nd over: Australia 243-6 (Gardner 8, Sutherland 0) I'm not sure why Knight takes off Filer – maybe she's mindful of not overloading an inexperienced strike bowler – but still, one more over seemed sensible in the circumstances and what the batters would want least. But, we, nope! Bell returns, sends down five dots, then overpitches and Gardner turns away for four through midwicket.
61st over: Australia 239-6 (Gardner 4, Sutherland 0) I daresay Ecclestone will fancy a go at two new batters and shonuff sends down a testing over, Gardner's single nurdled to leg the only run from the over. Since the break, England have been great.
WICKET! Perry c Sicver-Brunt b Filer 99 (Australia 238-6)
Oh Ellyse! Again, decent bounce from Filer and Perry flings hands through it. But she can't control her drive, slicing to gully where Sciver-Brunt takes a terrific reaction catch, as we knew she would when the ball went in her direction. Well batted Ellyse Perry – that's a brilliant knock, not that you'd know it to look at the disappointment on her coupon – and the match has suddenly sped up!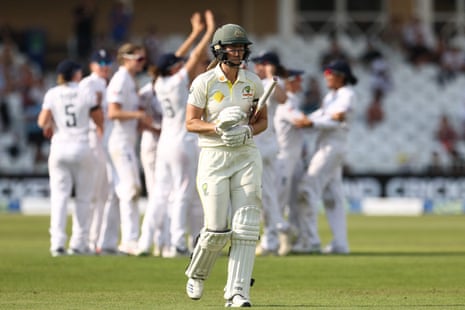 60th over: Australia 238-5 (Perry9, Gardner 3) Filer begins her 12th over with a no ball, then Gardner gets away with a drive through mid on, Bell scampering after it and saving one on the fence; they run three. A two follows, then a bit of extra pace and bounce means that when Perry opens the face she's cramped a little … but gets four over gully anyway. She's one away.
59th over: Australia 228-5 (Perry 93, Gardner 0) If England are going to roll Australia for something lowish, you get the feeling Ecclestone will have to do most of the damage. She gets five dots in to Perry, who cuts the final delivery of the over for a single, retaining strike in the process. She's nearing a very well-deserved ton.
58th over: Australia 227-5 (Perry 92, Gardner 0) England will be desperate to have a go at Gardner – who's sporting a whopper of as shiner – and Perry trusts her, shoving Filer's second ball to cover and taking a single. During the break, I caught some of an interview with her, in which she discussed spending time on tour trying to make the world a better place. Learn more about her here, she's extremely sound.
57th over: Australia 226-5 (Perry 92, Gardner 0) A double wicket-maiden from the best bowler in the world, and England need to push on here.
WICKET! Healy b Ecclestone 0 (Australia 226-5)
Absolute nut! Ecclestone sends down a quicker one that lands on middle-and-off, turning just enough as Healy – who bagged a pair in her last Test and faced just three balls here – plays inside it and loses her off peg! Out of nowhere, England are back into this, and the next 90 minutes should be serious.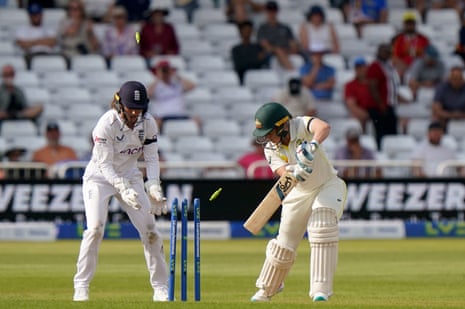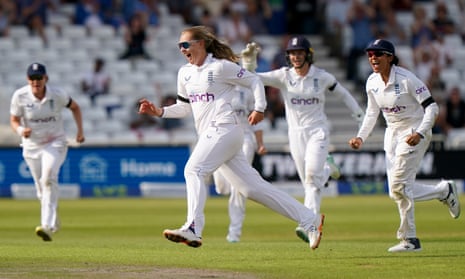 57th over: Australia 226-4 (Perry 91, Healy 0) Fine first delivery from Ecclestone, rapping the pad as Healy presses forward; there's an appeal but it was a little high.
WICKET! Jonassen c Beaumont b Ecclestone 11 (Australia 226-4)
England took their time opting to review that, but when Jonassen missed the ball with the bat she feathered it with her glove, and that's a big wicket for England – even if all it does is bring Alyssa Healy to the wicket.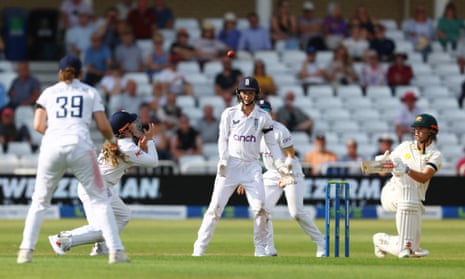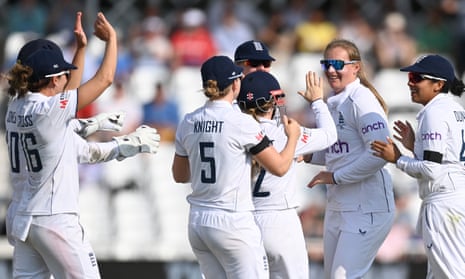 57th over: Australia 220-3 (Perry 91, Jonassen 10) Jonassen goes down on one knee looking to sweep, misses, the ball loops up and is caught by Beaumont at short leg … but was there an edge involved? The umpire says no so England review!
56th over: Australia 226-3 (Perry 91, Jonassen 11) Back to Wong, I'd wager the Aussies are glad she's missing. But here we are, Filer returning and Perry waiting for a short, wide one, cracking a cut to the fielder at deep point. A single to Jonassen follows, then Perry under-edges into the ground before playing a similar shot but uppishly, cutting over the slips for four. The tourists are going nicely here.
55th over: Australia 220-3 (Perry 86, Jonassen 10) England aren't really threatening a wicket here, but Ecclestone is restricting the scoring well, wheeling through a maiden. Problem being Australia are in no hurry – I'm pretty sure they'd feel confident of taking 20 wickets even if they batted until tea tomorrow.
54th over: Australia 220-3 (Perry 86, Jonassen 10) I was surprised England would've fielded had they won the toss – the pitch and conditions didn't look like the sort that'd see them take all 10 Aussie wickets today, which is what you've need to happen in that situation. In that context, it's even harder to understand why they left out Issy Wong. Filer has done well and looks like she might be a bowler, but to dismiss a side this good twice, you need all the star quality you can get and Wong has that in major quantity. Anyhow, back in the middle, Jonassen flicks a single to midwicket, the only run from the over.
53rd over: Australia 219-3 (Perry 86, Jonassen 9) Ecclestone continues and Jonassen pushes past mid off and they run one. Dots follow, so let's mention how great it is to have this Test not only at Trent Bridge but at a time when cricket is buzzing and people are desperate for more of it. One off the over.
52nd over: Australia 218-3 (Perry 86, Jonassen 8) Cross completes her over, racing in and Perry defending then letting one go. A no ball follows and then due punishment, a bit of away movement seeing the extra ball fenced away between gully and second for four.
"Why are the players mucking about on the field and not playing?" wonders John Price.
Er, I guess from inspection to resumption needs minimum 15 minutes, so they're filling the time. But we're good to go now…
This next mini-sesh could go a long way towards decide the match. If Perry and Jonassen are sill batting at stumps, England are in all sorts, but if they can grab another couple of wickets, they'll have a chance.
Play to resume at 5.07pm BST
And not 5.06pm or 5.08pm.
The umpires and captains are gabbing on the boundary. Hopefully not long to go.
The rope's going around the outfield and the weather looks set fair. I'd hope – nay expect – that from here, we go through till 7pm.
These pages are for sharing cricket, yes, but I like to think they're also for sharing general joy and other important stuff so, just before I took over here, I was reading this about how to talk to kids. Check it.
Thanks Geoff. Our umpires are coming out and I'd expect them to conclude that we're good to resume at 5pm BST, so in 14 minutes … but let's see.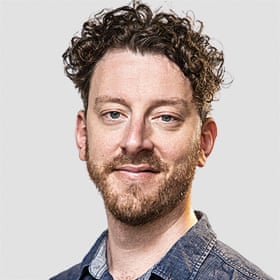 Geoff Lemon
It's a quiet moment as we await that umpiring verdict, as slow as the fingers of Ahsan Raza and Marais Erasmus were to move at times at Edgbaston over the last week. Today it's Anna Harris and Sue Redfern in charge at Trent Bridge.
For now, I'm going to hand over to Daniel Harris.
We've got an inspection coming. Which means, if my umpiring instinct is correct, we'll be back on at 5pm.
This is your latest update in the CBC! Cover By Cover updates, live, from the most exciting sport arenas in the world.
Right, we've got the sopper doing its work on the eastern side of the square, and the covers there are clear. Now to start on the other side.
They've taken one cover off. Now we're just hanging out.
Looks like the rain has stopped?
Looks like I'll be writing about Ellyse Perry today, hey? One fun thing that I've been tracking: her score today was racing her average. She's 81 not out, live career average up to 83.3.
I have shown the foolish optimism of a non-British visitor. Managed to find my way to the other side of the pavilion with a north-west facing perspective, and the rain vista in that direction is yuck. The fall is heavier and the cloud providing it isn't going anywhere.