Key events
An interesting email from Robin Durie.
'Mostly, the media commentary on the Report by the Independent Commission for Equity in Cricket seems to have been balanced & constructive. But the image of the Sky commentary team at the top of the page today shows how deeply the issues raised by the Commission run: one person of colour, who also happens to be the only woman in the team. No criticism of Sky here – as the feature during the lunchtime break on TMS showed, this situation is more or less replicated in the TMS comms box, & even more so, amongst the media at large. But it does raise the question of how Sky, as the main provider of live cricket coverage, & the wider cricket media, can authentically hold English & Welsh cricket to account in the wake of the Commission's Report, when they so manifestly remain part of the problem (however admirable their efforts to diversify thus far, may be)."
First up, I really don't agree with this part. Sky have a range of voices: off the top of my head, Mel Jones, Isa Guha, Ebony Rainford-Brent, Mark Butcher, Nasser Hussain, Kumar Sangakkara, Lydia Greenway, Charlotte Edwards, others as well.
And most of those were developed as callers with TMS, where the producer Adam Mountford has made a real point of opening up the club over the last decade – to much criticism along the way. Mel, Isa, Ebony all started on BBC radio, along with those like Alison Mitchell, Alex Hartley, Melissa Story, plenty more.
Broadcast media being public-facing makes the lack of diversity more glaring, so for those organisations the need for change is more imperative. The real lack of progress is in the written press. The Mirror correspondent Dean Wilson went on TMS yesterday to talk about the ICEC report – and rightly made the point that the reason he was invited was because he is the only Black cricket writer regularly covering England.
I'm looking around the press box now, which is packed, and can spot… maybe four women, four or five men of colour, and another hundred or so faces not too different to mine. Most tellingly, it's no different to the way it looked when I first came here for an Ashes tour in 2013.
Michael Cameron-Mowat: "Sometimes I have nightmarish visions that the human race will turn on itself and when the dust settles after the nuclear apocalypse there are just two men standing: Keith Richards swigging from a bottle of Jack Daniel's and Steve Smith occupying the crease at Lords."
Lunch – England 13 for 0 trail Australia by 403 runs
First job done for England: get through the *cliche klaxon* tricky little session. Have a sandwich, mix some cordial, do some calf stretches. Whatever. A big job ahead of England through the rest of the day, but the sun is out, the forecast morning rain did not transpire, and it might just be a splendid afternoon for batting.
4th over: England 13-0 (Crawley 6, Duckett 7) Beaten by Cummins! Good ball on that off-stump line, just past Crawley's edge. Then gets a ball to seam in and Crawley just gets bat down in time to protect his off stump. He's coming across the ball from his high backlift, and it nearly sneaks through. He leaves the last ball, and that's lunch.
Rowan Sweeney writes in. "They say not to evaluate a series until both teams have squandered opportunities for commanding first innings; game on!"
3rd over: England 13-0 (Crawley 6, Duckett 7) Width from Starc, Duckett reaches for it and carves it away for four! They do have the deep backward point but that goes finer, even though it's square of gully. Then Duckett, the perennial bat-on-ball man, edges one on the bounce into the cordon, then skews a dicey single to point. If you wanted to marry Ben Duckett, at least you'd be sure that he would never leave.
Good shot from Crawley to end the over, uses his height to get on top of Starc's bounce and punch through mid off for three.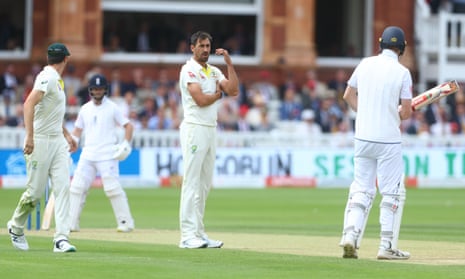 2nd over: England 5-0 (Crawley 3, Duckett 2) Cummins with the new ball from the Nursery End. I thought they might have started with Hazlewood and gone to Starc once the lacquer had worn a bit, but Starc had the new ball swinging. Duckett places Cummins through mid off, wonder how long before the bowler changes the field there. The deep square leg has come up for Crawley, saving one. Only two men back.
1st over: England 4-0 (Crawley 3, Duckett 1) Mitchell Starc with the new ball, straight into the action from the Pavilion End. Crawley off the mark first ball with one, not four, bunted to the leg side. Duckett rides the bounce and places a run through point. Crawley gets a leading edge that rolls through a vacant mid off for two.
Field: three slips, gully, deep point, extra cover, mid on, deep forward square leg, fine leg. Unusual.
Starc nails Crawley on the pad and pleads for the decision, bobbing his knees and waving his arms. Not out, his inswing to the right hander taking that just down the leg side. Carey and Cummins talk him out of the campaign for a review.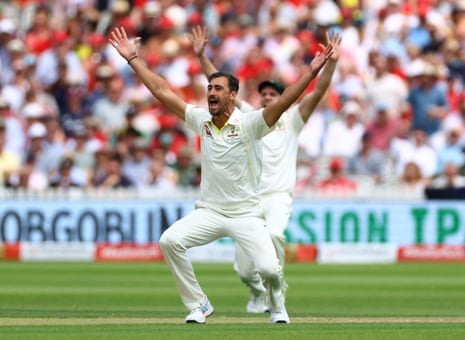 Here we go for the second innings.
While we're on stats, Pat Cummins has 104 runs in the series for once dismissed. You know what that means…
Smart from Nick Wills. "I think Broad's celebration appeal should be referred to as a 'Zat'sHow!' As he is making a statement, rather than asking a question."
"Given the pace at which they now like to bat, I fully expect England to have caught up with Australia's total by 6pm this evening. The only problem is that it could be for 16 wickets down."
That's how you win by 150 runs while bowling first, Jonathan McKinley.
Australia all out for 416 after being sent in to bat
It hasn't been a successful first innings for England, but it has been a successful morning. Getting through Australia's last five for 78, considering that the day started with Smith and Carey, is a success. Tongue with 3 for 98 has been important, Robinson swooping in to make his figures look more flattering with 3 for 100. Anderson 1 for 53 from 20 overs was impressive in keeping the scoring in check, and looked more himself today than yesterday. Broad with 1 for 99 was much more expensive, but got an important one to start the day. Root's 2 for 19 was from last night, not required this morning.
Australia will be happy, with a ton for their key player, 66 for Warner up top, 77 for Head and 47 for Labuschagne. Important players bringing themselves into the game.
WICKET! Hazlewood c Root b Robinson 4, Australia 416-10
It comes to an end in time-honoured style. Actually a really nice shot in that over from Hazlewood, cover-driving along the carpet for four, but he aims for a repeat against a ball that's too short for it, slashing a top edge into the cordon.
100th over: Australia 412-9 (Cummins 22, Hazlewood 0) Tongue looking for a fourth wicket, two slips and a gully to Cummins, wide and left to pass. Rinse, repeat, until Cummins can't help himself and pokes at one. No contact. Had enough of that, so he plays a lofted back foot square drive for four! That is audacious. Leans back and pulps it, Roy Fredericks kind of stuff.
"Lovely gesture by Smith in the Long Room. Gave a little wave to the ovation and then kept on chuntering to himself about the edge all the way up the stairs," reports James Byrne. Thanks, I missed that on the coverage. And can't see through the Pavilion windows from this end of the ground.
99th over: Australia 408-9 (Cummins 18, Hazlewood 0) Here comes the No11, one of those right-arm bowler, left-hand batter combinations like James Anderson or Kagiso Rabada. He swishes at one, leaves one, and the over ends.
WICKET! Lyon c Tongue b Robinson 7, Australia 408-9
You bowl 'em, I hit 'em. The Lyon philosophy to short balls. The first one from Robinson he gets well in front of square, bouncing out to the midwicket boundary like the cards when you win a game of Solitaire. The second one he gets more top edge, and it sails down to fine leg for a catch. Lyon's method really is the most unintelligent approach – after seeing what he could do in the second innings at Edgbaston, he goes right back to this nonsense for his next hit.
England nearly through…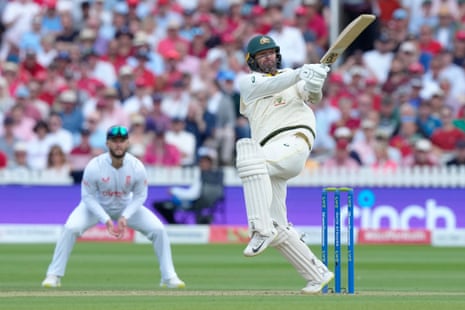 98th over: Australia 403-8 (Cummins 17, Lyon 3) Cummins gets an imperfect run out through the gully, then Lyon decides to take on the bowling, smacking a straight drive that nearly wipes out Umpire Gaffaney. Good evasion. Lyon gets two. Did the bowler get a fingertip to that?
"Should we expect an Australian declaration? Somehow I suspect not." Christopher Pickles, always good to meet a fellow person whose name is a food. Fitting that this is a Tongue over.
97th over: Australia 400-8 (Cummins 16, Lyon 1) Two fielders out on the hook for Lyon, who does get on the front foot a few times to Robinson but eventually takes on the short ball. Gets almost none of it. Manages a single. Cummins plays him better, a drive straight for three! There's the 400.
96th over: Australia 396-8 (Cummins 13, Lyon 0) That was unexpected. Smith looked booked in today. Time for the Cummins & Lyon Show to resume. A leg bye to the latter, a drive through cover worth two runs for the former.
WICKET! Smith c Duckett b Tongue 110, Australia 393-8
Tongue slurps up another! The tastiest morsel on the smorgasbord, too, the wicket of Steven Smith. First over after drinks, a lavish drive, a thick edge into the gully and Duckett does well launching to his left. Smith gets a standing ovation as he walks back through the Long Room, and probably doesn't notice, given how disappointed he looks.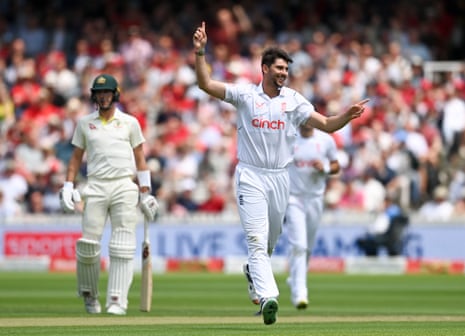 95th over: Australia 393-7 (Smith 110, Cummins 11) Ollie Robinson on for a bowl, one Smith run from the over is all, and that's drinks.
94th over: Australia 392-7 (Smith 109, Cummins 11) It's time for Tongue. Young Josh takes the ball from the Nursery End and hurls it down wide of off stump repeatedly. Smith leaves repeatedly. Eventually lays into an off drive, last ball of the over, and a sprawling Broad at mid off half stops the ball and keeps them to one run.
This is very good. (Except that nobody likes centrists.)
93rd over: Australia 391-7 (Smith 108, Cummins 11) The batting pair trade singles into the leg side, then Cummins nicks Broad safely for four. Fortune with him so far, and again as a very good delivery straightens off the seam from an angle in, beating the edge. Cummins gets well forward to cover the next, which is fuller.
Stat alert:
Century! Steve Smith 103 from 169 balls
92nd over: Australia 385-7 (Smith 107, Cummins 6) That's sharper from Cummins: on the front dog to Anderson first ball of this over, playing a block shot into the gap between cover and mid off and darting through. Smith tries something similar but the field has tightened fractionally. Fine leg the only player back. Two slips gully, backward point. Ring field otherwise. Anderson gets one hooping! Looks like it's straying down leg before it swerves back late. Smith barely keeps it out. But eventually, Anderson overpitches with just enough width, and Smith drives through cover for four!
That is Test century #32 for Smith, doubling his lead over Joe Root on that measure, after Root halved it at Edgbaston. Smith's second at Lord's after his numerically apt 215 here in 2015.
He celebrates once with a wave, then celebrates again with another whip shot for four more.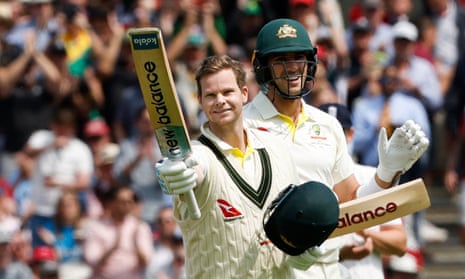 91st over: Australia 376-7 (Smith 99, Cummins 5) Australia's captain on strike facing Broad, the bowler with the Pavilion at his back, striding up and beating the edge. Cummins eventually works the ball leg side, but comes back for a second. Then finds the single fifth ball of the over! Gives Smith one to face… and Broad bowls it very wide, while Smith walks so far across he's batting on about an eighth stump and still reaches for the ball, nearly nicking it!
90th over: Australia 373-7 (Smith 99, Cummins 2) Strange shot! Smith jams down on a Broad yorker outside off stump, and trampolines it into the ground and then over Joe Root's head at second slip. Benefits by four runs. Then reaches out and guides a ball past gully – deliberate? accident? – for four more! He's on to 99!
Brian Withington emails. "As an Oxbridge graduate I'm chortling via the internet at your teasing portmanteau reference to Stuart Broad's celebrity appeal whilst eating brunch with my spork watched keenly by a labradoodle. Nope, I can't figure out a good word for it either."
Red for Ruth, Brian, now that's a celebrity appeal.
89th over: Australia 364-7 (Smith 91, Cummins 1) Inside edge past the stumps! Cummins gets off strike facing Broad, and off the mark, in dicey style. Leans on his bat at the far end as Smith whips, brilliantly, through midwicket for four! The power on that shot, all from his wrists. You could almost hear the whipcrack. Like a millennial who never reached cultural maturity, he's into the 90s.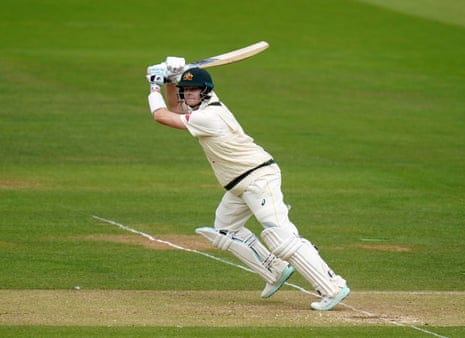 88th over: Australia 359-7 (Smith 87, Cummins 0) Nicely bowled by Anderson to Cummins, a curving ball, whispering past the outside edge. Two right-handers at the wicket now. Two wickets this morning and Smith has only added that many to his overnight score. Cummins runs a leg bye to a ball angling across him.
Ann Webber writes in. "As we were driving from Sydney to Bermagui today, my partner John and I were discussing the slow over rates and that no approach, carrot or stick, seems to have changed any team's behaviour. We tossed around ideas and decided we would take away reviews, the number based on the number of overs not bowled."
I like the idea of losing fielders as you fall further behind. That would address it quickly. But any such penalty also has to account for the time wasted by batting teams: the change of gloves every two overs, getting drinks run out whenever they feel like it, fussing over someone sitting ten rows above the sight screen.
WICKET! Starc c Bairstow b Anderson 6, Australia 358-7
Anderson is in the book! Doing what he has done for so long: pitches up but not all the way, maybe a bit of movement on the way down, and Starc aims a big drive on the up and only gets a fraction of contact sending the ball to the left of Bairstow. Cleanly taken.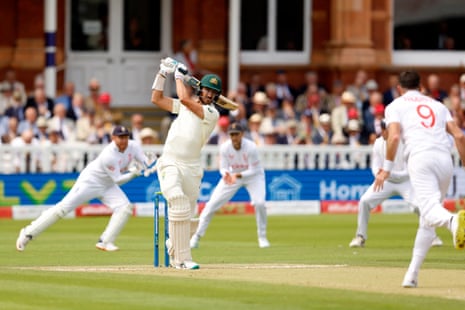 87th over: Australia 358-6 (Smith 87, Starc 6) Broad to Starc, who crisply drives to mid off for none. Tries the shot again, then in struck on the pad as the ball angles in. Gets off strike eventually to point, and Smith fishes and misses outside off stump.
86th over: Australia 357-6 (Smith 87, Starc 5) Oof, Smith smacks a cover drive with nice timing but straight at the fielder. Retreats to taking a single to leg instead. Starc skews a drive off the outside half through point, the bat twisting in his hands, gets a run.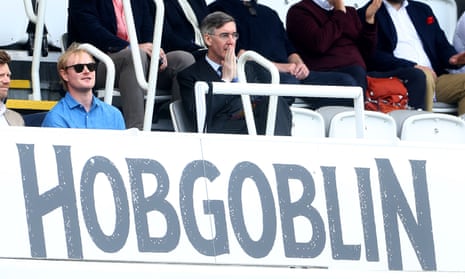 Mixed responses on Andy Bull from earlier. Jane Evans:
"Loved Andy's piece today – English cricket, like most things, is many things. Walt Whitman: 'Do I contradict myself? Very well then I contradict myself, (I am large, I contain multitudes.)'. I also enjoyed your price on David Warner and am glad he did well opening yesterday. I am sure he cannot possibly be the pantomime villain we seem to require of every sporting contest."
I'm never entirely sure myself, on the latter. Also a fair comment from Alison Scott:
"Andy Bull's piece on 'English Cricket' in light of the inquiry report manages to not mention one single woman, thereby neatly underscoring a major finding of the inquiry without necessarily even trying to."
85th over: Australia 355-6 (Smith 86, Starc 4) A fast start for Carey, and a fast finish. Mitchell Starc does at least the first part in the same way, having reclaimed his spot at No8 from Birmingham match-winner Pat Cummins, and gets going first ball with a lofted on drive for four, wide of mid on.
Twelve runs and a wicket? Move the game on…
WICKET! Carey lbw Broad 22, Australia 351-6
Well! Unfortunately for Stuart Broad, he starts the day with absolute dross. Double dross. Twice spearing down the leg side, and twice Carey helps it on its way with a glance for four. But was it all part of A Cunning Plan? Probably not, Broad just bowls a good ball, and goes up in his patented celebration appeal. If only there were some way to make those words into a portmanteau. He's around the wicket, it's cutting back in sharply to the left-hander, and the umpire might have thought a) inside edge or b) going down. It's neither, as Broad gets his way on the review and it shows three reds.
84th over: Australia 343-5 (Smith 86, Carey 14) After a long pause to get things quite to Steve Smith's specifications near the sight screen at the Nursery End, James Anderson starts the day with the ball, and Smith quickly gets across and nudges a single to start his own. Carey does similarly for two, then Tongue misfields at mid off to give Australia's keeper another one.
The players are on the field, let's do it.
And here is the Test Match Special overseas listening link.
It's fundraising day at Lord's in memory of Ruth Strauss, who passed away in 2018. The funds will contribute to lung cancer research and supporting families whose loved ones have the disease. Most people are wearing red today in honour of the project.
Here is the donation link if you're so inclined.
You can email or tweet us using the contact details in the sidebar. It's a lucky dip as to what we can publish, but I promise we'll read them all.
Finally, Jonathan Liew with an impassioned appeal to the fates and their involvement with one James Anderson – still a piece more optimistic than some of the correspondence we got yesterday.
Andy Bull has a good piece sourced from wandering around the Lord's Pavilion and overhearing bits and pieces, in the context of the ICEC report and yesterday's recurring Long Room footage of people of a very consistent appearance and social status.
I wrote about everybody's favourite neighbourhood scamp, Little Davey Warner, and his propensity to look for a scrape and a scrap.
There's a bit about Jonny Bairstow and his human haulage sideline. Acting against orders, tsk.
Simon Burnton got the quotes, including Josh Tongue with the interpretation of luck that is usually used by teams that haven't bowled very well.
Let's play our favourite game of What Was Written Yesterday?
Starting as usual with the Guardian match report, by Ali Martin.
Preamble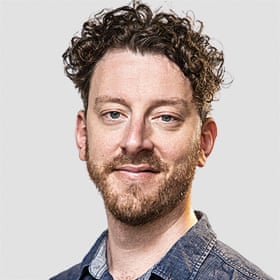 Geoff Lemon
Hello again from Lord's, the place that they love to talk about. I don't know if any of you noticed yesterday, but there's actually something of a slope to the ground, including the pitch. Nobody mentions it. But don't let them fool you with their conspiracy of silence.
England … made rather a hash of it on day one, didn't they? Picked four frontline quicks. Won the toss and bowled first. Bowled badly, for enough of the day that it mostly got away from them. Pulled it back late in the piece with a couple of wickets to the part-time spinner. Australia could get run through this morning and from 339 for 5 they would still have a decent score on the board.
Australia meanwhile had a largely positive day. Usman Khawaja didn't make many but batted through the first session to help lay the base. David Warner made a half-century, and his highest score in England since 2015. Travis Head did Travis Head things, namely making a bunch of fast runs and getting out in an outlandish way. And Steve Smith is still there, eyeing off another entry on the honour board.
England need to get through him and Alex Carey urgently to get this match back on track. Of course, given Zak Crawley said they would win by 150 runs, they will then need to be bowled out short of the follow-on, make about 500 batting third, then run through Australia bowling last. Don't rule it out. Brendon McCullum might have planned it exactly that way.