Key events
31 min: England again keeping the ball at the back, threading multiple passes between the defenders and Earps. Greenwood eventually passes to Hemp who places a great ball into the box – it is deflected out for an England corner.
30 min: What a chance! Hemp whips it in but Daly can't connect. The chances are starting to thread some attack together now and Morgan does really well up the other end to shut down D Silva.
28 min: Hemp wins another England corner but it comes from indecision of where she wanted the ball to be. Greenwood is over the ball again but it is cleared. It comes back to Greenwood but her pass to Toone has too much on it.
26 min: England have more sustained time on the ball but at times it seems they are second guessing their passes. James gets a great ball into Daly but it goes just beyond her, the clinical edge is what England are missing at the moment.
24 min: James gets in a good position and her resulting run and pass wins England a corner. Greenwood takes the kick short to Hemp and it comes to Walsh, her kick has too much on it and that set piece seems a wasted opportunity.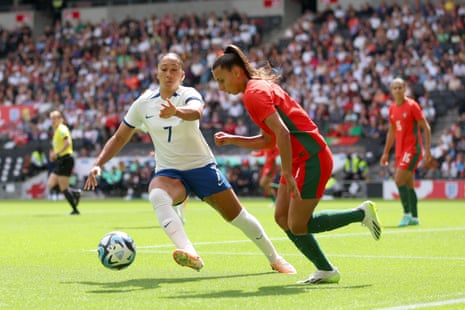 22 min: The throw is good but England run it back to halfway and Daly is penalised but the referee for handball. Portugal get it up to Silva again, Pinto winning the battle against Greenwood as well at the moment, but England manage to do enough to close the chance down.
20 min: A great ball to Silva sees her in a great position but Carter does well to box her out. England are now on the counter and pressure from Hemp sees Amado put the ball out for a throw.
18 min: Portugal are doing well at swarming the England players, give them too much space and the hosts will run riot. England's attack is stalling a bit with Bronze unable to cross in, it comes to Toone eventually but her shot is well wide.
16 min: England could read the Portugal goal kick a bit better, Pereira always takes her time and then plays it short but England's players are anticipating a long shot. James intercepts the ball and pops a ball in with Daly narrowly missing out on a chance!
15 min: Greenwood does really well to close down a chance and clear it upfield. Portugal are showing good signs early on though, they are patient on the ball and have a good counter attack when given the chance.
14 min: Hemp was playing a great ball but was taken out, the referee plays advantage as England still have the ball but it's cleared. England come again, the goal feels as though it's coming but we may have to be patient.
12 min: Carter does really well to get back and win the ball with Portugal on the front foot. England retain the ball at the back and are patient before launching another attack.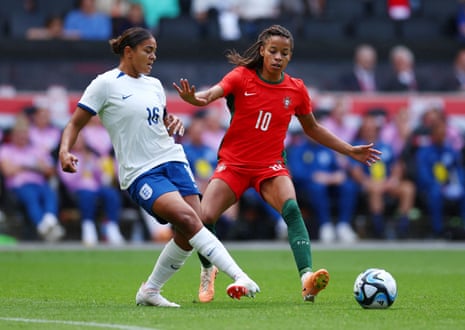 10 min: Nazareth takes the kick, it is initially kicked away and then it is out for a goal kick. England counter and James has a great run, weaving in and out of players, but her resulting pass to Bronze has too much on it.
9 min: Silva thought she was through there but Greenwood does well to get back and time a great tackle. The visitors thread another attack together but Toone gives away a free kick – slightly controversial as the Manchester United forward did win the ball.
8 min: Nazareth has a valiant effort at retaining the ball but England swarm her to win it back. England run it through the team but a pass to Greenwood is loose. The hosts get it back once more but play between Bronze and Stanway is a bit scrappy and Portugal clear.
6 min: Again Daly is so close! She gets her head to another ball and Pereira saves once again, the Aston Villa striker is in the mood today!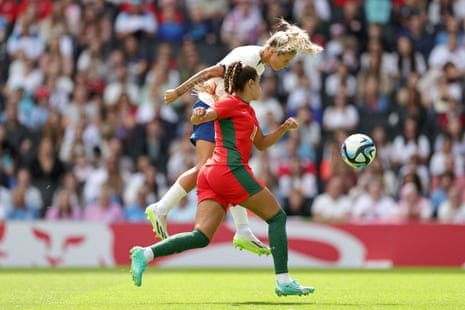 5 min: The England band are already in full volume, it's coming home ringing around. The Lionesses have never won the World Cup and it will be a test of their depth if they win it this summer with the team's injury list. But these warm-up games will aid with that and England are having the lion share of possession so far. Pereira is forced to make a huge save with Daly with a shot!
4 min: Portugal are forced to go back to their keeper three times and Pereira eventually kicks it long. England get it but Walsh loses possession. The hosts quickly get it back and Hemp is unleashed but Amada has a great tackle to shut her down.
2 min: A steady start for England, a lot of play at the back but Stanway coughs up possession. Portugal now threading some passes together but not real punches thrown early on.
Kick-off! England 0-0 Portugal
Anthems are sung, training jackets are off and the play is underway! Can England give their fans a winning send off ahead of the World Cup? Or will Portugal upset the part? We will soon find out.
Here come the anthems! But first they are paying tribute to Izzy Christiansen and Carly Telford who have both recently retired. We are just a few minutes from kick-off here, England's final match at home ahead of the World Cup.
The players will be out shortly to this crowd at Stadium MK! How do you see this shaking out? I think I'm going to predict 2-0 to England.
England's Ella Toone has said ahead of the match: "We definitely do have a target on our backs after the Euros but that's what we want. We want to win everything. We don't put pressure on ourselves. We know that we need to go there out and perform and will come up against really good teams. But the main thing is making the nation proud and going out and enjoying ourselves." Read the full piece:
Have you been keeping up with our transfer tracker? So far 178 deals have been made across five leagues in Europe, the latest seeing Tinja-Riika Korpela moving to Roma on a free transfer from Tottenham. Check out all the updates here:
Sarina Wiegman has spoken ahead of kick-off, first telling ITV about leaving Russo on the bench today: "That was, first of all, a hard decision but she has done so well during the competition. She is in a really good place but as you know, we have other options in that positions."
And on if Daly could start at the World Cup at nine: "I think she could be but I also think Alessia could be. We have one game to go."
On what are she is hoping to see today: "I hope to see in the full backline that there is lot of partnership and up front. We want to keep the ball and go forward quickly and we don't want to concede goals. We have practised some things that I hope to see today."
And on starting Lauren James: "We have Robinson, Hemp , Kelly and James so they are all really close. We can make a tactical choice so no decision [on who will start at the World Cup] yet."
As promised here is the Portugal line-up!
Starting XV: Pereira, Amado, Norton, Borges, J Silva, T Pinto, Dolores Silva, C Costa, Diana Silva, Gomes, Nazareth.
Subs: Morais, R Costa, Alves, Rebelo, Marchao, Jacinto, Rute, F Pinto, Seica, Mendes, Capeta, Encarnacao, Correia.
Alessia Russo, who has left Manchester United and is expected to join Arsenal, has spoken about how hard it is being the subject of transfer gossip. "Towards the end of the season it was tough and the summer has been tough," Russo said. "You don't like things in the media about you but that's football and that's the state of the women's game. I just turned it off, took a break on holiday and completely switched off with all my friends and family. Coming back into an environment like this is perfect because you're competing and all your focus is on England." Read the full piece:
Have you signed up for our free weekly women's football newsletter? It brings you exclusive interviews and all the news you need. This week is focuses on Marta and the Brazilian team, read it here:
This game and England's behind-closed-doors match against Canada will help boss Wiegman determine who will be in the starting team for the World Cup. The manage said: "We're getting closer [to knowing the starting XI], that's clear. But we're still trying out some things. In some positions I don't know what the starting line-up will be. There's still competition going on. That's why we need those two games too, but it could also be the case that it's not very clear what the starting XI is after those and in the next game we could make another tactical choice and start another player."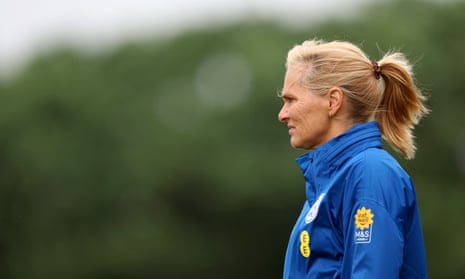 Snack chat is back! If you have read one of my blogs before you will know I like to know what snacks you're having while watching the game. For me today it is ready salted crisps, what have you got? Let me know via Twitter (when it is back up and running, I know a lot of people are having trouble loading it) or email.
The team news is in! England start Alex Greenwood after her injury with Esme Morgan and Jess Carter picking up a rare start. Alessia Russo starts from the bench with Rachel Daly at number nine.
England starting XI: Earps (C), Bronze, Walsh, Greenwood, James, Stanway, Daly, Toone, Hemp, Morgan, Carter.
Subs: Charles, Hampton, Wubben-Moy, Coombs, Kelly, England, Zelem, Roebuck, Russo, Le Tissier, Staniforth.
Portugal have not released their news, I'll update you as soon as I know the team!
Hello and welcome to England's last match at home before the World Cup later this month. They take on Portugal in Milton Keynes in one of the last chances for players to demonstrate why they should start at the World Cup.
At the Euros last summer England coach Sarina Wiegman did not change her starting line-up once and so players should be keen to lay down a marker to impress the boss. The Lionesses have never lost to Portugal and so will be aiming to maintain the record. The two teams have faced each other nine times.
There were worries over whether Alex Greenwood would be fit for the game after sustaining an injury in training but she has been given the all clear. Millie Bright and Jordan Nobbs are not available for selection because of injury. Bright, who is captain for the World Cup with Leah Williamson out, said her return from her knee injury is going well.
The team news will be out shortly so stay tuned ahead of kick-off at 3.15pm BST.