Key events
The Aussie balcony could not have been happier for Mitch Marsh, who has had so many difficult moments in Test cricket. Pat Cummins smiles a lot, but I don't think I've ever seen him with a smile as broad as that. It's his first century outside Australia, in his first Test appearance in four years. The Ashes never fails to produce great stories.
Mitch Marsh makes an awesome century!
48th over: Australia 218-4 (Head 35, Marsh 100) What an innings from Mitch Marsh! He pounds Moeen down the ground for four and then six to move to 99, then steals a quick single to reach an extraordinary century from only 102 balls!
Marsh was on 12 when Joe Root dropped a sitter at first slip. Since then he has belted England to all parts: 15 fours and three sixes, almost all of them from classical strokes.
47th over: Australia 207-4 (Head 35, Marsh 89) It's rare for Head to be the sober partner, but with Marsh on the rampage he looks happy to rotate strike. Two from Broad's over.
Tea is about 20 minutes away, and boy do England need it.
"Scotland have missed out on World Cup qualification on net run rate, Rob, Netherlands reaching their target of 278 in 44 overs with an incredible onslaught towards the end," says Simon McMahon. "While congratulations go to them and Sri Lanka, the Scotland team are understandably gutted. I think the 'spirit of cricket' will be whisky tonight."
I see Bas de Leede took five wickets as well! That's one of the all-time great ODI performances.
46th over: Australia 205-4 (Head 34, Marsh 88) Marsh hits Moeen for two more boundaries, though I missed them because I was typing the below. Honestly, in context – first Test in four years, no cricket for four months, huge game, team in trouble – this is a monstrous innings.
Netherlands reach the men's World Cup
World Cup heartbreak of a different code for Scotland, who won't be going to India later in the year. An extraordinary innings from Bas de Leede, 123 from 92 balls, was enough for the Netherlands to clinch the last place.
45th over: Australia 197-4 (Head 34, Marsh 80) Marsh is taking England to the cleaners. A full ball from Broad is hammered between mid-on and midwicket for four more, and then he rifles another down the ground. Broad got a touch, so technically it's a dropped catch, but it was nigh-on impossible.
Marsh has walloped 42 from his last 37 deliveries. No slogging, just emphatic, clean hitting. And since drinks, Australia have scored 50 in seven overs.
There's no need for England to panic yet – this is a good pitch – but there will be if Head and Marsh are batting in two hours' time. And those two dropped catches, which were so straightforward, must be running amok in the Bairstow and Root's subconscious.
44th over: Australia 185-4 (Head 34, Marsh 69) If Robinson is injured, Moeen have to bowl more than Stokes would like on day one. He's started quite well, that full toss aside, though there is nothing in the pitch for him except a bit of bounce. Marsh forces a single to bring up an exhilarating century stand from 118 balls. He's come from leftfield to play a key role in a pivotal Ashes Test.
"Is it just me who feels reminded of another Baz with the concept of Bazball?" asks Eva Maaten. "Isn't it a bit like the movie Strictly Ballroom by Baz Luhrmann where some intrepid young ballroom dancers invent a new style of dancing to the shock and horror of the ballroom dancing community in rural Australia? That experiment had a happy ending with the couple winning a championship; I'm curious whether the English cricketing one will end equally as well."
Status: Bazball-curious.
42nd over: Australia 184-4 (Head 34, Marsh 68) Marsh hacks a shortish delivery from Robinson behind square for four, then gets four bonus leg-byes when the ball flies away off the pad. England need control, never mind a wicket, and for once not even Robinson is providing that.
Uh-oh, England have a problem here. After those two balls, Ollie Robinson walks straight off the field. He doesn't look in obvious pain, but the certainty with which he took his cap and jumper suggests it's serious – possibly a recurrence of the ankle problems he had earlier in the summer. He didn't hang about to chat with Ben Stokes at all.
That's a huge blow to England, even with the extra bowler in the team. Stuart Broad finishes Robinson's over and is blazed up and over point for four more by Marsh. This is an outrageous knock: 68 from 77 balls with 10 fours and two sixes. In the last six overs, Australia have scored 48 runs.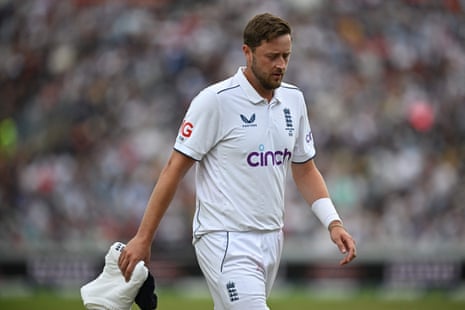 41st over: Australia 171-4 (Head 34, Marsh 59) Australia are scoring freely, with at least one boundary an over. Head gets his fifth of the innings, driven a low full toss from Moeen between extra cover and mid-off.
40th over: Australia 165-4 (Head 29, Marsh 59) Robinson changes ends to replace Wood, whose three overs were pounded for 20. Head pulls four more, with both deep fielders losing sight of the ball. I think the speed of this partnership – 80 from 100 balls – has caught England off guard.
Robinson collects a Marsh defensive stroke in his follow through and hurls the ball at the stumps. It missed, though Marsh was back in his crease anyway.
40th over: Australia 159-4 (Head 24, Marsh 58) Interesting. Ollie Robinson is replaced by Moeen Ali, who both Head and Marsh will try to hit down the ground. Stokes does put mid-off back, a rare occurrence.
Head, who was out to Moeen in both innings at Edbgaston, has a couple of bits of luck. A flashing drive takes the edge and flies past Root at slip for four, then an inside-edge lands safely on the leg side.
We're seeing a replay of the two dropped catches, Head on 9 and Marsh on 12; they were sitters.
39th over: Australia 155-4 (Head 20, Marsh 58) Mitch Marsh is winning his contest with Mark Wood quite emphatically. He drives a wide half-volley handsomely to the cover boundary, then lasers another through mid-off. Thrilling, authoritative batting. Given Marsh's strengths, it was probably a mistake to bowl Wood at him, though of course England were hoping for Wood to attack Head.
Marsh has a Test average of 52 against England, 21 against anyone else, so maybe this innings isn't a surprise. But most of those runs were scored in familiar conditions at home; his previous highest score in England was 27 not out at Lord's in 2015.
Thanks Geoff, hello everyone. Mitch Marsh scored 181 against England at Perth in 2017, yet this might be his best Ashes innings. He had a big moment of fortune, sure, but in context – and given the pace of Mark Wood – he has been seriously good. Most importantly, his rapid fifty has changed the mood of the day.
Half century! Mitchell Marsh 50 from 59 balls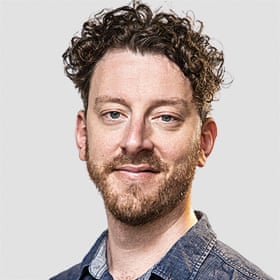 Geoff Lemon
38th over: Australia 147-4 (Head 20, Marsh 50) Deep backward point, long stop behind the keeper, fine leg, deep backward square leg, deep forward square leg. Five out for the top edge. Then a gully, mid off, mid on, square leg closer to the bat. All this so that Head can keep facing Robinson's bumpers, missing a pull, missing a flash, then slanting a run away past gully.
For Marsh, a normal cordon of three plus one, then point and mid off, mid on and midwicket, long leg. He nudges a single behind square for one, and fifty. Had some good fortune and played some sensational shots along the way, scoring at a rattling rate.
Drinks, and that makes it a good time for me to hand over to Rob Smyth.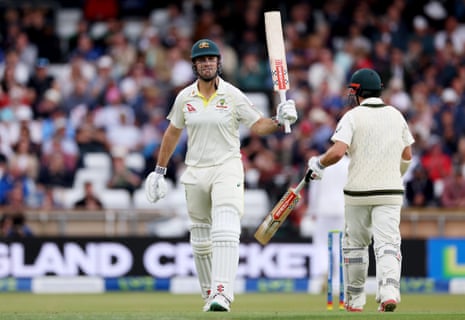 37th over: Australia 145-4 (Head 19, Marsh 49) Wood keeps firing them down, Head scrambles a single from a defensive shot that trickles back down the pitch and past the bowler. A single, a leg bye, Marsh comes back on strike… and smokes a pull shot for six! Flat, hard, and deep into the Western Terrace. Sensational shot, using Wood's pace, and using his own Western Australian upbringing to handle it.
36th over: Australia 136-4 (Head 18, Marsh 42) England go up for a DRS look when a catch at slip isn't given. "Two noises?" says Crawley who snared the ball. The bowler isn't confident. Nope, it's just off Marsh's big knee roll and deflecting. Two balls later he shuffles forward at Robinson and is beaten, pushing the bat straight down the line. No such tentativeness from the fifth of the over, as Marsh demolishes another cut shot behind point. That skims to the boundary! Fifty partnership ticks by, 51 to be precise.
35th over: Australia 132-4 (Head 18, Marsh 38) Mark Wood is back into the fray, looking to intimidate with pace, and Marsh pulls him for four! Not just a pull shot, but a pull shot through mid on. That is a remarkable shot. "Fast?" he seems to be asking. "Not that fast." To be that far ahead of the ball is something. Wood hasn't fully geared up yet, he's in the high 80s for mph rather than the 90s. Marsh knocks down a single, the field spreads for Head, and he rides the bounce to play a ball down to backward point.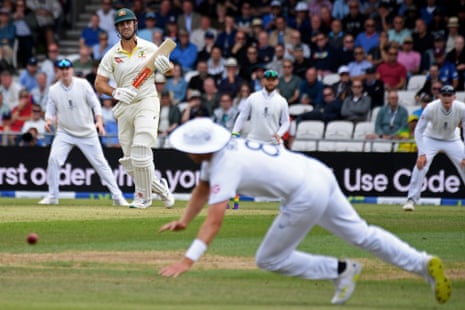 34th over: Australia 127-4 (Head 18, Marsh 33) A magical shot, that, the advance and leave by Marsh to Woakes. Gets inside the line of one to glance it, and whenever Head comes on strike England keep bowling short. He pulls another single, not laying into the short ones but rotating strike. Marsh another to midwicket. The partnership is 42.
Netherlands need 118 from 14 overs to qualify for the World Cup. Scotland firming but Bas de Leede and Scott Edwards are well set.
33rd over: Australia 124-4 (Head 17, Marsh 31) Broad continues, Head pulls a single, still taking it on, and Marsh plays a textbook cover drive for four. His attacking shots today have sparkled. Gets bat down on a full straight ball and diverts it off his pads for two.
"It's gone a bit under the radar that Broad has thrived under Stokes," writes Tom Bowtell. "58 wickets at 25.65 and 46 at 23 in last ten. I'll miss him nearly as much as Jimmy when he goes."
He doesn't look like he wants to go anywhere.
32nd over: Australia 116-4 (Head 16, Marsh 24) They keep trying out the short ball to Head, and he's going at a few. Hits one flat that bounces in front of Stokes at long leg. Doesn't seem a high-percentage approach. Then Bairstow finally takes one cleanly, but it's off Marsh's thigh pad. Came slowly enough down the leg side to reach it with a dive. Finally, Woakes has the ball cutting in and striking Marsh, but probably going down leg. Given not out, they don't review, and if they had it would have been the slimmest of umpire's calls.
"At what point do England accept that spending a bit of time practicing catching might be better for their well-being than dropping catches in the match?" asks Dominic Papineau. "Maybe next visit to the driving range the slip fielders and Bairstow have to catch a 100 driven golf balls before they're allowed to pick up a club? I've possibly gone too far down the Andy Flower pathway there."
That said, their bowlers are producing plenty of hazards this morning.
31st over: Australia 114-4 (Head 15, Marsh 23) Ohhh my. Absolutely crunched by Mitchell Marsh. That's a Perth 2017 shot: liking the bounce in this pitch, he sees width from Broad and plays a back cut with tremendous power, angled bat chopping down on the ball. Gets forward and leaves the next couple from Broad. So his ball-striking is there, but getting the tempo of a Test innings will be the challenge. Drops a single to cover.
30th over: Australia 108-4 (Head 15, Marsh 18) A forceful square drive from Marsh, only half stopped by Moeen to concede a run. Another of those absurd non-wide calls from the umpire, a ball pole-vaulting over Travis' head. Marsh leaves, Woakes laments. Maybe laments a bit more after Marsh smacks a dead straight drive for four.
"I remember watching all the Tests for Australia v West Indies in the 80s, the score seems to be pretty familiar," writes David Kalucy. "Minus the hostile crowd that is. Always just waiting and hoping for someone to dig deep."
29th over: Australia 102-4 (Head 13, Marsh 13) Flicked behind square leg by Head, then it's death by a thousand replays as Stokes slides in to flick the ball up to Woakes just before touching the rope. Saves one. Joel Wilson is up in the third umpire's box, they took pity on him this week and didn't send him back into the middle for an Ashes Test at Headingley. Saves two for Broad. A couple more singles to follow. Tries the short stuff again but Head defends well.
Two batters with 13 runs apiece. This partnership could be very entertaining and very short. The Headmarshter?
28th over: Australia 98-4 (Head 10, Marsh 12) Woakes bowls a hit-me ball, Marsh agrees. Front-foot pull for six! Just brutes that ball away over wide long on. Then Woakes corrects his length and Marsh is dropped! Edged straight to Root at slip, and for no reason the ball goes in and out, Root rolling over on the ground as he tries to get it back. He can't.
27th over: Australia 92-4 (Head 10, Marsh 6) Short ball or nothing to Travis Head to resume after lunch, once Marsh has taken a single to fine leg. Broad bowls a couple of good ones, Head hops about a bit and avoids them.
Phil King on those dropped catches: "the standard response from the England team is that he scores more runs and hence he is in the team. Has anyone created an XG type statistic for catches so we can analyse this? Or is it only me that is bothered by this? I'm Team Foakes by the way. Play your best keeper every match."
"Travis Head shaving off his 'tache makes him look much less like Travis Head, the perfectly-named rogue CIA agent protagonist of a 1970s conspiracy thriller. Travis, please recultivate the facial furniture and return to uncovering dastardly government plots." A clear ask from Boris Starling.
"Does Bairstow have to deliver something with the bat in this game to keep his place?" asks Mark Mann. I doubt it, he's the mascot of Bazball. Things worked much better all round when he didn't have the gloves though.
"I've only started following cricket, particularly test cricket, more closely in the past few years," writes Graeme Quinnell. "Dipping into the OBO and seeing that Labuschagne took 21 runs off 58 deliveries and 16 of those runs were from four 4s. This would mean he only took 5 runs from the remaining 54 deliveries, or almost 11 deliveries per run. To my uneducated eyes this looks like remarkably low scoring and would point to excellent bowling. I can't though see a big deal being made about it, so is it actually unusual or the sort of thing that isn't as remarkable as my inexperienced cricketing mind would think?"
It's pretty standard, Graeme. When the bowling is tight, good players will just bunker through that and wait for things to ease. Knowing how to shift scoring rates within the innings is one of the skills. Hence people getting so annoyed at England's first innings slog-a-thon that lost the match at Lord's.
"I understand from TMS that Travis Head has shaved off his 'tache. This means England are much the hairiest team against their opponents. Will the Samson case be operating?"
Andrew Samson is here doing stats, John Starbuck, if that's what you mean?
Lunch – Australia 91 for 4 after being asked to bat
Another fizzing session! This series keeps delivering. England right on top, didn't blast through all at once, but kept chiselling off piece after piece. Warner early, Khawaja to extreme pace, Labuschagne to a bit of skill, and Smith the vital one not long before the break. Australia in a very difficult position.
Then there's Bairstow, whose drop of Smith has not been hugely costly and was a difficult chance, but whose drop of Head does not fit the latter description and might yet fit the former.
26th over: Australia 91-4 (Head 10, Marsh 5) England's players run into position to get one more over in. Wood! Bowling to Head, who hops and drops a single, then to Marsh, who tries to save Test cricket with a mighty pull across the line that misses everything. Fuller now, swing, away from the bat, beats the edge! Marsh gets across to the next one and defends from behind the line. Wood loses his footing, a classic Wood move, as Marsh leaves width. One ball to come… five slips waiting… crowd goes up… and Marsh takes a run off his hip.
Lunch.
25th over: Australia 89-4 (Head 9, Marsh 4) Huge moment here. Mitch Marsh's last Test match was four years ago, at The Oval. Hasn't played a first-class match since November. Mark Wood hasn't played one since December. "They're fresh," says Gideon Haigh a couple of seats down. Marsh has to deal with Broad first… and smites a cover drive for four.
WICKET! Smith c Bairstow b Broad 22, Australia 85-4
Broad pulls one back for England! Of course he does. Lovely bowling, cuts in to Smith, takes the inside edge on the way through. Kumar Dharmasena takes a long time, then gives it out. Smith looks at his partner, shrugs to say he's not sure, then reviews. There's a little flick of the inside edge though! The crowd, of course, goes wild.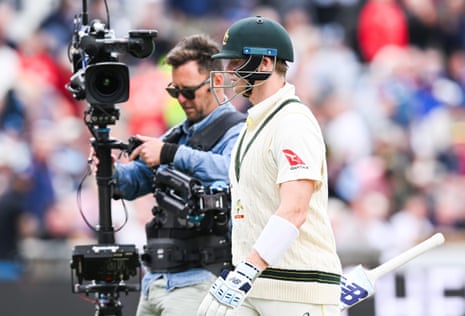 24th over: Australia 85-3 (Smith 22, Head 9) Here is Mark Wood, they've swapped him to the football ground end. Smith clips a couple, drops a single. And for Travis Head on strike, they've got five back on the fence. This is just weird. Player fresh to the crease. Short down the leg side, and he's dropped! Another one goes down with Bairstow behind the stumps. This England team can keep denying that it's a problem, but it's a problem. That one was straightforward, to his right. The batters cross, the umpire gives the run as a bye, but replays show it was an edge.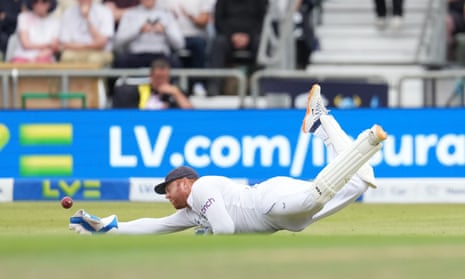 23rd over: Australia 80-3 (Smith 18, Head 9) Smith quietly adds a single to midwicket. Stuart Broad has the ball back. A touch of Mark Wood before lunch, maybe? New batter in? They're giving Head the single! Last ball of the over, seven fielders back. Except Broad bumps him and he just drops his gloves. No run.
22nd over: Australia 79-3 (Smith 17, Head 9) There's a bolt from the blue! Steve Smith goes back and clobbers Woakes over deep square leg for six! Woakes comes back well against head, bowling a few better short balls.
21st over: Australia 72-3 (Smith 10, Head 9) Robinson bowling. Smith takes some singles, Head pulls a boundary.
"In an Ashes series has a team ever one three coin tosses in a row and lost all three matches?" asks Matthew Smith.
Hard to look up sequential streaks on certain databases, but I can tell you that Australia won every five tosses in 1978-79 and lost four of those matches, but those losses were in two lots of two. They won the third Test.
The 2017-18 England team did win the toss in the first three Tests and lose them all. Same deal in the fifth.
20th over: Australia 65-3 (Smith 8, Head 4) Right then! Travis Head to the middle, this is make or break for both teams. If he stays, he'll score. Starts quickly, just keeping out a Woakes ball at the stumps and driving it past cover for four! Some shot to start your day.
WICKET! Labuschagne c Root b Woakes, Australia 61-3
Soft hands from Labuschagne ensure a thick edge dies into the ground, and rolls away for four runs past the cordon. No such luck with the next ball though, a good piece of skill from Woakes to use the seam, draw some movement from a hard length, and it takes the edge of the bat high on the blade as Labuschagne tries to defend. Another sharp one taken in the slips.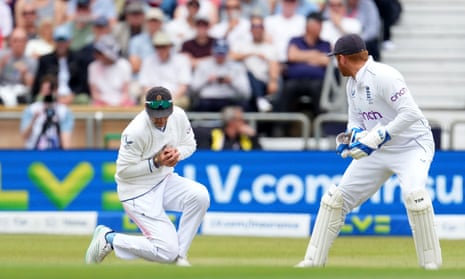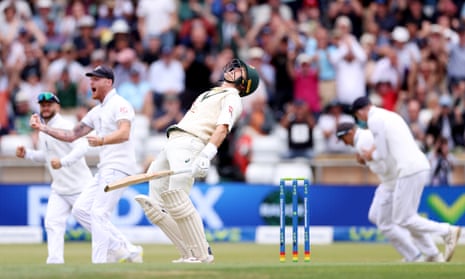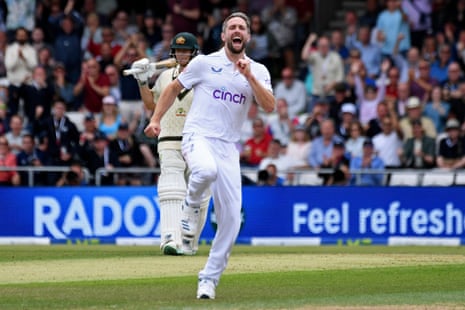 19th over: Australia 57-2 (Labuschagne 17, Smith 8) Big appeal from Robinson, flicking Smith's pad way outside the line of off stump. Wasn't playing a shot, hence the interest. Robinson bowls again, and Smith is dropped. Bairstow can't hang on, inside edge that goes wide to his left, a very tough one though a keeper with better footwork might not have been wrongfooted there. Weight going the wrong way, can't compensate with the dive. Smith gets four.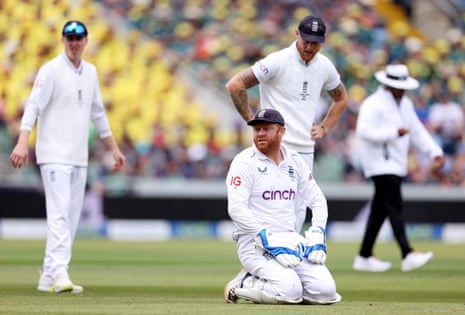 18th over: Australia 53-2 (Labuschagne 17, Smith 4) Another run to Smith, just blocking it out to leg. Four in the slips, so he has that latitude. There's a leg slip for Labuschagne as well. Ball angles in from Woakes and takes the pad, Labuschagne has a guilty wander to square leg and avoids eye contact with the umpire, like his ex just walked into a party unexpectedly. The ball would have missed leg stump, looks like. No review.
17th over: Australia 52-2 (Labuschagne 17, Smith 3) Robinson thuds away from the Kirkstall Lane End. Again Smith is nudging a single to leg.
Scotland and Netherlands are playing off for the last spot at the ODI World Cup in October. Scotland made 277, the Dutch need to chase it in 44 overs to beat the Scots on net run rate. They're 24 without loss in the third over.
16th over: Australia 51-2 (Labuschagne 17, Smith 2) Another sharp single for Smith, this time to midwicket. Labuschagne leaves one very close to the off stump, Woakes is excited.
15th over: Australia 50-2 (Labuschagne 17, Smith 1) Robinson is back from the Kirkstall Lane End, replacing Wood. It was a four-over burst and it dislodged Australia's most stubborn player of the series. Labuschagne taps a run to midwicket. Smith times a flick nicely but it's stopped at midwicket. So he darts a single to cover, spots Broad on his heels and makes the most of it as he drops the ball away. There's another Robinson overstep as well.
14th over: Australia 47-2 (Labuschagne 16, Smith 0) Jeers for Steve Smith as he walks to the middle in his 100th Test. He's at the non-striker's end as Labuschagne picks up four from the rare double misfield: Broad at cover fumbles the ball to let it through, then chases it back and slides into the rope while failing to stop it a second time. Takes a single that lets Smith face one ball, which he defends while stepping across.