Key events
At 30-15 up, Sabalenka double faults hugely.
This looks terminal for Gracheva now as she loses her serve, 5-2 down. She stares at her water bottle and wipes her face with her towel. Sabalenka serves for the match.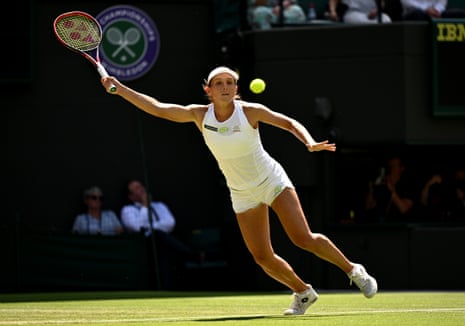 A series of Exocets from the Sabalenka racket threaten the gentility of SW19. But Gracheva takes her to deuce for the first time since the first set – making a good challenged in the process – but Sabalenka finishes with an ace into the corner of the eye. 4-2 in the third set
Now Gracheva must serve to a woman who awaits delivery with legs incredibly widely splayed, like a gymnast on the mat.
In the stands, a spectator unfolds a colourful fan to watch Sabalenka send Gracheva from corner to corner, but Gracheva recovers and wins the game when Sabalenka sends a wispy half-volley into the net. Sabalenka still leads, 3-2.
A superb point – some powerful cross -court backhand battles pounded out before Gracheva approaches the net and closes down the point with a delicate high volley into an empty court.
Sabalenka has found her mojo over on Court One. She's already broken Gracheva's serve and backs it up with a fierce service hold. Leads the third set 3-1.
A superb bit of fielding by a ball boy on Centre Court, after Alcaraz mis-hits a ball into the clear skies of SW19. If anyone was watching the Women's T20 at The Oval, he fumbled and caught the ball like Tahlia McGrath. After a rolling flurry of deuces, Muller holds serve to pull ahead: 2-1.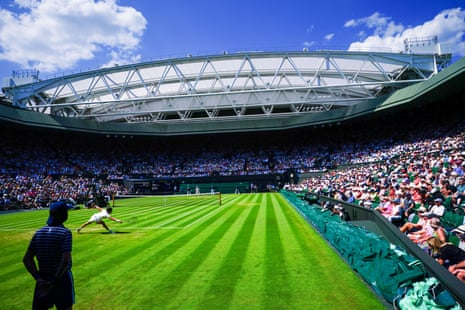 Fluttering round the grounds:
Third seed Medvedev duly beat Mannarino 6-3, 6-3, 7-6
Sixth seed Rune knocked out Carballes Baena in three sets :6-3, 7-6, 6-4
And a routine win for Berrettini against De Minaur 6-3, 6-4, 6-4.
While Quentin Halys has the no 8 seed Sinner in trouble, leading 5-2 in the second set.
And Sabalenka draws level, by winning the second set 5-7, by sheer force of will. Seventy-one percent of her first serves in this time.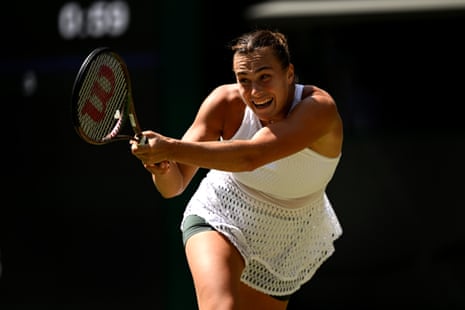 Alcaraz wraps up the first set in 45 minutes, 6-4. Not his finest performance but good enough.
A suggestion from Michael Todd:
JSO to replace Barclays? I like it! Incidentally, Wimbledon have done lots of great work in the sustainability field.
Under the shade of an umbrella held by a ball girl, Sabalenka puts a bag of ice on her neck.
Sabalenka rises to the occasion, slugging it out with her opponent, winning her service game to love with a succession of fierce double handed backhands. Gracheva bends over her racket in frustration. And then rapidly loses her own service game to go 6-5 down. The momentum is with Sabalenka.
Muller has just been broken on Centre, while on Court One, Sabalenka battles to stay in Wimbledon. Very impressed by Gracheva's cool, inscrutable under her sun visor as she gets a lucky net cord and then takes a 5-4 lead in the second set. Sabalenka serving to stay in the Championship.
More shorts updates, thank you Susannah Sutton! "Diane Parry wore shorts to beat Harriet Dart in the first round. She also wore shorts when she lost in the following round."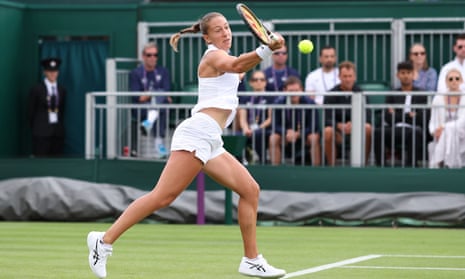 Shorts obviously the practical choice but if someone was offering a gorgeous tennis dress, I could be tempted.
Alcaraz, tiny shadow under his feet, serves to level again at 3-3. An uncharacteristic flurry of unforced errors from him in these early games. If Muller could pull off a surprise, it would be his first third round Grand Slam appearance.
Let's leave the Women's No. 2 seed to ferment her anger and go to Centre Court, where No. 1 seed Alacaraz has just survived three break points against Muller and drills out the game to make it 2-2. Wimbledon Queen Martina Navratilova is in the crowd, looking cool in a rose shirt and jacket.
And just to prove me wrong, Sabelenka wallops the backside out of the tennis ball to win her service game to love, grunting loudly at each furious shot. 1-1.
"Hi Tania," hello Craig Miles!
"Viktoria Azarenka wore shorts, but a while ago. Not sure if she still does.
I'm enjoying the Wimbledon coverage, but wouldn't you rather be on the OBO from Headingley?"
I'm supposed to be doing that on Sunday – if it last that long….
England are having almost as bad a day as Sabalenka who loses the first game of the second set to love, puts her hand on her hips and remonstrates with..the world?
And that is that, Gracheva takes the set 6-2. A furious Sablenka stalks off to take a toilet break – her first set containing five double faults, 16 unforced errors and just 45 percent of her first serves in the box.
She hits long to give Gracheva three set points, wheels spinning rapidly off in all directions.
No 2 seed Sabalenka is 5-2 down against Gracheva. She doubles faults twice to go 30-0 down, serving to stay in the set.
And here is Berrettini looking swell.
Back on Court 18, Berrettini's serve is still proving tricky for De Minaur, as he rattles out a service win to lead the second set 5-3, first set already in the bag.
Three aces in a row by Sabalenka – all hovering around 120mph – are enough to level the first set 2-2.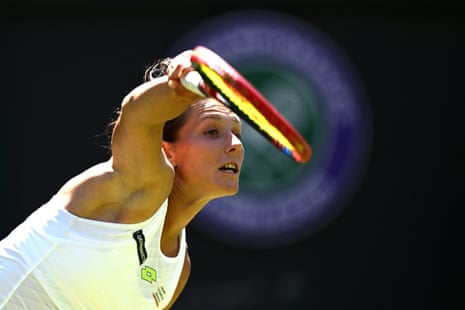 Despite a roaring double-handed back hand, and a powerful forehand winner down the line, Sabalenka can't break Gracheva in the third game. Unforced errors hampering her game.
Zipping over to No. 1 Court where the Amazonian second seed Aryna Sabalenka has broken Varvara Gracheva's serve in the very first game. Gracheva is resplendent in shorts, don't remember seeing a woman playing in them since Navratilova – though I might not have been giving tennis my full attention since then. Please feel free to correct me.
Let's potter quickly round the courts, strawberries in hand:
Madison Keys wrapped up her game against Viktorija Golubic, 7-5, 6-3.
Third seed Daniil Medvedev is chewing up Adrian Mannarino on No. 2 Court.6-3, 6-3, 5-5.
Twenty year old Dane Holger Rune – quarter finalist in Paris – is 2 sets up against Roberto Carballes Baena.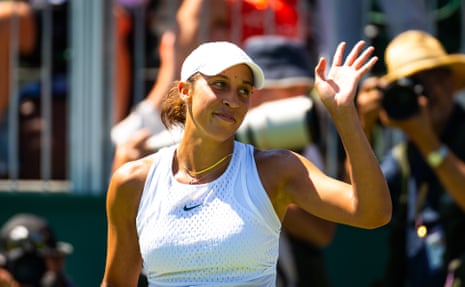 A bird's eye view of the grounds shows Henman Hill absolutely rammed! Lots of boaters and backpacks on view. If you're there, hope you can shimmy into some shade for your sandwiches and perhaps a glass of Pimms.
De Minaur not going down without a fight on Court 18, winning his serve to love. But hold that thought – Berrettini wins his own serve convincingly to rapidly take the first set 6-3.
Sixteen minutes into his match against Alex De Minaur, Matteo Berrettini is 4-1 up in the first set. Berrettini, I've learnt, is the only player to have a non-sporty clothes sponsor. Hugo Boss in fact. And he looks duly immaculate and ruggedly coiffured. De Minaur , the Australian Snow White to Nick Kyrgios's Rose Red, is struggling with Berrettini's serve and touch tennis.
The two time champ and eighth seed Kvitova duly breaks Sasnovich's serve to get through to the third round -(6-2, 6-2)- where she will face the winner of the match on Court 12 between 25th seed Madison Keys and Viktorija Golubic. Keys collected the first set 7-5 and is currently 5-3 up in the second.
Meanwhile on Court 18, Marta Kostyuk has skipped through to the third round at Wimbledon for the first time after Paula Badosa retired with a back injury early in set two. That could mean curtains for Badosa's mixed doubles partnership with Andy Murray's current match-up: Stefanos Tsitsipas.
Full of admiration for Sasnovich's long sleeves, white leggings look. As a fellow fair-skinned gal, I feel her pain in the heat of the day. Kvitova has nearly wrapped things up on Court Two, breaking Sasnovich's serve with a head down (think Jimmy Anderson's bowling action) cross-court winner. And she's just won her own serve to lead 5-2 in the second set, with the first set already under her belt.
If you're in the queue or court side, do drop me a line with your thoughts, as the beeb flashes over the practise courts where Carlos Alcaraz is running through his moves in a casual black T-shirt. So looking forward to seeing him later – his Centre Court match against the Frenchman Alexandre Muller starts at 1.30 this afternoon.
Thanks Dominic! It is crazy busy today in SW19, congratulations if you lucked out in the Centre Court ballot. Have just been watching Petra Kvitova on Court Two, not quite on top of her game but a set up against Aliaksandra Sasnovich – who has shown flashes of inspiration but also fluffed some winners.
Brengle wins the tie-breaker 7-4. And back on Kvitova's court, it's on serve.
At this juncture, I'm going to hand over to Tanya Aldred to take you through what is, quite frankly, a ridiculously busy afternoon. Go well, Tanya!
Rune on the charge! Back-to-back breaks and a string of unforced errors from Carballes Baena give the Dane the first set 6-3. Minutes earlier, he'd been struggling to hold serve at 3-2 down. A thumping ace gets the job done, well played young man.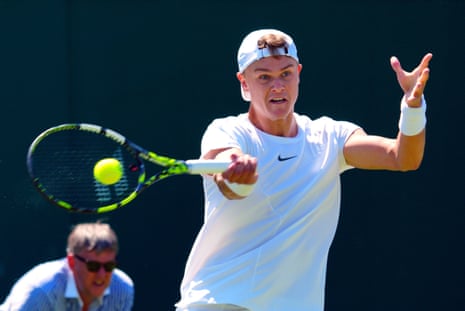 Some other first sets have come to a conclusion around the courts:
Keys wins the first set 7-5 against Golubic

Jule Niemeier has taken the first v Dalma Galfi on court 11

Alexandrova and Brengle have gone to a breaker on 17
First set for Kvitova! 6-2 and she finally cracks a smile. I can't help but feel Sasnovich must be warm; she's wearing full length leggings. Surely inadvisable in this heat. I've got shorts on and I'm only live blogging.
Both Madisons lost their crucial games. It's five apiece in both encounters.
Carballes Baena and Rune are trading hammers blows from the bassline on No 3 court with the Spaniard a break up but labouring to hold serve.
That was much harder work than it needed to be for Kvitova. She eventually dials in her misfiring serve, a cracking forehand kisses the line to complete the job, and she's a game away from the set now, 5-2.
O'Connell has taken the first set 6-3 against Vesely. Those pesky Aussies …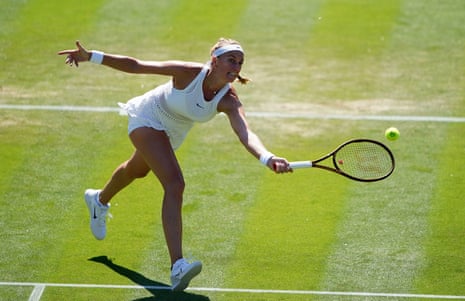 Madison Brengle is serving for the first set in her match against 21st seed Ekaterina Alexandrova out on court 17. In other Madison news, Madison Keys is trying to break Golubic to take the first on court 12. If they both get through, we could have Madison squared.
Sorry.
Kvitova has broken back thanks to some fearsome forehands, which propel her back into a strong position in this first set. It's 4-2 in games to the Czech, although she's pushed to deuce on her serve. Meanwhile, Kostyuk has indeed taken that first set on court 18.
Kostyuk is serving for the set against Badosa, 5-2 up. There's plenty to like about the Ukrainian, as there is plenty to enjoy at Wimbledon today. We're only just getting started.
And would you look at these queues around the All England Club this morning. Get your sun cream and your hats on if you're coming along.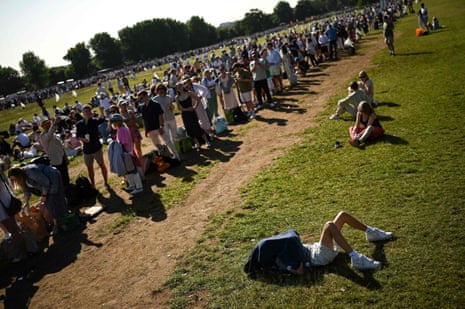 Carballes Baena held, while Sasnovich has broken back against Kvitova. The seeds not having it all their own way early doors on Courts 2 and 3.
Elsewhere, it's a good morning for Australia (and not just in the Ashes) as their man Christopher O'Connell steams into a 4-1 first set lead against Jiri Vesely on court 14.
Who is the most famous person from Stockport? As a Stopfordian myself, it's nice to see this debate getting a bit of air time, as we all get caught up in the romance of Liam Broady's Wimbledon run. (Can't believe Ricky Hatton and Claire Foy were omitted from this debate, mind you.)
Sasnovich gets on the board with a comfortable hold. 3-1. Rune is hitting back on No 3 court and we're pinging back and forth from deuce to advantage on the Carballes Baena serve.
A great start for Kvitova. She's broken Sasnovich to take race into early 3-0 lead in the first set. We've already seen a couple of those flashing forehands for which she's so famed.
On court 18, Kostyuk is a break of serve up on Badosa.
Rune is broken in his first game. Not the ideal start for the 20-year-old, whose best grand slam performances have come on the Roland Garros clay. Carballes Baena is an experienced campaigner, but this is his first ever second round match at Wimbledon. Green meets green on the grass courts.
Natalija Stevanovic takes the first game, on serve, against Tamara Korpatsch of Germany on court eight. A reminder that these are all still second round matches, because of the wet London weather earlier in the week. We've had all seasons in the space of a few days in the capital. Typical, eh.
No such issues today, to the point where Wimbledon is going to be at full capacity, hence this warning from organisers:
They're knocking up in nine singles matches on the outside courts. Two-time Wimbledon champion Kvitova is the main attraction, as well as the hugely promising Dane, Rune. While they get warm, enjoy some morning reading on a good day for the Brits yesterday.
Well, what a day five we have in store. Those with Centre Court tickets are in for a real treat. They'll get to see the third round matches involving top seeds Carlos Alcaraz and Iga Swiatek, as well as the bonus of the Murray v Tsitsipas resumpton before Novak Djokovic taking on Stan Wawrinka. Tasty.
Before that, the outside courts get under way at 11am, and our focus will be on former champ Petra Kvitova taking on Aliaksandra Sasnovich on No 2 court, as well as Holger Rune who is first up on No 3 court against Roberto Carballes Baena – both second round matches. Madison Keys is also in action on court 12 and Kostyuk v Badosa promises to be close. The weather is set fair today with temperatures pushing 30C.