Key events
Keys finds herself break point down, but averts the immediate danger with a big serve and forehand combo. She does need to save another, but then closes out for 1-0 and, for the first time, we're seeing Andreeva struggling for ideas.
Roughly 25 minutes from now, Daniil Medvedev and Jiri Lehecka will be out on No1 Court. This is shaping up into a day.
A serve out wide, a long return, and Keys, who was a point away from trailing 6-3 5-1 is now level in the match at 3-6 7-6(4)! She was so close to elimination but worked out a plan just in time and her power is currently dictating to Andreeva's consistency. Oh, and at the end of that breaker, Andreeva chucks her racket over to her chair – the first sign of proper emotion from her – for which she's warned. I cannot wait for this decider.
But then Andreeva lands a ball on the line, it doesn't bounce, and there's the mini-break back … except two big forehands then a solid service-point give Keys 6-4, and she now has two points for a decider!
Keys is dominating now, planting her feet and sending forehands to the corners while intimating that she might come in – 20 times in set two versus six in set one. She leads4-2.
Aha, on the start-time point, this from today's Times:
Seemingly oblivious to the fact that the average length of tennis matches is increasing — due both to the improved physicality of the players and the slowing down of surfaces — Wimbledon organisers pandered to the BBC two years ago by changing the Centre Court start time and introducing 20-minute breaks between matches. They may not like to admit this in public but it is acknowledged privately that this was done to improve the chances of play extending into the evening for a prime-time audience without introducing a specific night session."
Another solid hold from Keys, and this breaker could be something … which it already is, Andreeva dictating on the forehand only to watch a booming forehand whistle past her, cross-court for an immediate mini-break.
Andreeva holds for 6-3 6-5, securing herself a tiebreaker – at least. Keys will now serve to stay in the match for a second time.
Yeah, here she is.
Well done Madison Keys. She plays another good game for 5-5 and has done well to work her way back into a match that looked like it was forsaking her.
A hold apiece leaves us at 5-4 Andreeva, meaning Keys will now serve to stay in the match. And, though she's improved the last 10 minutes, getting broken here would, I'm afraid, be the absolute height of her.
More good play from Keys makes 15-40, but she misses an admittedly tricky putaway at the net but HAVE AN ABSOLUTE LOOK! Dominating the next rally, Keys finds herself in trouble when Andreeva sends a terrific riposte across her that looks like it's bouncing away from her backhand …. so she pats a gentle left-hander back across the net! that's absolutely brilliant, securing the break-back, and has she woken up just in time? Andreeva leads 6-3 4-3.
Again, Keys finds herself down break point, Andreeva's forehand cross-court setting up the opportunity. But this time, she spanks a backhand winner down the line, and needs more of them, many more, if she's to make a match of this. in fairness, I know exactly how she feels, because I had my arse handed to me by a bunch of 15-year-old boys playing back-garden Wembley on Shabbat – though, in fairness, I'd had a fairly hectic relaxing afternoon prior to. Keys closes out really well for 3-6 2-4, and that was much better from her.
Keys tries her best to thrash away but Andreeva is just so competent, doing the right things at the right time and holding to 15. She leads 6-3 4-1 and a comeback looks inconceivable – partly because Keys doesn't appear tp have the minerals, but also because she's just so solid.
No one can collapse like Maddy, but she just about hangs onto her serve, winning her first game in eight, to keep the deficit at a set and a break. Meantime, Andreeva goes about her business.
Keys rustles up a break point but then nets a forehand while, on the other side of the net, Andreeva keeps doing what she's doing, calmly dictating play with no outward sign of nerves. She's won seven games on the spin now and leads 6-3 3-0. She's an absolute superstar, and we'll be talking about this run for decades.
Keys can't decide whether to try and end rallies quickly by going for winners, or accept the need to be patient and get moving. As such, she's falling in between the two approaches and getting nowhere, soon 0-40 down in a game you feel she must win. She manages to save one break point, but coming to the net, Andreeva whacks a forehand by her ankles, and in her first grass-court tournament is four holds away from the last eight!
It's windy out on Court 2, which suits Andreeva whose footwork is better and who's trying to do less with the ball. And when Keys unloads a pair of monstrous forehands for deuce, Andreeva quickly closes out, ending the game with a drop shot-lob combo of rare deftness. She leads 6-3 1-0.
Leading 40-30, Keys sets up a volley with a really good slice, only to net, then on deuce Andreeva disburses another fine backhand winner down the line; set point. And when Keys nets a again, a forehand slapped into the tape, that's the first set to Andreeva, 6-3 after being broken at the start. Did I mention she's 16?
Also going on:
"The late starts on the show courts are absolutely bonkers," reckons Darragh Morrissey. "I can only assume they start late so their esteemed guests in the corporate seats can stuff their bellies full of delicious lunch and then they saunter out to the court for a 1:40 start. It's basically an acknowledgement that the special guests watching are more important than the stars they are there to see. It has to be pushed forward to 12pm for next year."
Yes, my guess is also there's a corporate trough angle, not because people are more important than tennis but because money is.
A lovely deft drop earns Keys a break-back point, but she goes at a serve that's not there to be whumped sending the ball long and plenty, then Andreeva nails a backhand winner down the line and closes out from there. She leads 5-3 having won five of the last six games, and this is just incredible behaviour.
Andreeva is into this now, raising two break points. But she stands up a drop that Keys really should put away … except instead, the ball is directed at her, leaving almost the whole court open, and a winner into the space gives her 4-3. She's 16!
Leading 3-2, Keys arranges another break point, saved by Andreeva putting her on her bike and cleaning up when she tries a moon ball. She closes out for 3-3 and looks like she was born to be in this moment.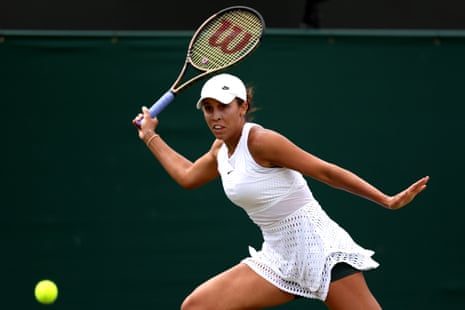 Looking at today's schedule, it looks extremely possible that we end up with another unfinished contest overnight, which again raises the question as to why we don't start earlier. Just an hour extra on the show courts would make a difference, and just as the All England Club go to lengths to preserve the integrity of the tournament by keeping the roofs open if they possibly can, so they should by trying to ensure matches are done in a oner.
A love hold from Andreeva makes it 2-2 and already the pattern of the match is set. If Keys can impose her power-game and control the rallies, she wins, but if Andreeva gets her moving so she can't plant her feet and bang, it's up for grabs. a hold to love gives Keys 3-2.
Excellent from Andreeva, who misses two break-back points but nabs another through deuce and at 1-2, is on the board.
Keys has started well and a double gives her 15-40; Andreeva saves one break point with a well-directed serve, but is then drawn to the net with a drop and, when she gets the ball back, passed. Keys leads 2-0 and I'd love for this to be her moment. She's made one Grand Slam final, at Flushing Meadow in 2017, but overwhelmed by the occasion and her close mate, Sloane Stephens, standing on the other side of the net, she shrank.
Shonuff, here's Calv Betton, our resident coach, with his thoughts on this one: Match will hinge on whether Keys can over power her. Andreeva is good but still a bit lightweight. If Keys lands her shots then she'll win, Andreeva is gonna be a star though."
He'll be delighted to know I agree. If Keys plays well – and her win over Kostyuk in the last round was very impressive – I don't think this'll be that close. And she starts well, holding to love and securing the game with an ace.
This time last year, Andreeva was ranked 834 in the world; she's now at 102. That is ridiculous, and I'm not sure she'll ever have to qualify for a major again.
Righto, our players are with us and knocking up. Keys had yesterday off while Andreeva had to fight hard for her passage against Potapova.
Hi everyone and welcome to Wimbledon 2023 – day eight!
It's not Manic Monday, no, but it remains an extremely manic Monday that has absolutely no one wishing it was Sunday – great though that was.
We begin on Court 2, which will host a classic battle of power against consistency – with a twist. Madison Keys remains a terrific talent, but at 28 she's running out of time to realise her potential while, over the other side of the net, Mirra Andreeva is everything she is not – steady, focused, fearless … and 16-years-old! 16! Why, it's almost as though it's inessential to spend one's teenage years feasting on one's 90 Minutes, Wham Bars, Irn Bru bars, Astrobelts, Space Raiders, Chilli McCoys, Hooch, Scotch Bitter and Dunhill International.
After that, the surging Christopher Eubanks faces Stefanos Tsitsipas, by which time we should be ready for action on Court 1, where Daniil Medvedev takes on Jiri Lehecka, who's bidding for a second straight major quarter-final. Opening proceedings on Centre, meanwhile, is an absolute weapons-grade match between Beatriz Haddad Maia and the defending champ Elena Rybakina, after which Novak Djokovic and Hubert Hurkacz play to a finish – Djokovic leads overnight by two sets to love.
And goodness us, that's not even close to it. We've also got Ekaterina Alexandrova v Aryna Sabalenka and what looks like a proper belter as Ons Jabeur ruckuses Petra Kvitova before, rounding out the day, the in-form Griggzy Dimitrov meets Holger Rune and the returning Mario Berrettini, beaten finalist in 2021, takes a shy at Carlos Alcaraz. It's our fun day!