More than 1,000 buses are being deployed to move 37,000 Scouts – mostly teenagers – from the World Scout Jamboree in South Korea, as Typhoon Khanun looms.
Most of the remaining Scouts, who come from 156 countries, will be taken from the site in the south-western county of Buan to 128 accommodation sites scattered across eight provinces and cities, including the capital, Seoul, said interior minister Lee Sang-min on Tuesday morning. The exact locations were not disclosed, but officials had previously said that they were securing spaces at government training centres and education facilities as well as hotels.
"The local governments are checking the cleanliness of the accommodations and toilets and are preparing medical measures so that participants can have a safe and comfortable stay as soon as they arrive," Lee said, adding that Scouts would continue their jamboree programmes during the remaining five days of the event.
The evacuation from the massive campsite started at 9am with the first bus transporting a Scout contingent from Taiwan, with the remaining countries being pulled out throughout the day, on 1,014 buses.
Four police helicopters and 273 police patrol cars will escort the participants. Organisers have said the site will no longer be used for any event after they leave.
After a week grappling with a heatwave in South Korea, Ahmad Alhendawi, the secretary general of the World Organization of the Scout Movement, said in a statement: "This is the first time in more than 100 years of World Scout Jamborees that we have had to face such compounded challenges."
Camp Humphreys, a major US military base 70km (45 miles) south of Seoul, is already accommodating hundreds of American scouts, who were moved over the weekend because of heat concerns, as South Korea grapples with one of its hottest summers in years. Officials did not immediately confirm reports that thousands of Scouts from Sweden, Norway and Denmark were to be transferred to its facilities too.
The announcement about the evacuations came after the World Organization of the Scout Movement said it called on South Korea to quickly move the Scouts out of the storm's path and "provide all necessary resources and support for participants during their stay and until they return to their home countries".
The storm has taken an unusual, meandering path around Japan's south-western islands for more than a week, dumping heavy rain, knocking out power to thousands of homes and disrupting flights and train services. On Monday afternoon, it had sustained winds of 108km/h (67mph), with higher gusts, and was forecast to maintain that strength as it brushed Japan's main island of Kyushu this week, the Japan Meteorological Agency said. The storm has caused one death and 70 injuries on the southern Japanese island of Okinawa, according to the country's Fire and Disaster Management Agency.
South Korea's weather agency reported that Khanun was expected to make landfall in South Korea on Thursday morning, potentially packing winds as strong as 154km/h (95mph). Large swathes of the country's south, including Buan, could be affected by the storm as early as Wednesday, the agency said.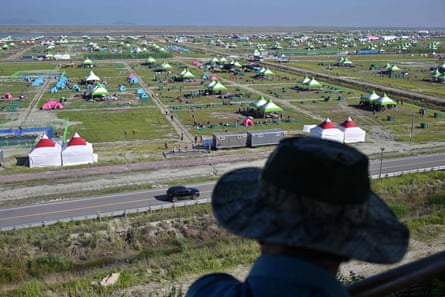 The plans to evacuate the scouts were announced hours after president Yoon Suk Yeol's office said he called for "contingency" plans, including relocating them to hotels and other facilities in the greater capital area.
The South Korean Safety Ministry said the storm will unleash strong winds and rain throughout the country from Wednesday to Friday and instructed local officials to prepare to shut down coastal areas, hiking trails, river parks, underpass tunnels and other sectors vulnerable to flooding.
Geir Olav Kaase, leader of the 700-member Norwegian contingent, said Norwegian Scouts had started leaving the campsite on Monday evening to "avoid any chaos that may arise in the event of a joint evacuation".
"We do all we can to ensure that the scouts are safe and well, and that the transfer goes as smoothly as possible. We help each other and keep our spirits up," Kaase said in a statement.
The Swedish news agency TT said 1,500 scouts from Sweden will be relocated to Camp Humphreys along with Norwegian and Danish scouts.
Kim Hyun-sook, South Korea's minister of gender equality and family, said officials are trying to arrange new cultural events and activities for the scouts before they leave, including a possible K-pop concert at a Seoul soccer stadium on Friday to go with the closing ceremony.
"We don't see it that way," Kim said when asked whether the scouts' departure from Buan should be seen as an early end for the jamboree. "We are creating new programs with regional governments away from the campsite, so it could be said the jamboree is widening."
With Associated Press