Six people were killed in the unprecedented wildfires that tore through the Hawaiian island of Maui overnight, authorities said.
The fires, fanned by strong winds from Hurricane Dora, destroyed businesses in the historic town of Lahaina, and left at least two dozen people injured, officials said at a press conference Wednesday. There have been 13 evacuations for three fires.
Rescuers with the US Coast Guard pulled a dozen people from the ocean water off Lahaina after they had dived in to escape smoke and flames. Burn patients have been flown to the island of Oahu, officials said.
The US president Joe Biden said he had "ordered all available federal assets on the islands to help with response." Biden expressed his condolences and said that he and his wife Jill Biden's "prayers are with those who have seen their homes, businesses, and communities destroyed".
On Wednesday afternoon, Lahaina by US Civil Air Patrol and the Maui Fire Department conducted flyovers and determined that at least 271 structures had been damaged or destroyed. But assessing the full extent of the damage could take weeks or months, said Mahina Martin, a spokesperson for Maui County.
Before and after satellite images of wildfires in Southern Lahaina, Maui County, in Hawaii.
Richard Bissen Jr, the county of Maui mayor, announced the deaths during a Wednesday morning news conference. He said he did not yet know how or where on the island the deaths had occurred.
Six patients were flown from Maui to the island of Oahu on Tuesday night, said Speedy Bailey, the regional director for Hawaii Life Flight, an air ambulance company. Three of them had critical burns and were taken to Straub medical center's burn unit, he said, while some were taken to other Honolulu hospitals. At least 20 patients were taken to Maui Memorial medical center, he said.
"This is so unprecedented," Mahina Martin, a Maui county spokesperson, said early Wednesday. "Right now it is all-hands-on-deck."
Fire was widespread in Lahaina Town, including on Front Street, an area that is popular with tourists, Martin said. The emergency unfolded in the night, which made it more terrifying, she added, and more difficult to survey the damage. Photos posted by the county showed a line of flames blazing across an intersection in Lahaina and leaping above buildings in the town, whose historic district is on the National Register of Historic Places.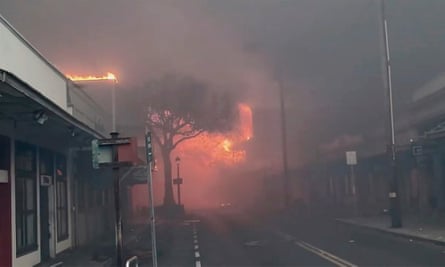 "It was like a war zone," Alan Barrios, a resident told Hawaii Civil Beat. "There was explosions left and right."
Lahaina resident Ke'eaumoku Kapu was tying down loose objects in the wind at the cultural center he runs in Lahaina when his wife showed up and told him they needed to evacuate. "Things got crazy, the wind started picking up," said Kapu, who added that they got out "in the nick of time".
Two blocks away they saw fire and billowing smoke. Kapu, his wife and a friend jumped into his pickup truck. "By the time we turned around, our building was on fire," he said. "It was that quick."
Residents reported widespread destruction. "I'm just heartbroken. Everywhere, our memories," Tiare Lawrence said. "Everyone's homes. Everyone's lives have tragically changed in the last 12 hours."
Officials are preparing the Hawaii convention center in Honolulu to accommodate up to 4,000 people displaced by the wildfires that swept across parts of Maui.
James Tokioka, director of the department of business, economic development and tourism, said the center is not just for tourists, but also for locals.
"Local people have lost everything," he said. "They've lost their house, they've lost their animals."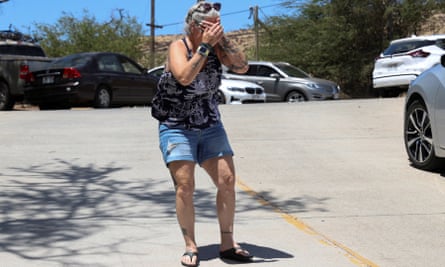 All roads in and out of West Maui's biggest community were closed to the public. Meanwhile, the acting governor, Sylvia Luke, issued an emergency proclamation on behalf of the governor, Josh Green, who is traveling, and mobilised the national guard.
It was not immediately known how many structures have burned or how many people have been evacuated, but Martin said there were four shelters open and that more than 1,000 people had checked into the largest of them.
The fire crews on Maui are battling blazes concentrated in two areas: the popular tourist destination of West Maui and an inland mountainous region.
Hurricane Dora complicated matters for firefighters in an already dry season. Hawaii is sandwiched between high pressure to the north and a low pressure system associated with Dora, said Jeff Powell, a meteorologist in Honolulu, adding that dryness and gusts "make a dangerous fire situation so that fires that do exist can spread out of control very rapidly".
The US National Weather Service (NWS) said Dora was partly to blame for wind gusts above 60mph (96km/h) on Tuesday night. The winds knocked out power and forced firefighting helicopters to stay grounded.
Before and after satellite images of wildfires in Southern Lahaina, Maui County, in Hawaii.
There was little chance of rain to aid firefighters, the weather service said. A strong wind advisory would be effect throughout Thursday night, the Maui county emergency management agency said. While winds had slowed, high winds were still expected to continue.
Firefighters were encountering roads blocked by downed trees and power lines as they worked the inland fires, Martin said. About 14,500 people in Maui were without power, according to Hawaiian Electric.
"It's definitely one of the more challenging days for our island given that it's multiple fires, multiple evacuations in the different district areas," Martin said. Winds of up to 80mph (128km/h) were recorded in inland Maui, and one fire that was believed to have been contained flared up hours later with the gusts, she added.
"The fire can be a mile or more from your house, but in a minute or two, it can be at your house," said the fire department's assistant chief, Jeff Giesea.
In the Kula area of Maui, at least two homes were destroyed by a fire that engulfed about 1,100 acres (445 hectares), said the Maui mayor, Richard Bissen. About 80 people were evacuated from 40 homes, he said.
The fires in Hawaii are unlike many of those burning in the western US. They tend to break out in large grasslands on the dry sides of the islands and are generally much smaller than mainland fires.
Fires were rare in Hawaii and on other tropical islands before humans arrived and ecosystems evolved without them, which means that great environmental damage can occur when fires erupt. Fires remove vegetation. When a fire is followed by heavy rainfall, the rain can carry loose soil into the ocean, where it can smother coral reefs.
A major fire on the Big Island in 2021 burned homes and forced thousands to evacuate.