Maui mayor: responders yet to search interiors of burnt out buildings in Lahaina
Maui mayor Richard Bissen has confirmed that the 55 fatalities known so far from the wildfires only include people who were found outside. The death toll is expected to rise.
He told NBC: "We have not yet searched in the interior of the buildings. We're waiting for Fema to help with that search, as they are equipped to handle the hazmat conditions of the buildings that have been burned."
Key events
Joe Biden and Hawaii governor Josh Green spoke on the phone Friday about the Hawaii wildfires, as parts of the island recover from the natural disaster.
The governor reportedly provided Biden with an account of damage in the state and an assessment of recovery needs following the devastating wildfires.
From Voice of America's Steve Herman:
Kamala Harris says White House deeply concerned about wildfires' impact
Vice president Kamala Harris called the Hawaii wildfires "tragic" while speaking with reporters on Friday, C-SPAN reported.
Harris told reporters that the White House was "closely" monitoring the situation and was "deeply concerned" about the wildfires' impact.
"We are coordinating federal resources to swiftly get there to support the work that has to be done, both in terms of recovery, but to just support the folks on the ground," Harris said.
Harris added that she had "full faith and confidence" in Hawaii's leadership to "stay on top" of the recovery situation.
Here are more images coming out of Maui, after wildfires devastated much of the island.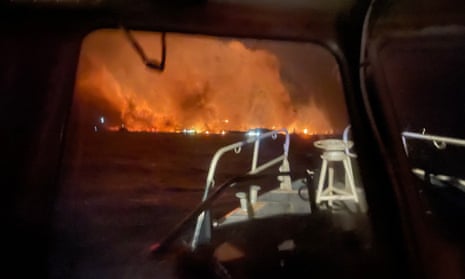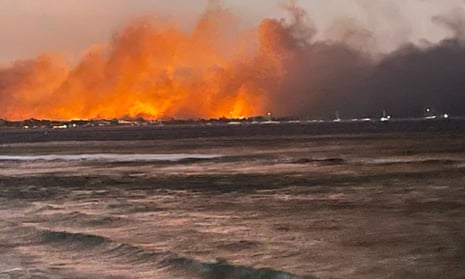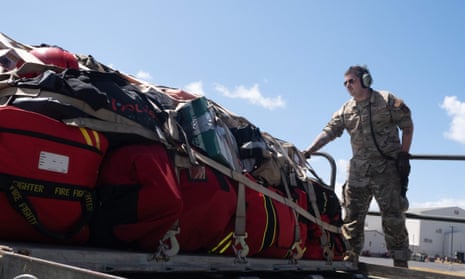 Residents of Lahaina have rallied together to support each other and locate loved ones after devastating wildfires. More from Libby Leonard from the Guardian.
…With cell towers on the island of Maui still down, family members of residents have been taking to social media pleading for help in locating their loved ones, while grassroots volunteers have been posting lists of those who are found and those who still need to be located.

Kanani Adolpho, a Maui resident who is volunteering at the War Memorial Complex shelter in Waikulu, one of many across the island, has spent the last 24 hours posting live updates on Instagram sharing a list with names of people who have turned up at the shelter. At one point it was four pages long and contained both locals and visitors.

"My heart is sore, but I don't want to break down in there because these people need my strength right now," she said in one of the live videos on Instagram before returning to the shelter.

Other organizations, including the Maui Lani Mormon church also posted lists, and a longer Google document started circulating on Facebook with over 2,800 names, some of which had been labeled as located, many who have not.
Read the full article here.
Firefighters still working to contain wildfire flames
Firefighters are also still working to contain the flames of the wildfire, Maui officials said in a statement.
Firefighters were working to contain fires in Lahaina, Pulehu/Kihei and Upcountry Maui, officials said in a Friday morning update.
Officials added that more firefighters have been added to the containment effort.
"The firefighting effort was bolstered by 21 firefighters from the Honolulu Fire Department, seven supervisory personnel and four vehicles. A nine-member search-and-rescue team also arrived on island," officials added in the update.
A search-and-rescue team from Nevada arrived to Maui last night, Maui officials announced in an update.
The nine member Federal Emergency Management Area search-and-rescue team will be conducting searches on the island, along with two K-9 cadaver dogs.
Other states – including Missouri, California, and Washington – have deployed members from their own search-and-rescue teams to help efforts in Hawaii.
Nearly 15,000 visitors have left Maui after blazes
Nearly 15,000 visitors have left Maui after wildfires raged through parts of the island.
25 shuttle buses on Thursday transported over 1,200 visitors from area hotels to the Kahului Airport, according to an update posted at 3.18 am hst (1.18 pm gmt) by Maui county officials.
Officials added that visitors wanting to leave Maui should book a flight with an airline to Honolulu, and continue on to the US mainland.
Lahaina resident Jordan Saribay told USA Today about how he and his family managed to escape the wildfires alive.
Saribay told USA that he saw walls of fire "as tall as the buildings" and had to navigate through dangerous debris as he left.
"Everything is gone, every single one of our family homes," Saribay said to USA. "The entire Lahaina Town and the entire subdivision of Lahaina – gone."
Saribay added that trying to leave the destroyed town was difficult due to thick smoke from the fires.
"While driving through the neighborhood, it looked like a war zone," Saribay said to USA.
"Houses throughout that neighborhood were already on fire. I'm driving through the thickest black smoke, and I don't know what's on the other side or what's in front of me."
Many Maui residents say they had little time to escape from intense wildfires that have impacted much of the island.
They are asking why Hawaii's emergency warning system didn't alert them sooner.
Here's more on that story from the Associated Press.
Maui residents who made desperate escapes from oncoming flames, some on foot, asked why Hawaii's famous emergency warning system didn't alert them as wildfires raced toward their homes.

Hawaii emergency management records show no indication that warning sirens were triggered before devastating fires killed at least 55 people and wiped out a historic town, officials confirmed…

But many of Lahaina's survivors said in interviews at evacuation centers that they didn't hear any sirens and only realized they were in danger when they saw flames or heard explosions nearby.

Thomas Leonard, a 70-year-old retired mailman from Lahaina, didn't know about the fire until he smelled smoke. Power and cell phone service had both gone out earlier that day, leaving the town with no real-time information about the danger.

He tried to leave in his Jeep, but had to abandon the vehicle and run to the shore when cars nearby began exploding. He hid behind a seawall for hours, the wind blowing hot ash and cinders over him. Firefighters eventually arrived and escorted Leonard and other survivors through the flames to safety.
Read the full article here.
Pope Francis sends condolence telegram to Hawaii
Pope Francis has sent a telegram of condolences to the people of Hawaii, offering prayers for the victims, the injured and displaced from the wildfires, AP reports.
The note said Francis was saddened to learn of the destruction and "expressed solidarity with all those suffering from this tragedy, especially those whose loved ones have died or are missing."
He also offered prayers for emergency responders who are providing aid to the victims.
Maui mayor: responders yet to search interiors of burnt out buildings in Lahaina
Maui mayor Richard Bissen has confirmed that the 55 fatalities known so far from the wildfires only include people who were found outside. The death toll is expected to rise.
He told NBC: "We have not yet searched in the interior of the buildings. We're waiting for Fema to help with that search, as they are equipped to handle the hazmat conditions of the buildings that have been burned."
'The closest thing I can compare it to is a war zone,' says Maui county mayor
Maui county mayor Richard Bissen has spoken to ABC's Eva Pilgrim in the last hour in an interview on Good Morning America. He told viewers "the closest thing I can compare it to is perhaps a war zone," and said that authorities are bringing in dogs to increase the amount of area that can be searched.
Of the scenes in Lahaina, he said "It doesn't resemble anything that it looked like when I was growing up."
He told viewers there were "cars in the street, doors open, you know, melted to the ground. Most structures no longer exist and for blocks and blocks of this."
Bissen said there had been "an outpouring of so much donations and offers of help," and they would take advantage of federal support open to them. "There is so much support," he added. "Right now, our focus is on fighting the fires, saving lives where we can or preventing further harm."
The unprecedented wildfires that raged through Maui Island in Hawaii have also claimed a tree described as the "heartbeat" of the historic Lahaina beach town. Before and after images of the 150-year-old banyan tree show it sustained significant damage in the fire, which raced through dry vegetation in the hills and into the town of 13,000 people on Tuesday evening.
Lahaina resident Cole Millington has spoken to CNN in the US, telling them that he and his family began to flee before getting any official warning. He told viewers:
There wasn't really an evacuation notice for us. It was more – we realised the town and our street looked like it was going to burn. Within 15 minutes of talking about that and seeing the smoke, we were running down into our cars, anything we can grab – go bags – mostly nothing. I got my passport and my dog and my truck, and we were peeling out of the driveway.

It pinged me as I was getting in my truck to leave. That warning was useless. We have tsunami warnings that I think should have been utilised. I think this could have been handled so much better in so many ways. So many of us residents felt like we had absolutely no warning.

There's people screaming in the streets. There's no one saying this is where you should go, this is what you should do. It happened so unbelievably quickly that it was really difficult, really scary. We need real support, this is a severe disaster.
The environmental impact of the disaster is likely to last for some time, AP reports. The wildfires struck Hawaii just as Jamison Gove, a Honolulu-based oceanographer with the National Oceanic and Atmospheric Administration, was publishing research in Nature on Hawaii coral reefs' recovering from a 2015 marine heatwave.
His work highlighted the threat to coral from land-based contaminants running off into the ocean. Gove said Thursday that burning homes, commercial structures and cars and trucks would make any runoff worse by concentrating synthetic materials in the stream.
"It's not a major leap to suggest when all that material is even more heavily concentrated in a small area, that the consequences would undoubtedly be more severe if and when it's in the ocean," Gove said. He noted that Lahaina's coastal location meant "a minimal distance" for the materials to reach the ocean.
"Coral reefs provide coastal protection, they provide fisheries, they support cultural practices in Hawaii," Gove said. "And the loss of reefs just has such detrimental consequences to the ecosystem."
Hawaii firefighters association head Bobby Lee has told local media in Hawaii that 14 firefighters are known to have lost their homes in the blazes.
Honolulu's KHON2 quoted him saying "Fourteen of our members have been confirmed, as far as losing their homes. Everybody's okay physically, we don't know emotionally how they are. I mean, they're not just firefighters, they're also part of the community."
Fires in Hawaii worsened by a number of factors including the climate crisis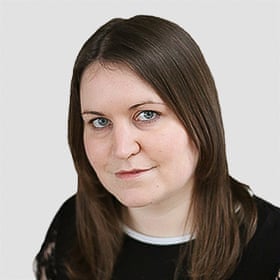 Nicola Slawson
Here is an extract from our First Thing newsletter today:
The devastating fires in Hawaii, where at least 53 people have died after a conflagration that engulfed the historic town of Lahaina, were worsened by a number of factors including the climate crisis, scientists have said.
Rising global temperatures and drought helped turn parts of Hawaii into a tinderbox before one of the deadliest fires in modern US history, with conditions worsened by strong winds from a nearby cyclone.
Katharine Hayhoe, the chief scientist at the Nature Conservancy, said that global heating was causing vegetation to dry out, priming it as fuel for an outbreak of fire. "Climate change doesn't usually start the fires but it intensifies them, increasing the area they burn and making them much more dangerous," Hayhoe tweeted.
Nearly a fifth of Maui, the Hawaiian island where the fires have occurred, is in severe drought, according to the US drought monitor. The island has experienced other serious fires in recent years, with blazes in 2018 and 2021 razing hundreds of homes and causing the evacuation of thousands of residents and tourists.
AP reports that Lahaina's wildfire risk was well known. Maui County's hazard mitigation plan, last updated in 2020, identified Lahaina and other West Maui communities as having frequent wildfire ignitions and a large number of buildings at risk of wildfire damage.
The report also noted that West Maui had the island's highest population of people living in multi-unit housing, the second-highest rate of households without a vehicle, and the highest rate of non-English speakers.
"This may limit the population's ability to receive, understand and take expedient action during hazard events," the plan noted.
Maui's firefighting efforts may also have been hampered by a small staff, said Bobby Lee, the president of the Hawaii Firefighters Association. He told AP there are a maximum of 65 firefighters working at any given time in Maui county, and they are responsible for fighting fires on three islands – Maui, Molokai and Lanai.
Those crews have about 13 fire engines and two ladder trucks, but they are all designed for on-road use. The department does not have any off-road vehicles, he said.