Anthony Joshua knocked out Robert Helenius with a brutal right cross in the seventh round of their heavyweight fight late on Saturday night. The end was as swift and conclusive as the previous six rounds had been pedestrian. It was a reminder, after a dreary prelude, that Joshua still retains serious punching power. Helenius fell so heavily to the canvas that it appeared as if he had lost consciousness as he hit the ground. Fortunately, he was eventually helped to his feet and he congratulated Joshua.
Helenius was the more aggressive fighter in the opening round, without landing any notable punches, as Joshua opted for a cautious approach against his marginally taller opponent from Finland. Joshua was more purposeful two minutes into the second round as he threw a brief flurry of punches which forced Helenius back against the ropes. They swapped respectful nods at the bell as if to thank each other for the lack of punishment in those first six minutes of wary sparring.
The crowd began to jeer and whistle the lack of meaningful action in round three and Joshua landed one cuffing blow which at least elicited an encouraging roar. Joshua also began to snap out the job without causing the giant Finn any distress. Both boxers raised the tempo a little in the fourth round and Joshua landed punches with enough spite to cause blood to trickle from Helenius's nose.
Early in the fifth, Joshua connected with a thudding right, and then a left, which put a little dent in Helenius. His jab peppered the reddened face of his opponent who still looked alert and aware that Joshua seemed far from the formidable force he had once been. And then, suddenly, the end came with shuddering force.
Thirty-two months had passed since Joshua last won a fight by knockout, when he dismantled Kubrat Pulev in December 2020, as Covid restrictions meant that only a thousand fans were allowed entry to Wembley Arena that night. It was noisier in an almost full O2 Arena but, as the disapproval of the crowd indicated before the stunning knockout, the contest was still something of a parody of a real test for Joshua.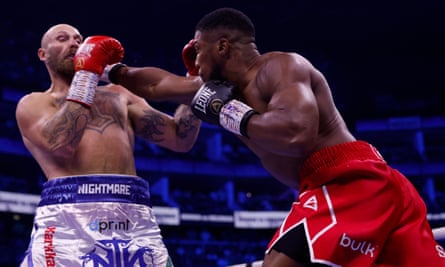 Helenius had fought in Finland exactly a week earlier and, just 10 minutes after his victory over a novice heavyweight called Mika Mielonen last Saturday night, he was offered the chance to face Joshua. That unexpected opportunity arose because Dillian Whyte, whom Joshua was meant to fight, had returned adverse findings from a drug test.
Helenius rolled the dice by taking the bout at such short notice. He spoke confidently earlier in the week and stressed that he could beat a "robotic" and "vulnerable" Joshua, having sparred against him in 2017. But Helenius was presumably swayed most by the hefty fee he was paid to rescue the entire promotion.
The 39-year-old had given up a family holiday in Lapland to suffer this clinical knockout but, in truth, he had little to lose. All the pressure was on Joshua to not only win but to do so in thrilling style after the most difficult few years of his career. In September 2021 Joshua lost his world heavyweight titles to Oleksandr Usyk – who beat him again in the rematch last August. A laboured return to the ring four months ago, grinding out a dull victory on points over Jermaine Franklin, had deepened the suspicion that Joshua, at 33, is running out of time.
Overwhelming Helenius, after such a cagey opening half of the fight, does not diminish the doubts that still surround Joshua at the highest level of heavyweight boxing – where Usyk and Tyson Fury operate with a natural aptitude for boxing he has always lacked. But Joshua can now pursue a highly dangerous bout early next year with Deontay Wilder, a man who dropped Fury four times but failed to beat him in any of their three epic encounters.
Wilder knocked out Helenius in the first round of their fight last October. That result puts Joshua's victory in the right context and it works as a reminder that facing Wilder will be an occasion crammed with jeopardy and perhaps even dread. But Joshua is entitled to draw breath now and feel thankful that, against limited opposition, he is back on the knockout track.