Key events
84 min Final change for Brentford, Jorgensen replacing Ajer.
82 min Nice feet from Mbuemo, stepping over the ball and sliding Roerslev away down the right. But his cross is poor, which reminds me of how little we've seen Henry this half. I've not noticed anything Spurs have changed, they've just had more of the ball – I think – though I'm surprised Brentford haven't found a way to find him at least a couple of times.
80 min "On the subject of penalising fouls in the box,: says Simon McMahon, "might a sin-bin be the answer? I've never understood why football doesn't use one anyway, but maybe penalty-box fouls could result in a direct free-kick and 10 minutes on the sideline? And while we're at it, red cards for serious foul play only, and not after a second booking for taking your shirt off/kicking the ball away."
I like the second half of that, but I think we might see the first part abused in the closing stages of games, when the attacking side would prefer a shot not playing against a man fewer.
78 min Now then! A poor touch from Van de Ven sees Schade appear to nip in front as they pursue a looping bouncing ball … but the defender does really well to recover, getting body in road before a tangle sees both players fall. Schade wants a penalty, but that's a good challenge.
76 min Damsgaard finds a bit of space down the right and Maddison, who's been booked and now wears the armband, shoves him over. He needs to be careful, because that challenge was on a par with some we've seen garner bookings.
76 min "Have to disagree on Bissouma's ceiling based on various games against the biggest teams in the league where he's been the best player on the pitch, says Titan. "For me the only question is whether he can reach that ceiling on a consistent basis."
That's what I mean by ceiling; every player in the league is capable of being brilliant occasionally; I don't think he's got it in him to be brilliant regularly.
75 min Now two changes for Spurs: Son and Skipp off, Sarr and Perisic on.
74 min All those changes look like-for-like, which makes sense: Brentford have a system, and they're sticking to it.
73 min A triple-change from Frank with Wissa, Hickey and Norgaard coming off; Roerslev, Baptiste and Schade replace them.
71 min Nice from Udogie who, isolated by Mbuemo, does everything he can to infringe the laws without inciting the ref, grabbing him by the waist on the blind side before coming away with the sphere.
70 min This has not been as fun a half as the first, or anything like it. Spurs are controlling the play fairly well without creating much, while Brentford are struggling to get the ball forward as quickly as before.
69 min "The Band," says Mary Waltz. "Canadians and an American interpret classic Blues and Americana into an absolute beauty of a string of albums. In football terms they were a group of incredibly talented group of musicians that sacrificed their individual talents to the service of the song and the band. In the age of guitar heroes who sometimes wallowed in self indulgence Robertson was a brilliant writer and player who knew the song was the star. RIP."
Agree.
67 min Meanwhile, join Rob Smyth for the buildup to our second game…
65 min Bissouma is also playing fairly well today, showing for the ball and using it sensibly. I don't think his ceiling is as high as Spurs need it to be, but he's certainly better than the few seconds allotted him by Conte.
63 min Maddison, who's playing well, finds another pocket and slides in Richarlison at inside-right; Flekken parries the eventuating shot to safety.
62 min A punt up to Son sees Hickey decide to pull him back, at cost of a yellow card.
60 min Now it's Spurs on the attack, Maddison's corner cleared and picked up by Kulusevski, outside the box, right-hand side, and he smashes a low shot that makes its way through to Son on the opposite side; he allows the ball across his body then punches a low sidefooter seeking the near corner. But he's not quite accurate enough, missing the gap just by the post and allowing Flekken to save with a foot.
58 min Again, Brentford attack down the left, Norgaard feeding Janelt, who lashes what I think is a cross that Vicario punches clear … but here comes Damsgaard, bursting onto the loose ball … only to half-hit a shot that skips wide. That was a chance!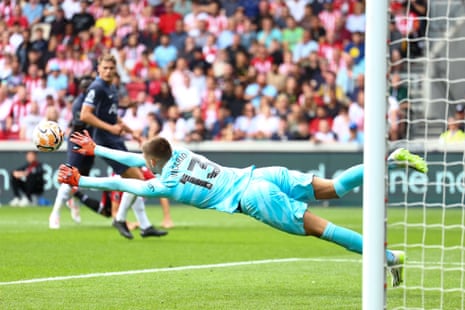 56 min "Your argument doesn't make sense," says Andrew Champney. "You say you don't think anyone will want to concede a direct free-kick when no goalscoring opportunity is imminent. Well they don't want to concede penalties either, but they still do."
That is true, but the question is whether, under my laws, we'd see more deliberate fouls in the box because a direct free-kick was the only sanction, to the extent the flow of the game was compromised. I think not.
55 min Royal crosses from the right and Richarlison's touch is unadhesive … but so is Collinseseses, the ball getting stuck under his studs and forcing him to concede a corner. This time, Flekken comes and catches
54 min We see Ben Mee on the bench; he's expected to be fit for next weekend.
53 min Meantime, though, they win a corner down the right – they've started the half well – but this time, Maddison's delivery is less good, a defender's header landing by Kulusevski, who drills wide of the near post.
51 min Already, you can see that Spurs will be a different proposition this season – which isn't to say everything is sorted. Rather, they'll be playing a modern, proactive style, but their lack of quality will take several windows and pounds sterling to resolve – along with no little managerial and talent-spotting skill.
49 min "Rico Henry has been the best player on the pitch," says Alex Whitney. "Unbelievable pace, paired with control at speed."
Agree, he's been excellent, and Brentford will, I'm certain, be looking to find him at every opportunity. I wonder, too, if Postecoglu has formulated a plan to help out Emerson Royal, who's struggling to make any kind of defensive impression.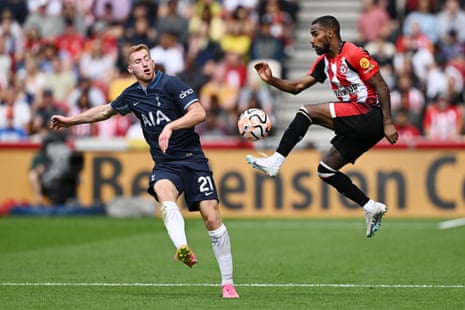 48 min Jensen stretches to clear a Maddison pass and jiggers a groin in the process; he's replaced by Damsgaard.
47 min "'Any infringement in the box that does not: direct free-kick'" begins Bill Ireland, quoting me back to myself. "It's an appealing suggestion but what it would mean is that play in the box would be constant blocking and tactical fouls to break up play. It's already very difficult for teams to score in the box but letting the defence kick, and pull and hold more seems unlikely to improve the quality of play."
I don't think anyone will want to concede a direct free-kick when no goalscoring opportunity is imminent.
46 min The pitch went unwatered at half-time; I fear our teams shall cope.
46 min We go again!
By the way, I'm really pleased to see Daniel Sturridge is now a permanent feature on Sky.
"With Spurs scoring in added-on time," tweets Craig Deeley, "why didn't the ref add on time beyond the original 11 minutes? He blew up bang on it."
That is a fair question; I guess it slipped his mind.
And elsewhere, peace has broken out.
Have you signed up? And if not, why not?
HALF-TIME: Brentford 2-2 Tottenham Hotspur
That was a tremendous half of Premier League FootballTM. More more more more.
45+9 min Forget the toast, Henry has stuck Royal in the Breville! Another ball into the space, another screeching run … and a terrific cross, which skips off the turf just before reaching Mbuemo, who ankles a poor finish over the top! What a chance that was!
45+9 min "With all this added time for stoppages, snarks Niall Mullen, "are Newcastle's games are going to be split into three 45 minute periods?"
I hope so; I'm buzzing for more oratory of this calibre.
45+7 min Neither side looks capable of repelling the other; both look committed to scoring goals.
GOAL! Brentford 2-2 Tottenham Hotspur (Royal 45+5)
Er maybe Spurs don't need a new right-back! A clearance is headed up in the air and Bissouma wins the loose ball then Maddison, just outside the box, left of centre, does really well to gold up, turning inside and away from Jensen before sliding into the path of the advancing, inverting Royal, who drills a fine finish inside the near post! What a half this has been!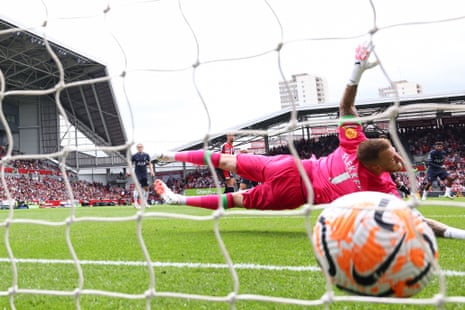 45+3 min Maddison, just outside the box, swerves another nasty ball into the box and a flick off a defender's heed takes it onto Son's laces, at the far post. But despite a good look at it as it drops, he slices wide of the near post.
45+2 min "Speaking of The Band," emails Kevin Wilson, "is there a case to say that Kane was merely the weight holding Spurs back and now that he's been released they'll possibly be a more liberated side? Or maybe it makes no difference?"
Er, I'd say it's him being released, not them. I've no idea how they'll compensate for the shortfall in goals.
45 min Just the 11 pints for me last night minutes added time and I'm so glad we're getting to see proper-length matches now. I know players are overplayed, but that situation needs to be resolved a different way, not by short-changing supporters and making timewasting skills a serous part of the game.
45 min Jensen skirts around Skipp, who drags him down and is booked.
43 min Son pulls wide and goes at Hickey on the outside, breezing by easily. But his cross, aimed at Richarlison is headed away, and his team need to get more men in the box to offer options when those kind of balls come on.
42 min "What would you do rather than give a penalty?" asks Joe Pearson.
Any infringement anywhere on the park that prevents a goalscoring opportunity" penalty. Any infringement in the box that does not: direct free-kick. You can't be handing over an 85% chance of a goal for minor offences.
40 min Both sides are playing well here, Spurs the more controlled in possession but Brentford with the sharper edge and defenders.
38 min Henry has Royal on absolute toast;Brentford need to hit him, Spurs need a better right-back.