Key events
Bruno Fernandes speaks to Sky Sports

No, we're not relieved. It was important to start the season with a win, and we showed great fighting spirit. It wasn't our best game – we know that – but we did the most important thing by winning the game.

Wolves have quality. We didn't know what to expect [tactically] because of the change of manager. It was about adapting on the pitch. At times we pressed well but we should have been more aggressive at times.

At times we were a little bit rushed on the ball and our timing on the counter couldn't have been better. It wasn't a perfect game but we won.

[On the goal] It's the kind of movement we practise in training. Obviously we don't train for Rapha to be in the box! [Wan-Bissaka] made a great movement, I had to find him in behind the defenders, and he made a great cross to Rapha.

Starting with a win gives you confidence. We have to be ready for the next game [Spurs away]. It will be a difficult one, as always in the Premier League.
Statgasm alert Wolves had 23 shots, which apparently is the most by a visiting team at Old Trafford in the Premier League since 2005.
More on the Wolves penalty appeal. If it was a defender who missed the ball and then headed Kalajdzic's face, I don't think many people would appeal for a penalty. Does that matter? Should it matter? I don't know about you but I feel like, since VAR was introduced to make football simpler, my understanding of the laws has steadily diminished.
"I know you will get a lot of people saying, 'Typical Utd getting the decisions'," says Samuel Campbell, "but Spurs got away with a similar one yesterday when Vicario came steaming out of his goal. It should be a foul but for some reason keepers get away with it all the time."
Unless the attacker is Lionel Messi. I must check the laws to see if it matters whether the ball stays alive. In this case it did, which certainly doesn't reduce the case for a penalty. But as you say, a lot of keepers do get away with such challenges.
Gary O'Neil was understandably fuming about the decision not to award a penalty for Onana's challenge on Kalajdzic, but when the dust settles he'll be thrilled with the performance of his new team. When the XIs were announced we said that, for a club that has had such a miserable summer, Wolves looked surprisingly good on paper. They looked even better on the pitch.
Full time: Man Utd 1-0 Wolves
The scoreline isn't a surprise, yet the manner of it is almost shocking. Manchester United were outplayed by an admirable, intrepid Wolves side, who created chances at regular intervals. At times United made Liverpool's midfield look watertight in comparison.
Raphael Varane headed United ahead against the run of play in the 76th minute, and they just above survived a late onslaught from Wolves.
Wolves might have had a penalty in injury time when the otherwise excellent Andre Onana took out Sasa Kalajdzic; the good people of Stockley Park decided it wasn't quite a clear and obvious error.
90+9 min Another dangerous cross is held well, and bravely, by the diving Onana.
90+8 min We'll hear a lot more about that penalty appeal I'm sure. Just after Lemina had yet another shot blocked, Neto boomed a superb cross towards the far post. Onana came, missed the ball and almost chopped his hands into Kalajdzic, flattening him in the process. I've never been less sure of the laws of football – thanks VAR, thanks X – but I thought the decision would be overturned.
No penalty! Hmm. I'm very surprised by that. Now Gary O'Neil is being booked for dissent.
VAR check I think this will be given, because the ball stayed in play after Onana wiped out Kalajdzic.
90+5 min: Wolves penalty appeal! Onana comes for Neto's cross, misses and flattens Kalajdzic. This could well be given.
90+4 min Hwang zips outside Wan-Bissaka in the area and belts a low drive that nicks off the stretching Wan-Bissaka and flies into the side netting. And now there's somebody on the pitch! Wolves took the corner short and had possession 35 yards out when suddenly a jaunty pitch invader appeared. They've been removed now.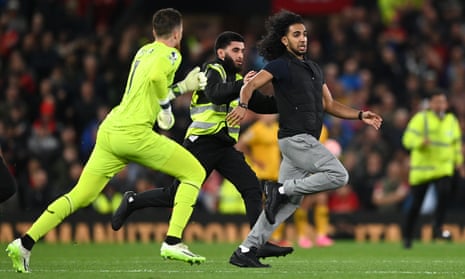 90+3 min "With the extremely unfortunate recent rash of ACL injuries, it sure is nice to see the recovered ones come back!" says Harriet Osborn. "Wouldn't it be beautiful to see Kalajdzic cap his return with a goal? I'm a Liverpool fan following the match solely from this MbM in my office, so I am very relaxed about Man Utd's performance! And terribly envious of Ms. White."
90+1 min Sancho, now playing as a false nine, buys some time by drawing a foul from Dawson. He and Eriksen have added a little bit of composure since coming onto the field. A little bit.
90 min: Another chance for Wolves! Hwang's low cross deflects across the area towards Fabio Silva, whose shot on the turn is desperately blocked by Shaw. There will be seven minutes of added time.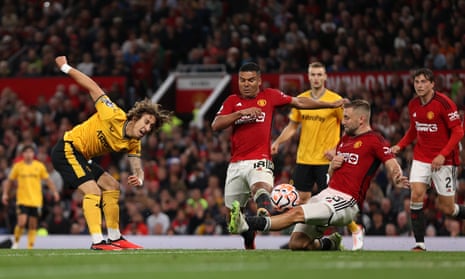 88 min Nunes's free-kick is headed back towards goal by Kilman, and Onana makes a comfortable save. He's had a good night.
88 min: Wolves substitution Sasa Kaljdzic, the giant Austrian forward, is on for, er, I'll get back to you. Edit: Joao Gomes.
87 min This is a(nother) good spell for Wolves, who haven't accepted the inevitability of an unjust 1-0 defeat. They have a free-kick 35 yards from goal. Before it is taken, Scott McTominay replaces Marcus Rashford. That tells a story.
86 min "Listening to the game on the beach in sunny Canada," writes/boasts Liz White, "so I'm very relaxed about United's performance."
You and literally no other Man Utd fan on earth.
85 min At the other end, Fernandes's teasing pass/cross is poked over the bar by the stretching Pellistri. He did well to get in front of the Wolves defender at the far post but couldn't get on top of the bouncing ball.
84 min: Another save from Onana! After a bit of a scramble in the area, Fabio Silva's snapshot on the half turn is kicked away by Onana. Wolves have had some fine opportunities.
83 min: Good save from Onana! Hwang's cutback from the byline is blocked by the sliding Shaw, but the ball runs loose and Fabio Silva rattles it towards goal from a tight angle. Onana, well positioned, deflects it round the near post.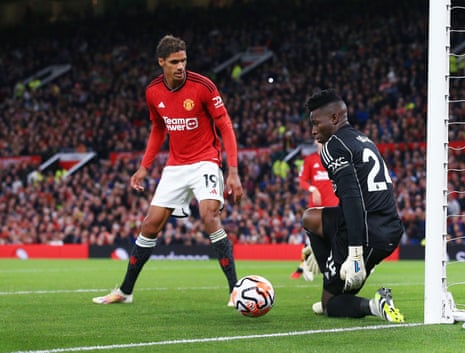 81 min After a good run from Sancho, who has been full of purpose since coming on, Rashford has a shot blocked.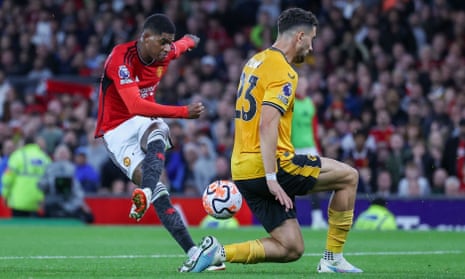 80 min A chest-volley from the off-balance Hwang goes well wide.
80 min Rashford surges into the Wolves area, then gets a bit too cute and is dispossessed. The flag went up after the event, though it looked extremely close on the replay.
79 min That assist was a really nice moment for Aaron Wan-Bissaka, whose Man Utd career looked over a year ago. He'll always be limited going forward, but he has improved so much under Erik ten Hag that it's no longer worthy of comment when he is picked ahead of Diogo Dalot. I think that's his first assist in the Premier League since the 2020-21 season.
78 min: Double substitution for Wolves Fabio Silva and Hugo Bueno replace Matheus Cunha and Rayan Ait-Nouri.
77 min: Man Utd substitution Facundo Pellistri replaces Antony, who had one of those nights.
Fair or not, this is an excellent team goal. It came when a corner was only half cleared by Wolves. Antony fed the ball infield to Fernandes, who flipped a fine pass over the defence to find Wan-Bissaka. He stretched to lob a good cross over the outrushing Jose Sa, and Varane got in front of Semedo at the far post to head into an empty net.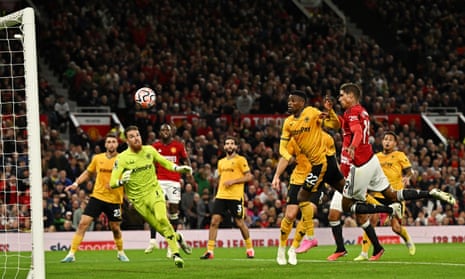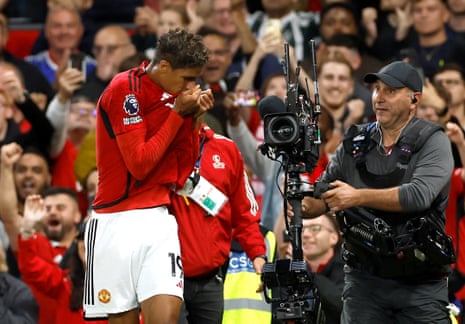 GOAL! Man Utd 1-0 Wolves (Varane 76)
About that unjust 1-0 defeat.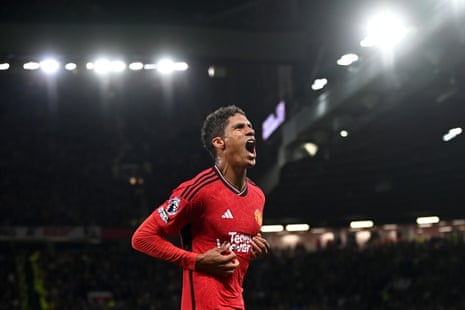 74 min Wolves have been the better team tonight, particularly in the second half. It reeks of an unjust 1-0 defeat, doesn't it.
73 min I thought Sancho might play as a false nine, as he did at times during pre-season, but he is on the left with Rashford still up front.
72 min "Wolves easily running through the middle of the park," says Niall Mullen. "Have United thought about buying a defensive midfielder? I hear they're all the rage."
71 min: Chance for Wolves! Another corner for Wolves on the left. Neto's outswinger is headed away by Varane and United break. Antony's poor pass to Fernandes is intercepted on the edge of the area, which allows Wolves to counter the counter. Cunha again gallops 60 yards and releases Hwang on the left side of the area. His low cross deflects to Neto, who shoots straight at Onana from 15 yards.
70 min "Why oh why (57 min) was Pedro Neto allowed to get away with smacking Shaw in the face with a cross?" weeps Mac Millings. "Why was he carrying one in the first place? Surely we all remember the straight red David Beckham received for slapping Diego Simeone with a Tibetan prayer wheel?"
69 min Neto is booked for timewasting.
68 min: Double substitution for Man Utd Christian Eriksen and Jadon Sancho replace Mason Mount, who had a quiet debut, and a frustrated Alejandro Garnacho.
68 min Groans from the home fans as Fernandes's overhit cross goes behind for a goalkick.
67 min Hwang spanks miles wide from distance.
66 min United are really struggling here. A 0-0 draw would be a bad result, but don't rule out a defeat. Wolves have probably had the better chances.
65 min Neto's free-kick is headed well wide by the unsighted Cunha.
64 min The two obvious changes for Man Utd are Eriksen for Mount and Martial or Sancho for Garnacho. It's surprising to see Erik ten Hag so indecisive, because United haven't played this poorly at home since the opening weekend of last season.
63 min Wan-Bissaka is lucky not to be booked for a poor, and entirely pointless lunge at Ait-Nouri.
63 min: Wolves substitution Hwang Hee-chan replaces Pablo Sarabia up front. He looks like he's spent the summer in the gym.
60 min Fernandes takes a short corner to Antony, who cuts onto his left foot and floats a cross well wide of the far post.
59 min At the other end, Garnacho blazes high and wide from 20 yards. He's had a difficult night and may soon be replaced by Martial or Sancho, mainly to get Rashford back on the left wing.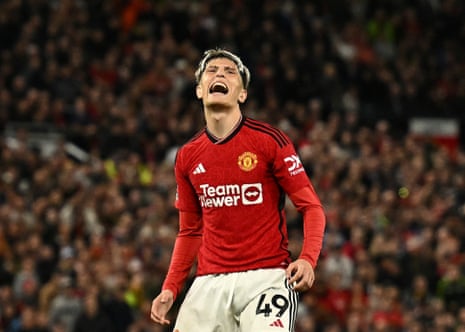 58 min The corner bounces dangerously across the area and reaches Dawson, whose poked shot is blocked by Shaw.
57 min Neto's cross smacks Shaw in the face and goes behind for a corner. Shaw falls face down on the pitch, then gets to his feet for the corner. I thought they might check for concussion but play is about to resume.
55 min: Chance for Wolves! Not for the first time tonight, Cunha drops deep and then charges straight through the United midfield, leaving Casemiro and Mount in his slipstream. He gets to the edge of the D and sweeps a low shot that is pushed round the post by the sprawling Onana. It was a comfortable enough save, though he did fumble it slightly.
55 min Shaw's flat, crossfield pass finds Fernandes on the far side of the area. He cushioned a volleyed cross that deflects off Kilman and is comfortably saved by Sa.
53 min: Off the line by Dawson! Casemiro flips a nice pass over the Wolves defence towards Antony. Sa comes a long way, needlessly so, and doesn't get there, which allows Antony to lob the ball over him towards goal. Dawson gets back to head over his own bar. It might not have been going in, although Dawson couldn't take the risk.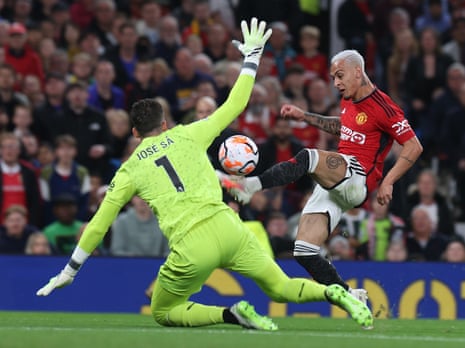 52 min Casemiro fires a terrific angled pass into Garnacho on the edge of the area. He has a bit of space but is unusually indecisive, and by the time he gets a shot away there are enough defenders to block.
49 min: What a chance for Cunha! Nunes goes on a majestic 60-yard run to the edge of the United area. He pushes the ball outside to Neto, whose deflected cross falls invitingly for Cunha, six yards out at the far post. Somehow Cunha slaps the ball off the outside of the post. For a second it looked like Onana had saved it, but replays confirmed a pretty bad miss.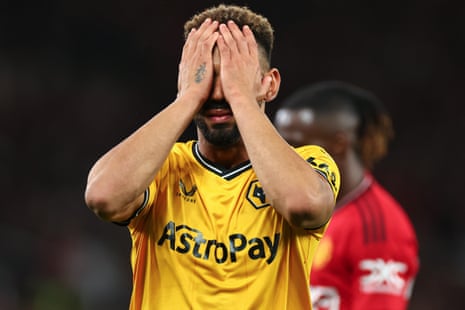 48 min Man Utd's last home defeat in the league was against Brighton on the opening weekend of last season. Wolves' last away win was at Southampton in February.
46 min Neto plays a slick one-two with Sarabia on the edge of the United area. His shot from a very tight angle is smothered by Onana, which leads to a Wolves corner. Nothing comes of it.
46 min Peep peep! That Martinez substitution is interesting. He'll be on a yellow card a lot this season, and he won't be subbed every time. Maybe Ten Hag felt that Wolves' direct running on the counter, along with Martinez's slight rustiness, increased the threat of a second yellow card.
Manchester United are making a half-time substitution: Victor Lindelof for Lisandro Martinez, who was on a yellow card.