Officials in the Canadian province of British Columbia have implored tens of thousands of residents to heed warnings and evacuate from areas threatened by "severe and fast-changing" wildfires, and urged "irresponsible" wildfire tourists to stop flying drones in the area.
"We cannot stress strongly enough how critical it is to follow evacuation orders when they are issued," Bowinn Ma, the province's minister of emergency management, said on Saturday. "They are a matter of life and death not only for the people in those properties, but also for the first responders who will often go back to try to implore people to leave."
The situation in large parts of the scenic Okanagan Valley, including the city of Kelowna, was "highly dynamic", Ma said. About 30,000 people were under evacuation orders while another 36,000 were under alert to be ready to flee, she said.
Wildfire tourists and drone operators were urged to stay away to allow emergency crews to operate safely. "Drones are a significant hazard to our air crews fighting fires," British Columbia's minister of forests, Bruce Ralston, said on Saturday. "Now is not the time to take the footage of photos of active wildfires. Not only is it irresponsible, but it is illegal to fly them in fire areas."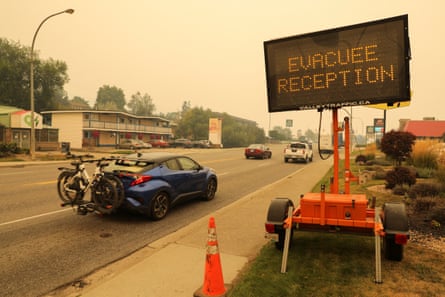 Some tourists have posted their wildfires experiences on social media and there are images of people lining up to see forest fires.
Ralston also asked people to stay clear of lakes that water bombers are using to refill water to douse fires.
When asked about her concerns about "fire sighting", Ma said: "I don't know if that's actually a real term … but what we absolutely cannot have on our roads is people … take photographs, getting out of their cars, visiting communities where there is high wildfires activities, getting in the way of crews."
Drones could ground aircraft involved in crucial firefighting missions, Ma said.
Kelowna, a city of 150,000, was choked with thick smoke as it became the latest population center hit in a summer of dramatic wildfires across Canada that has left millions of acres scorched. Some 3,400 workers are involved in firefighting in British Columbia, western Canada.
"The current situation is grim," the premier, Daniel Eby, told reporters on Saturday.
Canada is experiencing its worst wildfire season, with official estimates of more than 14m hectares (34.6m acres) already burned – roughly the size of Greece and almost twice the area of the last record of 7.3m hectares. Four people have died so far.
The prime minister, Justin Trudeau, said he had spoken to Eby about the "rapidly evolving and incredibly devastating wildfire situation" and pledged federal resources in responding to the disaster.
Blazes further north in the Northwest Territories, meanwhile, have prompted the evacuation of regional capital Yellowknife, leaving the remote city of some 20,000 largely a ghost town. Its health minister, Julie Green, said on Saturday one of 39 hospital patients evacuated from Stanton territorial hospital had died during the journey on Friday. The death had been "expected", she said.
Winds have been fanning the wildfires towards Yellowknife, but Saturday saw some relief after overnight rain brought a sharp dip in temperatures.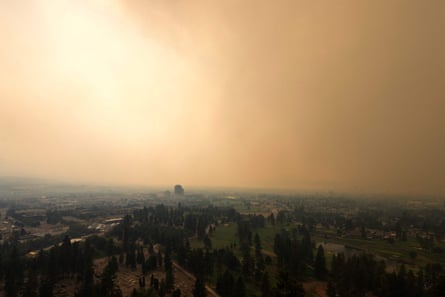 However, city officials warned the warmer temperatures would return on Sunday. Shane Thompson, the province's environment minister, said on Saturday evening it was not safe to return to Yellowknife yet because the fires were burning deep in the forest and were still active and huge.
Since the evacuation was ordered on Wednesday, more than 19,000 people have fled by road or air, with about 1,000 essential staff remaining in the area. Firefighting crews were remaining to erect defenses from the flames, while water bombers have been seen flying low over the city, with the Canadian military also helping out.
Tony Whitford, a former commissioner for the Northwest Territories and a longtime resident of Yellowknife, arrived in the city of Calgary on one of the first flights out and gave the evacuation high marks. "My compliments to them all," Whitford, who is 82 and wheelchair-bound, said of the organizers. "It's so complex – 20,000 people – it's incredible. It went smoothly."
Several towns and Indigenous communities were evacuated earlier. The exodus from Yellowknife means half the population of the near-Arctic territory has been displaced.
The ongoing fires had caused "terrible loss", Trudeau told reporters after meeting Yellowknife evacuees on Friday as they arrived in Edmonton, Alberta, with no idea when they may return home.
Martha Kanatsiak, who has lived in Yellowknife for 28 years, arrived late on Friday in Calgary. "I'm OK, but I feel sad and depressed and worried. I never saw something like this," the 59-year-old Inuit retiree told AFP.
Some 40 flights carrying about 3,500 passengers from Yellowknife have arrived in Calgary, said officials in the city, which has made nearly 500 hotel rooms available.
In British Columbia, blazes have already destroyed several properties in West Kelowna. Among them is the Lake Okanagan Resort, according to local media, which is known for having hosted high-profile politicians such as British prime minister Margaret Thatcher.
Eby on Saturday announced an emergency order halting non-essential visits to the area. The order, which bans visitors from checking in at hotels and other temporary accommodation, covers Kelowna and the nearby towns of Kamloops, Oliver, Penticton and Vernon as well as Osoyoos near the US border.
Ma added: "If you are currently in accommodations in these areas, we are asking you to voluntarily check out early and free up those spaces for evacuees and responders."
With Agence France-Presse and Reuters