Key events
GOAL! Brighton 0-2 West Ham (Bowen 58)
Jarrod Bowen scores a sensational goal!
57 min This is a good spell for West Ham. Benrahma beats both Gross and Webster and slides a low cross that is crucially cut out by the stretching Dunk. The ball eventually comes to Paqueta, whose volley from 25 yards is straight at Verbruggen.
56 min: Emerson hits the bar! Antonio draws a foul from Milner, who isn't impressed with Anthony Taylor's decision. It's taken quickly to Benrahma, who plays in the underlapping Emerson. He hammers a shot on the run that hits the top of the bar, though Verbruggen probably had it covered.
53 min: Big chance for Bowen! West Ham continue to threaten on the break. Alvarez (I think) pokes a nice pass to Bowen on the right side of the area. He cuts inside, dummies the defender but then slices his shot well wide. He'd done the hard part by beating the defender, Dunk I think, though in his defence he was slightly off balance when he took the shot.
51 min Brighton want a penalty when Estupinan is barged over in the area by Paqueta. Anthony Taylor is h having none of it. It was a very risky challenge for Paqueta, and I thought a penalty might be given, but I don't think it counts as a clear and obvious error.
50 min Gross's dangerous cross on the turn is claimed by Areola at the near post. Brighton's tempo has been miles better since the break.
49 min Gross's very deep corner is taken down on the chest by Mitoma, but he splatters the bouncing ball high and wide from a tight angle.
48 min This is better from Brighton. Gross arrows a lovely angled pass into Welbeck, 25 yards from goal. He moves away from Coufal and hits a shot that deflects behind for a corner.
46 min: Fine save by Areola! Brighton almost equalise right at the start of the second half. Mitoma, on the left of the area, flips a nice cross towards the far post. Ferguson arrives unmarked, eight yards out, and plants a downward header to the left of Areola. He dives across to make a smart two-handed save.
At first it looked like a brilliant save; replays show that Ferguson's header wasn't quite in the corner.
46 min Peep peep! West Ham kick off the second half, with no changes on either side.
More half-time reading
Half-time reading
Half time: Brighton 0-1 West Ham
West Ham are doing a number on Brighton. They've had 16 per cent of the possession but lead through James Ward-Prowse's first goal for the club. West Ham have look menacing on the break, with Michail Antonio emphatically in the mood, and their well-organised defence has kept Brighton at arm's length.
45+4 min Welbeck tries a crossfield pass to Milner and curls it straight out of play.
45+3 min Gross's corner is poor, the end.
45+3 min "I guess it's a compliment of sorts for Brighton how West Ham have set up today," says Niall Mullen. "Frustrating watch though."
It's been like a training session.
45+3 min March's free-kick hits the head of Alvarez in the wall and bounces behind for a corner.
45+2 min "This match is being broadcast on national television here in the U-S-A! U-S-A!! U-S-A!!!" says Peter Oh. "If my eyes didn't betray me, the headrest of David Moyes' seat is emblazoned with 'Football Manager'. Duh, kinda obvious, isn't it?"
45+1 min Four minutes of added time. Welbeck is fouled on the edge of the D by Alvarez, who is booked. This is a chance for Brighton.
45 min Saying which, the third corner is straight into the loving arms of Verbruggen.
45 min The second corner is headed behind by Milner at the near post. Ward-Prowse's corners are so dangerous.
44 min West Ham win a corner on the left. Ward-Prowse goes for goal, I think, and Webster heads it behind for another corner.
43 min A much more confident piece of defending from Alvarez, who calmly beats two Brighton players in his own area. I bet David Moyes loved that.
43 min Estupinan's header across the area is sliced towards his own goal by Alvarez. Areola comes to claim, drops the ball and is very relieved to grab it at the second attempt.
41 min Gross's long-range shot dips awkwardly in front of Areola, who shovels it away and grabs the loose ball.
39 min Estupinan's dangerous cross is headed away well by Emerson, under a lot of pressure from March. In fact Anthony Taylor has given a foul against March.
39 min: West Ham substitution Milner's cross hits Emerson and goes behind. Before the corner is taken, Said Benrahma replaces Tomas Soucek. I assume that counts as a concussion substitute. It should also mean a switch to 4-2-3-1, with Lucas Paqueta moving infield.
38 min Brighton's tempo is a bit too slow, which is allowing West Ham to keep their defensive shape. At the moment Brighton don't look like scoring.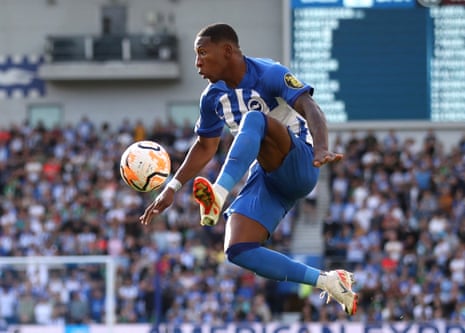 36 min Said Benrahma is getting ready to replace Tomas Soucek.
36 min "Has this match so far been the quintessential example of 'sterile possession'?" says Joe Pearson. "Hold, pass, hold, pass, hold, pass, give up a goal to the other side."
Ask me in an hour.
36 min A very groggy Soucek is on his feet, though I'll be surprised if he's allowed to continue.
34 min "Brighton lost two of their starting midfield players in Mac Allister and Caicedo," note Yash Gupta. "Before last season they lost Bissouma. They're in Europe this season. I suppose that's modern football in which a team which achieved record league position can't afford to stop being a feeder club for one year when they are playing in Europa. The Europa League schedule stretches nearly every team and they've lost their main players. De Zerbi is an excellent coach and Mitoma is great but this season has only just started."
It would make me phenomenally happy if they won the Europa League. But yes, as West Ham could tell them, it's not easy for a have-not to excel in the league and Europe at the same time.
33 min This looks nasty. Ward-Prowse's free-kick is punched away by Verbruggen, who flattens Soucek in his follow through. Players on both sides immediately wave the physios onto the field.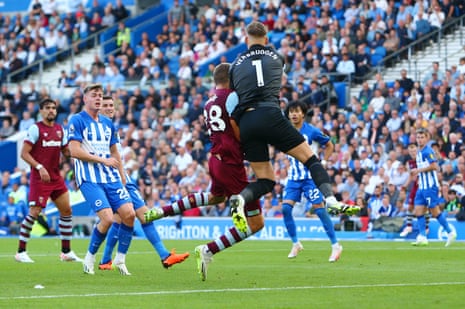 32 min "As well as adding on more time for stoppages, referees are also booking more players for timewasting," says David Wall. "There's been a lot of discussion about players having to play an extra 10+ minutes every week and how that will add up over a season, but what about the extra suspensions that we're going to see if that continues?
"Of course, the answer is for players to stop time-wasting, but if they don't and the caution rate continues, then it has the potential to affect performances and results later on in the season (we saw, for instance, how much Casemiro's suspensions hindered Manchester United last year at the point when they were looking at getting into the title race)."
That's a very good point. I don't love all the added time, especially doing this job, but ultimately it's the players' fault for bending the rules so much.