Key events
Half-time quiz
Half time: Brighton 1-0 Newcastle
Brighton – lovely, life-affirming Brighton – are doing it again. They have outplayed Newcastle and lead through a sniffer's goal from the superb Evan Ferguson. His partner in elusivity, Joao Pedro, was also terrific, as were the little-and-little midfield duo of Billy Gilmour and Pascal Gross.
Newcastle made a flying start, pressing Brighton furiously and creating a couple of opportunities for Alexander Isak, but as the half progressed they were increasingly compliant. At least they know from bitter experience that you can be 1-0 down at half-time, having been outplayed, and still end up with three points.
45 min Only two minutes of added time, mainly because Brighton have spent most of the first 45 passing the ball to one another.
45 min Gross seems to be fouled just outside the D by Joelinton, but Stuart Attwell says play on. Actually there weren't too many appeals from the Brighton players, so maybe I'm the problem here.
44 min Gross's outswinger is headed well wide by Dunk, under pressure near the penalty spot. He seems annoyed with himself, though it was about a tenth of a chance at best.
44 min The resulting free-kick is headed behind for a corner by Gordon. It took a while for Brighton to exert control, but in the last 20 minutes or so they've been much the better side.
43 min Schar is booked for a foul on Joao Pedro, who has had a fine first half. He'll be off for £450m in 2027.
39 min A better spell for Newcastle, with Isak having a shot blocked on the edge of the area.
38 min Talking of great young footballers, here's the most terrifyingly precocious of them all. If he continues his development at this pace he'll be entering the Champions League and World Cup on his own by 2030.
35 min Newcastle are struggling to deal with Joao Pedro and Ferguson, who at times are both playing as false nines. Ferguson drops deep to start another move than ends with Estupinan misplacing a cutback.
33 min Tonali hammers a low cross that just evades Gordon at the near post. This is a high-quality game.
31 min "Can't help thinking that Newcastle will not do as well this season as is being predicted," says Richard Hirst. "Their defence is their weak point; much as I love Dan Burn and Matt Targett as former Fulham players, I really can't see them cutting it in the Champions League, and coping with the CL will be a big ask for the team as a whole. The fact that Eddie Howe is already becoming a caricature of Eddie Howe is indicative."
The number of games would worry me the most. That and a potential long-term injury to Sven Botman. Eddie Howe has done such a good job, though, and whatever happens he deserves to be in charge at the start of next season. (He won't be if it goes wrong.)
29 min: Chance for Brighton! I can't keep up with all this excitement. Ferguson beats Burn majestically in the centre circle, gallops forward and finds Mitoma to his right. He plays in Joao Pedro, who pokes a first-time shot over the bar from 15 yards. That was a really good chance, which started with some more unnervingly mature play from Evan Ferguson. He has such range to his game.
28 min At the other end, Joelinton makes space in a phonebox but then shoots wide from 16 yards. I can't decide whether Pope should have held Gilmour's shot that led to the goal. It was straight at him, but it was viciously struck and probably moved in the air. I guess a keeper of his class probably should have held it, or at least pushed it out of danger.
Pope ran out of his area on the right and miskicked a clearance straight to Estupinan. He beat a man and played in Mitoma, whose shot was very well saved with his left foot by the recovering Pope.
Gilmour ran onto the loose ball, 30 yards out, and cut across a sizzling rising drive. Pope couldn't hold it and Evan Ferguson gobbled up the rebound from close range.
GOAL! Brighton 1-0 Newcastle (Ferguson 27)
Evan Ferguson gives Brighton the lead after a double mistake from Nick Pope.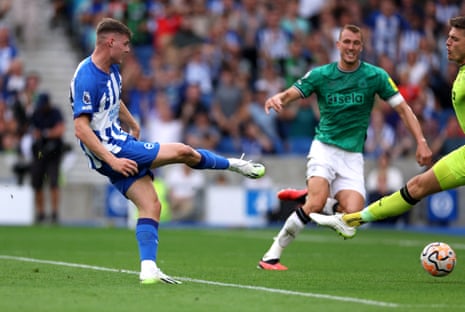 26 min Schar drives a long ball over the top to Joelinton, who makes a lovely run but can't quite control the ball on the chest.
25 min Newcastle will be happy that, although Brighton have dominated possession, Nick Pope hasn't had much to do.
22 min Gordon is booked for a late tackle on Van Hecke.
19 min Gross's very deep corner is nodded back across goal by Dunk and headed partially clear at the far post. Newcastle eventually complete this particular defensive job.
19 min Mitoma's shot hits Tripper and spins behind for a corner. He was found by Joao Pedro, who is taking up some excellent positions between the lines.
19 min Good game, this.
18 min Newcastle break through Gordon, who releases Isak in the inside-right channel. He beats Dunk coolly in the area but then cuts the ball back behind Gordon, the only player who was up in support.
17 min Joao Pedro surges menacingly into the area, then falls over in slow motion after bouncing off a defender and losing his balance. It wasn't a dive, but nor was it a foul.
16 min Brighton break from that Newcastle corner. Mitoma cuts inside on the edge of the area but his shot is well blocked by Trippier, who sprinted back after taking the corner himself.
16 min: Good save from Verbruggen! Almiron's short-range cross hits Dunk and ricochets towards the near post, where Verbruggen shows good reactions and agility to push the ball behind.
16 min Brighton continue to dominate possession. March has been lively but so far Mitoma hasn't had any joy against the grizzled Kieran Trippier. That'll be a fascinating duel.
14 min Ferguson makes a brilliant run, demanding a through pass from Gilmour, but Burn ushers him wide and his shot is straight at Pope. For an 18-year-old, Ferguson is so intelligent in his movement and decision-making.
13 min Possession so far: Brighton 70-30 Newcastle. That's in per cent you know.
11 min A very deep corner from Gross is headed down by Dunk to Estupinan, who shoots well wide from the edge of the area.
10 min After a bit of a false start, Brighton have settled into their passing groove. Their 4-2-4 formation looks in good order, with the wingers playing very high up. March's cross deflects off Targett and is pushed awkwardly round the near post by Pope. Safety first.
9 min "An interesting match-up today," says Jeremy Boyce. "Quick-thinking, over-achieving and ever-resourceful B&HA, versus sleeping giants seemingly coming to some kind of wakefulness thanks to lots of dosh and a manager who is certainly going for the manager weird-speak award 2023-24.
"Arteta's pronouncements yesterday were strange enough, but it's been a while now since Eddie adopted the royal 'we'. Speaking of yourself or another in plural is a weirdness better reserved for the family themselves, some of whom are weird enough. All the same, I'm sure the lads will heed his words and not get straight out on the lash when they jet back up to Nooocassle after a 3-0 humiliation at the Amex."
Well that's just, like, your opinion, man.
7 min Now March wins a corner for Brighton, who are having a good spell of their own. Gross's quickly taken outswinger is headed across goal and wide by Joao Pedro.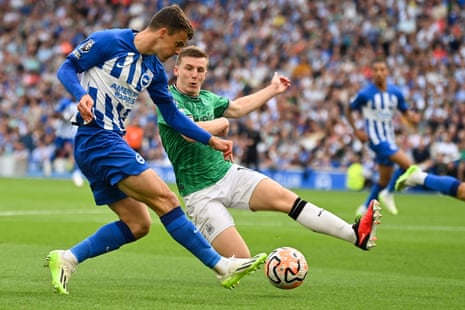 5 min This game has started promisingly. March plays a one-two with Ferguson, cuts inside and fizzes a rising drive just over from 20 yards. Pope probably had it covered but it was a good effort.
4 min "It's March 2024," says Gerry Scott. "Chelsea manager Roberto De Zerbi asks fans to be patient with new £200m striker Evan Ferguson and promises he will get off the mark soon. Brighton, now richer than Croesus (not to mention most countries) and having appointed a 17-year-old Bavarian coach, close in on a top-four finish. I'm not sure what the point of this email is other than I continue to find Todd Boehly's stewardship of Chelsea amusing."
3 min: Another chance for Isak! Newcastle are pressing superbly. A clearance from Estupinan hits Almiron and ricochets to Tonali on the right of the area. He cuts the ball back sharply to Isak, who shins a first-time shot well wide from 12 yards.
1 min: Chance for Newcastle! Isak almost scores after 54 seconds. Bruno clipped a first-time ball behind the defence that was missed by the lunging Dunk. Isak ran through on goal and was about to shoot when Van Hecke stretched to make a vital challenge. A goalkick was given, though Isak looked disgusted with that particular decision.
1 min "Why is it 'the international break'?" wonders Alun Pugh. "Many of us regard club football as an entertaining diversion between the real games. I'm packed for our game in Riga later this month and Yerevan is in the diary. And Toon fans regard Brighton as a long way. Try driving from Istanbul to the Samsun Stadium (stay inland btw, the coast road is pretty but it takes 20 hours)."
Give it a few years and we'll be talking about 'the football break' between transfer windows.
1 min Peep peep! Brighton kick off from right to left as we watch.
Match report: Brentford 2-2 Bournemouth
"So, you're doing double duty today, Rob?" says Joe Pearson. "Please provide another match as entertaining as that astonishing draw this morning. And when you said playing 'Lamb', I thought for sure you meant Genesis (or would that more likely be a Brewin thing)."
Brewin listens to Genesis? He kept that quiet during our early-morning romps.
Match report: Man City 5-1 Fulham
Here come the players. It's time for Brighton v Newcastle, and nothing you can say will convince me otherwise.
Match report: Burnley 2-5 Spurs
He's just copying Pep, mate.
Match report: Chelsea 0-1 Nottm Forest
Including a cracking first line from Jacob Steinberg.
"Brighton have a player who'll be sold for £200m?!" says Peter Oh, referring to my mention of Carlos Baleba. "That's un-Baleba-ble! Now, if that's not an excuse to play EMF…"
I can't decide if that's one of your very best puns or one of the worst.
(Okay, okay, here's the actual song.)
"G'day Rob," writes our resident Australian Geordie, Chris Paraskevas. "Finished watching the NUFC 'documentary'. Was mostly a cringe. Quite enjoyed Eddie Howe dropping f-bombs but fundamentally I got more entertainment out of Kuno Becker as Santiago Munez.
"The Amazon doco simply doesn't hold a candle to masterpieces like Sunderland 'Til I Die, or even the 'B0110ck$ to Bloody Brighton' scene in (the underratedly camp) The Damned United."
Today's Premier League results so far
Brentford 2-2 Bournemouth

Burnley 2-5 Spurs (Son hat-trick)

Chelsea 0-1 Nottingham Forest

Man City 5-1 Fulham (Yep hat-trick)
It's a 4/5 for you two, now get out of my sight
If this isn't an excuse to play Lamb, then I don't know what is
If this isn't an excuse to play DJ Shadow, then I don't know what is
There's loads going on in the 3pm games, including a romp for Spurs at Turf Moor. Barry Glendenning is waiting to furnish you – and only you, because you are special to us – with updates.
Roberto De Zerbi makes three changes from the defeat to West Ham. Joel Veltman, Jan Paul van Hecke and Joao Pedro replace James Milner, Adam Webster, who was given an indecent chasing by Michail Antonio, and the injured Danny Welbeck.
Sven Botman's ankle injury means one change for Newcastle. Matt Targett comes in and Dan Burn moves across to centre-back.
Brighton (4-2-4) Verbruggen; Veltman, Van Hecke, Dunk, Estupinan; Gross, Gilmour; March, Ferguson, Joao Pedro, Mitoma.
Substitutes: Steele, Lamptey, Igor Julio, Webster, Milner, Dahoud, Lallana, Buonanotte, Adingra.
Newcastle (4-3-3) Pope; Trippier, Schar, Burn, Targett; Tonali, Bruno, Joelinton; Almiron, Isak, Gordon.
Substitutes: Dubravka, Lascelles, Hall, Livramento, Barnes, Murphy, Anderson, Longstaff, Wilson.
It's been a dog of a week for Newcastle. They were mugged by Liverpool, irked by the Carabao Cup draw and mercilessly trolled by the Champions League draw. Eddie Howe wouldn't have minded a nice easy away game to restore some of the good vibes of 5.15pm last Sunday; instead Newcastle are off to Brighton, whose unique attacking verve would test any team in the world.
The upside is that it would be a very good game to win, especially as Newcastle have a decent run of Premier League fixtures (if not Champions League) after the international break.
Brighton also suffered an unwelcome reality check last weekend, when David Moyes' West Ham did a classic number on them at the Amex Stadium. Their life is about change even more than Newcastle's, with their first European campaign beginning against AEK Athens on 21 September, so they'd like to put as much credit as possible in the Premier League bank before then.
In the last few days Brighton have signed Ansu Fati on loan from Barcelona, though he isn't involved today. Nor is the Cameroon midfielder Carlos Baleba, who joined from Lille and will move to a Big Seven club for £200m in the summer of 2025.
Kick off 5.30pm.