Key events
Righteo, I'm off for a break; here's Tom Lutz to cron you through the next bit.
Next on Armstrong: Rinky Hijikata v Francis Tiafoe [10].
Wozniacki breaks Gauff off the bat; interesting!
Cirstea says she's a big smile on her face because of how hard she's worked for this – very few people know just how hard. She thanks the crowd, who've "made me feel special". Players dream about making it to where she now is, but it always pays off if you work hard – if only that were true – and she's really proud of how she's played this week.
Wozniacki and Gauff are away…
Sorana Cirstea [30] beats Belinda Bencic [15] 6-3 6-3
That's an absolute doing. Bencic was so poor today, finishing with a careless forehand, but Cirstea was very good, ensuring her win over Rybakina wasn't for nothing, and she's into her first Grand Slam quarter in 14 years and the second of her career. She meets Muchova next, and will have to play just as well to have a chance in that.
A winner from Cirstea, an error from Bencic, and at 0-30 this is again nearly over. Cirstea is taking her second serve apart here, but she wallops a flat forehand long to usher her opponent into the game. No matter: Bencic hesitates, comes in off a difficult ball, and is quickly passed cross-court…
Bencic makes 15-30 but a poor shot cedes the advantage. Cirstea, though, sends down a double then scoops a backhand wide; that's a break back, but can Bencic hold it down for longer than one game in a row? She trails 3-6 3-5.
Lovely stuff dept: Wozniacki and Gauf arrive onto Ashe. I'm buzzing for this one as, I'm sure, are youse.
Just when we hoped Bencic might've played herself into nick, another service game riddled with errors gives Cirstea advantage … and a backhand swiped hectares long means Cirstea will now serve for a spot in the last eight at 6-3 5-2. Bencic looks every bit as miserable as her performance has been.
A fabulous return from Bencic – who, I've just heard, rolled an ankle when my computer reset – right onto Cirstea's tootsies gives her a break back point having been down 0-40, and she's now serving at 3-6 4-2. Thing is, she's still struggling with Cirstea's extra pace, so I don't really see a way for her here.
Back to Shelton, 20 years old. Not bad really, and he got his tactics spot-on today, denying Paul pace on the forehand and trusting himself to win rallies from the back. Anyroad, he's got a real chance of winning his next match too while, on Armstrong, Cirstea has broken Bencic again and leads 6-1 4-1 40-15.
Next on Ashe: Caroline Wozniacki v Coco Gauff [6].
He says it's great being in America and feeling the love of the crowd "playing against foreigners" … er, OK mate. As for playing on Ashe, "It's hard to believe but God does wonders," he concludesm then explains that in his box, there's no panic, and he didn't panic when dropping the fourth set. He stole his dad away from his job coaching the Florida Gators, he explains, and thanks his support team. Otherwise, he's learnt this year that he's not just a tennis player, he treats people the right way, inspires kids, and hopes they develop a passion for tennis watching him play.
Ben Shelton beats Tommy Paul [14] 6-4 6-3 4-6 6-4
What a win that is! Shelton flexes muscles, cups an ear, sends love to his dad, and he meets Tiafoe or Hijikata next!
Cirstea consolidates, then makes 30-40 as Bencic makes her 20th unforced error and the match is here: another break, and sure it's over. But Cirstea flays long then cracks into the net and from there Bencic sees out her hold to tay in the match at 3-6 1-2. and if you're wondering what took me so long, my computer crashed I accidentally kicked out my computer's plug … and in the meantime, out of nowhere, Paul, at 30-all, goes long on serve, and Shelton has match point at 6-4 6-3 3-6 5-4!
Watching kids compete is so affirming. Shelton is having the absolute time of his life out there and he goes wild when a serve out wide followed by a putaway gives him 4-3 in the fourth.
Yeah about Bencic. A double gives Cirstea 0-40 then someone shouts out as she marches in to put a way a short one … and she shanks it! She's not at all happy but that's no excuse for ceding a love break. Cirstea leads 6-1 1-0.
Cirstea serves out for a 6-3 set, but Bencic has arrived now, so we might see something different from here.
Spike Lee is watching Paul v Shelton, who are 2-2 in set four – but ominously, Paul is starting to serve nicely.
Bencic plays a pretty decent swing-volley but Cirstea nails a glorious pass cross-court from inside her forehand corner. She then goes long from the back, though, so will now serve for the first set a second time at 5-3.
Go on Belinda Bencic! She'd not hit a winner until this game, but a big forehand gives her second and break point, then Cirstea nets and that's one break back! at 2-5 Pressure!
Shelton kicks off set four with a hold, clinching the game with an excellent second serve out wide; Bencic gets on the board, forcing Cirstea to serve for the set, smoking a return past her for 0-15 then collaring a return into the ankles for 15-30. Can she make something happen?
Cirstea now leads 5-0 and perhaps the problem with Bencic is that she lacks a serious weapon. Cirstea, on the other hand, is a stroke-maker so, when she's on, she's on
"Patrick McEnroe says the US Open serving record is 152 mph by Roddick," advises Olga. "Eubanks said he will let Ben know so he can try to break it! As you know, he is Ben's doubles partner and a new commie for ESPN."
I bet he's great at it too – he was doing it for the Tennis Channel before his career caught fire.
Up 40-15, Paul serves, comes in, and sticks his volley away! From 1-4 down, he's won five games in a row, and now trails Shelton by two sets to one. Meantime, Cirstea breaks again, and contrary to my earlier musing it appears that in fact, Bencic has not yet got the majors sorted.
Now then! Paul breaks Shelton – he must've read what I said about him earlier – and at 5-4 will serve for the third set and a 2-1 deficit.
Two-thirds of the court are in shade, which can't be easy for the players – yes, and won't someone please think of the livebloggers – as Cirstea consolidates for 3-0.
You'll be delighted to know I've found Cirstea v Bencic, on my phone, just in time to miss the former breaking for 2-0. I didn't see her match with Rybakina, but that win – probably the biggest of her career – tells us she's in tremendous nick, and is mentally strong enough to win a third-set decider against one of the best players around.
Hold tight Tommy Paul! With me still searching for Cirstea v Bencic, he breaks back in the third, now trailing 2-0 and 3-4.
Cirstea and Bencic are away, the former holding for 1-0 as I'm trying to find coverage; for some reason Sky have jamie Murray in the doubles on the channel not showing Paul v Shelton.
Oh wow. Shelton serves two aces, two of them at 149mph, the fastest of the competition I think, holds to love and is two gamea away from a storming win! Add to that Dominic Stricker's progress – he's playing later – and the new generation are coming.
I am high on Ben Shelton. A big forehand gets him to the net whereupon he finds two fine volleys, one off either flank, to make 15-30 on the Paul serve. Then Paul goes long, misses his first serve, and can Shelton go up two sets and a break? Yes he can! Paul completes his double and now trails 4-6 3-6 1-4!
Shelton and Paul are 1-1 in the third, Shelton having won the first two, and I don't doubt his ability to see this out; I don't think Paul has the weapons to win three sets on the spin, so he's probably got to hope for a choke.
Next on Armstrong: Sorana Cirstea [30] v Belinda Bencic [15].
Wang gave a decent account of herself there but Muchova was just a bit too good. She tells us that it was hot out there and she's glad the match was over. She'd never played Wang before and it was a tough match, but she thinks she came back well in the third, returning to her game with lots of slices. She's been doing a bit of yoga in Central Park, apparently, and also plays guitar – she has interests other than tennis – and if she were ti play one song now, when phshed, says it'd be "some AC/DC song, probably Highway to Hell!"
Karolína Muchová [10] beats Wang Xinyu 6-3 5-7 6-1
Muchova gets there in the end, her class and temperament eventually telling. She will play Sorana Cirstea or Belinda Bencic next.
A service winner down the middle gives Muchova 40-15 and match point…
Has Wang gone? At 0-30 she comes in off a poor approach, Muchova passes her down the line, and though she finds an ace next up, a tremendous lob effectively finishes the match. Muchova leads 5-1 in the third and will now serve for the match, while Shelton holds for a 6-4 6-3 advantage over Paul!
Muchova breaks Wang as we supposed she eventually would and leads 3-1 ; can she consolidate? Yes she can, holding to 15, and Wang is in a lot trouble. Meantime, Shelton now leads Paul by a set and a break at 6-4 4-3 and, with Tiafoe or Hijikata next, has a chance of doing something properly interesting.
Shelton hollers at his box, holding for 3-3, and Paul doesn't look to have enough to really trouble him if he can stay solid. Cash/Patten, though, have lost a third-set breaker 10-6 to Bopanna/Ebden so, after a promising run, are going home.
A brilliant forehand winner perhaps incites Muchova to send down a double meaning she goes from 40-15 to deuce. But she hangs on and leads 2-1 in the third.
Back on Ashe, we're still on serve in the second, Shelton trailing 3-2 having taken the first off Paul.I'd always thought paul would be one of those players who made a ton of money without ever doing anything of note in a major, but he made the last four in Australia and at 26 will still hope he's getting better.
Muchova and Wang take a break, then return and the former holds for 1-0 in the third. Wang then begins her service-game with a double before a poor shot down the line allows Muchova to extend a go-go Gadget arm and divert a winner into the vacated space for 0-30. Wang, though, hangs tough to make advantage, then Muchova plays a terrific point only to dump her forehand volley at the end of it. 1-1 in the third, and this could go either way.
Cash/Patten, by the way, are 4-4 with Bopanna/Ebden in their decider, and Paul has just whammed a forehand for break point at 4-6 1-0 … quickly extinguished by Shelton, who closes out nicely and, with his vest wet and clinging to him, looks like some kind of superhero.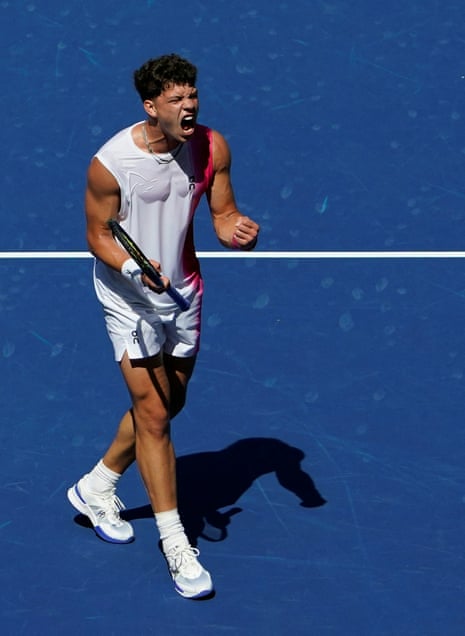 I'm really surprised by how Muchova played in that second set. I know we see it a lot – a player thinks they've broken the back of the match and relaxes – but I didn't think we'd see it from her at this stage of this competition.