A powerful earthquake in Morocco's High Atlas mountains has killed at least 2,000 people, a death toll that is expected to rise as rescuers were struggling on Saturday to reach hard-hit remote areas.
The magnitude-6.8 quake is the biggest to hit the North African country in 120 years.
At least 2,012 people died in the quake, mostly in Marrakech and five provinces near the epicentre, Morocco's interior ministry said. At least another 2,059 people were injured, 1,404 critically, officials said.
The full toll will almost certainly increase as rescuers have struggled to bypass boulder-strewn roads to the remote mountain villages that were hit hardest.
The World Health Organization (WHO) said more than 300,000 people had been affected by the powerful tremors throughout the country.
Morocco declared three days of national mourning, during which the national flag would be flown at half mast, the royal court said. The Moroccan armed forces were deploying rescue teams to provide affected areas with clean drinking water, food supplies, tents and blankets, it added.
Residents of Marrakech, the major city nearest to the epicentre, said some buildings had collapsed in the old city, a Unesco world heritage site. The city's famous 12th-century Koutoubia mosque suffered damage, but the extent was not immediately clear.
Initial reports said part of a minaret that towered over Djemaa el-Fna, a market square and hub for visitors, had collapsed, injuring two people, before people fled to the open area of the square to seek shelter.
Local television showed piles of rubble and broken pipes crushing parked cars and blocking streets across Marrakech, as residents rushed into the street after the quake struck at 11.11pm on Friday. State TV showed people wrapped in blankets sleeping in the street, fearing further aftershocks.
"The problem is that where destructive earthquakes are rare, buildings are simply not constructed robustly enough to cope with strong ground shaking, so many collapse, resulting in high casualties," said Bill McGuire, professor emeritus of geophysical and climate hazards at University College London.
"I was returning home when the earthquake struck. My car rocked back and forth, but I didn't imagine for a single second this meant there was an earthquake happening," said Fayssal Badour, from Marrakech, who spoke to France24.
"I stopped and I realised the catastrophe … it felt like we were on a river that suddenly burst its banks. The cries and the shouts were unbearable."
A local official said most of the deaths had occurred in mountainous areas that were hard to reach.
Morocco's interior minister attempted to reassure the public in a communique that "state authorities continue to mobilise all necessary human and logistical resources, to deploy specialised first responder units including search and rescue teams".
Separately, the Moroccan military announced that the king, Mohammed VI, had authorised the country's armed forces to intervene and oversee aid efforts.
"Rapid response units, aeroplanes, helicopters, drones, engineering and logistical centres have been deployed to the location, with the aim of bringing the necessary support to affected areas and homes," it said.
"The earth shook for about 20 seconds. Doors opened and shut by themselves as I rushed downstairs from the second floor," said Hamid Afkir, a teacher in a mountainous area west of the epicentre near Taroudant, adding that there had been aftershocks.
Morocco's geophysical centre said the quake struck in the Ighil area with a magnitude of 7.2. The US Geological Survey put the quake's magnitude at 6.8 and said it was at a relatively shallow depth of 11.5 miles.
Philippe Vernant – a specialist in active tectonics, particularly in Morocco, at the University of Montpellier – told Agence France-Presse that even though the quake did not hit in the most active seismological region, aftershocks could be expected. "Even if they are less strong, they can lead to the collapse of buildings already weakened by the earthquake. Traditionally, we tend to say that aftershocks diminish in intensity."
Ighil, a mountainous area with small farming villages, is about 40 miles (70km) south-west of Marrakech. The quake struck just after 11pm.
In Marrakech, some houses in the tightly packed old city had collapsed and people were removing debris by hand while they waited for heavy equipment, resident Id Waaziz Hassan said.
Footage of the medieval city wall showed big cracks in one section and parts that had fallen, with rubble on the street.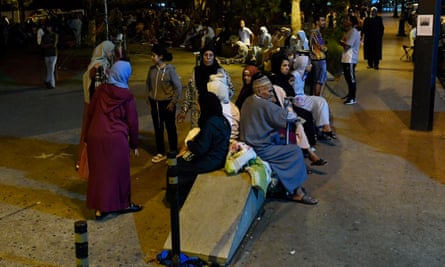 Another Marrakech resident, Brahim Himmi, said he saw ambulances coming out of the old town and many building facades damaged. People were frightened and were staying outside in case of another quake, he said.
People in Rabat, about 220 miles north of Ighil, and in the coastal town of Imsouane, about 100 miles to its west, also fled their homes, fearing a stronger quake, according to witnesses.
"We heard screams at the time of the tremor," a resident of Essaouira, 124 miles west of Marrakech, said by phone. "People are in the squares, in the cafes, preferring to sleep outside. Pieces of facades have fallen."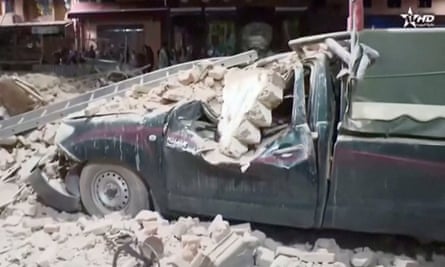 Some videos shared on social media appeared to show at least one building collapsing and rubble in the streets. Others showed people running out of a shopping centre, restaurants and apartment buildings and congregating outside.
The US Geological Survey said the region's population lived in "structures that are highly vulnerable to earthquake shaking".
Internet connectivity was disrupted in Marrakech due to power cuts in the region, according to the global internet monitor NetBlocks.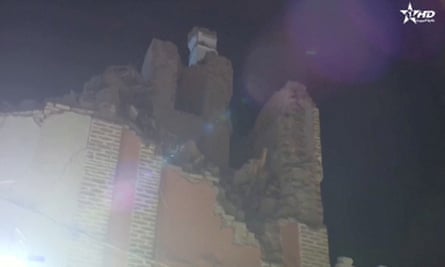 Morocco has suffered earthquakes in its northern region due to its position between the African and Eurasian tectonic plates. The country experienced a major tremor of 6.3 magnitude in the town of Al Hoceima on its northern coast in 2004, which killed more than 600 people.
The quake was felt in neighbouring Algeria and as far away as Portugal, according to the Portuguese Institute for Sea and Atmosphere and Algeria's Civil Defence agency, which oversees emergency responses.
Leaders and diplomats around the world expressed condolences and offered their support, including Turkey, where powerful earthquakes in February killed more than 50,000 people.
The prime minister of Morocco's cross-strait neighbour Spain, Pedro Sanchez, expressed his "solidarity and support to the people of Morocco in the wake of this terrible earthquake … Spain is with the victims of this tragedy".
The French president, Emmanuel Macron, said he was "devastated" and that "France stands ready to help with first aid".
Algerian state television broadcast a message from the presidency, declaring that the state would open its airspace to allow the transport of humanitarian aid to Morocco as well as offering aid resources, a shift following a complete rupture in diplomatic relations between the two nations that has lasted for two years.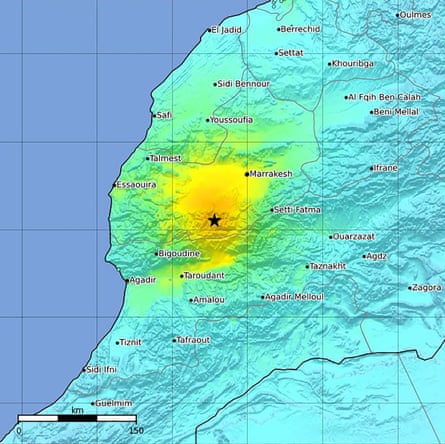 In 1980, the 7.3-magnitude El Asnam earthquake in neighbouring Algeria killed 2,500 people and left at least 300,000 homeless. An earthquake of magnitude 5.8 shook the coastal town of Agadir in 1960, leaving more than 15,000 people dead.
Agence France-Presse, Reuters and Associated Press contributed to this report