Key events
Penalty! 23 min: Wales 11-14 Fiji (Biggar)
That's a handy nerve-settler for Wales after the concession of two tries in double-quick time. And ITV tell us it makes Biggar Wales's leading scorer in World Cups. It's a three-point game.
21 min: Solid scrum by Wales. Gareth Davies makes a decoy run around the scrum, as Faletau grabs the ball and passes to the waiting back division on the other side. Wales end up winning a very kickable penalty in front of the sticks and Biggar will have a crack at it.
20 min: Time for a water break … and now Welsh put-in at a scrum in their own half.
Try! 16 min: Wales 8-14 Fiji (Tagitagivalu)
Oh, that is special! Again it's Nayacalevu who makes an initial break in midfield, crashing into contact and nearly wriggling clear. He has the Welsh defence scrambling backwards, and then offloads in contact to Radradra, who bursts down the middle into the 22.
Wales have defenders on hand, and it needs a good decision from Radradra … he knows exactly where the space is, and he gives it to Tagitagivalu to his right, and the No 7 sprints to the line and flops over! Lomani converts.
The Fiji fans are going wild. And why not? They are so tough to defend against when they are in this mood. It was a very good start for Wales but they're on the back foot now.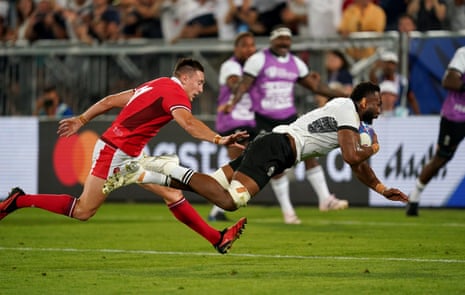 Try! 13 min: Wales 8-7 Fiji (Nayacalevu)
That is what they can do. Nayacalevu mops up a bouncing ball after an errant pass from a teammate, and he smashes through an attempted tackle by Dan Biggar. After that, the defensive cover is nowhere for Wales, and Nayacalevu can run over the try-line unopposed and dive to the turf for their opening score. Just awesome power and opportunism. Lomani converts.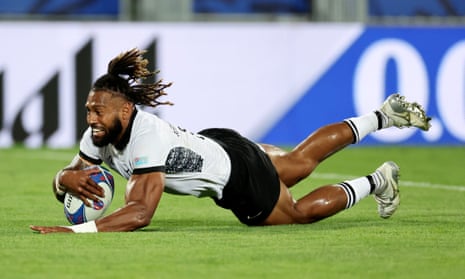 12 min: Wales have ball in hand again. They try to run it from inside their 22. Williams gives a pass to Adams, hugging the touchline, but the wing puts a foot in touch, and it will be Fiji's lineout.
10 min: North crashes into contact in the Wales half but he is a bit isolated and Fiji win a penalty of their own. Biggar has a rant at his teammates for the concession. It's kickable for Tela, and he strikes it well enough, but it drifts wide of the right post, and the Pacific Islanders are still to get off the mark.
Try! 6 min: Wales 8-0 Fiji (Adams)
It's that man again! Josh Adams, who notched a hat-trick against Fiji in 2019, is over in the corner. It all stems from a lovely line by North in midfield, who steams through the defensive line thanks to a lovely pop pass by his centre partner, Tompkins. North passes to the scrum-half, Gareth Davies, who has sight of the try-line … he is tackled, but the Fijian defensive cover is all over the place. Wales have an advantage, and they take it, when Tompkins has another dart and it sets up Adams to jink inside the last defender and touch down. Brilliant try, brilliant start for Wales. Biggar misses the conversion.
5 min: The lineout is solid from Fiji, and Wales are under plenty of pressure, lining up in defence on their try-line, or just in front of it … But Eroni Mawi, the prop, penalised for playing the ball on the floor. Biggar can relieve pressure on Wales with a clearing kick.
4 min: Fiji demonstrate their intent to run the ball on their next possession. They spin the ball left to right through the hands around halfway. Wales are penalised for not rolling away. Tela kicks for the corner, and nearly overcooks it, but it's a perfect touch-finder in the end … a great platform for Fiji to attack from.
Penalty! 2 min: Wales 3-0 Fiji
Ideal start for Wales. Tuisue has a run jnto contact with Fiji's first possession. Rowlands, the Wales lock, makes a tackle and competes for the ball, burrowing away to try and grab it … the referee penalises Tuisue for holding on. Biggar can kick for the posts from inside the Fiji half. He nails it.
After a short pause because "the TV is not ready", says referee Matthew Carley, we are under way.
Fiji belt out their anthem, and now it's time for the Cibi, the Fijian war dance. The Wales captain, Jac Morgan, stands motionless and expressionless as he watches his opponents lay down their challenge.
It's the Wales anthem first. Liam Williams, the "professional bomb defuser", stands on the end of the line of Welsh players … the TV camera makes its way down the starting XV, as they belt out "Land of My Fathers". Always a stirring moment.
The teams are on the pitch in Bordeaux! We're five minutes away from kick-off.
Here's the ITV analysis of the controversial Kriel hit, which may even have ramifications for England. Tom Curry is facing a disciplinary hearing for a similar incident for which he was sent off v Argentina:
South Africa defeated Scotland earlier – but Gregor Townsend's side put up quite a fight. And should the Boks have been down to 14 men after a high hit by Jesse Kriel? Robert Kitson was in Marseille to witness it:
Former Wales wing wizard Shane Williams is on pundit duty for ITV: "There's a nervous energy [among Wales fans]," he says. "It's a big game, it's a must-win game. I'm even seeing Warren Gatland look a bit nervous, and that's not usually the case."
Of the captain, the openside Jac Morgan, Williams says: "He's been one of the most consistent players in the URC [United Rugby Championship] for a couple of years. He's not someone that does a lot of talking. He does his talking on the field, and that's great. The talkers are players like Dan Biggar. There's a lot of leaders out there."
Gatland says he wants the players to take charge … he's channeling Brian Ashton of 2007!
Warren Gatland also had a chat with the media after naming his team. Here's what he said:
"This is a quality Fijian side. All I can say is that we have prepared really well together these last few weeks. We've nailed down and we've spoken to the players and we are clear on how we want to attack and prepare defensively and what we want to try and do [with] a kick strategy and exit strategy. What we are trying to achieve in the breakdown.
"The players are focused, they are pretty clear. As coaches, I spoke to the coaches today about us not talking too much, not over-coaching and allowing the players to take responsibility for today and tomorrow. And I was pleased to see them do that. They look very clear in their own minds about what they want to achieve."
On the closing gap at the top of world rugby: "What is brilliant about this World Cup is we've seen the tier two nations, in terms of we know in the past how Japan have performed, but (now) Fiji, Samoa and Tonga are all capable of causing upsets, which they have."
Distinctly French-tinged Wales fans enter into the spirit in Bordeaux.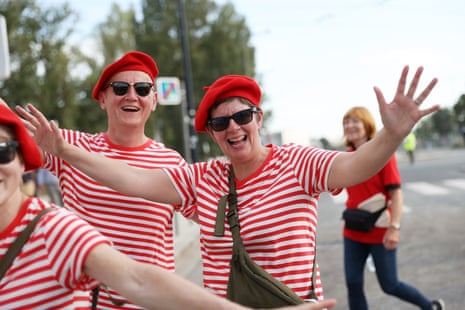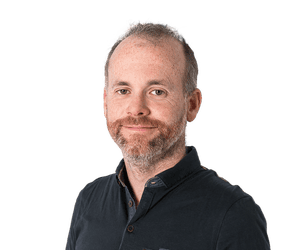 Michael Aylwin
In the ever-changing flux that is the rugby world's balance of power, an intriguing point of reference will be established in Bordeaux on Sunday. We are nearly 30 years into rugby union's professional era. There are teams rising and falling all over the place, as the new economic, political and cultural energies play out. In this context, Wales against Fiji feels particularly poignant.
Warren Gatland, coaching at his fifth Rugby World Cup, has a chat with Gabriel Clarke on ITV: "We've worked incredibly hard. We've got a balance of a bit of youth and experience [in the squad] … the boys have trained well, so we're looking forward to tonight. I would hope we're as well conditioned as any team. I think temperatures will have cooled down by kick off … it [heat] shouldn't be an issue for us.
"Fiji have players in Super Rugby, and who play in France. It's certainly the best Fiji team I've seen. Their set-piece is good and they have a good kicking game … we just have to stick to our process. The ball's going to be a bit slippery out there, with the humidity and sweat. We've got to play in the right areas of the field."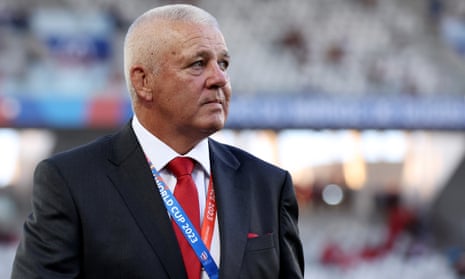 In the absence of Muntz, Teti Tela comes in at No 10. Levani Botia of La Rochelle and Josua Tuisova of Racing 92 return to the matchday squad – two seriously heavy-duty options off the bench for Raiwulai.
Gatland has gone with experience: the relentless back-rower Taulupe Faletau gets the nod at No 8 on his return from injury, Liam Williams lines up at full-back, and Josh Adams, the leading try-scorer at the Rugby World Cup in 2019, is on the wing. Dan Bigger will attempt to run things from fly-half with Nick Tompkins (No 12) and "Big" George North (No 13) teaming up in midfield.
Wales: Liam Williams, Rees-Zammit, North, Tompkins, Adams, Biggar, Gareth Davies, Gareth Thomas, Elias, Francis, Rowlands, Beard, Wainwright, Morgan (capt.), Faletau. Replacements: Dee, Domachowski, Lewis, Jenkins, Reffell, Tomos Williams, Costelow, Dyer.
Fiji: Droasese, Ravutaumada, Nayacalevu Vuidravuwalu, Radradra, Habosi, Tela, Lomani, Mawi, Matavesi, Tagi, Nasilasila, Cirikidaveta, Tuisue, Tagitagivalu, Mata. Replacements: Ikanivere, Ravai, Doge, Mayanavanua, Botia, Kuruvoli, Tuisova, Maqala.
Referee: Matthew Carley
Wales v Fiji at the Rugby World Cup: it's a fixture with some history. Fiji's memorable victory in 2007 directly led to Warren Gatland arriving as Wales head coach the first time around, an appointment that worked out pretty well.
Whether or not Gatland's second stay will be so fruitful remains to be seen: results since the New Zealander took over from his compatriot Wayne Pivac last year have been disappointing, and there was also a threatened player strike during the Six Nations. But that was then, and this is now: will the extra time Gatland has had with his players pre-tournament start to pay off in Bordeaux?
It probably needs to, because Fiji showed what they are capable of by defeating England at Twickenham a couple of weeks back. Recently losing their talented young fly-half, Caleb Muntz, for the tournament due to a knee injury was a significant blow but Simon Raiwalui's improving side remain on an upward curve. Currently ranked seventh in the world, three places above Wales, a victory for the Pacific Islanders would not be the shock of old.
Kick-off: 8pm UK time.