The family of a woman bludgeoned to death by her estranged husband have called on the justice secretary to take urgent action, after learning that he will be released from prison at the start of November.
Robert Brown, who killed Joanna Simpson in October 2010, will be released after serving half of his 24-year sentence.
Brown, a former British Airways pilot, bludgeoned his estranged wife to death with a hammer while their two children were in the next room, before transferring her body into a pre-dug grave.
He was acquitted of murder by a jury at Reading crown court in May 2011, having admitted manslaughter on the grounds of diminished responsibility.
"We knew the release was coming but the date makes it all the more real," said Hetti Barkworth-Nanton, Simpson's best friend who has campaigned with the family, as part of the Joanna Simpson Foundation, to try to keep Brown behind bars.
After learning of the release date this week, the family were told on Thursday that they had secured a meeting with the justice secretary, Alex Chalk.
Because of the sentence Brown, 59, was given, he is entitled to automatic release with no probation and no risk assessment, and the secretary of state is the only person who can prevent his release, said Barkworth-Nanton.
Under the Police, Crime, Sentencing and Courts Act, brought in in 2022, the justice secretary has a "power to detain" and can refer a prisoner serving a standard determinate sentence to the Parole Board for the board to judge whether the prisoner is safe to be released.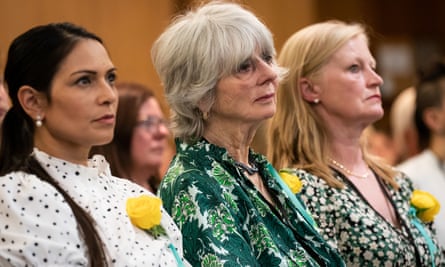 Brown will be subject to licence conditions and could be recalled to jail at any time if he breaches them or his behaviour suggests he poses an increased risk to the public for the remaining 12 years of his sentence.
Simpson's mother, Diana Parkes, said the family's pleas to the justice secretary were urgent.
"Reliving my daughter's brutal killing at the hands of Brown is emotionally exhausting. No mother should lose a child in such appalling circumstances. We all live in great fear," she said.
"But we know that it is the only way to ensure that the justice secretary fully understands how dangerous Brown is. We urgently call on the lord chancellor [Chalk] to keep the public safe by stepping in to block his release and keep him behind bars."
Barkworth-Nanton said the family had been told that two requests from Brown to be placed in an open prison had been turned down, and he had been identified as a critical public protection case, which highlighted him as a high-risk individual. A spokesperson confirmed that the Prison Service blocked Brown from moving to a category D open prison in December 2022.
"We know he is a dangerous man and yet he has to be released," said Barkworth-Nanton. "It makes us feel like sitting ducks."
Barkworth-Nanton, who is the chair of the domestic abuse charity Refuge, said she could not "sit back" while "Refuge and the countless other organisations are working tirelessly day in, day out to protect women from men just like this".
Simpson's family has received high level support for its campaign to keep Brown behind bars. At a Joanna Simpson Foundation event in London in March, attended by the former justice secretary, Robert Buckland, the former home secretary, Priti Patel, and the shadow minister for domestic violence, Jess Phillips, Carrie Johnson, one of the victims of serial rapist John Worboys, said she understood Simpson's loved ones feeling of being "like sitting ducks" after her own fear of Worboys' release.
Barkworth-Nanton said Simpson's friends and family were "preparing for the worst, while still hoping for the best", and said they were seeking legal advice to understand if they had any other routes to block Brown's release if the justice secretary was unable or unwilling to do so.
She added: "If he is released, which is the worst-case scenario, I am really determined from a personal point of view that I will not let him have any power over me and control over what I do, and how I do it and when I do it. Because that's what he wants. He wants power over us and I'm determined not to give it to him."
A spokesperson for the Ministry of Justice said: "Joanna Simpson was brutally killed in a cowardly, senseless attack and needlessly taken from her family. The lord chancellor met with her loved ones in May and will continue to give the case his close personal attention."