Key events
Time for me to clock off. Thanks for your company, correspondence and links to Simon & Garfunkel. It's been a cracking season, from the women as well as the men. Make sure you enjoy the off-season, because it only lasts three days.
The winter of 2023-24 starts on Saturday, when England's first XI have a warm-up game against the might of India. In nine days' time, they'll be defending the World Cup – meeting New Zealand in yet another re-staging of the 2019 final. The cricket rolls on relentlessly, but it hardly ever gets dull, because this generation of players are so electric. See you soon!
Three players were outstanding today. First Phil Salt got England off to something well beyond a flier, flaying 18 off the first four balls of the day and racing to 61 in the space of seven overs, like a one-man team.
Then Craig Young calmly turned the tide, aiming for the top of off stump, removing both Salt and Will Jacks and giving Ireland a glimmer of respectability. And finally Ben Duckett, after a slow start, found his dancing feet to reach the first, and last, individual hundred of the series.
Jacks and Zak Crawley were on fire too, making 90 between them off 63 balls. These England second-stringers are first-rate. It's astonishing that when the World Cup squad fly out tomorrow, there won't be room for even one of this top four. Duckett especially could have swept all before him in India like Graham Gooch in 1987.
It's a shame, too, that Ireland won't be there. At either end of this English summer, they've been spirited and sporting.
So the international summer ends with a bang, and a downpour. The outfield is a collection of puddles. The players are all shaking hands, and England won't get the chance to score 500. But they do seal the series, because they won the only game that reached a conclusion.
Ah no…
The ground is already sodden. Time for England to declare, perhaps? They already have more runs, off 31 overs, than they managed from the full quota in their first four years of one-day internationals, from January 1971 to March 1975. And in those days the quota was usually 55 overs.
31st over: England 280-4 (Duckett 107) The weather gods are doing their best to be even-handed here. They wanted Duckett to get his hundred, but they're also keen to give Ireland a breather, so some dark clouds are gathering. "Looks like it's just going to miss us," says Duckett to the nearest umpire. Nice try. Suddenly it's pouring, and a drinks break turns into a rain break.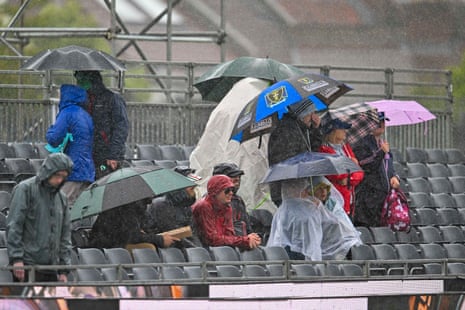 Wicket! Hain c van Woerkom b Young 17 (England 280-4)
Young bowls his worst over so far, getting pulled for four by Duckett and then dishing up a no-ball. But he's good enough to bounce straight back: the free hit is a dot and he even sucks Duckett into a play-and-miss. And then a wicket! Hain mistimes a pull to mid-on. Young has three for 31 off seven overs, majestic in the circumstances.
A hundred to Ben Duckett!
30th over: England 272-3 (Duckett 101, Hain 16) Duckett goes inside-out and chips Dockrell for six to reach a memorable hundred. He's gone from stodgy to stupendous in no time: seven off his first 19 balls, 93 off the next 54. It's his first ODI hundred in his eight match. He takes off his helmet, raises his bat, gets a hug from Hain and smiles a very broad smile.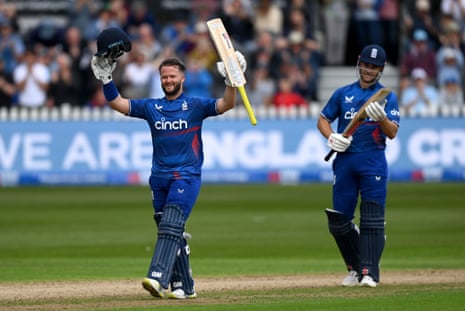 29th over: England 262-3 (Duckett 92, Hain 15) Stirling goes back to seam, recalling Young, the lone star of the show for Ireland. And he nearly nabs Hain, who goes down the track and top-edges a pull, but like all of today's skyers, it falls to earth in no-man's-land. Maybe Stirling should just set the field for two things: the orthodox nick and the wacky top edge.
28th over: England 257-3 (Duckett 90, Hain 12) Dockrell, on damage limitation, does well, allowing only five singles. But the partnership is already past fifty – 52 off 31 balls, about 40 off 19 to Duckett.
27th over: England 250-3 (Duckett 86, Hain 9) Duckett couldn't find the gaps early on, but a diet of spin is just what he feasts on. He hits van Woerkom for three fours in a row – a sweep, a cut and a drive. The last one sends the unfortunate Adair into the Toblerone and he goes off with a sore knee. A case of adding injury to insult.
26th over: England 233-3 (Duckett 72, Hain 6) It's slow left-arm at both ends as George Dockrell comes on. Hain keeps taking the single, Duckett tries a reverse sweep but can't find the sponge, and he over goes for only five.
England's 200 today, I learn from our friends at Cricinfo, was their fastest in 52 years of ODIs. It took 22.1 overs, beating the 23.5 overs they needed against Australia at Trent Bridge in 2018. That one was a Roy-Bairstow-Hales blitz.
25th over: England 227-3 (Duckett 68, Hain 4) Sam Hain is easing himself in, knowing that he has half of this innings still to play with. Meanwhile Duckett is marching on: getting as far forward as you can when you're on the short side, he swings van Woerkom away into the crowd. That's the first six Duckett has hit today, and the first van Woerkom has conceded in international cricket.
24th over: England 216-3 (Duckett 58, Hain 3) When Jacks was out, Ireland managed to get the plug in. Not so with the fall of Crawley: Duckett takes charge, Little's over goes for ten, and his figures come with a red-face emoji – 5-0-69-0. Adam Zampa knows how he feels.
23rd over: England 206-3 (Duckett 50, Hain 1) Just before that, Ben Duckett brought up his fifty from 46 balls with six fours and no sixes, and the two Test openers reached their hundred partnership – they ended up with 101 off 14.1 overs at a run a ball.
Wicket! Crawley c Young b van Woerkom 51 (England 205-3)
The breakthrough! It's a first international scalp for Theo van Woerkom, and a canny piece of bowling. He goes ultra-slow and lures Crawley into an inelegant chop to backward point, where Young, Ireland's man of the match so far, makes no mistake.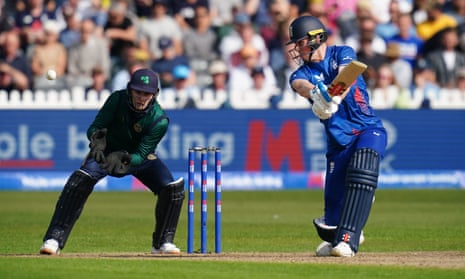 22nd over: England 199-2 (Crawley 50, Duckett 45) That full-toss has got Crawley going again. He swings Little for six over long-on, then gets lucky, twice – a top edge and a bottom edge. He goes to fifty off 39 balls with four fours and two sixes. It's his second half-century in his fifth ODI, and compared to Salt, it's been almost sedate.
21st over: England 185-2 (Crawley 38, Duckett 43) If you were making your international debut today as a slow bowler, would you have been itching to come on or hoping not to catch the captain's eye? Theo van Woerkom looks up for the fight, but there's a flutter of nerves as he goes for seven off his first three balls: two to Duckett on the off side, one on the leg, and then four to Crawley as the ball pops out too early and turns into a full-toss. Only three singles after that, but it's still ten off the over.
20th over: England 176-2 (Crawley 33, Duckett 39) Duckett lifts England out of their torpor by tucking into Campher: a cut for four, a slap for two (thanks to a misfield) and a straight drive. He hasn't just overtaken his mate: he's nicked one of his strokes.
19th over: England 165-2 (Crawley 33, Duckett 28) Take a bow, Mark Adair! The man who went for 18 off the first four balls of the day has now delivered an over for just a single. He's dragged his figures back from 2-0-31-0 to 5-0-48-0. What next, a maiden?
18th over: England 164-2 (Crawley 33, Duckett 27) The one shot these two have in common is the pull. Campher, too slow to try a half-tracker, invites Duckett to hit another four. After scraping only seven runs off his first 19 balls, he has added 20 off his last 12.
17th over: England 156-2 (Crawley 31, Duckett 21) Crawley and Duckett go together so well. Large and little, a driver and a deflector, they're now taking it in turns to attack. Duckett, facing Adair, slaps a full-toss to midwicket for four.
"Despite the early fireworks from Bristol," says Brian Withington, "your preamble and the time of year has me feeling particularly mellow and wistful. Cue a lesser-spotted Simon & Garfunkel classic?"
Do keep an eye on the Championship run-in too. Tanya Aldred, our queen of the county scene, picks out the interesting bits so you don't have to.
16th over: England 147-2 (Crawley 29, Duckett 15) Stirling takes McCarthy off after that 16-run over and turns to his fifth seamer, Curtis Campher. He does well, offering no width and going for just three singles. Ireland did so well to bounce back from that horror start, thanks to Craig Young, but as they have a drink England are still well on top. These two have added 43 off 44 balls.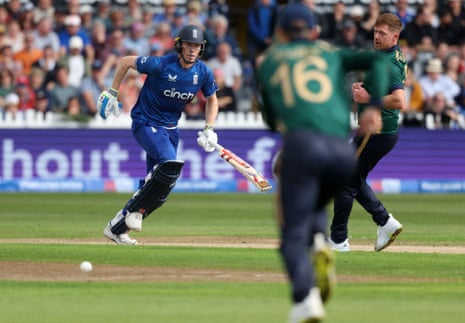 15th over: England 144-2 (Crawley 27, Duckett 14) Young takes a break, Adair returns, and Duckett seizes the chance to hit his first four off his 20th ball – a low pull, more of a fly-swat, placed with some precision to deep square's left. Then he top-edges another pull and gets away with it as the ball loops up over the keeper.
14th over: England 136-2 (Crawley 26, Duckett 7) Ben Duckett is still feeling his way, but Zak Crawley has found his groove. He brushes McCarthy over mid-on for four, hits a dreamy straight drive for four more, and instantly trumps himself with a straight six. Normal carnage has resumed.
13th over: England 120-2 (Crawley 11, Duckett 6) Young continues with his heroic bid to stop Salt being the man of the match. A stat box pops up to confirm that he has found the most seam movement today, 1.2 degrees, and he's also got Mark Butcher purring with his length. His figures are an admirable 5-0-18-2; his colleagues have just reached their century, with 8-0-100-0.
12th over: England 118-2 (Crawley 10, Duckett 5) Crawley, usually so stylish, gets his first four through brute force, using the bottom hand to send a mistimed straight drive to the long-off boundary. Eight off the over from McCarthy: these two are warming to the task.
11th over: England 110-2 (Crawley 4, Duckett 3) It doesn't matter how long or short a cricket match is, there will nearly always be an appearance from Dr Ebb and Mr Flow. They're in the building now: after 8.3 overs of carnage, the bowlers are suddenly on top. This partnership is pootling along, amounting to just six runs off 14 balls. We've gone from the 2020s to the 1970s in no time.
10th over: England 107-2 (Crawley 2, Duckett 2) McCarthy jags the ball back in to Crawley, rather too much to get the LBW he's after. But just as Steve Finn said, the wickets have stemmed the flow. Stirling, hungry for more, posts two slips for Duckett, who plays at everything as usual but can't get his crisp square pushes through the ring. Only three off the over! Even so, the Powerplay ends with another entry in the record books: England have equalled their best 10-over score.
9th over: England 104-2 (Crawley 2, Duckett 0) So England's second-string white-ball openers are gone, to be replaced by England's first-choice Test openers. White ball, red ball, it's all much the same these days. But Craig Young has changed the complexion of this match. He has two for 13 off three overs; the other three bowlers have none for 90 off six between them.
WICKET! Jacks b Young 39 (England 104-2)
Craig Young does the trick again! Line, length, scrambled seam, top of off. The collapse is on.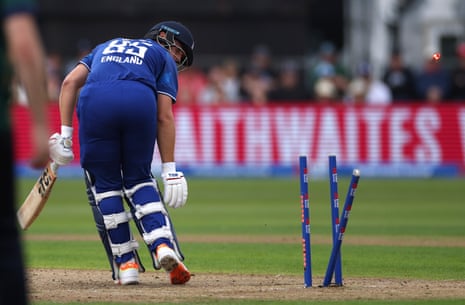 8th over: England 100-1 (Jacks 35, Crawley 2) Barry McCarthy, who took that catch calmly, comes on to bowl. His first ball is a half-volley outside off, so Jacks drop-kicks it for six! And then Tonks a four over mid-on. "The only way to stem the flow," says Steve Finn, "is to take wickets." Zak Crawley offers the bowler that possibility – in fact, he's come in on a sort of pair as England captain. He plays himself in with a couple of dots and then strokes an elegant straight-drive for two.
That's the hundred up. And there are still two overs of the Powerplay to go.
7th over: England 87-1 (Jacks 24, Crawley 0) Record not broken shock: Salt's fifty is not the fastest for England in this format. That honour still belongs to Liam Livingstone, who managed it off 17 balls.
"Hello there," says John Starbuck. "What's all this about several of the England XI being able to play for their counties from tomorrow? I know there's been an occasional case in the past but they seem to be making a virtue of it now. Is it the chance to demonstrate just how important – after all – the County Championship is?" Ha.
WICKET! Salt c McCarthy b Young 61 (England 87-1)
It's all over now! Craig Young, the best bowler today, gets his reward as Salt tries a golf drive and can't get it over mid-on. "Oh no," he says. But that was one hell of an innings: 61 off 28 balls, at a strike rate of 217.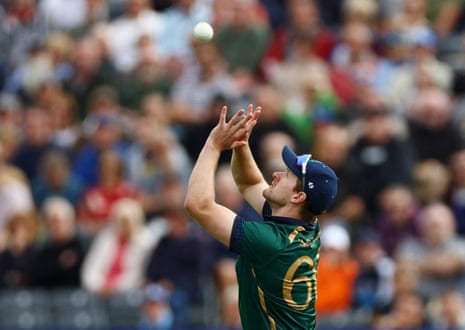 Salt reaches 50 off 22 balls!
6th over: England 84-0 (Salt 60, Jacks 22) The commentators keep talking about the movement in the air, making you wonder what the score would be if the ball wasn't misbehaving. Salt, facing Little, plays a clip for four and then a pull for six into somebody's garden. That takes him to a fifty that has been phenomenal, even by England standards: it came off just 22 balls, seven of which went for four and three for six. Has he had enough? He has not. He goes down on one knee to sweep Little – pace on, 84mph – for yet another six.
England's projected score pops up on the screen: it's 700. I know this is The Grauniad, but that is not a typo.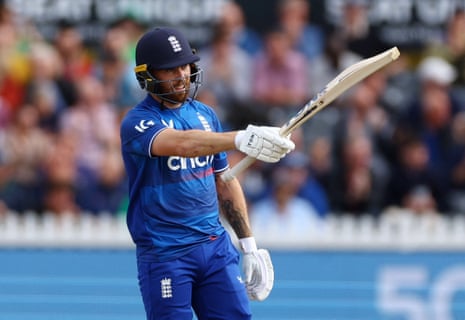 5th over: England 65-0 (Salt 42, Jacks 22) Time for a bowling change, Paul Stirling reckons. On comes Craig Young, who has one job: to stem the flow. And he does, cramping the batters for room and going for just a run a ball. Miserly stuff.
And now it's 23 off the over!
4th over: England 60-0 (Salt 39, Jacks 19) Does Jacks settle for playing second fiddle? He does not. He has a gleam in his eye and he flicks Little's first ball for six, then pulls for six more. Just for a change, Salt plays a straight drive for four. Alas, poor Little – when he does induce a top edge, it lands safely at short fine, and then Salt adds another four. That's 23 off the over! And the fastest 50 in England ODI history.
This game has been under way for 18 minutes and it already has two entries in the record books.
3rd over: England 37-0 (Salt 29, Jacks 7) Funnily enough, there is some swing in the air. But it's not bothering Salt, who lofts the first ball from poor old Adair over cover for another six! A couple of singles, and then Salt blasts another four through the offside ring. He has 29 off ten balls; Adair has 2-0-31-0.
2nd over: England 25-0 (Salt 18, Jacks 6) So Salt started off with 4-4-4-6. What can Will Jacks do? He opens with a four too, driving Josh Little on the up. Little does better with the other five balls, going for just a two, and that would have been a catch if Paul Stirling had posted a third slip. Not that you can blame him.
Salt hits 18 off the first four balls!
1st over: England 19-0 (Salt 18, Jacks 0) Mark Adair has the new ball, though he may wish he hadn't. Salt flashes for four, then drives for four, then flicks for four, then slogs for six!
Can Adair find any respite? He can – after a wide, he digs deep and finds two dots, well done that man. But Salt still grabs an all-time England record for the most runs off the first over in an ODI.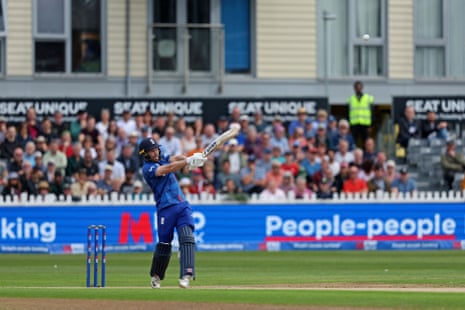 The players are out there, although the sun is not. Phil Salt and Will Jacks are stomping towards the middle.
England 1 Will Jacks, 2 Phil Salt, 3 Zak Crawley (capt), 4 Ben Duckett, 5 Sam Hain, 6 Jamie Smith (wkt), 7 Brydon Carse, 8 Rehan Ahmed, 9 Tom Hartley, 10 Matthew Potts, 11 Luke Wood.
Ireland 1 Paul Stirling (capt), 2 Andy Balbirnie, 3 Curtis Campher, 4 Harry Tector, 5 Lorcan Tucker (wkt), 6 George Dockrell, 7 Theo van Woerkom, 8 Mark Adair, 9 Barry McCarthy, 10 Craig Young, 11 Josh Little.
Teams in brief: one change apiece
Ireland leave out Andy McBrine and bring in Theo van Woerkom, who is a slow left-armer, aged 30, born and bred in New Zealand.
England recall Luke Wood to take the new ball after a bout of tonsillitis. He replaces George Scrimshaw, who, one day into his international career, has already tasted triumph and disaster, so he can probably cope with carrying the drinks.
Toss: Ireland win and bowl first
Zak Crawley flips the coin, Paul Stirling calls tails and he's right. As expected, he opts to chase: "Bit of weather around."
Crawley says he would have batted first anyway. "Looks like a good pitch, might break up later."
Morning everyone and welcome to the OBO. And so we face the final curtain: the last international of the English summer. Brace yourself for cold turkey, severe withdrawal symptoms, the lot – but only for three days, as England's next game will be along on Saturday, in Guwahati, a World Cup warm-up against India.
Anybody remember the first international of the summer of 2023? I had to look it up myself. It was England v Ireland, the first day of the only Test at Lord's. And here we are with England v Ireland, the third one-day international in Bristol. This is either the circle of life or the merry-go-round of modern sport.
Today's game is the 17th of England's home season. Even those who complained about the Ashes being squeezed into seven weeks may have to admit, grudgingly, that there's been a logic to it. First, six Tests: won three, lost two, drawn one, Ireland routed, Ashes not quite regained. Then, four T20s: a tasty 2-2 tie with New Zealand. Finally, seven ODIs: the first lost to NZ, the next three won in some style, and now this tussle with Ireland – one wash-out and one England win so far.
In that last game, at Trent Bridge, Ireland doubled their score after losing their sixth wicket and managed to snatch respectability from the jaws of obliteration. Symmetry surely demands that they take that momentum to Bristol and use it to square the series.
Zak Crawley's team, more or less England's 2nd XI, have played like the big guns, blazing away. You know a team has a clear style when it can rest all its regulars and still give off the same vibes. But Paul Stirling takes no prisoners either and he was one of six Irishmen to get to 25 on Saturday. The only difference between the sides was the way that England's Will Jacks and Sam Hain turned their starts into daddy fifties.
Play begins at 12.30pm BST. There's the odd shower forecast for the first innings, so both captains may be inclined to chase, but there are plenty of sunny spells lined up too – positively balmy for the dying days of September. See you soon after noon with news of the toss and the teams.