Key events
78 min: Russo hits the bar! She's set up by Maanum, the goal gapes but the ball rattles off the woodwork and comes out to cheers from home fans.
76 min: Two United changes – Toone and Garcia off, Malard and Miyazawa on.
The Arsenal keeper, D'Angelo, is down, too. Both teams take their chance to have a tactical chat. D'Angelo seems OK to continue.
75 min: Let's see if United's penchant for late goals can help them along.
73 min: United have dominated possession, 59% to 41% but it feels like Arsenal have thrown down the far bigger threat when it comes to creating chances.
71 min: United changes – Williams, last week's winning goalscorer, is on for Geyse, who has tired.
69 min: All Arsenal now? Foord skips through a couple of defenders, only for the ball to cleared. Then Catley shoots, only for the ball to be blocked. Away go United, who attack with a bit more circumspection.
67 min: Another Earps save, Russo was through, beating the offside trap and Earps saves it with her feet.
66 min: Arsenal get a corner after Galton scrambles the ball behind. The ball goes out and back in. Little's ball, Russo's header and Mary Earps finally claims the ball.
64 min: Feels like the next goal wins this. It's very delicately poised.
63 min: A few fouls going in now. The helter skelter pace couldn't keep going. Foord, another new arrival off the benchm is booked for crashing into George. And another! This time it's Jonas Eidevall shown a yellow for remonstrating with the referee.
61 min: That change looks to have taken the heat out of the evening but then Katie McCabe flattens Zelem and gets a booking.
59 min: Three Arsenal changes – Codina, Blackstenius, Palova off. Foord, Maanum and McCabe on. Catley meanwhile fires the ball over.
58 min: The new Spain manager, Montse Tome, is in the crowd, and making copious notes. Meanwhile, Katie Zelem is booked for fouling Russo, who had the beating of her.
56 min: Le Tissier has to clear behind as Pelova plays the ball behind. It's an Arsenal corner. United get that clear.
55 min: Toone sends Galton wide, and the ball is cut back into the middle. All United still and Arsenal are ready to make changes. Jonas Eidevall can be heard asking his forwards to pressure the United defence.
53 min: At last, Arsenal push up, but that only opens up space at the back. Garcia attacks and then Geyse and Catley collide, it's full-blooded stuff out there. Both get up, thankfully,
51 min: United almost get their goal when Geyse is sent clear, only to drag the ball wide. D'Angelo narrowed the angle and Galton, at the far most, wanted it played square.
50 min: Jen Beattie is having to make a series of incursions. Toon bursts on, and Geyse is played in, only for Beattie to smash the ball into the stands. It's all United.
48 min: United look to have started with the greater zip. Their fans are making plenty of noise.
46 min: Back the teams come on, and there's been no changes on either side. United gte it underway. Zelem pings the ball forward – and around the corner – and this time D'Angelo comes out and clears.
Charles Antaki: "Has Russo gone off for a cup of tea?" Think that was sent before her late miss but she's been digging around on the wings, in a rather unfamiliar position. Jonas Eidevall has a lot of talent to squeeze into one team. It's not quite happening just yet.
Half-time: Manchester United 1-1 Arsenal
One hell of a half, that. Really good in that neither got on top of the other. Plenty of chances, too. A fine goal from Blackstenius and though United's equaliser came as a result of a mistake, they've been well worth being level. All to play for, and more excitement to come, hopefully.
45+4 min: United have a corner, drilled in by Zelem and headed over George. Another big chance going begging…it's the last of the half.
45+2 min: Four minutes added on by the way, and it's not slowing down as the break nears.
45+1 min: Russo's first chance, the ball dropping to her from Catley's headed clearance, and it's boomed over the bar. She might perhaps have done better with that.
45 min: It's end to end now, neither team in much control. Blackstenius loses the ball and Toone almost sends away Galton for United.
43 min: A massed United defence and a chorus of boos greets Russo as she attempts to find space. No luck this time.
40 min: Geyse almost sends away Garcia, restored to the attack, but Arsenal clear. Then the ball comes in and D'Angelo, to great relief, climbs to claim the ball.
38 min: Garcia, last week's goalscorer for United, is sat deep. Arsenal are pushing on and with intent.
36 min: Arsenal always looking for Blackstenius but Codina's pass is too heavy this time.
34 min: The United crowd is getting on the back of D'Angelo whenever the ball goes back to her. Sounds like Holts' Bitter shandies have been flowing in the Sports Village.
33 min: Blackstenius again the target for a pass through the middle but Earps comes across and then United go on the attack. Two calls for a foul, first when Jen Beattie pulls back Geyse but then another is awarded for a similar infringement. Loud boos ensue when Geyse is soon enough penalised for her own foul.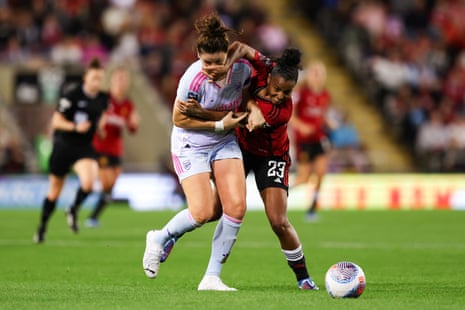 31 min: Arsenal might wonder why the defenders did not cover the keeper but still, time to push for another goal…Blackstenius is found offside.
28 min: Poor Sabrina D'Angelo looks aghast at her mistake, and on the bench, Zinsberger, who she replaced, has a look of disdain.
Goal! Manchester United 1-1 Arsenal (Galton, 27)
Oh no, D'Angelo. Gabby George hoofs long and the goalkeeper, one of those six changes, swings, misses and falls on her backside. Galton taps in calmly, if from a distance. Jonas Eidevall's face is a picture. That was a very avoidable goal.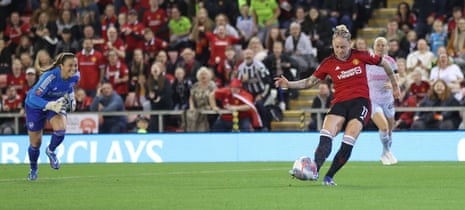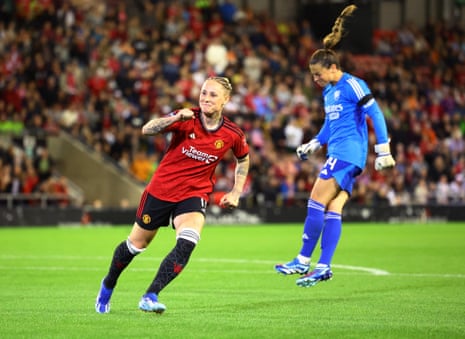 24 min: Geyse is so lively herself, and given chase by Kim Little wafts the ball out of play. Marc Skinner attempts some running repairs to his team once Arsenal's Jen Beattie goes down, and the same goes for Jonas Eidevall.
22 min: Little on the burst….no, offside. United's trap is there to be triggered, so to speak.
21 min: Blackstenius is so dangerous, always chasing and hunting. She almost steals in but Le Tissier comes across to clear the danger. So far it's Blackstenius whose class divides what is an even contest. Arsenal are pressing well as their manager prescribes.
19 min: United's response has been decent enough, with Toone, their mosr dangerous player, coming into the game far more.
15 min: United stepped out and paid the price, and Marc Skinner is running through his tactics with his assistants.
Goal! Manchester United 0-1 Arsenal (Blackstenius, 14)
All her own work once Russo and Catley had sent the Swedish striker away. She cuts in, checks and scores. Jonas really enjoyed that one on the sidelines.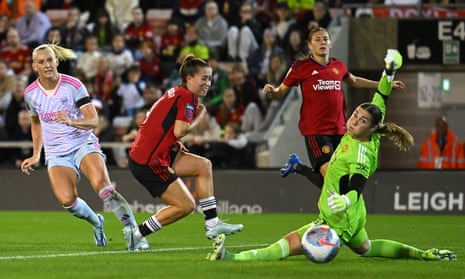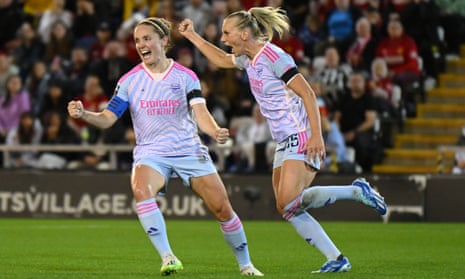 12 min: An unfortunate slip means Arsenal concede a corner, Geyse pushing up, and D'Angelo unable to keep it in. United win another as Toone pings in her effort.
11 min: This is a tight affair. United's defence is organised, Arsenal pushing hard but not yet finding the final pass.
8 min: United are looking to the long ball to pick off the Arsenal press, with the likes of Katie Zelem good passers of the ball. Up the other end, there's an echoey boo as Russo gets on the ball. She's been quiet so far.
6 min: Two Spaniards in United's Garcia and Arsenal's get in a tangle but it's all smiles once the ball goes dead.
5 min: Early Arsenal chance, Maritz pumping the ball into the middle but their forwards miss their cue. The first United chance follows quickly, Toone sending Garcia away, only for the cross to nestle in D'Angelo's hands.
3 min: Quite a long time taken over an Arsenal throw, which may be a result of the unfamiliarity of their team. Same back three as last week, so some continuity.
1 min: And away we go. United begin calmly amid the raucous scenes, Arsenal looking to press high.
Pretty rowdy at Leigh Sports Village, the home fans fancy another win over Arsenal.
Charles Antaki gets in contact on Arsenal. He's worried: "I think Arsenal fans know that lose this one, and the terrible start to the season (out of the Champions League before it properly starts; loss at home in the WSL in the first game) continues, and the clouds not only gather, but clump together, take a deep breath, and rain all over pretty well the entire season's parade. No wonder Eidevall has made six changes. But the worry is that apart from Kim Little, there's no top-level, consistent quality in the side, and the Miedema/Williamson/Mead cavalry is still somewhere over a far distant hill…"
The big news is that Jonas Eidevall has made six changes from last week, that's a lot and in the prelims he's said that "no place is guaranteed". The big absence is Katie McCabe.
Marc Skinner, meanwhile, has made no changes from last week while Sabrina D'Angelo, Noelle Maritz, Victoria Pelova, Laia Codina, Amanda Ilestedt and Stina Blackstenius are IN. And Maneula Zinsberger, Lotte Wubben-Moy, Close Lacasse, Katie McCabe, Frida Maanum and Caitlin Foord are OUT. That includes a change of goalie – D'Angelo for Zinsberger.
These teams met twice last season, and Manchester United won both matches, Russo scoring the winner in their home match.
Russo starts against her old team….
Manchester United: Earps, Blundell, Le Tissier, Turner, George, Ladd, Zelem, Garcia, Toone, Galton, Geyse. Subs: Rabjohn, Malard, Riviere, Evans, Naalsund, Miyazawa, Parris, Williams Tullis-Joyce.
Arsenal: D'Angelo, Ilestedt, Beattie, Codina, Maritz, Pelova, Little, Walti, Catley, Blackstenius, Russo. Subs: Zinsberger, Wubben-Moy, Maanum, McCabe, Hurtig, Foord, Kuhl, Lacasse, Cooney-Cross.
Here's the embryonic table.
Niall McVeigh wrote an exhaustive preview of this match, and the future of Arsenal's manager.
While the visitors will turn out in a new, Stella McCartney-designed bespoke away shirt for Friday's match, United have their own visual cue to represent their off-field progress. A mural of Mary Earps, created by the club with Sky Sports and daubed with the words "Welcome to Manchester", sends a defiant message after the England keeper stayed at United this summer, amid persistent interest from Arsenal.
It's a big night for Alessia Russo, the Lioness who left Manchester United to join Arsenal. The pressure's immediately on for Arsenal, after losing last week to Liverpool, a blow to follow their premature Champions League exit. This was supposed to be the season that they put down a big title challenge and, judging from recent WSL seasons, the margin for error is not large so an away win is high on Jonas Eidevall's wishlist. For Manchester United's Marc Skinner, an away win at Aston Villa was a handy start over a decent side, with Rachel Williams scoring in injury time to win it. Lucia Garcia's goal was a good sign for a team hoping to replace Russo from within.
Kick-off at 7.30pm, join me.