Key events
71 min: Palmer curls a shot towards the bottom-left corner. Just wide. Then Cucurella clips Saka late, and goes into the book. He's not happy about it and gets right up in the linesman's grille. Treading a fine line.
70 min: Cucurella latches onto Saliba's poor header and makes good down the left. He bides his time before slipping a low cross in for Jackson, who cushions a pass to Sterling on the penalty spot. Gabriel does very well to block the shot and clear.
68 min: Arsenal make a double change. Jesus and Jorginho make way for Nketiah and Smith Rowe.
66 min: Arsenal's corner is no good and Chelsea break upfield. Sterling slips Jackson into space down the inside right. Jackson turns down the opportunity to shoot, instead attempting to round Raya. This time the keeper is a hero, timing his dive at Jackson's feet perfectly and snaffling possession. Chelsea very close to a third.
65 min: Gabriel teases Gusto down the left and crosses deep. There's nobody there in red, but Cucurella heads behind for a corner just to be safe. Before it can be taken, Mudryk goes off to a standing ovation; Jackson replaces him.
64 min: Arsenal haven't had a shot on target yet. "Sanchez-on-Jesus was not anywhere near as bad as Schumacher-on-Battiston '82, but the same body parts were involved if I'm not mistaken," notes Peter Oh.
62 min: Sanchez's challenge was enough to stun Jesus for a couple of minutes. Happily once the physio gives him the once-over, the Arsenal striker is good to continue.
60 min: Odegaard loops in. Sanchez comes haring off his line to clear, also bringing down Colwill and Caicedo … plus Jesus and Tomiyasu! Four for the price of one! No idea how that's not a penalty, but those are the special unwritten laws of goalkeeping for you.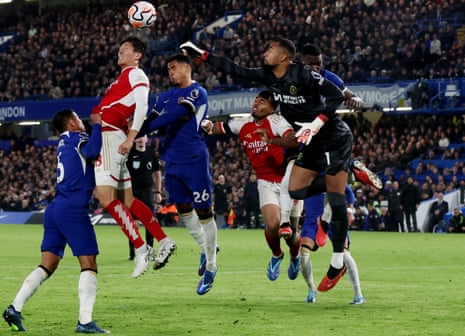 59 min: Cucurella tugs back Saka as the Arsenal winger prepares to take off down the right. Free kick, which Odegaard will take. Everyone likes up on the edge of the box.
58 min: Raya passes out from the back, straight to Palmer, who was standing right in front of him, ten yards away. What a mistake. He earns a reprieve by standing up to Palmer as the striker tries to round him. He blocks Palmer's shot out for a corner, from which Colwill heads over while unchallenged six yards out. The flag goes up correctly for offside, but Arsenal are all over the shop at the back. Raya is having a shocker.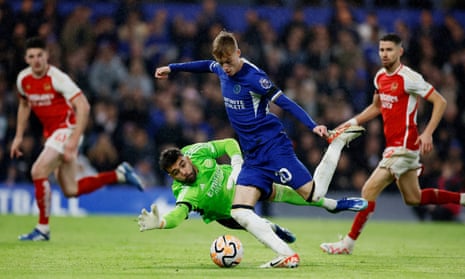 56 min: Martinelli drives down the left and wins a corner he takes himself. The ball's half cleared. Jorginho has a shot. Blocked. Tomiyasu has another go. It pings obviously off Caicedo, and out for another … no, the referee and his linesman have both missed that. Goal kick, and the pressure's off Chelsea.
54 min: The second corner is hit long from the left. Gabriel heads harmlessly wide right. Neither keeper covering themselves in glory so far tonight.
53 min: Caicedo ships possession 30 yards from his own goal. That was too easy for Rice, who then slips Martinelli into space down the left. Martinelli cuts into the box and aims a curler towards the top right. The ball deflects out for a corner which Saka sends into the six-yard box. Sanchez flaps it out for another corner, claiming he'd been impeded. Not so.
51 min: Saka tries to get something going for Arsenal up the other end, but his run down the right comes to nought. He tries again soon after, though, and his delivery from the byline forces Sanchez to tip away from under his bar. Saka certainly looks Arsenal's most likely.
49 min: Shades of Paul Konchesky versus Pepe Reina in the 2006 FA Cup final. Either that or a stroke of absurd genius. You decide.
GOAL! Chelsea 2-0 Arsenal (Mudryk 48)
Odegaard loses possession and Mudryk probes down the left. He's given too much time to think. He crosses … or is it a shot? It's probably a cross, an outswinger intended for Sterling at the far stick, but it floats over Raya, stranded on the right-hand edge of his six-yard box, and into the top right!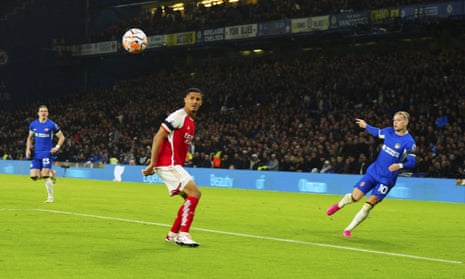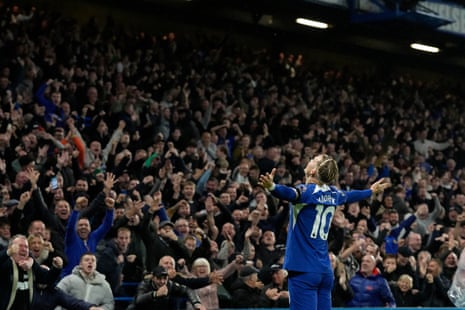 47 min: A slow, measured start to the half.
Arsenal get the second half underway. "Fielding your non defender Zinchenko against Chelsea's best attacking threat Sterling is asking for trouble," writes Sean Orlowicz. "Should be Tomiyasu out there." Mikel Arteta hears ya, Sean. On comes Tomiyasu in Zinchenko's place.
Half-time reading. Rest in peace, Sir Bobby.
HALF TIME: Chelsea 1-0 Arsenal
Chelsea deservedly lead. Arsenal's unbeaten start to the season is under threat.
45 min +2: Cucurella rakes a pass down the right for Sterling, who keeps the ball in play adroitly only to find there's nobody in blue in the middle. He waits for help to arrive and eventually finds Fernandez, who floats a harmless shot into Raya's midriff.
45 min +1: Sterling dribbles infield from the right and is bundled over in the penalty spot. Legally so, however. The referee isn't bothered, and VAR agrees with that assessment.
45 min: Silva is booked for a fairly blatant block on the in-flight Jesus. There will be two extra first-half minutes.
44 min: Sterling spins past Zinchenko into space and tears off down the right. He slips a pass infield for Gusto, who has Fernandez to his left and Sterling to his right. Gusto goes for it himself and whistles a shot towards the top right, but a smidgen too high and wide.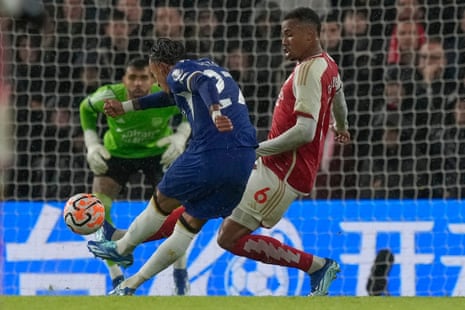 42 min: Mudryk's poor clearing header falls to Jesus, whose volley is so poor it doesn't go out of play near the left-hand corner flag. Martinelli revives the attack but his cross goes straight down Sanchez's throat. Arsenal have been uncharacteristically stodgy in attack.
40 min: Odegaard has been very quiet. He pops up here, and plays a cute pass around the corner and down the inside-left channel. Only problem being, neither Martinelli nor Jesus have anticipated it.
38 min: A ball comes in from the Chelsea right. Fernandez heads down the inside-right channel for Gallagher, who nearly rounds Raya but can't quite force the ball past the keeper. It's not a goal kick, though, because the flag correctly goes up for offside. Arsenal's defence was a wee bit all over the place, however.
36 min: Fernandez takes the ball away from Rice, then Chelsea enjoy a bit of possession. Saka, somewhat frustrated, clips Cucurella on the back of the heel. You've seen yellow cards given for less, though this one's no great outrage.
35 min: It's all pretty scrappy right now.
33 min: Arsenal continue to hog possession, but Chelsea maintain their shape.
31 min: Martinelli's presence forces a corner of Colwill down the right. It's worked back to Jorginho, who floats a harmless speculative ball into the box. It's easily cleared. Sanchez hasn't had much to do yet.