Key events
Lap 29: What to watch in the last 27 laps …
1. Will Verstappen build enough of a lead to stay ahead of Norris and Hamilton when he has to pit?
2. Will Perez overhaul Sainz for fourth?
3. Alonso should easily stay in 10th. Can he do more?
Lap 28: David C. Hunter writes: "Dear Beau, Welcome back to the Cozy Confines of Guardian MBM. I hate it when people ask how do you feel now that F1 has really put Austin on the map? Not just because we were fine before but also because so much that has happened over the last 30 years, and 11 since the track opened, has been detrimental to the place. And I include Mr X, his car factory and his five houses in that decline. Besides, who needs celebrities when you have Willie Nelson?!"
And Stevie Ray Vaughan. And tons of great musicians.
And … as predicted, Verstappen takes the lead.
Lap 27: This is going to be Norris' last lap in the lead. The question will be whether Verstappen puts enough distance between himself and Norris to make up for the second pit stop the champion will have to make.
Zhou's team asks him to let Bottas pass. He's not doing well.
Hamilton: "You've given me a hell of a gap to close." I get the sense he's not happy.
Lap 26: Horner did seem to think Norris, among others, was going quite well on hard tires. But Verstappen is very quickly gaining on him. And Hamilton doesn't seem happy with his team suggesting that he could be pushing harder. "I'm trying, mate, I'm trying!"
Lap 25: Red Bull's Christian Horner chats with the broadcast crew. He doesn't say much.
Albon easily passes Zhou or 11th.
Lap 24: Fernando Alonso has worked his way into the top 10. Not bad after starting on pit row.
Magnussen is already in last place, and he gets a black-and-white flag (warning) for failing to stay on track.
Standings after 1 pit stop each
1. Norris
2. Verstappen
3. Hamilton
4. Sainz
5. Perez
6. Leclerc
7. Russell
8. Gasly
Lap 23: Ricciardo pits and drops to 15th. Fun while it lasted.
At last, Leclerc pits …
Lap 22: Edward Tuijl wants to know what's going on in the lower order, and now that everyone has pitted aside from temporary race leader Leclerc and seventh-place Ricciardo, I can give a quick rundown …
Top seven: Leclerc (yet to pit), Norris, Verstappen, Hamilton, Sainz, Perez, Ricciardo.
Then it's Russell, with Gasly right on his tail. Tsunoda is 10th, far ahead of Zhou. Then it's a fight for 12th between Albon, Alonso and Bottas.
Lap 21: Hamilton emerges from pit row behind Verstappen. He is, however, on hard tires that might last the rest of the way.
Only Leclerc and Russell have yet to pit. Oh, and Ricciardo, who is merrily racing in eighth.
Lap 20: "Verstappen now inside our pit window," the Mercedes radio man warns Hamilton. "No ****, man, I'm struggling here," responds Hamilton. He pits.
Lap 19: Red Bull has informed Verstappen that Hamilton might be trying a one-stop strategy. An interesting gamble. But on the team radio, Hamilton expresses some skepticism that he can bang out another five laps on these tires, and Verstappen just posted the fastest lap.
The Mercedes crew asks the same question of Russell that they asked of Hamilton. His response is a chipper "Yep!"
Edwin Innih Imoesi: "Is it just me, or is this Mercedes car faster. I really hope so. Next season btw Hamilton and Verstappen will be epic. That is if Mercedes can get it right."
That would be a lot of fun to watch.
Lap 18: Norris, Sainz and Perez pit. That means Hamilton is in the lead – until he pits, anyway.
Lap 17: Verstappen pits! Seems a little early, and he's going on mediums rather than hard tires. He'll need to pit again at some point unless everyone's wrong about how long the medium tires last.
Lap 16: Stewards looked at Leclerc's off-track excursion but took no action. Verstappen didn't really leave him anywhere to go.
Norris reports a bit of an issue but doesn't gives much detail. His team responds that there's some inconsistent wind on part of the track.
Hamilton has the fastest lap so far.
Lap 15: Hamilton is hovering around two seconds behind Norris. Verstappen is 4.5 seconds further back, probably not planning an all-out attack on the top two until we've had some tire changes.
Lap 14: The report on Piastri is damage to the radiator and a water leak. Unfortunate.
Lap 13: Young American Logan Sargeant takes a run at Kevin Magnusson in an attempt to avoid the indignity of being in last place among the cars still running.
Lap 12: Russell has been warned for going off the track. He's sixth. Perez, who's seventh, has complained about him multiple times on the radio. It looks like the cars that matter most today are in the hands of Norris, Hamilton and Verstappen.
Lap 11: Pitting – Albon, Bottas, Magnusson. Looks like the choice there is hard tires, after everyone started on mediums.
Verstappen comes up behind Leclerc and forces the pole-sitter far off the track! Leclerc continues the fight for another couple of turns but eventually concedes the place.
Lap 10: Oh no – Piastri has a major issue of some kind. He's dropping back and back and back, and he's off to pit row, likely to retire the car.
Lap 9: I said Verstappen would pick off Leclerc on this lap. He gets within one second. Now 0.557 seconds. But no closer.
Lap 8: Farther back – Piastri started 10th and is up to sixth.
Lap 7: Norris is still more than three seconds ahead of Hamilton. How long until Verstappen passes Leclerc for third? I'll say Lap 9.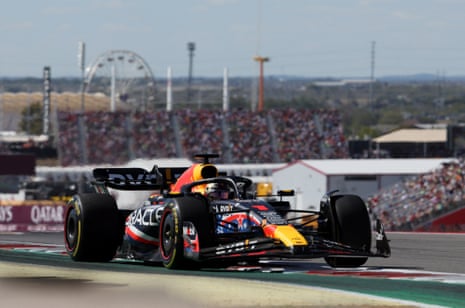 Lap 6: Mercedes seems to have done things right today, as Hamilton has no trouble at all passing Leclerc for second place.
Ocon is out. Again. So unlucky this season.
Lap 5: Stewards will take no action over Russell's start.
Verstappen has zipped past Sainz … sadly, not picked up by the cameras.
Ocon's car was apparently banged up pretty badly. He's down in last place and will surely pit soon.
Lap 4: Hamilton is practically affixed to the rear of Sainz's car. DRS should help him get past, and … it does. Sainz tries to fight back, but Hamilton is just too strong.
So the top three at the moment is Norris, Leclerc and Hamilton.
Lap 3: What on earth is Sergio Perez doing? That looked to be a high-risk move, inserting himself between Russell and Ocon. But he got by with it.
Lap 2: Norris has already built a lead of more than 2 seconds.
Ocon reports some damage from contact with Piastri, and George Russell has attracted race officials' attention.
Lap 1 of 56: Norris, Leclerc, Sainz (who was quite aggressive at the start), Hamilton and Verstappen are your top five. Piastri and Ocon follow.
It looks like the start was clean – no sign of any damage to anyone.
Up (literally) into Turn 1, Norris accelerates beautifully and takes the lead!
Anne Williams takes up the question I asked earlier: "Is dominance dull ? Well, I had to laugh when Lewis Hamilton complained about this ! Welcome back!"
Not sure if the "welcome back" is for me or for Hamilton, but thanks very much in either case.
Ian Simmins also answers: "F1 has been through it before Prost, Senna, Schumacher, Vettel. Verstappen is not to blame, his competition is not doing enough."
What can they do differently? I'm particularly baffled that Mercedes have fallen so far behind Red Bull. Is Verstappen that much better, or is it the equipment?
We have drivers in cars. The pre-race ceremonies, which seemed subdued compared with what we saw in Miami (LL Cool J!), have finished.
It's a sedate national anthem by someone I don't know.
But I already have mail! Bill Preston writes:
"If there's one driver getting a stomp on as the lights go out every race, and riding that superiority to victory then it's easy to get mired in the "oh, it's all a bit dull" quag.
"However, if we shift our focus and see the leaps, bounds, and pure thrilling heroics by teams and drivers that aren't quite yet at the apex of the regulatory corner, then it's a stunning spectacle.
"Sports tell a story, and it's storytelling at its greatest when you look away from the main hero to see what the other characters are doing."
Fair point, and there are indeed some good stories farther down the grid. From my perspective as someone from the land of stars and stripes, the big question is whether the investments in hosting races and airing engaging documentary series will pay off at some point with a stronger US presence in the driver or constructor championships. There's also the persistence of Fernando Alonso. And a good race for second place on the season.
For Adrian Fowell, the story is ugly Americans: "Nothing says that F1 should stay away from countries that don't give a damn about it, than not knowing that (Hamilton) frequently uses a scooter in GP."
Proves that I often tune out during the pre-race walk through the grid, though it seems very much in turn with American sensibilities toward celebrity obsession.
Speaking of which, we're being treated once again to the Adam Driver intro. He's in the upcoming film Ferrari.
Lewis Hamilton is inexplicably going to his car on a scooter.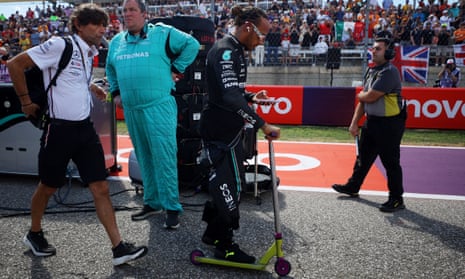 Rory McIlroy is among the celebrities standing around the grid today, and he's offering up a bit of Ryder Cup trash talk. Yeah, well … how's Northern Ireland doing in basketball? So … there.
Is dominance dull?
Verstappen has been virtually unbeatable this season and last. Does that dominance diminish your enjoyment of Formula 1? Or do you like watching on the off chance that this is the week he'll lose? Or do you like seeing one of the best F1 drivers of all time just coming into his prime?
In other philosophical questions, who is this Elton John impersonator playing on the broadcast right now?
This is the 18th of 22 races this season. The teams will remain in the Americas through mid-November, going to Mexico City, Sao Paulo and the highly anticipated stop in Las Vegas — before finishing up in Abu Dhabi.
Here's a look at the starting grid and each driver's prospects for accomplishing something of note this season …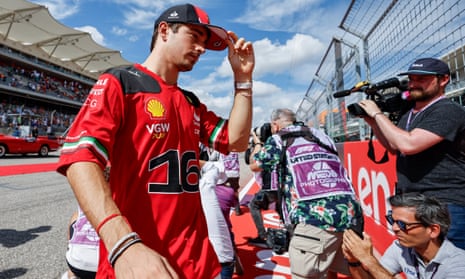 1. Charles Leclerc (Ferrari) – dueling with teammate Sainz for fifth place.
2. Lando Norris (McLaren) – had a rough go of it early in the season but is a solid seventh after some podium finishes.
3. Lewis Hamilton (Mercedes) – the seven-time champion is only 27 points out of second place.
4. Carlos Sainz (Ferrari) – the only non-Red Bull driver to win a race this season.
5. George Russell (Mercedes) – currently eighth behind fellow British driver Norris.
6. Max Verstappen (Red Bull) – clinched the season title … before the season started, it seems.
7. Pierre Gasly (Alpine) – in 10th by one point over Stroll.
8. Esteban Ocon (Alpine) – in 12th but close to Gasly and Stroll.
9. Sergio Perez (Red Bull) – desperately trying to hold off Hamilton for a 1-2 Red Bull season finish.
10. Oscar Piastri (McLaren) – ninth, far behind Russell but far ahead of Gasly.
11. Yuko Tsunoda (AlphaTauri) – just three points thanks to three 10th-place finishes.
12. Zhou Guanyu (Alfa Romeo) – multiply Tsunoda's results by two. He has six points from three ninth-place finishes.
13. Valtteri Bottas (Alfa Romeo) – 14th place, or first among the drivers with no hope of reaching the top 10.
*14. Kevin Magnusson (Haas) – the US team has only 12 points on the year. Magnusson has three of them.
15. Daniel Ricciardo (AlphaTauri) – the affable Australian was without a ride at the beginning of the season but was brought in to replace Nyck de Vries halfway through the season. He then broke a bone in his left hand and missed a few races but returns today looking for his first points of the season.
*16. Nico Hulkenberg (Haas) – the record-holder for most starts without a podium finish has nine points.
*17. Fernando Alonso (Aston Martin) – the 2005 and 2006 champion is only 18 points behind Hamilton in his quest to make the final podium.
18. Alex Albon (Williams) – currently 13th but would need to finish higher than his season-high seventh at some point to have a realistic shot at the top 10.
*19. Lance Stroll (Aston Martin) – sandwiched between Alpine's Gasly and Ocon in the race for 10th.
20. Logan Sargeant (Williams) – the only US driver in F1 has been shutout this season.
However — Haas and Aston Martin decided to tweak some things in their cars, which means they will have to start from pit lane. That means the actual bottom seven will be:
14. Ricciardo
15. Albon
16. Sargeant
Then Magnusson, Hulkenberg, Alonso and Stroll will emerge from pit lane like cicadas every 17 years.
Death. Taxes. Verstappen.
The champion has won 14 of 17 races this season. Will he struggle to make it 15 out of 18 after an error in qualifying left him sixth in the grid? Probably not, but we'll watch anyway as the global racing circuit tackles the intriguing speedway in Texas. At the very least, he'll have to pass someone – and we'll have some intriguing contests for the other places on the final podium as the season draws closer to its close.
Beau will be here shortly. In the meantime here's Giles Richards' look at F1's attempt to return a woman to the grid.