Having put in a real shift to win the US Grand Prix there was no little irony that it was at this race, amid an all-conquering season, that Max Verstappen was greeted with booing as he took to the podium. A shame, as it was undeserved. He won for the 50th time under the sort of pressure he has not encountered all year.
Verstappen has cantered to many of his 15 wins this season, a dominance that doubtless informed the reaction of fans at the Circuit of the Americas who gave him some stick as he collected the trophy but of those 15, this was one he had to earn.
Starting from sixth, struggling with a brake problem from lap one and faced with a strong Mercedes in Lewis Hamilton's hands and a resurgent McLaren with Lando Norris at the wheel, he was pushed to the flag.
Verstappen had but two seconds on Hamilton at the end, with Norris finishing third.
Yet credit to Verstappen – the Red Bull had the pace as it has all season but he had to deliver precision control over the 56 laps while managing his brake issue and in a tense final third as Hamilton pushed him to the limit.
Post-race, however, the FIA said that both Hamilton and Ferrari's Charles Leclerc, who had finished sixth, had failed the plank wear inspection on their cars. They were referred to the stewards and disqualified. The decision meant that Norris was promoted to second with Carlos Sainz making the podium in third. Sergio Perez moved up to fourth and extended his lead over Hamilton for second place in the drivers' championship. It was also good news for home driver Logan Sargeant: the American won his first F1 point after being promoted to 10th place.
Verstappen conceded how tough the race had been. "I was struggling a lot with the brakes, that definitely made my race a bit tougher," he said. "You can see it was very close at the end and with the tyres already going it makes it all a bit more difficult."
Indeed, mid-race, an exasperated Verstappen hurled abuse at his car, a mighty piece of engineering that has been beaten only once this year, indicative of how much he was struggling with the anchors.
Both Mercedes and McLaren had thrown everything at the Dutchman, not least in adopting alternative pit strategies to Red Bull, knowing that on pace alone they were still not able to match Verstappen.
Mercedes went for an offset, keeping Hamilton out longer in the first stops. It was a gamble and the team will now have to consider whether they waited just one or two laps too long but it was at least bold and delivered an immense finish as Hamilton closed on Verstappen, only to run out of laps.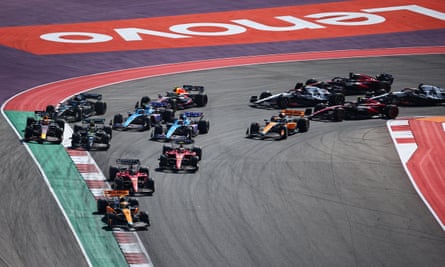 Mercedes had brought a major floor upgrade to Texas and Hamilton was enormously pleased with the performance, not least after he crashed out in the last round in Qatar.
"With my big mistake I feel like I let the team down so much," he said before his disqualification was announced.
"So I had to go in a deep process to get myself back to here and again it was one of those experiences of it's not how you fall, it's how you get back up. I came in fighting, felt great and I'm really happy with this result."
Norris, who took the lead from the start, drove another consummate race as he and McLaren secured an extraordinary turnaround for the team. They had started the season struggling while Aston Martin delivered a very quick car with Fernando Alonso scoring a string of podiums.
Two major upgrades have proved revolutionary, however. Before the first upgrade in Austria they trailed Aston by 137 points but they have since been hugely impressive.
They went into this race just six points behind Aston and now have a seven-point lead. The Woking team are on a roll and having taken fourth place in the constructors' championship are in every position to hold it in the remaining four meetings.