The US has said now is not the time for a ceasefire between Israel and Hamas, as the UN reports that some Palestinians who fled their homes in the north of Gaza have returned due to a lack of food and shelter in the south.
On Monday, White House national security spokesperson John Kirby told CNN that Israel still had "work to do to go after Hamas leadership", echoing comments from the US president, Joe Biden, that any discussions of a ceasefire could only take place if Hamas freed all its hostages in Gaza.
The statement from the White House was at odds with comments from UN and EU officials who on Monday called for a humanitarian pause in fighting so that aid could be delivered into Gaza.
The director of the UN agency for Palestinian refugees (UNRWA) in Gaza, Thomas White, told the BBC on Monday that a shortage of shelter, food and drinking water in the south had forced some residents to return to their homes in the north.
Israel delivered sweeping evacuation orders for almost half of Gaza's 2.3 million people on 13 October. The UN estimates that almost two-thirds of Gaza's population have been displaced over the last two weeks.
"People have left everything in the north … they've come to the south where they are struggling to find shelter, food is scarce, many people are having to drink unpotable water, so the situation in the south is dire," White told the BBC.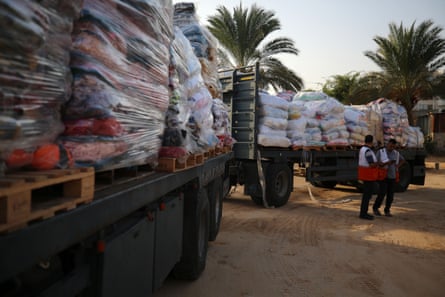 The Israeli military bombed a refugee camp in Gaza's north late on Monday, reports said. The IDF said the strike was targeting a staging ground for Hamas. Palestinian media reported that five people were killed.
Gaza's health authority, which is run by Hamas, has said at least 5,087 people have been killed in Israel's two-week bombardment – many of them women and children.
The conflict broke out after the Palestinian militants attacked southern Israeli communities on 7 October, killing 1,400 people and taking 222 hostages into the strip as bargaining chips.
Late on Monday, Hamas released two elderly Israeli women who were being held in Gaza – Yokheved Lifshitz and Nurit Yitzhak – after mediation with Qatar and Egypt.
Israeli media reported that the US and Qatar were trying to broker a deal in which 50 dual nationals held by Hamas would be released.
On Sunday it emerged that the US had pressed Israel to delay its expected ground assault on Gaza to allow time for the release of more hostages and the delivery of more aid.
The Maariv newspaper said the Israeli prime minister, Benjamin Netanyahu, and his generals were at odds over when to launch an expected ground invasion. Quoting unnamed senior Israeli officials, the daily said the Israeli leader was delaying it while there was still a possibility of returning the captives, and that the "initial phrase" of the Israeli offensive – airstrikes – was "not yet exhausted".
Netanyahu's office put out a statement on Monday night denying the reports of friction, saying: "The prime minister, the defence minister and the IDF chief of staff are working in close and full cooperation … there is total and mutual trust."
Israel pounded hundreds of targets in Gaza from the air on Monday, with a military spokesperson suggesting there was no intention of curbing its strikes on the densely populated area.
"The path is a path of unrelenting attacks, damaging Hamas everywhere and in every way, said Israeli Chief of Staff Lieutenant General Herzi Halevi, adding "we are well prepared for the ground operations."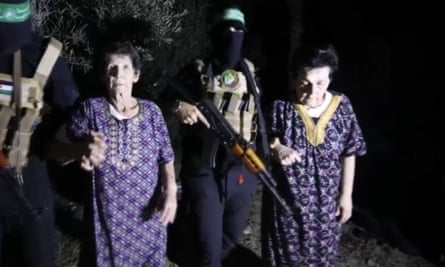 US officials speaking to the New York Times said the Biden administration was concerned that Israeli forces did not have a clear military plan of action to achieve their goal of eradicating Hamas.
Kirby said on Monday that since the start of the conflict Washington had been speaking with Israel to "ascertain their intentions, their strategy, their aims, to see what their answers are, to the kinds of tough questions that any military ought to be asking".
The Pentagon has sent military advisers, including a marine corps general versed in urban warfare, to Israel to aid in its war planning and has sent air defence systems to the Middle East ahead of an anticipated ground assault into Gaza.
Despite the US urging a delay, a member of Netanyahu's cabinet has said Israel will not hold off just because of hostages. In an interview with German tabloid newspaper Bild, Israel Katz, the energy minister, said everything would be done to bring the hostages home but that would not "hinder" the ground offensive.