Key events
2nd over: South Africa 30-0 (Bavuma 1, de Kock 23) Yikes. Quinton de Kock is in blistering form. "This is artistic stuff!" Yelps Mark Nicholas on the tv commentary as QdK hits his FOURTH boundary of the over off Shaheen. Two cover drives laced on the up through cover are followed by a flash outside off that flies to third over the slips. The fourth – the one that got Nicholas purring more than usual – a sublime clip wide of mid-on.
1st over: South Africa 11-0 (Bavuma 1, de Kock 5) Iftikhar spears the first ball of the over down the leg side for five wides. Ah. Not the start Pakistan were after. Bavuma nudges a single to bring his partner on strike. Shot! What problems against spin? Quinton gets on the front dog and drives handsomely for four.
There's a lengthy pause here whilst Shadab gets some medical attention. He pulled off some nifty fielding at backward point but seems to have jarred his head on the ground. Worryingly the stretcher is brought on but thankfully Shadab is well enough to walk off, he looks mighty pale and is perhaps a bit concussed.
Here come the South Africa openers, Temba Bavuma and Quinton de Kock. Spin to start, Iftikhar is going to open the bowling with his tweakers. That's with de Kock in mind even though Bavuma is on strike first up.
The lights are beating down through the inky Chennai sky – it looks hot and humid. At least from where I'm sat in a misty and mellow Northumberland. Pakistan form a huddle and then spread to their positions.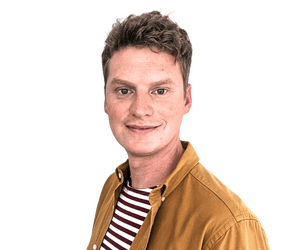 James Wallace
Thanks Tanya and hello all. A sapping four hour stint in the field for the Proteas, can Pakistan capitalise with some early scalps? They need to in order to keep any realistic hopes of progression alive.
The TV shows a mini-documentary about the 1999 Pakistan side and Shoaib Akhtar, serious wheels. As I brew up a quick pre-innings cuppa I'll just pop these (entertaining) thoughts from the curtain haired speedster here for your delectation. It would be great to see Pakistan come out roaring with the ball eh?
South Africa need 271 to win
A familiar story for Pakistan, of batters getting in but unable to accumulate a big score. Fifties for Saud Shakeel and Babar Azam and a brisk 43 from Shadab Khan add up to a steady but not intimidating total. Pakistan will need their attack to bristle into action, unlike against Afghanistan. It is, though, South Africa this time who have spent a sapping four hours in the heat – will that make a difference? Jim Wallace will guide you through their innings. Thanks for the emails, I'm off to grab lunch – though sadly not the one of Kim Thonger's dreams. Bye!
Wicket! Mohammad Wasim c de Kock b Ngidi 7 (Pakistan 270 all out)
46.4 overs: Pakistan 270-10 (Haris Rauf 0) Two wides from Ngidi are tucked into Pakistan's pocket, but that's their lot as Wasim misses a ramp before getting a kiss of an edge onto an extravagant drive.
46th over: Pakistan 268-9 (Mohammad Wasim 7, Haris Rauf 0) Jansen: a couple of singles then a wide. Nawaz does well to dig out a yorker but can't resist having a go and edges one into the dusk and down into Miller's paws. Pakistan's final pair need to somehow eek something out of the final four.
WICKET! Nawaz c Miller b Jansen 24 (Pakistan 268-9)
Awesome catch by Miller at backward point, watching the swirling ball and collecting it as he slid onto his back.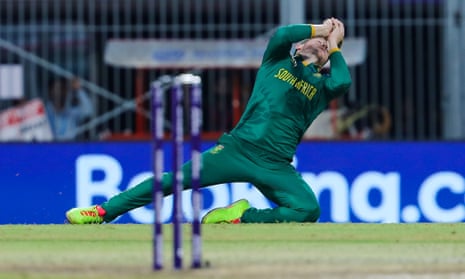 45th over: Pakistan 265-8 (Mohammad Nawaz 23, Mohammad Wasim 6) Shamsi tosses his penultimate ball up, and Wasim shimmies him over long on for six. Shamsi roars at the world in two-fisted disgust. Pakistan live to play another over.
WICKET! Shaheed Shah Afridi c Maharaj b Shamsi 2 (Pakistan 259-8)
Bavuma brings in the slip, and Afridi obliges.
44th over: Pakistan 259-7 (Mohammad Nawaz 23, Shaheen Shah Afridi 2) Jansen returns. Hits Nawaz on the boot, but shakes his head at Bavuma who asks if he wants to review. Only two from the over, until the sixth is a wide, and the seventh – flying past leg stump. The final last ball is flapped over the rope by Nawaz and two becomes eight.
"Many of us are hoping to lunch well today," taps John Starbuck. "I'm waiting for this innings' end before tucking into a recently-baked loaf, probably with farm-shop ham and mustard. My wife was able to forget to remember to baguette by taking out the right dough from the freezer last night, so it's a case of making do, but making do in a most superior way."
43rd over: Pakistan 251-7 (Mohammad Nawaz 17, Shaheen Shah Afridi 2) A priceless wicket, but a no-ball brings a free hit that Nawaz knocks into the night.
WICKET! Saud Shakeel c de Kock b Shamsi 52 (Pakistan 240-7)
Shamsi follows up a filthy wide with a legbreak that fizzes, Shakeel goes for broke and gets an edge. He's furious with himself as he trudges off; Shamsi unleashes a double-fisted roar.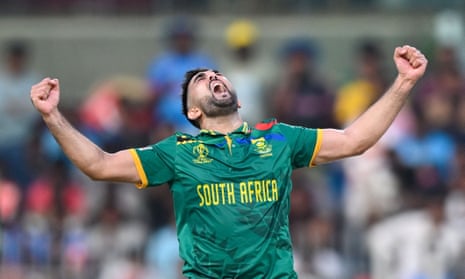 42nd over: Pakistan 239-6 (Saud Shakeel 52, Mohammad Nawaz 9) Nawaz eyes up a short ball and, with a little leap, upper cuts Coetzee neatly for six. Deftly done.
41st over: Pakistan 231-6 (Saud Shakeel 52, Mohammad Nawaz 1) Shakeel collects fifty, diving for the crease, going for the second. Six off Shamsi. In the dug-out, Shaheen Shah Afridi grins and chews gum. Pakistan could do with something special from him after the break.
"Good afternoon Tanya," hello Kim Thonger.
"I'm sitting in a lovely French establishment in Lamb's Conduit Street with a coffee, catching up on the Pakistan innings. This place sells some of the finest cheese and cakes known to mankind, and makes me think that what the England side need to snap them out of their malaise is a long lunch in somewhere like this, with aperitifs and digestifs and good wine in between, then a long afternoon nap, at the end of which it will all seem like a bad dream, and they can reset themselves and climb the mountain again. A change is as good as a rest!"
Never mind England, I'll take that please. Seems more a Baz solution than a Matthew Mott one.
40th over: Pakistan 225-6 (Saud Shakeel 47, Mohammad Nawaz 0 ) The sun starting to drop in Chennai as Shadab is done by the short ball. A cracking innings, 43 off 36, but unable to take it deep into the final ten. Coetzee, dripping in sweat, accepts the plaudits.
WICKET! Shadab Khan c Maharaj b Coetzee 43 (Pakistan 225-6)
Shadab pulls a short ball high, can't make enough room, and is caught at midwicket.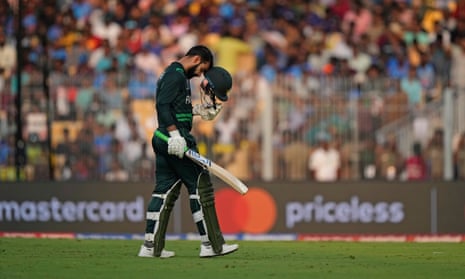 39th over: Pakistan 222-5 (Saud Shakeel 45, Shadab Khan 42) Ngidi sends down a short fat pie and Shadab rotates the oiled wrists and beats a chasing Bavuma to the rope. No more boundaries but eight from the over. Run predictor suggests just over 300 – they'd do well to get that, but a more better position for Pakistan than looked likely ten overs ago.
38th over: Pakistan 214-5 (Saud Shakeel 44, Shadab Khan 35) Shadab, again, a flick for four, velveteen. Then Shakeel's turn: a cheeky step and scoop to the rope. Coetzee shakes his head: 13 from the over.
37th over: Pakistan 201-5 (Saud Shakeel 37, Shadab Khan 29)Ngidi replaces Maharaj and brings some control. The Pakistan 200 up with a single.
36th over: Pakistan 198-5 (Saud Shakeel 36, Shadab Khan 27) Shadab is on the ground with cramp, guzzles liquid, then the physio forces his legs into some flexible stretches. After four or five minutes, we restart. Coetzee with the ball. Four – a gorgeous, wristy loft and pick up by Saud Shakeel. Four more, hollered over the midwicket boundary. Pakistan starting to rock.
35th over: Pakistan 189-5 (Saud Shakeel 28, Shadab Khan 26) Maharaj, stubble, worries in. Gorgeous shot by Saud Shakeel, quick steps down the pitch and leans the ball over long off for four. In those gorgeously canopied and shaded stands, the crowd are goaded into enthusiasm by the DJ.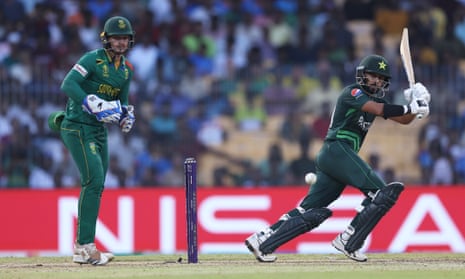 34th over: Pakistan 183-5 (Saud Shakeel 23, Shadab Khan 25) South Africa flying through these middle overs, Shamsi in spearmint boots. Shadab has tasted blood, takes what looks like too large a stride forward, but he knows what he's doing, sends the ball high and over mid off for six.
33rd over: Pakistan 174-5 (Saud Shakeel 21, Shadab Khan 18) Shadab ramps Maharaj for a cheeky four. Then slams the front foot and pulls him, with vim, for SIX. Delicious intent.
32nd over: Pakistan 148-5 (Saud Shakeel 20, Shadab Khan 7) Had to answer the door and find a dog towel, but in the meantime Pakistan squeezed eight from Shamsi's over, including a boundary for Shakeel.
31st over: Pakistan 148-5 (Saud Shakeel 14, Shadab Khan 3) Shadab restarts after the drinks break by opting for an impossible single -swiftly sent back by Shakeel. He then pulls and misses twice in succession – this has the air of an innings limping to a conclusion. Runs at last, a squirt, four reduced to two by some superb fielding on the rope by VDD.
30th over: Pakistan 148-5 (Saud Shakeel 14, Shadab Khan 3) Shamsi, animated, nods here, points there. Three singles, three dot balls and a DRINKS break.
29th over: Pakistan 148-5 (Saud Shakeel 13, Shadab Khan 1) Shadab must face Jansen immediately, off the mark with an unconvincing single. A wide brings some relief for Pakistan, South Africa's eleventh extra, and Shakeel picks up four from the last ball.
28th overs: Pakistan 141-5 (Saud Shakeel 8, Shadab Khan 0) Babar can't believe it, and a mega blow for Pakistan, whose innings hits the wobble stage.
WICKET! Babar Azam c de Kock b Shamsi 50 (Pakistan 141-5)
There's a splinter of a spike on the replay – fabulous review by Bavuma and great take behind the stumps.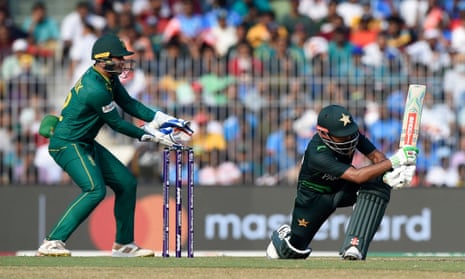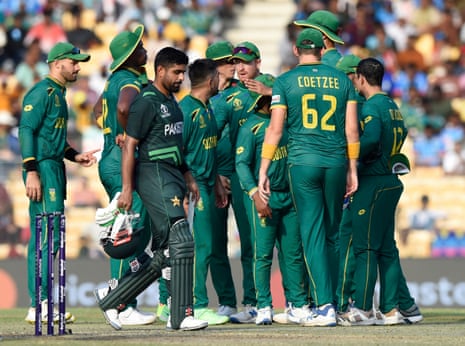 27.5 overs: Pakistan 141-4 (Babar Azam 50, Saud Shakeel 8) Shakeel sweeps the square-shouldered Shamsi, stocky for a spinner, touch of the bar bouncer in his tread. Four fizzes over the rope. Babar kneels down for the sweep but is beaten. It looks as if he misses it, de Kock isn't that excited, but with one second left, South Africa go for the REVIEW…..
27th over: Pakistan 136-4 (Babar Azam 50, Saud Shakeel 3) A nice reception from the good crowd for Babar's fifty, which he picks up with a single off the boot, but he barely raises his bat. Saud can only pick up a single from five balls of Ngidi.
26th over: Pakistan 134-4 (Babar Azam 49, Saud Shakeel 2) A no ball, but Babar can only take a single off the free hit. Another rebuild required here from Pakistan, with nearly half the innings left.
WICKET! Iftikhar c Klaasen b Shamsi 21 (Pakistan 129-4)
Going for glory on one leg, but hits too high and not long enough, safely into the hands of Klaasen on the rope. Iftikhar punches the air with happy fury. Iftikhar bangs his bat on the ground in disgust.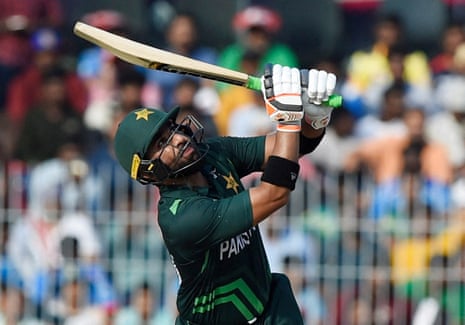 25th over: Pakistan 129-3 (Babar Azam 47, Iftikhar 21) Ngidi, who has spent sometime off the field, returns, and immediately leaks runs as Iftikhar loops him through midwicket for four. The crowd bubble at the prospect of a Babar fifty, but he flirts with danger dabbing behind only just short of the keeper. At the half way stage, Pakistan's run rate is 5.16.
24th over: Pakistan 124-3 (Babar Azam 47, Iftikhar 16) Singles, singles: Babar lucky to escape trying to flambe a legbreak, and missing.
23rd over: Pakistan 120-3 (Babar Azam 45, Iftikhar 14) Maharaj again. A mix-up in the middle brings a run-out chance, but Babar is well in, bat grounded to the text-book . A superb bit of fielding by Bavuma denies Babar a single, but he rocks back next ball and roasts the ball over midwicket for SIX.
22nd over: Pakistan 113-3 (Babar Azam 38, Iftikhar 14) Shamsi, green towel in his trouser elastic, left arm slingy ation. Only singles again for Pakistan. Where will they tuck in?