Key events
GOAL! Belgium 2-2 England (Wullaert 45+6)
A simple long pass down the middle rips England open. Wullaert gets ahead of Carter and Bright and doesn't let her lead in the chase slip. She takes a touch to the right, before arrowing a low drive across Earps and into the bottom left. What a finish by the Belgian captain!
45 min +5: England continue to dominate possession. They stay patient, pinging it around the middle, this way and that. Suddenly Walsh, who is beginning to pull strings, whistles a pass down the right channel and nearly releases Kelly. Not quite, but that's a fine example of the patience Sarina Wiegman was preaching before the game.
45 min +3: Detruyer is booked for making sure Bronze doesn't take a quick free kick.
45 min +1: Stanway sends an effort high and wide left. Belgium could do with hearing the half-time whistle, but there's a big problem with that.
45 min: There will be 14 minutes of additional first-half time. "Wow – you don't see many like that header by Bronze," writes Charles Antaki. "Crouching, waiting, sizing up a target 15 m away, then applying just exactly the right amount of force to send it over the keeper and safely into the net. Brilliant."
GOAL! Belgium 1-2 England (Kirby 44)
This is simply sensational. A long pass down the left for Hemp to chase. She cuts back into the box, glides past two defenders left in the dust, then tugs back for Kirby, who opens her body and slots confidently across Evrard and into the bottom right. What a dribble, what a finish, what a return to international football after a year out for Fran Kirby!
42 min: De Neve can't continue, and is replaced by Wijnants. When play restarts, England nearly take the lead. Walsh, quarterbacking from deep, sprays a delightful diagonal pass towards Bronze, bursting into the box down the inside-right channel. Bronze heads. Evrard parries. Russo can't guide the rebound into the unguarded left-hand side of the net, sending her instinctive shot wide. So close.
41 min: Kelly drifts in from the right and sends a bobbling, dipping shot inches wide of the bottom left. Evrard had it covered.
40 min: England want a second, and press Belgium back. The hosts still haven't decided what to do with De Neve, who appeared to have pulled something when hacking clear.
GOAL! Belgium 1-1 England (Bronze 38)
Before Belgium can make their sub, England equalise against the 11 women! Kelly curls the free kick long from the right. Bronze rises on the left-hand corner of the six-yard box and sends a looping diagonal header over the stranded Evrard and into the top right!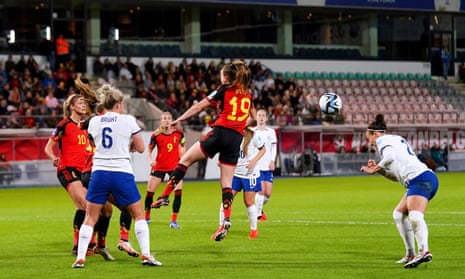 36 min: Bronze makes good down the right and wins a cheap free kick off the clumsy Detruyer. But before it can be taken, De Neve goes down, the physio comes on, and the internationally recognised mime for substitute is performed. Not sure she'll be able to continue.
35 min: England do their best to get back to business, and Kelly sends a corner in from the right. Evrard claims it well.
33 min: Blom has been cleared to continue, by the way. The top of her head is swathed in bandages, bar a space for a topknot. A relief that she's healthy. Play restarts though everyone's clearly a little bit distracted.
31 min: Greenwood is carefully transferred onto the stretcher and a warm ovation ripples around Den Dreef as she is taken down the tunnel. Godspeed Alex Greenwood. Carter comes on in her place.
29 min: As the physios continue their work on Greenwood, both sets of players keep warm by gathering in separate circles and pinging passes to each other. Both teams clearly trying to keep their minds on the job, but it's difficult in such circumstances, and the concern is etched obvious on every single participant.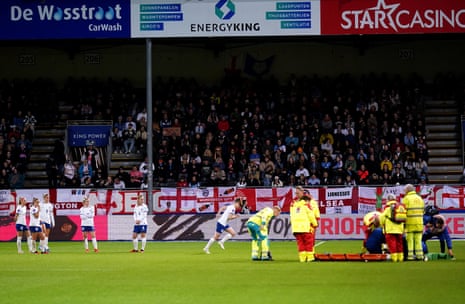 27 min: They're taking their time with Greenwood, putting a neck brace on before loading her onto a stretcher. Hopefully this is all simply precautionary, and they're taking no chances. They're quite rightly taking as long as they need to ensure Greenwood is safe and healthy.
25 min: Blom is up and appears to be fine to continue … but having gone over to check on the stricken Greenwood, looks fairly shaken and upset. It was a completely honest and accidental collision between two players competing hard for the ball, but her distress is totally understandable.
23 min: The England physios are taking their time to administer the proper care to Greenwood. Meanwhile Blom has been properly bandaged up, her head fully wrapped. Perhaps she'll be able to continue?
21 min: Greenwood is face down on the turf and hasn't moved at all. The stretcher is called for. It very much looks like she'll not be able to continue. Blom doesn't look in a great way either, but thankfully she's sat up, albeit only so she can get a bandage pressed onto the top of her head.
19 min: Blom and Greenwood both duck into a shoulder-high heading contest for a 50-50 ball … and both take a sore one as their heads collide. That was a full-blooded challenge with a very unpleasant outcome. Both players stay down and on come the physios.
18 min: Bronze tries to release Hemp down the inside-right channel, but the goalscorer De Neve comes across to shepherd the ball out for a goal kick. For all of England's possession, Evrard hasn't been forced into serious action yet … and look at the score.
16 min: Hemp has the beating of Deloose down the right. She sashays past but her cutback isn't quite as composed as the run. But England come again, Walsh shoveling a pass down the right for Bronze, who stretches to cross only for the offside flag to pop up. England are getting a lot of joy down this flank.
14 min: Charles and Hemp combine well to win a corner down the left. Kelly whips dangerously towards the near post. Belgium just about clear their lines, but England come straight back at them and Bronze pearls a long-distance effort inches over the bar.
12 min: That was an exceptional free kick by De Neve … but England played a role in their own downfall there, first by the loose pass from Kelly, which gave Belgium their first impetus of the evening, then when Kelly looked to buy a cheap free kick only for the decision to go the other way. Mistakes cost England in the Netherlands; they'd like to avoid a similar self-defeating story tonight.
10 min: England respond immediately through Bronze, who wins a corner down the right. Kelly takes long. Vanhaevermaet heads clear at the far post.
GOAL! Belgium 1-0 England (De Neve 9)
De Neve takes a one-step free kick, curling it over the wall and into the right-hand side of the net. Simple as that! Earps stunned with no chance! Such a brilliantly placed free kick!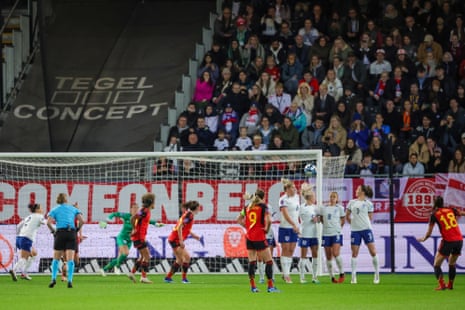 8 min: Kelly goes over under pressure from Kees from behind. She expects a soft foul to be punished, but the referee sees nothing in the shove. Instead it's a handball by Kelly, just to the right of the D.
6 min: Most of the early play is happening in the Belgian half … hold on! Scrub that! Kelly gives the ball away cheaply in midfield, allowing the hosts to counter. Suddenly Wullaert is tearing clear! She aims for the top left … but Earps palms around the post. But no matter, because the flag goes up for offside.
5 min: Bronze slips Russo into space down the right. Russo has the jump on Deloose … but she'd gone way too soon. Up pops the flag.
4 min: Russo is impeded out on the left flank and it's an early chance for England to send a free kick into the Belgian box. Kelly to swing it in. Evrard punches miles clear with confidence.
3 min: Since you ask, the brass band are playing a version of The Final Countdown by Europe. A strange choice for the first couple of minutes, but each to their own.
2 min: The Den Dreef is packed to the rafters. Some brass-band-based bedlam. But a quiet start on the field.
England get the ball rolling … but only after taking the knee.
The teams are out! Belgium in red, England in white. Once the anthems are done, we'll be up and running.
Belgium boss Ives Serneels takes his turn. "We enjoyed Friday … we try to do the same way but maybe enjoying a little bit more with a better result … we like to play here in Leuven … we like the stadium, our fans like it."
Sarina Wiegman speaks to ITV. "We expect that we will have the ball a lot and be close to the final third of the opponent … I hope Fran Kirby brings us calmness, the final pass, patience … Niamh Charles has developed very well, she played a good game on Friday, she is very attacking … the biggest thing for us is in possession, final third, being even more patient, finding the right pass, have the right connections … just a little more to make goals out of the chances we create … we approach every game to win … we want to reach the final and win the Nations League so we want to win this game … we will be very motivated."
England make one change from Friday night. Fran Kirby is back and replaces Ella Toone, who drops to the bench.
Belgium make two changes. Jassina Blom and Sari Kees return from injury so Feli Delacauw and Jody Vangheluwe drop to the bench.
Belgium: Evrard, Kees, Deloose, De Neve, De Caigny, Cayman, Vanhaevermaet, Detruyer, Missipo, Wullaert, Blom.
Subs: Lemey, Lichtfus, Philtjens, Vangheluwe, Van Belle, Littel, Iliano, Delacauw, Daniels, Wijnants, Fon, Janssens.
England: Earps, Bronze, Charles, Bright, Greenwood, Walsh, Kelly, Stanway, Kirby, Hemp, Russo.
Subs: Roebuck, Hampton, Keating, Carter, Wubben-Moy, Morgan, Le Tissier, Zelem, Toone, Clinton, Daly, Park.
A big test awaits England in Leuven tonight. Group A1 currently looks like this …
Netherlands 6pts (+4)

England 6pts (+1)

Belgium 4pts (0)

Scotland 1pt (-5)
… so while Sarina Wiegman's side aren't yet in must-win territory, they don't have too much in the way of wriggle room. The Lionesses have yet to hit the heights in this Nations League campaign, doing just enough to squeak wins against Scotland and Belgium, and going down to a careless defeat against the Dutch. "We want to improve on our game," says Wiegman, and they may need to against a Belgian side who impressed in Leicester last Friday and have already seen off the group leaders at home. With the Netherlands expected to see off the Scots at Hampden this evening, any dropped points will crank up the pressure on England ahead of December's double-headed denouement against the Dutch and Scotland. Big test tonight all right, then. Kick off is at 7.30pm GMT. It's on!