Key events
Everton 1-0 Brighton: David Wall get in touch, "i think this is a really interesting period for Brighton and De Zerbi. Since he took over it's been a pretty consistent upward curve for them, and he's become the manager-in-fashion that people are talking about admiringly, and that many more high profile clubs would try to poach if they want to change manager. But Brighton's recent results have been pretty poor and it's only their excellent start to the season that is keeping them around the top end of the table. As things stand they'd be below Manchester United! It's a good test for De Zerbi, to see if he's able to adapt things when they're not getting results, as opposed to just implementing a style of play and letting results come and go as they may. If he can show that then it's sure-up his status as the next big managerial thing."
Goal! Manchester City 4-1 Bournemouth (Sinisterra, 75)
City have stepped off and paid the price, a long ball out and Sinisterra scores.
Goal! Brentford 3-2 West Ham (Collins, 70)
Nathan Collins scores his first goal for Brentford in a minor London derby classic, and it was set up by a great cross by Mathias Jensen.
Oh dear, Swindon,
Goal! Sheffield United 1-0 Wolves (Archer, 72)
Cameron sublime Archer's finish has given Blades the chance to win a first win of the season.
Manchester City 4-0 Bournemouth: City withdrew Erling Haaland due to an apparent injury at half-time but his replacement, Foden scored.
Everton 1-0 Brighton: I'm still waiting for an explanation as to why Dunk's goal was given offside," says Tony Rutt. "He was onside and the player in the middle wasn't interfering."
Goal! Manchester City 4-0 Bournemouth (Foden, 64)
City get the overload and Foden glides through in that skating style of his and slots home.
Joe Pearson, the truest of heads, gets in touch: "First ever gigs! Great topic! For me it was June 1971. Saw Spirit (with opening act Rastus) at Clowes Hall on the Butler University campus here in Indianapolis. I mainly went to see Rastus, who were a horn band like Chicago, but cooler."
Ant in Alicante gets in touch: "Very little excuse needed to bring up Cud in the conversation! Apart from the belter you mentioned, my fondest memory of them was their astonishing version of Bohemian Rhapsody for that anti-Poll Tax album back in the day."
They also did a mean version of the Quo's Down Down.
Goal! Brentford 2-2 West Ham (Mavropanos, 55 OG)
The Bees find their way back and the former Arsenal man can't help but head past Areola.
Wayne Rooney's Birmingham are leading Ipswich 2-0 after an own-goal. "Rooney, Rooney," they sang.
In the FA Cup: Marine are now losing 1-3 to Harrogate. Meanwhile, Swindon 0-5 Aldershot looks the score of the round so far.
From Caledonia, Simon McMahon: "United – Inverness goalless at half time, John. Maybe Big Dunc will bring himself on? Still looks fit enough."
Brentford 1-2 West Ham: Bees keeper Mark Flekken is injured, and on comes Thomas Strakosha.
Ben Dakin gets in touch: "What a delight to see Leeds' finest appear in the clockwatch feed. Worth a mention they are playing the 02 Academy tonight with The Boo Radleys – on at 7pm. They are still the finest live experience – like a fine wine, they get better with age!!"
Cud were on the bill of my first ever gig. With Pixies and The Real People.
Manchester City 3-0 Bournemouth: Dom Solanke has just had a goal disallowed for the visitors. But denied by offside and the subsequent VAR check.
The second halves are underway…
Dominic Booth is at Bramall Lane: "Readers will note the lack of mention for Sheffield United 0-0 Wolves so far on today's clockwatch. Yet anyone who witnessed that first 45 minutes at Bramall Lane will surely forgive such an oversight. It's been low quality stuff. Wolves have, predictably, enjoyed the better of proceedings, but their finishing has been abysmal at the crucial moments. Hwang Hee-Chan took a horrendous swipe at one, slicing it, and Nelson Semedo's decision to pass instead of fire in at the near post was baffling. The locals are a bit restless at the Blades' performance. They, like this game in general, have been sub-optimal."
In the Championship, Wayne Rooney's Birmingham are leading Ipswich 1-0, thanks to Jay Stansfield, on loan from Fulham.
Half-time: Brentford 1-2 West Ham
A lively game in which there's been plenty of chance but the Hammers have been the better finishers. Jarod Bowen's goal had a whiff of offside about it.
Half-time: Manchester City 3-0 Bournemouth
City utterly dominant. It's now a question of whether they step off the gas or not.
Half-time: Everton 1-0 Brighton.
VAR and some good Everton defending has kept Brighton at bay.
Half-time: Sheffield United 0-0 Wolves
Wolves have had the better of it, with Sasa Kalajdzic going close in the last few moments.
Half-time: Burnley 0-1 Crystal Palace
There's boos as the teams leave the field. Marc Guehi is in the face of the referee and is booked.
Everton 1-0 Brighton: More from our correspondent. "Should be said Everton had 22% possession in May and won 5-1 away to Brighton."
In the FA Cup, Whitby Town are 4-1 down at Bristol Rovers.
More on Emma Hayes, with rumours (rumors?) suggesting she is headed for the USWNT.
Everton 1-0 Brighton: From our correspondent: "Just your 83% possession for Brighton." Just how Sean Dyche wants it?
Goal! Manchester City 3-0 Bournemouth (Akanje, 38)
Doku is taking Bournemouth apart, scoring one, assisting two. This could get very ugly. Or beautiful if you are City. Doku's shot comes off Akanje's back.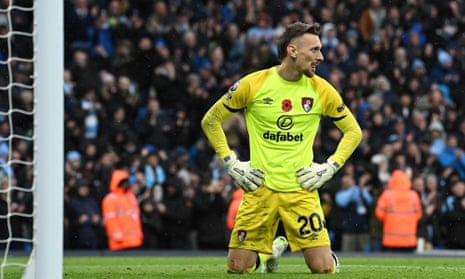 In the Championship, Barry Bannon has been sent off for bottom club Sheffield Wednesday against Bristol City.
Goal! Manchester City 2-0 Bournemouth (Silva, 34)
Doku is running the show, and takes Mepham asunder and sets up Bernardo Silva. City will be top of the league at the end of the 3pms. Pressure is then placed on Arsenal at Newcastle.