Key events
'Brits have fallen back in love with M&S' – analyst
The M&S results show that "Brits have fallen back in love with M&S," said Robyn Duffy, senior analyst at the consulting firm RSM UK.
With like for like sales for food up 14.7% and driving sales overall, investment into reviving the business has paid off. Last year's acquisition of Gist – a deal geared to improve the food supply chain network – has enabled M&S to be more competitive on price without compromising on quality – appealing to today's price sensitive consumer.

Clothing and home also performed strongly despite headwinds in the market and unseasonal weather in September which caused weak sales across the industry. M&S benefit from having a greater footprint in their clothing business, in terms of school uniforms and under-garments, giving them an edge at this time of year. Its laser-focus on full price sales during the period, coupled with refinements to ranges has also boosted margins. A crucial win for any retailer coming out the other side of a cost-crisis where margins have been squeezed.

The business is seeing more 'normal' trading patterns with stores now outperforming online. It still has a way to go in terms of improving its digital footprint. But with the 'click and collect' model outperforming last year, and its partnership with Ocado in the early stages returning back to profitability, M&S is on track with further investment in data, digital and tech to enhance its online offering.

Overall, M&S continues to be the darling of the high street and this looks set to continue into 2024 with anticipated robust year-end results, despite choppy economic waters ahead. Key investments have allowed M&S to meet their customers needs and a clearer 'less is more' strategy is paying off.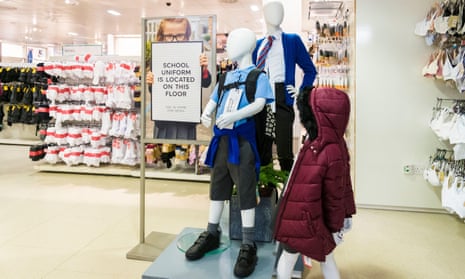 Analysts at Jefferies, led by Frederick Wild, said:
The exceptionally strong first half at M&S confirms the company is benefiting from the same trends as Next on the clothing & home side and Tesco/Sainsbury's on food.
City veteran David Buik tweeted:
Richard Lim, chief executive at the consultancy Retail Economics, said:
The retailer continues to showcase a mightily impressive turnaround of the business with these latest figures demonstrating significant improvements in sales and profitability. Their renewed product focus, investment in omnichannel and sophisticated use of data has been supercharged by a reenergised culture.

However, the outlook remains challenging with the combination of higher interest rates, weaker economic growth and geopolitical events creating significant uncertainty.
Charlie Huggins, manager of the quality shares portfolio at the Wealth Club, has looked at M&S.
In a difficult trading environment M&S has delivered excellent results, with notable progress in food and clothing and home, and both businesses outperforming the market. With momentum having continued into October, the turnaround plan to revitalise the brand and reignite growth is well on track and the group can look forward to the Christmas period with confidence.

The clothing and home division has been a problem child for M&S for many years. The new strategy, launched last year, aims to improve brand perception and designs, reduce discounting and improve the online offering, while taking a knife to costs and instilling a more entrepreneurial culture. Early signs are this plan is resonating with consumers.

However, pressure on the UK consumer could intensify heading into 2024 as the impact of higher interest rates really starts to bite. This, combined with tougher comparatives means M&S is striking a tone of caution looking ahead to the second half. This may disappoint investors.

Overall, M&S is delivering strongly on the things it can control and seems to be in a much better place now than it was a few years ago. However, it isn't fully in charge of its own destiny and is heavily dependent on consumer confidence, where uncertainties still abound.
In Germany, inflation has slowed although consumers are still struggling with higher food and energy prices.
Inflation slowed to an annual rate of 3% in October, from 4.3% in September on the harmonised index of consumer prices, which is comparable to other EU countries. The federal statistics office confirmed a preliminary estimate.
Inflation measured by the consumer price index slowed to 3.8% from 4.5%, the lowest since August 2021.
Ruth Brand, president of the Federal Statistical Office, said:
Compared to the medium-term and long-term figures, the inflation rate remains high, however. In particular, consumers are still feeling the higher food and energy prices, which have risen during the extended period of war and crisis.

Currently, the price increase at consumer level is slowing down somewhat. The year-on-year rate of increase in food prices has continued to fall, and the prices of most energy products were even lower compared with the previous year.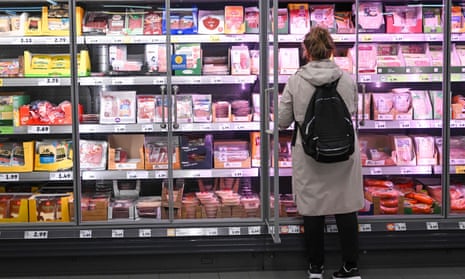 Introduction: M&S posts better-than-expected 75% jump in profits
Good morning, and welcome to our rolling coverage of business, the financial markets and the world economy.
Marks & Spencer has enjoyed much better-than-expected profits in its first half, but warned of an uncertain outlook.
M&S achieved the leading position in womenswear in the summer for the first time in four years, and took a 9.5% slice of the UK's clothing & footwear market.
The department store chain reported a 75% jump in pretax profits excluding adjusting items to £360m for the 26 weeks to 30 September.
It also said it reduced the amount of items sold at discount. Sales of women's denim and casual trousers climbed 17% while holiday wear was up 18%. Prices were frozen on school uniforms for the third year in a row, and M&S said improvements to kids' casual clothes drove sales growth.
Food sales rose 14.7% while clothing & home sales were up 5.7%. M&S said its Christmas ranges were popular with customers.
The retailer said:
Trading momentum has been maintained through October and we are planning for a good Christmas, with customers already responding positively to our ranges.

However, as we enter 2024, we are not relying on the favourable recent market conditions persisting. The outlook remains uncertain with the probable impact on the consumer of the highest interest rates in 20 years, deflation, geopolitical events, and erratic weather.
Jeremy Hunt risks condemning Britain to a decade in the doldrums unless he uses this month's autumn statement to announce a £30bn-a-year investment plan to upgrade public infrastructure, a leading thinktank has warned.
The National Institute for Economic and Social Research (NIESR) said the chancellor should ignore calls by Tory MPs for pre-election tax cuts and instead focus on measures to boost growth through improvements to transport, digital networks, skills and housing.
In their quarterly update on the state of the economy, researchers at the thinktank said Hunt had more scope for a bold package than generally believed, because the freezing of income tax allowances and thresholds at a time of high inflation had resulted in stronger-than-expected growth in government revenues.
Britain's housing market is past "peak pain" and prices look likely to bottom out by next summer, according to the estate agency Savills.
The average UK house price is projected to fall by 3% in 2024, after a 4% drop this year, the upmarket estate agent and property advisory firm said in its five-year outlook.
Prices held up slightly better than expected in 2023, according to Savills, as mortgage markets settled over the spring and autumn months, after the chaos unleashed by Liz Truss's mini-budget just over a year ago. Property values are estimated to be down a total of 7% since the autumn of last year to the end of 2023.
Savills expects the Bank of England to start cutting interest rates in the second half of 2024, reducing its base rate to 4.75% by the end of that year, from 5.25% now. The property company forecasts rates will fall to 1.75% in 2027.
The Agenda