Key events
… and with that, I'll tap out. Niall McVeigh will bring it home!
Brighton top Group B, for a couple of hours at least …
… while Group E is suddenly much closer than Jurgen Klopp would like.
FULL TIME: Toulouse 3-2 Liverpool
What an ending! Liverpool won't be happy with the hand-ball decision … Jurgen Klopp has a short conversation with the ref … but there's no question Toulouse were deserving of their victory.
NO GOAL! Toulouse 3-2 Liverpool
The goal is chalked off! A handball by Mac Allister! The referee had pointed to the centre spot for the goal, only to be re-routed to the VAR screen. Earlier in the move, Mac Allister had chested a loose ball down, only for it to scrape the inside of his arm. Right on the t-shirt line! As close as you like, but it's a call that could go either way, and it doesn't go for Liverpool.
FULL TIME: PAOK 2-2 Aberdeen
The Dons aren't out yet!
GOAL! Toulouse 3-3 Liverpool (Quansah 90+7)
The ball bounces around the Toulouse box. Bedlam! It breaks to Quansah on the penalty spot. He slams home and Toulouse are heartbroken!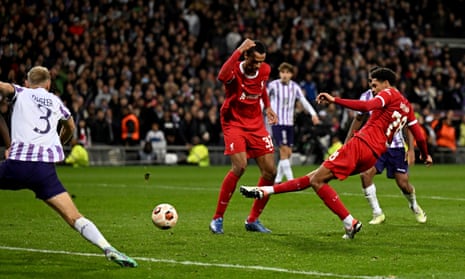 FULL TIME: Ajax 0-2 Brighton
A huge result for the Seagulls in Amsterdam!
Toulouse 3-2 Liverpool. Gomez somehow digs out a cross from a tight spot on the right. Jota brings it down at the far stick but can't get a shot away, and eventually concedes a foul that allows the hosts to run the clock down. Toulouse so close to a famous victory now!
PAOK 2-2 Aberdeen. Two minutes into the added seven at the Toumba Stadium. Taison with a free kick out on the left. He fizzes it into a crowded box. Some bagatelle. Aberdeen clear. Their European adventure is hanging by a thread, but it's not over yet.
Toulouse 3-2 Liverpool. There will be seven extra minutes. Can Liverpool somehow scramble an unlikely point? "While I agree that Jürgen Klopp's angry smile can be bone-chilling, I think what truly sets him apart is his ability to gnash his teeth in an almost impossible horizontal grinding motion. He is an absolute dentality monster." A round of applause for Peter Oh, ladies and gentlemen. He's here all week. Try the fluoride gum.
GOAL! Toulouse 3-2 Liverpool (Jota 89)
Mac Allister's tenacity wins the ball 40 yards out. He spins and feeds Jota, who dribbles right to left, enters the box, and fizzes a forensic shot past the keeper. Too little, too late.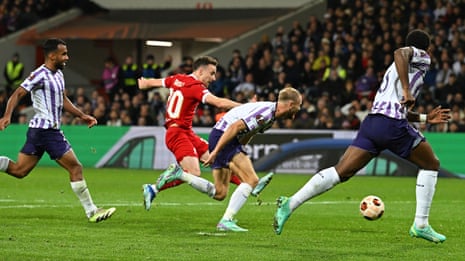 Ajax 0-2 Brighton. Ajax paint some pretty triangles as they work the ball in from the right flank. Suddenly Akpom is free on the penalty spot. He puts his foot through the ball; had it gone either side of Verbruggen, the net would have been divested of its moorings. As it is, it went straight at the keeper, who nevertheless parried bravely.
Toulouse 3-1 Liverpool. The jig is already up for Liverpool, let's be honest, but Jurgen Klopp – not smiling any more, Kári Tulinius will be pleased to hear – sends on Jota for Diaz, just in case there's a miracle around the corner.
Ajax 0-2 Brighton. Borges is sent into the box down the inside-right channel. He's got the beating of Gross, but can't squeeze the ball past Verbruggen. Ajax fans, used to much better fare than this, are getting extremely agitated now.
Toulouse 3-1 Liverpool. Alexander-Arnold's corner is flapped away by Restes. Elliott attempts a drive from the edge of the box but the ball's never getting through the crowded area. Liverpool extremely frustrated. "Does anyone in football have a more terrifying smile than Klopp when he's angry?" asks Kári Tulinius, a rhetorical question if ever there was one. "If I saw someone smiling like that in a pub, I'd tell whoever's with me that we should find another place to continue. Heck, if I saw someone smiling like that on a bus I'd get off at the next stop, even on a dark night in the middle of nowhere."
GOAL! Toulouse 3-1 Liverpool (Magri 76)
… but it's not going to matter, because Toulouse bounce back straight away! Dønnum sends a diagonal towards Suazo on the left-hand corner of the six-yard box. Suazo crosses low. Dallinga misses the ball altogether, six yards out, but no worries, because Magri steams in from the right and whistles a low drive past Kelleher!
GOAL! Toulouse 2-1 Liverpool (Cásseres og 73)
… so having said that, Liverpool are gifted a lifeline! Gomez heads a ball across the face of the Toulouse goal from the left. At the far stick, a couple of yards out, Cásseres and Nicolaisen get in each other's way with Salah lurking. Salah doesn't get involved, but he doesn't need to, because the ball clanks off Cásseres's shoulder and in! What a farce!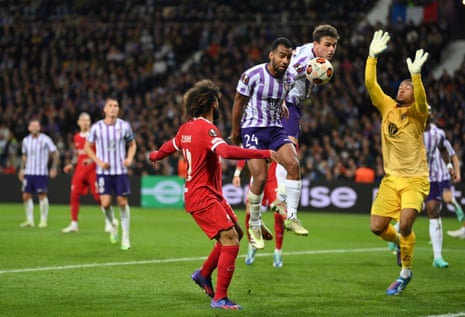 Toulouse 2-0 Liverpool. Toulouse keeper Restes has had very little to do this evening. As Liverpool continue to huff and puff, Gakpo makes way for Nunez.
GOAL! PAOK 2-2 Aberdeen (McGrath 70)
Scrub that! An Aberdeen free kick, the best part of 30 yards out on the left. McGrath sends an ambitious effort towards the bottom left … and it flies in! A fine hit, though Kotarski in the PAOK goal will be disappointed with the weak hand that helped it in.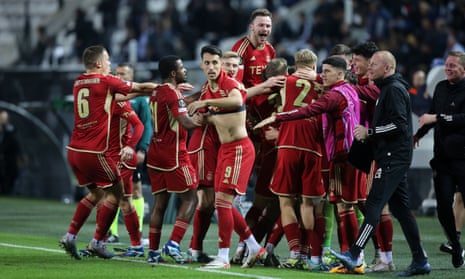 GOAL! PAOK 2-1 Aberdeen (Samatta 67)
A cross from the left is headed back across the face of the Aberdeen goal. Samatta eyebrows a flick into the top left, and Aberdeen are heading out of Europe.
Ajax 0-2 Brighton. Ajax are another European giant in Rabble Mode. Ramaj's poor clearance tees up Fati on the penalty spot. The keeper's blushes are spared by Šutalo's late intervention, the ball taken off Fati's toe just as a third looked likely.
Toulouse 2-0 Liverpool. Another disallowed Toulouse goal! Schmidt springs clear down the right and crosses low. Dønnum flicks elegantly across Kelleher and into the bottom left. But the flag goes up correctly for offside, Schmidt having gone far too early. Liverpool are a rabble right now.
Ajax 0-2 Brighton. João Pedro only just fails to meet a corner with a header six yards out; Mitoma then lashes over from distance. A third Brighton goal looks more likely than any Ajax response.
Toulouse 2-0 Liverpool. This scoreline doesn't flatter Toulouse at all. The second goal had been in the post. On the touchline, Jurgen Klopp smiles, albeit with plenty of frost around the teeth. He knows his side are in a hole now.
GOAL! Toulouse 2-0 Liverpool (Dallinga 58)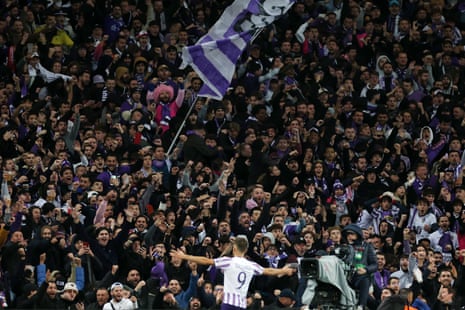 Diaz tries one turn too many out on the right flank. Sierro takes a touch before wedging a cross in for Dallinga, who swivels and smashes an unstoppable shot across Kelleher and into the bottom left! They won't be ruling that one out!
GOAL! Ajax 0-2 Brighton (Adingra 53)
This is a lovely goal! The ball snaffled in midfield, and a five-on-four break. Fati, storming down the centre, drops a shoulder before slipping Adingra clear into the box on the right. Adringa whistles a shot across Ramaj and this is a brilliant Brighton performance! Ajax might not be very good right now … but they are still Ajax. A result to remember is very much on now!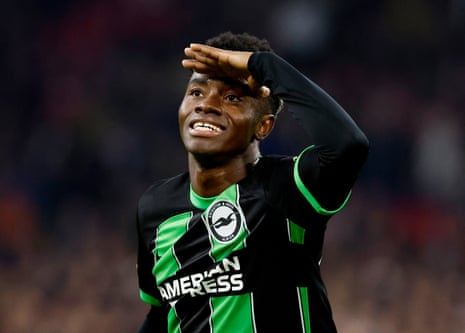 Toulouse 1-0 Liverpool. It's all happening in France. Salah battles down the inside-right channel and tries to hook a bouncing ball goalwards. He's clattered by Restes as he sends the ball wide right. A worrying couple of minutes as Salah stays down, but after some treatment he's good to continue.
Toulouse 1-0 Liverpool. Another huge let-off for Liverpool! Dallinga chases a pass down the inside-left channel, and shrugs off Matip with ease before whipping into the top left! He races off to soak up the acclaim, only to turn back from the crowd and realise the ref has blown for a foul. He did flick Matip, but the contact was minimal. That's harsh … although replays suggest he might have been a smidgen offside anyway.
Toulouse 1-0 Liverpool. A huge chance for Toulouse to double their lead. Dallinga is allowed to waltz down the left, cut infield past Quansah, and slip Suazo clear. Suazo draws Kelleher and dinks the keeper … but the ball bounces well wide right. A massive let-off for the visitors.
Toulouse 1-0 Liverpool. Jurgen Klopp does indeed send for the cavalry. Ben Doak, unluckily, and Kostas Tsimikas and Wataru Endo, unsurprisingly, are hooked; Mohamed Salah, Trent Alexander-Arnold and Dominik Szoboszlai come on.
Brighton, by contrast, would declare right now if they could. Marseille travel to Athens later this evening.
Liverpool may end up kicking themselves by the end of the evening. They'll qualify from Group E as winners with two matches to spare, should they beat Toulouse and Union Saint Gilloise fail to win at LASK. Well, LASK are certainly doing their part: Maksym Taloverov has made it 2-0 against USG just before the break. Jurgen Klopp will want to effectively park the Europa League tonight until March … but he won't be able to do so as things stand. Suddenly the table doesn't look so good.
HALF TIME: Ajax 0-1 Brighton
Albion have subdued the crowd in Amsterdam. They're well worth their lead.
HALF TIME: PAOK 1-1 Aberdeen
The Dons were holding on a bit towards the end of the half, but they've made it to the break on terms.
HALF TIME: Toulouse 1-0 Liverpool
Klopp to call on the cavalry for the second half?
Ajax 0-1 Brighton. The Seagulls nearly double their lead in Amsterdam as Fati flicks a pass down the inside-right channel to release Adingra, who whips a low shot towards the near post. Ramaj does well to save with a telescopic leg, turning the ball around the post for a corner from which nothing happens.
PAOK 1-1 Aberdeen. The jig looks up for Aberdeen as the hosts launch a four-on-two counter. But fine work by MacKenzie denies Konstantelias twice from a tight angle on the left. PAOK should have worked that better, but hats off to MacKenzie for the last-ditch heroics.